Serious Education ... plus the most fun you can have in metal finishing.

Difference Between Chrome and Nickel Plating
A discussion started in 2000 and continuing through 2017 . . .
(2000)
Q. Can anyone direct me to a source that explains, in a fairly SIMPLE way, the difference between chrome and nickel plating? I.e., when would I choose one over the other?
I am just curious about it; I do not intend to go out and buy equipment for doing it. I work for a fittings distributor and noticed that some ball valves are chrome-plated while others are nickel plated.
Thanks for all your help.
Tiziano Bianchi
- McKinney, Texas
---
(2000)
A. Hi Tiziano.
Conventional electrolytic nickel plating is decorative, functional, and somewhat corrosion resistant but it tarnishes and it is not as hard as chromium.
Electroless nickel plating (actually autocatalytic nickel plating) is a glassy nickel-phosphorous coating that is very corrosion resistant and quite hard, and often used on rough-service applications like down-hole applications.
Chrome plating may be either a thick layer of chrome (generally known as hard chrome) that offers exceptional hardness, wear-resistance, and oil-holding capability, but limited corrosion resistance; or it may be nickel-chrome (nickel plating followed by a flash of chrome for tarnish resistance and extra corrosion resistance, as is employed on truck bumpers and automotive brightwork).
For interior stuff, where the elements are not too rough on it, the choice between nickel plating vs. nickel & chrome plating can probably be based on the look of it. Nickel is very slightly yellowish and chrome is very slightly bluish, so nickel is warmer looking and chrome is bling-y-er.
Ted Mooney, P.E. RET
finishing.com
Pine Beach, New Jersey
---
---
(2002)
Q. I have an antique Aladdin kerosene lamp it's chrome plate is entirely polished away, leaving only whole brass body. I've seen that re-chrome is easy to peel off within few years so I decide to try nickel plating, I like nickel's antique-like yellow shade (compared to chromium). I think local workshop can do only electroplating so I'd like to ask that is it good idea to plate brass lamp with nickel or any better suggestions.
Thanks,
Mr. Jirapan Pankongchuen
Thai Military Bank(pcl) - Nonthaburi, Thailand
---
(2002)
A. No, that is not totally correct, Jirapan. It is very unlikely that the lamp was only chromium plated; it was almost surely nickel-chromium plated; that is, it was nickel plated then chrome plated, with the chrome being only a few millionths of an inch thick. So if something peeled, it was the nickel plating.
But if the job is done right the plating will not peel. You are correct that nickel plating which is not later chrome plated has a slight yellowish tinge which grows more pronounced with time as the nickel tarnishes. Good luck.
Ted Mooney, P.E. RET
finishing.com
Pine Beach, New Jersey
---
(2002)

Thank you so much for your help, Ted.
Jirapan Pankongchuen
[returning]
- Nonthaburi, Thailand
---
---
January 5, 2009
Q. Dear editor, could you throw a few details on this. I have seen a shiny chrome / nickel chrome plated dog collar go rusty within a few a minutes of entering sea water. Was it defective ?
Srinivas Somala
hobby - Hyderabad, AP, India
---
January , 2009
A. Hi, Srinivas. Although anything can be done well or poorly, nickel-chrome plating is a special case that must be done really really well; anything even slightly short of that is really really bad (see our Chrome Plating FAQs). When done poorly not only does the plating contribute nothing to corrosion resistance, it greatly accelerates corrosion because nickel is anodic to the underlying steel and turns the underlying steel into a rapidly corroding sacrificial anode.
But "defective" is probably not quite the correct word, because the item may well have met the plating specification they wrote for it. "Crappy" would probably be a good word for it :-)
Regards,
Ted Mooney, P.E. RET
finishing.com
Pine Beach, New Jersey
---
---
February 11, 2010
Q. Hi,
I'm looking for a chrome or nickel plated stair rail. what would you suggest for this application. Also are they both the same colour, the reason I'm asking is because all our door handles are brushed chrome.
Many thanks
Trev Hemmings
- England
---
March 2010
A. Hi, Trev. Nickel and Nickel-Chrome plating are rather similar in appearance, with the nickel plating being slightly yellowish due to its tarnish, and the chrome being slightly blue-ish. Either on a railing would probably be "close enough" to match a brushed chrome door handle; but if it's for exterior use, the chrome would be a very good idea.
Regards,
Ted Mooney, P.E. RET
finishing.com
Pine Beach, New Jersey
---
---
January 22, 2011
Q. I have a nickel allergy and was wondering about chrome items, not necessarily jewelry. Anything touching my skin long enough will evoke a reaction. Are there chrome items that are not also plated with nickel? Is there such a thing as solid chrome?
Kristen Clarke
-
Virginia Beach, Virginia, USA
---
January 24, 2011
A. Hi, Kristen.

You won't find anything made of solid chrome -- and chrome plated jewelry would be very unusual. What you may find that is nickel-free though is rhodium plated or silver plated jewelry. I believe that all jewelry sold in the European Union is supposed to be free of leachable nickel.
Yes, there is such a thing as chrome plating without an underlayer of nickel -- it's called hard chrome plating. But it is used as a wear resistant engineering finish for things like piston rings, not as a decorative finish. Good luck.
Regards,
Ted Mooney, P.E. RET
finishing.com
Pine Beach, New Jersey
---
---
June 19, 2012
Q. Hi, I have a part (15 mm diameter, L=16 mm) made of SAE1020. I want to do Nickel-Chrome plating to give the part brightness & smoothness, and high corrosion resistance.

What should be the definition for the drawing (i.e.: QQ-C-xxx, Class xx, Type xx, thickness xx, Fully Bright, smooth and uniform)?

Ari
Ari Eichenbaum
-
Yokneam, Israel
---
---
April 27, 2013
Q. SIR I HAVE TO ASK FAVOR, CAN YOU CITE SOME MATERIALS OR SPECIFIC METALS THAT CAN BE TREATED BY NICKEL PLATE, HARD CHROME OR NICKEL-CHROME PLATING?
I WANT TO KNOW WHAT IS THE BEST PLATING FOR PARTICULAR MATERIALS.
THANK YOU SIR.
FERNAN DIMAPILIS
ELECTRONICS- ROSARIO CITY, CAVITE, PHILIPPINES
---
April 30, 2013
A. Hi cousin Fernan. Sorry, but it's not possible to proceed from that direction, which is like asking us whether you should travel by ship vs. train without telling us where you want to go. We could tell you that ships usually serve free meals, or that the lullabye of the rails is soothing -- but anything we say is nothing but wasting your time if you can't get there by ship or train anyway ... and just as we can't list every possible pair of debarkation cities & destinations, and whether train or ship is better for that pair, we can't list every possible situation to watch out for in plating.
We'll be pleased to try to help you determine what is better for a carefully detailed situation, but trying to impart enough information that a reader can do a plating specification for theirself just isn't possible. Many plating consultants acquire decades of broad experience before they attempt it :-)
With that warning out of the way, nickel plating is usually not suitable for outdoor exposure because it tarnishes too quickly and severely. Nickel-chrome plating is brighter and more suitable for outdoor use. Hard chrome plating is not a decorative finish, but a functional one for wear resistance and oil holding. Any of the three can be applied to almost any substrate, but again, what are you trying to achieve? For example, you can theoretically do hard chrome plating on plastic, but it's hard to imagine it actually being useful since the chrome plating will crack like an eggshell if you put a load on it. Good luck and please get back to us with a specific case!
Regards,
Ted Mooney, P.E. RET
finishing.com
Pine Beach, New Jersey
---
---
April 29, 2013
Q. Dear sir, two questions if I may. First, if a part is already nickel plated, as many antique parts are, can it be chrome plated at a later time, as I understand that chrome plating is actually a clear coat of added protection? Second, I have an antique singer sewing machine, which has brilliant basically new looking chromed parts, but has one annoying quarter inch diameter spot of rust and pitting in an obvious place that I would like to correct. Even if only for aesthetics, is there a way to fix it without having to re-chrome the whole piece?
MICHAEL LAURO
- New York, New York, USA
---
April 30, 2013
A. Hi Michael. Chrome is not actually clear, it is bright metallic and very slightly blue compared to silver or nickel. But it is very very thin, such that it is the underlying nickel that gives the smoothness necessary for high reflectivity. And yes, it helps keeps the nickel plating from tarnishing.
It is theoretically possible to chrome plate on top of old nickel, but for good adhesion you normally need a pretty aggressive "activation" step or sequence.


It is not going to be useful and probably not possible to do a spot repair on a nickel-chrome plated piece. The chrome will be extremely passive and nothing will adhere to it. It is also important to remember that nickel chrome plating offers "barrier layer" protection to steel, not "cathodic protection".
If you picture how ships use zinc anodes to corrode away to protect their steel hulls, nickel-chrome plated objects inadvertently use pits in the steel to galvanically protect the nickel chrome plating. Any porosity at all means the tiny spot of exposed steel will be a tiny volcano of rust corroding away trying to galvanically protect the plating. Poor nickel chrome plating greatly accelerates rusting. Try to remove the rust with chrome polish and ultrafine steel wool, then keep the area waxed (or clear coat it), or try a chrome-look paint =>
Good luck.
Regards,
Ted Mooney, P.E. RET
finishing.com
Pine Beach, New Jersey
---
---
June 4, 2013
Q. I'm in the process of restoring a 1980 Garelli Moped, I would like to have the plated parts refinished, i.e.: Spoked rims, fenders, brackets, handle bars etc. What is the best finish to go with, not sure of the difference in looks. I would like it to last and look good with the painted parts. Any help would terrific!! Thanks for your help.

Jeff
Jeff Rafferty
- Maple Grove, Minnesota, USA
---
June 5, 2013
A. Hi Jeff. Your only serious choice for high decoration is nickel-chrome plating. Nickel plating alone won't hold up in a corrosive outdoor environment. However, as a cost reduction measure, rims and brackets are sometimes acid zinc plated and clear coated. It's not nearly as bright as nickel-chrome plating, but can be cheaper and more practical.
If cost isn't an object, nickel plus black chrome plating can be very nice. But nickel-chrome plating is expensive and most shops charge significantly more again for black chrome.
Regards,
Ted Mooney, P.E. RET
finishing.com
Pine Beach, New Jersey
---
June 17, 2013
-- this entry appended to this thread by editor in lieu of spawning a duplicative thread
Q. Sir,

Is there a easy way to tell the difference between nickel-chrome, nickel and a hard chrome finish? I have read that an ammonia solution will damage nickel and possibly dissolve nickel leaving a greenish finish. I suspect the chrome finish will not be harmed by the ammonia but a nickel-chrome finish might be if any nickel surface is unplated by the chrome.

I have a WWII pistol that seems to have two layers of a finish and in some areas the plate or nickel is peeling. I've always been curious which plating I have and if it is original. With your excellent explanation I wonder if I might also have a chrome plate over an original nickel plated pistol.

Dan
Dan Potter
- Fullerton, California, USA
---
February 2014
A. Hi Dan. It's probably not possible to tell if the item was replated vs. the plating having been laminar from the beginning, except from the assumption that an OEM pistol probably did not have defective plating, and that getting good adhesion onto an earlier layer of nickel plating is difficult. So odds are the plating is not original.
If the surface is porous, which it probably is on a WWII pistol by now, the ammonia will probably damage it regardless of what plating is on it. Decorative chrome plating is so thin -- millionths of an inch -- that you would probably not perceive it as peeling. If you are seeing peeling, it is probably nickel plating that is peeling.
Regards,
Ted Mooney, P.E. RET
finishing.com
Pine Beach, New Jersey
---
August 12, 2013
Q. Hi Ted Mooney,

You said chrome is "limited corrosion resistance", so why is it used in stainless steel ?

Or what you said only applies for small thickness layers of chrome?

Thanks!
Manuel Campos Costa
- Lisboa, Portugal
---
August 13, 2013
A. Hi Manuel. It's not that the chromium metal itself is not corrosion resistant, it's that the plating won't prevent the underlying steel from corroding. Chrome plating is almost always cracked. Sometimes very deliberately "micro cracked" or "micro porous" as part of the plating process. So, when chrome plating is applied directly to steel in the hard chrome plating process, the component will have rather limited corrosion resistance.
Regards,
Ted Mooney, P.E. RET
finishing.com
Pine Beach, New Jersey
---
---
September 9, 2013
Q. Which plating is more suitable in lieu of of chrome plating for Hydraulic cylinder rods (oilfield equipment).
Chrome plating does not hold up well; the H2S level exceeds 1%.
Jay Anwar
- Regina, SK, Canada
---
August 2014
A. Hi Jay. One possibility is a layer of nickel plating or electroless nickel plating under the hard chrome plating to improve the corrosion resistance.
Electroless nickel by itself has some of the properties of hard chrome plating, while being more corrosion resistant; the "holy grail" would be electroless nickel plating in lieu of hard chrome plating ... but it's not easy. A literature search will probably show a dozen papers just on the one subject of electroless nickel plating of hydraulic cylinder rods and why it doesn't quite work. Good luck!
Regards,
Ted Mooney, P.E. RET
finishing.com
Pine Beach, New Jersey
---
October 4, 2013
Q. Dear Sir,

I want to know and am a little bit curious for electropolishing and Nickel + chrome plating. I want to give bright & shiny surface finish to kitchen basket. So which one is better option.

Regards,
Devang Mahant
Teaching - Vadodara, Gujarat, India
---
August 2014
Hi Devang. The electropolishing option applies only if you make the basket out of stainless steel. If you do that, it's probably the best option as it will likely have more durability. You can't usefully electropolish plain steel, and even if you can it has no rust resistance.
Regards,
Ted Mooney, P.E. RET
finishing.com
Pine Beach, New Jersey
---
---
June 3, 2014
Q. I am repairing a nickel plated rod for a customer and was wondering if it is possible to cover nickel plating with chrome plating and or vice versa?
Curtis Kafka
hydraulic - Hartford, Wisconsin USA
---
June 2014
A. Hi Curtis. Plating chrome on top of nickel is a commonplace. In fact, when people talk about decorative chrome plating, they mean a heavy plating of nickel followed by a thin plating of chrome.
It probably isn't impossible to plate nickel over chrome, but "it isn't done" to my knowledge. Good luck
Regards,
Ted Mooney, P.E. RET
finishing.com
Pine Beach, New Jersey
---
---
Interested in Purchasing a Chrome Plating Machine
June 25, 2014
Q. I am interested in purchasing a Chrome plating machine capable of chroming Hydraulic cylinder shafts. I would also like it to be able to chrome rims and other fabricated wrought iron pieces. I see you have a great deal of knowledge in this field and I was hoping for some tips on purchasing the actual equipment. Specifications, where to buy etc.

Can you help me out?

Thanks
Chris
Christian Abraham
- Trinidad and Tobago
---
June 2014
A. Hi Christian. I presume you are interested in a small and manually intensive system, but to my knowledge there is no such thing as a chrome plating machine in the context you are thinking of. What there is, is a custom designed chrome plating factory with a proper floor, proper selection of a dozen or so plating tanks for cleaning & plating & post treating, heating systems, exhaust ventilation and fume scrubbing systems, filtration systems, waste water treatment equipment, power supply rectifiers, buffing equipment, wet and dry laboratories, etc. Your first step if you can work it should be to visit a couple of chrome plating shops.
Realistically I'm afraid you have two choices: retain a plating consultant to work with you to design or design/build a plant that can handle the mix of work you envision, or buy nothing and commit yourself to intense study for the next 6 months or more before considering your next move. Best of luck!
Regards,
Ted Mooney, P.E. RET
finishing.com
Pine Beach, New Jersey
---
---
August 9, 2014
Q. Dear Sir
I saw a nickel chromium plating process and now I want to know that what is the purpose of nickel plating and chromium plating separately.

Before plating the material with nickel and chromium the product is dipped in H2SO4 solution and then in HCl chemical solution.
What is the main purpose of dipping the part in these solutions?
Please tell me separately.
ashok sihag
- Hisar, Haryana (INDIA)
---
August 2014
A. Hi Ashok. As implied in the above discussions, nickel-chrome plating combines some advantages of nickel plating with some advantages of chrome plating. The nickel plating provides the leveling and shine and much of the corrosion resistance. The thin micro-cracked layer of chrome adds hardness, reduces tarnishing of the nickel, gives it more brightness and bling, and distributes the corrosive energy to symbiotically reduce corrosion.
Most nickel-chrome plating processes will have an HCl activation dip just before the nickel plating to remove any oxide from the surface. But it is difficult for us to start with rough details of what you think you saw and extrapolate to the fine details of what you might have seen. It is not usual to have H2SO4 before the HCl but it is possible for the plating process to incorporate a Madsnell Etch or an Acid Cleaning step. More typical would be alkaline cleaning, followed by HCl, followed by plating (with rinses in between each step). Good luck.
Regards,
Ted Mooney, P.E. RET
finishing.com
Pine Beach, New Jersey
---
---
August 3, 2014
Q. Hi,
I have a house-lot of satin chrome (brushed, I think) interior door hinges that have gone completely rusted. I have never seen this before and can only suspect a bad batch or the hinges have been exposed to salty (sea) conditions. The handles on the doors are satin chrome plate and they are fine. Any ideas would be much appreciated. Thanks
Dave Hutchings
- Rotorua, New Zealand
---
August 2014
A. Hi Dave. Nickel-chrome plating is not "automatically" a corrosion-resistant finish --
If done very well it is highly corrosion resistant -- truck bumpers and Harleys can last decades. But if done poorly it is the world's absolute worst finish because nickel is cathodic to the steel, so if any steel is exposed due to porosity or pinholes, the steel will be powerfully driven to be a sacrificial anode and rust away rapidly. Please see the above referenced Chrome Plating FAQ for further explanation and for photos of lousy nickel-chrome plating.
"Salty conditions" is a possibility, but more likely these days is that the hinges are crap from China with zero effort towards proper finishing. The FAQ shows some bathroom accessories rusting in a big-box store before the consumers even purchase them. Remember the brand name, and where you bought them, and do your best to not patronize them again :-)
Regards,
Ted Mooney, P.E. RET
finishing.com
Pine Beach, New Jersey
---
---
August 16, 2014
Q. Hi, I am from UK and currently working on a Raleigh Chopper product where I would need to chrome wheels, etc. I have enquired to get this done but it very expensive £200.00 plus. I have seen brush plating as an option; would I be able to use Nickel as the anode for chrome effect? And what is the difference between bright Nickel and standard? The reason I ask is I have seen some Canadian Nickel bullion .999 but don't know if this is possible? Many thanks, Mike Rowley.
Michael Rowley
- United Kingdom
---
August 2014
A. Hi Michael. Although it is not possible to do chrome plating by brush plating to my knowledge, there are chrome plating substitutes that can be brush plated and may be "close enough". In that case you would do the nickel plating first and then top it off with a thin layer of the chrome substitute.
"Bright nickel" is fairly bright, but it is still "yellowish" compared to chrome plating, and it will tarnish. Our FAQ explains that bright nickel is often part of a two-layer nickel plating system where the inner layer of semi-bright nickel is "cathodic" to the bright nickel so the corrosive forces are spread laterally through the bright nickel layer rather than penetrating the inner layer and allowing steel to become exposed.
The bullion is not a proper material for nickel anodes; you'll want sulfur depolarized nickel anode material.
Plating is not like painting; significant knowledge, experience, and skill are required; hazardous materials are used, and hazardous wastes are generated. It's not impossible to do electroplating yourself, but 99% of individuals will find it highly impractical to brush plate wheels. Chrome plating shops are not opening in droves, they have been closing in droves -- so while "£200.00 plus" may seem like a lot of money, it's apparently not enough for them to prosper :-)
Regards,
Ted Mooney, P.E. RET
finishing.com
Pine Beach, New Jersey
---
August 17, 2014

Hi, thanks for the reply, like you say maybe the best option would be to let the guys do it. I work as an auto electrician and started off as a bench fitter years ago rebuilding starter motors and alternators, we used to prep carcasses for zinc plating so explained this to them; I have all the available machinery to prep and they will coat for £200 there must be a huge amount of overhead. Again thanks for your reply.
Michael Rowley
[returning]
- United Kingdom
---
---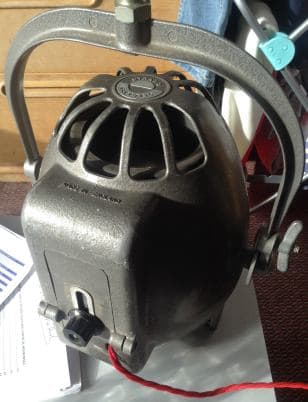 September 1, 2014
Q. Dear sir, thank you for your responses I have read them great interest.

I have bought two 1950s strand stage spot lights. Each lamp takes a 500W bulb -- so very hot when switched on. I hope to restore these lamps to hang over the kitchen. They are covered in a grey coloured paint I think. The underlying metal I think is aluminium although lights are heavy (could be the glass lens). My question, sir, is what's the best method to obtain a polished chrome finish to these lamps, taking into consideration the extreme heat they will undergo time to time when switched on, but minimal other wear and tear as will be kept indoors.

Thanking you in advance.
Kind regards,
Dr. Channa Hewamadduma
- Sheffield, UK
---
A. Hi Dr. Hewamadduma. I don't think the temperature will be a limitation for nickel-chrome plating. But it can be difficult to get the aluminum scratch-free and pit-free before plating. Maybe you can strip the paint, see what you've got, and whether it's plateable. Good luck.
Regards,
Ted Mooney, P.E. RET
finishing.com
Pine Beach, New Jersey
---
---
Nickel Plating vs. Chrome in Hardness and durability for Auto Bumpers?
February 22, 2015
Q. I would like to refinish my Bumpers to Brushed Nickel Plating and would like to know the hardness of Nickel vs. Chrome as not to Chip as easily?
David Diaz
Hobbyist in restoring my vehicle - Scottsdale, Arizona USA
---
February 2015
A. Hi David. Bumpers aren't just nickel plated nor just chrome plated -- they are nickel plated then chrome plated. There is probably no reason the finish can't be "brushed" before/during plating if that's what you want, but glass bead blasting before plating is probably the easiest path to a matte finish. Good luck.
Regards,
Ted Mooney, P.E. RET
finishing.com
Pine Beach, New Jersey
---
---
October 11, 2015
Q. Hi TED
Quite helpful notes captured from this post, Thanks. Further, can you tell me the simplest way to chrome finish my small old kitchen tools (Blades of my mixer and potato masher, etc.) at home. What all I be requiring for the job? Would it be durable?
Rajesh Kumar
- Panchkula, Haryana-INDIA
---
October 2015
Hi Rajesh. Please start with our "Introduction to Chrome Plating", then get back to us with questions. Good luck.
Regards,
Ted Mooney, P.E. RET
finishing.com
Pine Beach, New Jersey
---
---
November 4, 2015
Q. Hi, I was wondering, I have a couple of solid brass garrison belt buckles from the '40-'50's. Would it be best to go with nickel or chrome plating for these pieces? Also, want to keep it periodically correct of course.
Timmy Beylemans
- Hoboken, Belgium
---
November 2015
A. Hi Timmy. Nickel-chrome plating is brighter and more corrosion resistant than nickel plating, and it was very widely available by the 1940s, so it's certainly possible that they were nickel-chrome plated originally.
Regards,
Ted Mooney, P.E. RET
finishing.com
Pine Beach, New Jersey
---
---
Chrome vs. nickel plating for dumbbells
November 9, 2015
Q. Dear Reader
Could you give me some idea about how to choose between chrome or nickel plating for free weights products like dumbbells, bars or plates? I mean for handles.

Thank you in advance!
Daniel Ortiz
- chiclana de la frontera, Spain
---
November 11, 2015
A. Hi Daniel

Take a look at thread 26486.

Many people are sensitive to nickel dermatitis. It is a bad choice for any surface in contact with the skin.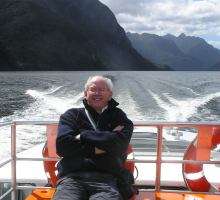 Geoff Smith
Hampshire,
England
---
---
December 15, 2015
Q. Hi. I see some great information contained here, here's a little offbeat question I have:

I own some guitars with all Nickel hardware, and I'd like to upgrade them with a certain style bridge I've found; however, the bridges are Chrome-plated, and the visual contrast with the Nickel parts is jarring, to my eyes. Is there a chemical/solvent or other method that will give chrome an appearance that is closer to Nickel? Any info is appreciated!

Thanks, Marc
Marc Mercer
Guitarist - Peyton, Colorado
---
December 2015
A. Hi Marc. "Chrome plating", in the sense that you are using it, is actually comprised of a heavy layer of nickel plating followed by a very thin layer of chrome plating. Technically it's a very easy thing to remove the chrome plating with muriatic acid to reveal the very slightly yellower nickel plating underneath.
Any plating shop can do it for you, and if a friend knows how to safely work with acid, and how to neutralize it on the bridges and for waste treatment, they can do it for you. I can't guarantee that it will give you the exact look you seek, but it definitely will offer that more mellow tone. After stripping the chrome, try to wax them or lacquer them as the corrosion resistance will be somewhat reduced.
Regards,
Ted Mooney, P.E. RET
finishing.com
Pine Beach, New Jersey
---
December 19, 2015

FANTASTIC! Few things better than a simple solution! Thank you for your response, Ted, and Merry Christmas to you and yours!
Marc Mercer
[returning]
- Peyton, Colorado
---
---
January 23, 2016
Q. Hi there!

Finding some really interesting information here, and I have already learned a lot, but I was hoping for some info on my specific situation.

I work as a circus performer, and I have a trapeze bar with weights on either end that I would like to keep shiny with a durable finish. The weights are hardened steel polished ball bearings. They are polished to a mirror finish right now, but I am looking for the best solution to keeping them that way and prevent any rust. I have looked into a lot of options such as clear coats, polishes, and powder coating, but seem to keep coming back to chrome plating as the best solution for look and longevity. The bar will mostly be hanging in a climate controlled theater for now, but will possibly be set down on hard surfaces occasionally and may be used in less climate controlled places in the future.

Any insight you may have on if chrome will be the most durable and long lasting coating would be greatly appreciated!
Tad Payne-Tobin
- Las Vegas, Nevada, USA
---
---
February 29, 2016
Q. Hi, I read all the answers, but still not sure about this: I want to buy a belt buckle for like a lifetime with great materials, and I have to choose from nickel or chrome plated belt buckle. While I like more the nickel one I want to know that it will last as long as a chromium ( since you advised chrome over nickel for outside use ) but I am not sure about a waist buckle can count as inside use or outside
Cropca Roland
- Pest, lest, hungary
---
February 2016
A. Hi Cropca. Get the one which looks more appealing to you. The likelihood of the chrome plated belt buckle having the high quality nickel-chrome plating of a truck bumper is zero. Unfortunately, you can't judge the longevity of consumer products from the type of plating they claim to have. Sorry.
Regards,
Ted Mooney, P.E. RET
finishing.com
Pine Beach, New Jersey
---
---
March 17, 2016
Q. Hi,
This is a fascinating forum. Thanks for sharing your expertise.

For my bathroom remodel I would like to use a faucet fixture, but it is only available in brass (probably coated) or nickel-chrome. However, a polished nickel finish would be more traditional for the period -- 1890-1920. Elsewhere in this thread it was stated that it is not possible to plate nickel over chrome. Therefore, it would be necessary strip the chrome, or else use the brass version and plate nickel over the brass? Which do you think would be better/cheaper?

thanks,
Tom
Tom G
[last name deleted for privacy by Editor]
- Provo, Utah, USA
---
March 2016
A. Hi Tom. It is very unlikely that the faucet is "just" chrome plated. It is almost surely nickel plated followed by chrome plating. So get the chrome one and remove the chrome and see if you like it with the remaining nickel plating.
Removing the chrome requires using a dangerous chemical, muriatic acid, but it's not so dangerous as to not be available at every hardware store. So if you are a competent handyman with experience handling chemicals, and you already have goggles and heavy duty rubber gloves, and have a very well-ventilated garage, secure from animals and children, the danger should not be extreme.
Fill a plastic dishpan 1/3 of the way with water, then add an equal amount of the hardware store muriatic acid ("do as you oughta, add acid to watah"). Then wipe or plug & immerse the faucet parts for one minute, then drain, then immerse in another dishpan with water and baking soda to neutralize. Then rinse well in clean water. It's hard to say how much bicarb the neutralizing water needs, but after the parts are sitting in it, add a little more; and if/when nothing happens it means you had enough.
Muriatic acid is strong. Even the small amount clinging to your parts will foam a lot when you put it in the bicarb water. When done you'll need to neutralize the acid, and it will be a lot of work to very gradually mix it into bicarb water to neutralize without foaming over. I am not suggesting that you or any given reader has the competence and patience to do this safely; but trying to hide how it is done is probably not a favor to anyone. If you're not completely comfortable with it, perhaps you have a friend who is. Naturally, the best route is to send it to a plating shop as-is, instead of doing it yourself, if you can find a co-operative one.
Regards,
Ted Mooney, P.E. RET
finishing.com
Pine Beach, New Jersey
---
March 17, 2016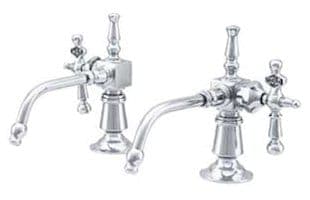 Q. Ted,
Thanks for the details. For this project, we'll be working with muriatic acid anyway in conjunction with some masonry work. I'll try it on a chromed test piece and see how it goes. Presumably the acid won't hurt the underlying brass.

Tom
Tom G
[returning]
- Salt Lake City, Utah, USA
---
April 2016
A. Hi. I think you should plug the faucet if you are going to immerse it. But a 20-30 second dip should be enough to remove the chrome without too much effect on the brass.
Regards,
Ted Mooney, P.E. RET
finishing.com
Pine Beach, New Jersey
---
April 4, 2016

Ted,
I decided to have the vendor strip the chrome since they are much more familiar with it than I. The geometric complexity of the piece, assembly of different parts, and risk of damaging a brand new faucet set lead me to consider the conversion price of $85 was reasonable enough. The faucets look beautiful.

Thanks for the details on the conversion. It may well come in handy as there are several bathroom fittings that may only be available in chrome-nickel. Plus, I already have the HCl from some masonry work.

Tom
Tom G
[returning]
- Salt Lake City, Utah, USA
---
April 2016
Hi Tom. Glad to hear it worked out well! And glad you understood that time is money, and that plating shops aren't robbing us when they need to charge the same for their time as a plumber or auto mechanic. When the faucets are manufactured, and hundreds are placed on a single rack and plated simultaneously, the unit labor cost is low. But when a couple of fixtures need to be custom handled and plated, the cost of replating alone can be more than the cost of a whole inexpensive fixture.
Regards,
Ted Mooney, P.E. RET
finishing.com
Pine Beach, New Jersey
---
Yes, you can strip the chrome if you like the look of nickel better
May 31, 2016

Ted,
Harking back to our posts of this past April about stripping chrome ...

I wanted to get bathroom wall sconces in a polished nickel finish. But that finish is not very popular -- such fixtures can be expensive and choice of styles is limited. So I purchased standard chrome finished sconces and stripped the chrome to reveal the nickel under-layer. The result is very nice! It took about 10 minutes full immersion in HCl bath, full strength from the bottle. Of course, it is difficult to tell the concentration of the HCl, though presumably it is fairly high concentration considering the brand and price (Miracle Sealants "Grout and Concrete Film Remover", $40/gallon). We already had the HCl on the job site for use in restoring an interior brick wall. The same technique for stripping chrome will come in handy for other small hardware that is available in chrome but not polished nickel.

Thanks for the hints.

Tom
tom g
[returning]
- salt lake city, Utah , US
---
---
April 4, 2016
Q. We're a decorative hardware manufacturer and we're developing a new part. We want it to look as close as possible to #4 brushed stainless steel (304L) and it needs to have a comparable corrosion resistance of 304L (that has not been electropolished or passivated).

Typically these parts will be used indoors but they should be able to withstand "light" outdoor use, such as on covered patios, etc. and in some cases near the coast. There will also be some light part-on-part movement.

These parts will be made for us in Taiwan. The simple solution would be to make these new parts out of 304L, but that is probably not an option price-wise.

The materials that we have to work with are:
-Substrate of steel or -possibly- aluminum. (Prefer steel due to price.)
-Any type of common, decorative plating. (Nickel, chrome, copper-nickel, etc.)

We don't like chrome or bare aluminum because they lack the warmth/yellow tone of nickel/stainless. We'd also like a brushed finish (grain) instead of a completely smooth/mirror finish so as to match our #4 brushed stainless.

What do you recommend?
David Saye
Hardware Manufacturing - Atlanta, Georgia, US
---
April 19, 2016
A. We generally go for chromium plating for following reason:

When the component needs a wear resistant & corrosion resistant surface.

Melting point of nickel is about 1450 °C. It is mainly used when a component needs to withstand high temperature. When the component to be plated comes in contact with acids, we generally go for nickel plating.

Since the nickel is highly capable of withstanding high temperature, there will not be any dimensional changes in the part due to expansion.
PRATHEESH KUMAR
Tool designer - coimbatore, Tamilnadu, INDIA
---
---
Plating for audio jacks outdoors year 'round
June 1, 2016
Q. I'm working on a project for a consumer product that will reside outdoors year around in all types of climates. Could you recommend a finish for a female mono jack (like a stereo jack) that won't corrode? The product won't be visible to the consumer as it will be embedded in a plastic housing but because it will undergo the friction of plugging and unplugging I'm concerned about the finish wearing off and the corrosion impacting the performance of the product.
Fonda Moyers
- Palatine, Illinois, USA
---
June 2016
A. Hi Fonda. Nickel plating or electroless nickel plating is widely used on such plugs and jacks. Electroless nickel, probably 0.001" thick, will be quite corrosion resistant and wear resistant, and sufficiently conductive (the tarnish will be thin and non-problematical).
The ultimate would be hard gold plating over a base coat of nickel plating, but this would probably only be necessary if the signals are extremely low current, low voltage, digital signals. Good luck.
Regards,
Ted Mooney, P.E. RET
finishing.com
Pine Beach, New Jersey
---
---
---
June 11, 2016
Q. I have some WWII watches I have collected, U.S., British, and German(captured). Some of the finishes are bright, and I assume these are nickel chrome? Others are somewhat duller, and I am assuming these are nickel? Is this a fair assessment, and if not how do I tell the chrome finishes from the nickel finishes? By the way...great forum!
Bill Brankowitz
- Avondale, Pennsylvania, USA
---
---
October 16, 2016
Q. I have a classic car with painted bumpers and I want to have them re chromed.Which is the better process,chrome plating or micro (electroless) plating?
Tom Morden
- Trenton Michigan USA
---
October 2016
A. Hi Tom. I don't know what "micro" plating claims to be, perhaps a trade name, but electroless is not appropriate for a bumper. Nickel-chrome plating is what you need. Please review "Understanding Chrome Plating".
Regards,
Ted Mooney, P.E. RET
finishing.com
Pine Beach, New Jersey
---
---
Nickel plating on swizzle sticks quickly dissolves
November 10, 2016
Q. Hi
I want to make a couple of swizzle sticks using stainless steel rods (grade 304ss)
I had a few rods nickel plated and did a stress test. I placed the plated rods in a mixture of tequila, gin and water. After a few hours, I noticed that the plating washed off on many areas of the swizzle stick.

My questions are:
1) Should I nickel plate or chrome plate the swizzle sticks?
2) Are nickel plated or chrome plated rods safe to use as swizzle sticks?
3) If nickel or chrome plated swizzle sticks are unsafe, should I just use stainless steel (grade 316) rods as swizzle sticks (without any plating)?
4) Finally, how can I ensure my 304 or 316 stainless swizzle stick is corrosion resistant to alcohol.
Ryan Dennis
- Mumbai, Maharashtra, India
---
November 2016
A. Hi Ryan. The ideal would be electropolished 316SS. It's as bright as nickel-chrome plating and will last essentially forever.
Nickel and chrome plating are safe, and widely used for similar things -- I have a nickel-chrome plated juicer and cocktail stirring spoon -- but will not have nearly the longevity of 316SS.
I can't imagine nickel dissolving in grain alcohol and water though.
Regards,
Ted Mooney, P.E. RET
finishing.com
Pine Beach, New Jersey
---
---
January 7, 2017
Q. Hi,
Big thanks for all the ample information about anticorrosion properties of Ni and Cr.
So cold 'tarnishing' of the Ni surfaces is based on the reaction of Ni with atmospheric sulfur -- S in different compounds such as SO2, H2S , mercaptans and the like.
In industrial hygiene, a sampling bags with Ni coated brass valve are used and respectively. The valve gets tarnished and Sulfur compound sampled shows low results diminishing its concentration with time. Manufacturer doesn't care about that and other valves from SST or Plastic are used. On the other hand Ni coated valve is good for all other chemicals with other good properties. Unfortunately, the valve include two parts assembled deadly with crimping and one of them has in construction - a plastic/rubber washer/gasket. The valve cant be coated farther with Ni by tumbling easily because of the small diameter air pass in the stem which would be very difficult to expose to electroplating .
Is there a possibility for not electroplating over Ni?. There is no mechanical charges on the valve (pressure differences or else) and its application is normally one to several times but the sampled mixture should not react with Ni.
Cutting the stem I see it is Ni coated inside also, maybe by tumbling.
Thank You
Regards
George

GEORGE MIHAYLOV
- Virginia Beach, Virginia
---
January 2017
A. Hi George. Despite the long explanation, unfortunately I don't understand it. Hopefully a reader with more experience in those particular areas will.
Electroless nickel plating is more corrosion resistant, especially to sulfides, than electrolytic nickel and will give more complete and more even coverage, but it may be too expensive for you.
Regards,
Ted Mooney, P.E. RET
finishing.com
Pine Beach, New Jersey
---
March 2, 2017
Q. Hi Ted,

Firstly I just wanted to say a massive thanks for an amazing thread, I have really found some helpful ideas in here as I am sure many other have too!!

I had a quick question which I was hoping you could be kind enough to answer.

Q. We need to get our Antique Brass Plated Door Handles, Back Plates & Door Hinges re-plated as we are modernising our house.

We really like the Nickel finish but are concerned that with time the Nickel coating will come off the handles or will tarnish with little use.

Can you recommend what I should be asking Electroplaters to do or what to look out for???

I just didn't want to get 50 x handles plated and find out they look bad over time.

Kind regards,
Sam
UK
Sam Gill
- Manchester, United Kingdom
---
March 2017
A. Hi Sam. Nickel should be fine for interior use. It is very slightly yellowish compared to the very slight blue tinge of chrome, i.e., it is warmer looking. If done well it should be fine for a couple of decades. It does have that slightly yellow "tarnish", but it is not objectionable and should not be conflated with the extreme tarnish that silver and brass get.
Regards,
Ted Mooney, P.E. RET
finishing.com
Pine Beach, New Jersey
---
March 4, 2017
Q. Hi Ted,

Thanks for the reply.

Ted should I ask the plating people to have the door handles clear coated lacquered to protect it from tarnishing?

Would that work?

Thanks
Sam
Sam Gill
- Manchester, United Kingdom
---
March 2017
A. Hi again. That's up to you. I wouldn't.
Regards,
Ted Mooney, P.E. RET
finishing.com
Pine Beach, New Jersey