Live! From Pine Beach NJ: The world's most popular metal finishing website, and the internet's friendliest corner
topic 6082 p2
Difference Between Chrome and Nickel Plating
---
1 2
---
A discussion started in 2000 but continuing through 2018
November 4, 2015
Q. Hi, I was wondering, I have a couple of solid brass garrison belt buckles from the '40-'50's. Would it be best to go with nickel or chrome plating for these pieces? Also, want to keep it periodically correct of course.
Timmy Beylemans
- Hoboken, Belgium
---
---
Chrome vs. nickel plating for dumbbells
November 9, 2015
Q. Dear Reader
Could you give me some idea about how to choose between chrome or nickel plating for free weights products like dumbbells, bars or plates? I mean for handles.

Thank you in advance!
Daniel Ortiz
- chiclana de la frontera, Spain
---
---
December 15, 2015
Q. Hi. I see some great information contained here, here's a little offbeat question I have:

I own some guitars with all Nickel hardware, and I'd like to upgrade them with a certain style bridge I've found; however, the bridges are Chrome-plated, and the visual contrast with the Nickel parts is jarring, to my eyes. Is there a chemical/solvent or other method that will give chrome an appearance that is closer to Nickel? Any info is appreciated!

Thanks, Marc
Marc Mercer
Guitarist - Peyton, Colorado
---
---
January 23, 2016
Q. Hi there!

Finding some really interesting information here, and I have already learned a lot, but I was hoping for some info on my specific situation.

I work as a circus performer, and I have a trapeze bar with weights on either end that I would like to keep shiny with a durable finish. The weights are hardened steel polished ball bearings. They are polished to a mirror finish right now, but I am looking for the best solution to keeping them that way and prevent any rust. I have looked into a lot of options such as clear coats, polishes, and powder coating, but seem to keep coming back to chrome plating as the best solution for look and longevity. The bar will mostly be hanging in a climate controlled theater for now, but will possibly be set down on hard surfaces occasionally and may be used in less climate controlled places in the future.

Any insight you may have on if chrome will be the most durable and long lasting coating would be greatly appreciated!
Tad Payne-Tobin
- Las Vegas, Nevada, USA
---
---
February 29, 2016
Q. Hi, I read all the answers, but still not sure about this: I want to buy a belt buckle for like a lifetime with great materials, and I have to choose from nickel or chrome plated belt buckle. While I like more the nickel one I want to know that it will last as long as a chromium ( since you advised chrome over nickel for outside use ) but I am not sure about a waist buckle can count as inside use or outside
Cropca Roland
- Pest, lest, hungary
---
---
March 17, 2016
Q. Hi,
This is a fascinating forum. Thanks for sharing your expertise.

For my bathroom remodel I would like to use a faucet fixture, but it is only available in brass (probably coated) or nickel-chrome. However, a polished nickel finish would be more traditional for the period -- 1890-1920. Elsewhere in this thread it was stated that it is not possible to plate nickel over chrome. Therefore, it would be necessary strip the chrome, or else use the brass version and plate nickel over the brass? Which do you think would be better/cheaper?

thanks,
Tom
Tom G
[last name deleted for privacy by Editor]
- Provo, Utah, USA
---
---
April 4, 2016
Q. We're a decorative hardware manufacturer and we're developing a new part. We want it to look as close as possible to #4 brushed stainless steel (304L) and it needs to have a comparable corrosion resistance of 304L (that has not been electropolished or passivated).

Typically these parts will be used indoors but they should be able to withstand "light" outdoor use, such as on covered patios, etc. and in some cases near the coast. There will also be some light part-on-part movement.

These parts will be made for us in Taiwan. The simple solution would be to make these new parts out of 304L, but that is probably not an option price-wise.

The materials that we have to work with are:
-Substrate of steel or -possibly- aluminum. (Prefer steel due to price.)
-Any type of common, decorative plating. (Nickel, chrome, copper-nickel, etc.)

We don't like chrome or bare aluminum because they lack the warmth/yellow tone of nickel/stainless. We'd also like a brushed finish (grain) instead of a completely smooth/mirror finish so as to match our #4 brushed stainless.

What do you recommend?
David Saye
Hardware Manufacturing - Atlanta, Georgia, US
---
---
Plating for audio jacks outdoors year 'round
June 1, 2016
Q. I'm working on a project for a consumer product that will reside outdoors year around in all types of climates. Could you recommend a finish for a female mono jack (like a stereo jack) that won't corrode? The product won't be visible to the consumer as it will be embedded in a plastic housing but because it will undergo the friction of plugging and unplugging I'm concerned about the finish wearing off and the corrosion impacting the performance of the product.
Fonda Moyers
- Palatine, Illinois, USA
---
---
June 11, 2016
Q. I have some WWII watches I have collected, U.S., British, and German(captured). Some of the finishes are bright, and I assume these are nickel chrome? Others are somewhat duller, and I am assuming these are nickel? Is this a fair assessment, and if not how do I tell the chrome finishes from the nickel finishes? By the way...great forum!
Bill Brankowitz
- Avondale, Pennsylvania, USA
---
---
October 16, 2016
Q. I have a classic car with painted bumpers and I want to have them re chromed.Which is the better process,chrome plating or micro (electroless) plating?
Tom Morden
- Trenton Michigan USA
---
---
Nickel plating on swizzle sticks quickly dissolves
November 10, 2016
Q. Hi
I want to make a couple of swizzle sticks using stainless steel rods (grade 304ss)
I had a few rods nickel plated and did a stress test. I placed the plated rods in a mixture of tequila, gin and water. After a few hours, I noticed that the plating washed off on many areas of the swizzle stick.

My questions are:
1) Should I nickel plate or chrome plate the swizzle sticks?
2) Are nickel plated or chrome plated rods safe to use as swizzle sticks?
3) If nickel or chrome plated swizzle sticks are unsafe, should I just use stainless steel (grade 316) rods as swizzle sticks (without any plating)?
4) Finally, how can I ensure my 304 or 316 stainless swizzle stick is corrosion resistant to alcohol.
Ryan Dennis
- Mumbai, Maharashtra, India
---
---
January 7, 2017
Q. Hi,
Big thanks for all the ample information about anticorrosion properties of Ni and Cr.
So cold 'tarnishing' of the Ni surfaces is based on the reaction of Ni with atmospheric sulfur -- S in different compounds such as SO2, H2S , mercaptans and the like.
In industrial hygiene, a sampling bags with Ni coated brass valve are used and respectively. The valve gets tarnished and Sulfur compound sampled shows low results diminishing its concentration with time. Manufacturer doesn't care about that and other valves from SST or Plastic are used. On the other hand Ni coated valve is good for all other chemicals with other good properties. Unfortunately, the valve include two parts assembled deadly with crimping and one of them has in construction - a plastic/rubber washer/gasket. The valve cant be coated farther with Ni by tumbling easily because of the small diameter air pass in the stem which would be very difficult to expose to electroplating .
Is there a possibility for not electroplating over Ni?. There is no mechanical charges on the valve (pressure differences or else) and its application is normally one to several times but the sampled mixture should not react with Ni.
Cutting the stem I see it is Ni coated inside also, maybe by tumbling.
Thank You
Regards
George

GEORGE MIHAYLOV
- Virginia Beach, Virginia
---
March 2, 2017
Q. Hi Ted,

Firstly I just wanted to say a massive thanks for an amazing thread, I have really found some helpful ideas in here as I am sure many other have too!!

I had a quick question which I was hoping you could be kind enough to answer.

Q. We need to get our Antique Brass Plated Door Handles, Back Plates & Door Hinges re-plated as we are modernising our house.

We really like the Nickel finish but are concerned that with time the Nickel coating will come off the handles or will tarnish with little use.

Can you recommend what I should be asking Electroplaters to do or what to look out for???

I just didn't want to get 50 x handles plated and find out they look bad over time.

Kind regards,
Sam
UK
Sam Gill
- Manchester, United Kingdom
---
March 4, 2017
Q. Hi Ted,

Thanks for the reply.

Ted should I ask the plating people to have the door handles clear coated lacquered to protect it from tarnishing?

Would that work?

Thanks
Sam
Sam Gill
- Manchester, United Kingdom
---
---
May 10, 2017
Q. Hi,

I'll use a spring door stop like this =>
I know there are manufacturing variables, but can you guess which finish might best avoid rust? e.g. chrome, nickel, white paint, brass, etc.

It may also be worth noting that the base plate of the door stop will be affixed to bare aluminum.

Thanks,
Rob
Rob Goldberg
- Fayetteville New York
---
---
August 17, 2017
Q. Hello! I am looking at wall mounted wine openers as a gift to my husband. I cannot decide between these two. I like the look of the darker black nickel plating but I do not really understand the benefits of the black nickel plating vs. chrome. Considering it is much more expensive, is it overall better quality? If so, in what regard? Worth the extra $$? Thank you!
Michelle Hunter
- Aiviano Italy
---
---
August 18, 2017
Q. I need to apply a coating on a brass component that mates to an aluminum component. The galvanic corrosion is an issue. Chromium is located 55% between Aluminum and Brass on the galvanic series. Nickel is 70%. The coating will need to be very thin (0.0005") and cosmetics do not apply. The aluminum component is far more expensive than the brass component and must be preserved. This needs to be a singular coating (not nickel/chrome). The assembly will be located near sea water in a hot and humid environment. What are the pros and cons of each coating regarding corrosion resistance? What is recommended and why?
Wapa Toolee
- Ann Arbor, Michigan USA
---
---
December 17, 2017
Q. Hello. I see some good information here from over the years. I wonder if you can help. I'm developing a pump. A seal made of carbon and graphite-filled teflon rubs against a 7075 aluminum surface. Sometimes grit will embed in the seal and then gall the aluminum surface pretty badly degrading the mechanical seal. I'm thinking of nickel plating the aluminum but after reading these notes wondering if nickel-chrome plating may be a better path for better wear and hardness properties.
Jud Ristau
- Medford oregon USA
---
---
March 26, 2018
Q. Thank you for your great information.
I purchased a set of fog lights for my car that will be fixed on grille guard. The bezel of these fog lights are hard plastic and the brackets are steel painted in black. As far as my grille guard is OEM GM bright chrome what type of plating I should choose for my fog lights bezels and brackets in order to have the best harmony with my grille guard?!
There are some aftermarket chrome parts that are not as bright and shiny as my chrome grille guard and have yellowish look which I don't want such a finished look on my fog lights.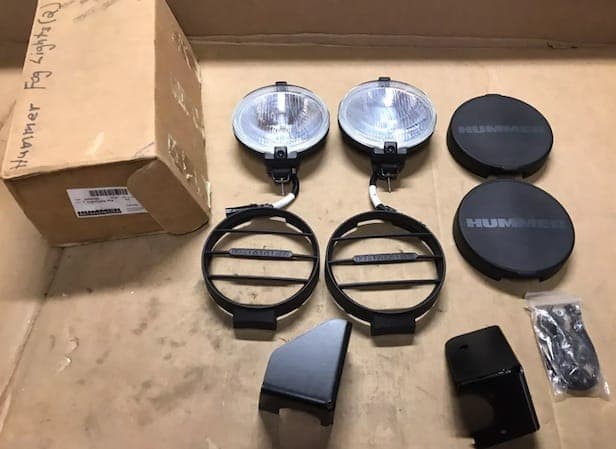 Please explain what exactly I should ask the chrome plating workshop to do for my fog lights to have the best clear chrome look? What type or under what specification?
Regards,
Syd Azh
- Budapest, Hungary
---
---
August 29, 2018
Q. Hi, hoping you can help with some advice. I am a student designing a low-cost extrusion machine for lab research into sand-filled composites. I am (currently) intending to make the screw and barrel from 4130 steel, and am unsure as to whether hard chrome and EN are possible for this steel grade, and if so which is the better option as it will be a highly abrasive environment, but particularly factoring in cost of plating.
Any help would be appreciated!
Michael
Michael Reeson
University of Southampton - Southampton, Hampshire, UK
---
---
October 31, 2018
Q. Sir
please explain detail procedure of satin chrome plating. What is the plating provided on vernier & micrometer.
sanjeev chikali
- Bangalore city/Karnataka state/India country city


If you have a question in mind which seems off topic, please Search the Site