topic 58242
GI (galvanized) sheet vs. CRCA for rust prevention and corrosion protection
A discussion started in 2010 & continuing through 2017 . . .
August 31, 2010
Q. We use powder coating process to paint our steel products. We had used CRCA (cold rolled close annealed) sheets for making furniture and found that it eventually corrodes if the surface is scratched. This applies to all our competitors products too. The environment in which it is being used is itself corrosive. Is Galvanized Iron a right choice? Is it better than CRCA for corrosion resistance?
Prakash San
Product designer -
Mumbai, India
---
TUTORIAL FOR NEWBIES:

CRCA means "cold rolled close annealed" -- basically, cold finished steel sheet. GI is an acronym for "galvanized iron" but most likely actually means galvanized steel sheet.

Galvanizing means dipping in molten zinc. Steel sheet can be continuously galvanized while still in a coil, or galvanized post-fabrication as a finished item. The chief advantage of pre-galvanizing sheet is economy; the chief advantage of post galvanizing is no bare edges where the item was sheared or where holes are drilled.

Steel sheet can also be electroplated with zinc as an alternative to hot dip galvanizing. Zinc plating is usually much thinner (and therefore far less corrosion resistant) than hot dip galvanizing. Unfortunately, suppliers of zinc electroplated sheet sometimes try to ride the coattails of galvanizing through adoption of the term "electrogalvanized", which is then sometimes shortened to "galvanized".

If you need galvanized sheet, it may take some effort to avoid being fooled by people who want to offer the much cheaper zinc electroplated sheet and call it galvanized sheet.
September 2010
A. Hi, Prakash.

If the galvanized and powder coated surface is smooth enough for your aesthetic needs in furniture, it sounds ideal. Galvanized metal is far more corrosion resistant than CRCA because of the cathodic protection from the zinc. If it is not decorative enough, you could compromise by doing zinc electroplating rather than galvanizing before the powder coating.

Regards,
Ted Mooney, P.E. RET
finishing.com
Pine Beach, New Jersey
---
September 4, 2010
A. I agree with Mr. Mooney.

The other option You can phosphate the steel furniture before applying the power coating.

One of the important attribute of zinc phosphate conversion coating is to improve the adhesion of the top coat and to prevent underfilm corrosion, the problem that you are currently facing.

T.S.N. Sankara Narayanan
- Chennai, Tamilnadu, India
---
A. TSN is clearly right that phosphatization must proceed powder coating! But sorry, I had assumed that Prakash and his competitors were already phosphating the furniture (iron phosphate for indoor furniture, zinc phosphate for outdoors?). If neither he nor any of his competitors are doing the simple and recognized pretreatment steps that are required before powder coating, simply doing things right is the first step.
My personal experience is that zinc phosphate, followed by e-coat priming, followed by powder coating delivers 15-year outdoor life to expanded metal patio furniture in a salt water lagoon environment.
Regards,
Ted Mooney, P.E. RET
finishing.com
Pine Beach, New Jersey
---
---
To minimize searching and offer multiple viewpoints, we combined multiple threads into the dialog you're viewing. Please forgive any resultant repetition.
---
---
Cable trays
September 13, 2011
Q. What is difference in CRCA & GI Sheets? Which one is better? Can cable trays be manufactured by using CRCA Sheets?
Ashish Hande
Buyer -
Pune, Maharashtra, India
---
September 13, 2011
A. Hi, Ashish. GI is an acronym for galvanized iron, although it actually means galvanized steel.
CRCA would not be expected to offer any corrosion resistance at all, since it's plain bare steel, whereas galvanizing is applied for the specific purpose of affording corrosion protection.
Regards,
Ted Mooney, P.E. RET
finishing.com
Pine Beach, New Jersey
---
---
Does galvanizing protect cut edges?
February 1, 2012
Q. I would like to know what kind of material is to be used for instruments used at coastal area of sea. The size and design is not allowing me to use Aluminium or SS in this. What is more preferable material CRCA or GI? What finishing do we need to do? Does GI get corrosion if we cut by edge. I need to use a Sheet 1.2 mm thick.
VIKAS GANDHI
Product designer -
PUNE, MAHARASHTRA, INDIA
---
February 2012
A. Hi, Vikas.
CRCA offers no corrosion protection except for the phosphate pretreatment plus the paint or powder coating you apply to it. If you apply a robust treatment system consisting of zinc phosphatizing followed by electrocoat priming followed by powder coating, through, you should be okay.
GI offers sacrificial protection, and the zinc coating is helpful towards retarding corrosion even on edges that are bare because of its sacrificial capability. But this is not as good as the edges being coated. In a world of possibilities it is difficult to select one coating process based on a very limited list of requirements, but powder coating on top of post-galvanized steel would be the most robust, and powder coating on top of pregalvanized steel would probably be second best. Good luck.
Regards,
Ted Mooney, P.E. RET
finishing.com
Pine Beach, New Jersey
---
February 16, 2012
Q. Hi. We are facing rust problem in CRCA sheet (2 MM) in our chassis. Of course, plant is near to seashore and expect high humidity. After passing sample salt spray test also metals are getting corroded in plant. Please suggest any one good top coat conductive materials to me.

Regards
Raghavendra
Raghavendra Badiger
-
Bangalore, Karnatake, India
---
February 16, 2012
A. Hi, Raghavendra.
Pre-galvanized or post galvanized sheet metal should solve your problem economically. But if CRCA has a good coating (zinc phosphate, electrocoat priming, powder coating), that should be good as well. Good luck.
Regards,
Ted Mooney, P.E. RET
finishing.com
Pine Beach, New Jersey
---
---
May 22, 2012
Q. May I have a write up on advantages of GI over CRCA as it is vvv important.

Please help me on same sir.

Thanks & regards!

Harish
Harish nanda
-
india
---
May 22, 2012
A. Hi cousin Harish. Galvanizing is the application of a coating of zinc to the sheet in order to provide the steel with cathodic protection. Zinc is more active than steel, and will corrode as necessary to sacrificially protect the steel. But, in good applications, the galvanizing forms a glassy skin of corrosion products in order to not rapidly corrode away itself. Contrariwise, CRCA has no corrosion resistance. But there are circumstances, like exposure to acidic environments, where GI is no better, and probably worse, than CRCA.
If something is vvv important, you really should do whatever is necessary to get the funding to retain a consultant to resolve the issue for you in a professional manner. Asking strangers on the internet, who possess little information about your circumstance and situation, for abstract opinions is okay for casual education but inappropriate when an issue is vvv important :-)
Good luck.
Regards,
Ted Mooney, P.E. RET
finishing.com
Pine Beach, New Jersey
---
---
CRCA vs. GI for cargo containers
July 2, 2012
Q. What is better in hot condition, CRCA or GI Sheet? I would like to know whether CRCA is better or GI sheet is better for container cabins?
Harshad Shah
- Ahmedabad, Gujarat, India
---
July 3, 2012
A. Hi Harshad.
How hot -- just hot ambient temperature? What other factors must be considered? Cost is no object?
My understanding is that the majority of ISO cargo containers are made of Cor-Ten steel rather than CRCA or GI -- but that is based on a couple of minutes of googling, rather than actual experience. Certainly GI sheet is more corrosion resistant than CRCA or Cor-Ten.
Regards,
Ted Mooney, P.E. RET
finishing.com
Pine Beach, New Jersey
---
---
Earthing flats
November 20, 2012
Q. Sir, is galvanised steel better than galvanised iron to be used as earthing flats?
Kinley Gyem
- Bhutan
---
November 20, 2012
A. Hi Kinley.
I am not sure of the answer, but please note that "galvanized iron" is not a specification, it is merely slang. And when we attempt to read a specification into slang we can be easily misled. It would not surprise me at all if the "galvanized iron" you are referring to is actually galvanized steel also, so that your question becomes "is galvanized steel better than galvanized steel?" :-)
Some people even call galvanized steel sheet metal "tin", so trying to answer what material is better without real specifications becomes impossible. Good luck.
Regards,
Ted Mooney, P.E. RET
finishing.com
Pine Beach, New Jersey
---
---
Galvanized steel for laboratory equipment
March 31, 2013
Q. Dear Sir,

I am working in a lab furniture manufacturing company. We use GI as raw Material, however I have noticed in all government tenders they ask to use CRCA but not GI. What could be the reason behind this.?
Tirth Jani
- Ahmedabad, Gujarat, India
---
April 1, 2013
A. Hi Tirth. The buyer who gave you the spec is the person you should inquire of for clarifications, especially because it's entirely possible that it was a typo or other error. But if you are just looking for speculation, I suppose that since the material is used indoors they might consider it to not be a corrosive environment that requires galvanizing, or they might feel that the galvanizing is too easily damaged by acids, or they may want to periodically repaint, and feel that CRCA makes for fewer problems. Good luck.
Regards,
Ted Mooney, P.E. RET
finishing.com
Pine Beach, New Jersey
---
November 8, 2013
Q. Dear Sir,

Which material is best G.I. with epoxy powder coating or CRCA with epoxy powder coating for furniture and equipment used within laboratory's corrosive environment exposed to Chemicals, reagents & acidic vapors 24x7.
Azeem Mohammed
- Hyderabad, Andhra Pradesh, India
---
November 8, 2013
A. Hi Azeem. In my opinion, CRCA is better for a laboratory/chemical environment. That is because the zinc galvanizing offers no resistance at all to the acids and acid vapors.
Although zinc coatings are a very useful corrosion fighting tool in normal environments where their corrosion products can build a good glassy skin to fight penetration and ongoing corrosion, zinc dissolves far more readily in acid than steel does, so the idea doesn't work at all in an acidic environment. My experience from a lifetime spent in plating shops is that galvanized materials must never be used in an acidic environment.
Regards,
Ted Mooney, P.E. RET
finishing.com
Pine Beach, New Jersey
---
---
January 28, 2014
Q. Dear Sir,

I am into Electrical Panel Building. While facing my clients I am frequently asked why CRCA and not GI.

Please help me out about this.
Several clients say that they want GI sheet Panels.
Kindly let me know with pro & cons of both GI and CRCA.

We offer CRCA Powder coated panels.
Baljinder Singh
Generators - Vapi, Gujarat, India
---
---
Why does galvanized steel have plastic film on it?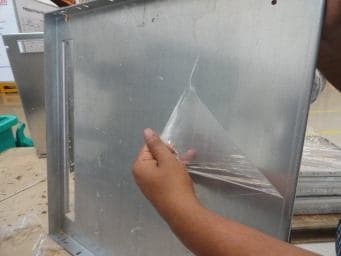 February 25, 2014
Q. Hi,

GI sheets comes with thin plastic film, what may be the purpose of this thin film? Is it avoid corrosion or scratch?

From point of view it is not for above both reasons. Please help to know the purpose.

Best regards,

Parameshwar
Parameshwaraiah T.P
- Bangalore, Karnataka, India
---
February 2014
A. Hi Parameshar. Surely it's to avoid scratches, handling damage, fingerprints, etc. But not all galvanized sheets come with plastic protection. So this question is probably best asked of the company which includes the plastic film on their product. After all, they have to charge extra for it, so they must have reasons to believe it's a good idea :-)
Regards,
Ted Mooney, P.E. RET
finishing.com
Pine Beach, New Jersey
---
---
Is zinc-rich paint needed on cut edges of galvanized sheet?
December 29, 2014
Q. Is it necessary to apply zinc-rich spray on cut edges or perimeter of drilled holes of a hot-dipped galvanized sheet?

Application of such is being required by our Consultant. Can we refuse to comply and claim that it wouldn't be necessary, as the surrounding areas of zinc coating form a galvanic cell with the exposed steel and would protect them from further corrosion ... and this would also apply if the zinc coating is scratched or otherwise locally damaged and steel is exposed.

As a form of localized cathodic protection - the zinc, being the more reactive metal, acts as a sacrificial anode; and the less reactive steel effectively transfer corrosion to the zinc through electrical current flow.

Of course, a more 'technical' explanation from you being the expert would be a great help.

Thanks and regards,

Ranito
Ranito Ombao
- Dubai, UAE
---
December 2014
A. Hi Ranito. I doubt that any 3rd-party, unfamiliar with your contract documents, will entangle themselves in your dispute regarding what must be done vs. what you can refuse to do.
Although you are correct that the galvanizing on the sheet will protect the cut edges to some extent exactly as you describe, the fact is that there is a corrosion-resisting advantage to putting zinc-rich paint, or any paint on the cut edges.
If you can think of some disadvantage to applying the zinc-rich paint, besides just the additional cost on your end, I think you have a better chance of amicably winning this one. One possible assertion is that the brand new product will look like a chewing gum repair; you can probably poorly paint a sample to emphasize your point :-)
Regards,
Ted Mooney, P.E. RET
finishing.com
Pine Beach, New Jersey
---
January 4, 2015
A. Sir:

Our publication: "Characteristics of Hot Galvanized, Metalized, and Bare Edged Galvanized Sheet Products," may be of interest to your question. It is in Metal Finishing, May 1985, pages 63-68.

Regards,
Dr. Thomas H. Cook
Galvanizing Consultant - Hot Springs, South Dakota USA
---
---
Mild steel vs. galvanized for chemistry laboratory
May 26, 2015
Q. In terms of rusting or corrosion, please let me know CRCA MS or GI sheet is better for chemistry laboratory.
Sahid Hussain
- Patna, India
---
May 2015
A. Hi Sahid. I would not use galvanized steel in a chemistry lab. Although zinc coatings are very useful in ordinary atmospheres, zinc dissolves much more readily in acid fumes than steel does.
When I used to design plating shops I found that it was very difficult to keep paint on galvanized steel in acidic atmospheres and felt that we were better off with painted plain steel.
Regards,
Ted Mooney, P.E. RET
finishing.com
Pine Beach, New Jersey
Striving to live "Aloha"
---
---
December 28, 2016
Q. For GI 14-22 gauge, what should be the ideal process for furniture? Sorry for repeating but zinc phosphating - epoxy coat - powder coat is fine?
Krishna Agrawal
- - Delhi, delhi, india
---
High Performance Powder Coating





"Duplex Systems: Painting Over Hot-Dip Galvanized Steel" (free download from AGA)

December 2016
A. Hi Krishna. It probably depends on the details of the furniture. What I personally found is that phosphating, followed by electrocoating, followed by powder coating, lasted almost 20 years on expanded metal furniture which was outdoors for all 4-seasons on a saltwater lagoon. Galvanizing was not even necessary.
But if you have crimped or spot-welded areas which paint & powder can't get to, either galvanizing or electrocoating can ensure full coverage of the steel ... and that seems key to long life. Good luck.
Regards,
Ted Mooney, P.E. RET
finishing.com
Pine Beach, New Jersey
Striving to live "Aloha"
---
January 1, 2017
Q. Hello Ted
Thanks for the reply. People suggest me that powder coating won't be robust on galvanised steel. Also, if I am using GI for powder coating, zinc coating would come out in pretreatment process.
Kindly suggest. Starting a fabricating company. Need help.
Krishna Agrawal
[returning]
- Delhi, india
---
January 2017
A. Hi Krishna. If you are unfamiliar with this stuff you really ought to consider retaining a finishing consultant. You will probably be too busy getting started in business to read the several books which would be useful on such subjects :-)
Galvanized steel can certainly be successfully powder coated. But that is not to say that your furniture must be galvanized, or that galvanizing is the best pretreatment for you; I previously described furniture which has lasted me 20 years outdoors and wasn't galvanized. Please carefully describe the furniture that you will be making.
Regards,
Ted Mooney, P.E. RET
finishing.com
Pine Beach, New Jersey
Striving to live "Aloha"
---
---
January 14, 2017
Q. Hi,
If the galvanised steel has reactive zinc layer above normal steel layer beneath, it should get corroded first.
If two plates one with galvanised and one without the galvanised is placed in the normal environment then galvanised should corrode fast as it is having the reactive characteristics. But we do not see normal red rust as such on the galvanised steel. Is it something to do with white rust? Can you please explain?
Ajay Hiremath
- Pune Maharashtra
---
January 2017
Hi Ajay. If a piece of steel is completely covered with zinc galvanizing, it cannot get red rust because no steel is exposed. Yes, the zinc coating will, over time, corrode to white rust.
But perhaps the thing you are not yet understanding is that under good conditions the corrosion products of zinc form a tight, adherent, glassy, non-porous layer on top of the zinc which can slow corrosion to a crawl. Whereas a special problem with iron and steel is that their corrosion product (red rust) is loose, fluffy, hygroscopic, and porous. The red rust does not form a protective coating on the steel to help shield it from the environment; quite the opposite, it tends to hold moisture in contact with the steel.
Regards,
Ted Mooney, P.E. RET
finishing.com
Pine Beach, New Jersey
Striving to live "Aloha"
---
---
May 29, 2017
Q. Which raw material (CRCA or GI) would best for making pharmacy racks?
BHARGAV PATEL
meditech solutions - BHARUCH, Gujarat, India
---
May 2017
A. Hi Bhargav. It would seem to me that these racks must be painted, and that properly pretreated and painted racks, used to display closed packages of products in an air-conditioned environment would not need the extra cost and pretreatment complications of GI.
But pharmacy racks are not a new and unheard of product where we must guess what will work satisfactorily. Surely there are racks that have been in use and whose performance can be evaluated?
Regards,
Ted Mooney, P.E. RET
finishing.com
Pine Beach, New Jersey
Striving to live "Aloha"
---
---
July 7, 2017
Q. Is it good practice to do buffing of GI material? Will it affect the GI material?
Kunal Sawale
- Nashik, India
---
July 2017
A. Hi Kunal. Buffing removes a small amount of the galvanizing, but I doubt that it is significant. But my question would be why do you want to buff it? It will not stay shiny anyway, and buffing away the chromate quenching may actually lead to faster dulling.
Regards,
Ted Mooney, P.E. RET
finishing.com
Pine Beach, New Jersey
Striving to live "Aloha"
---
July 10, 2017
A. Dear
We have to understand that Galvanizing is not at all a cosmetic coating. It is a protective coating.

Buffing thins down the Zinc plating thickness. It is not at all recommended.
U. C. Dalela
Galvanizers & Consultants. - NEW DELHI. India
---
---
September 12, 2017
Hi Sir,

We are going to open a pharma manufacturing plant in Sri lanka.

Can you suggest me which option should I choose CRCA/ GI/ or zinc polishing.
How can i get to know difference between CRCA/GI in my Lab?
Geetika zade
Regulatory Affairs - thane Maharashtra India
---
September 2017
A. Hi Geetika. I don't know what you mean by "zinc polishing" ... perhaps it was a spell-check correction and you meant zinc electroplating? I have already expressed my personal opinion that GI or zinc plating (or any other zinc-rich finish) is inappropriate for any acidic environment. I think that a properly painted or powder coated item will be more satisfactory than a zinc coated one -- but what is it that we are talking about (hardware, tabletops, benches, steel piping, catwalk grating)?
Regards,
Ted Mooney, P.E. RET
finishing.com
Pine Beach, New Jersey
Striving to live "Aloha"


This public forum has 60,000 threads. If your question seems off topic to this thread, you might prefer to search the site: