World's #1 finishing resource since 1989
No login needed: Chime right in
topic 52073
Current question:
December 18, 2020
Q. We are experiencing minute particles of metal residue present on sheet after galvanizing in our continuous zinc galvanizing line. This results in water stain patches on the strip after the strip passes through the squeegee rolls of the water and chromate tank as the rolls are unable to squeeze water out in the area of the particle. This anomaly occurs randomly. The affected part has to be then rejected.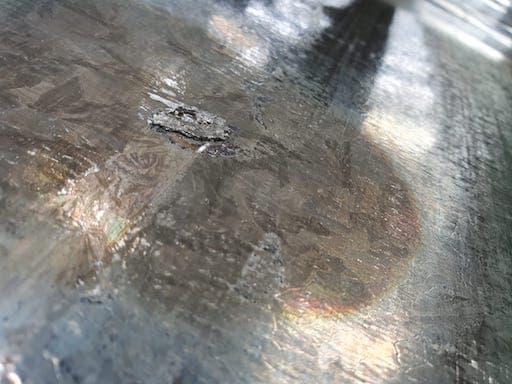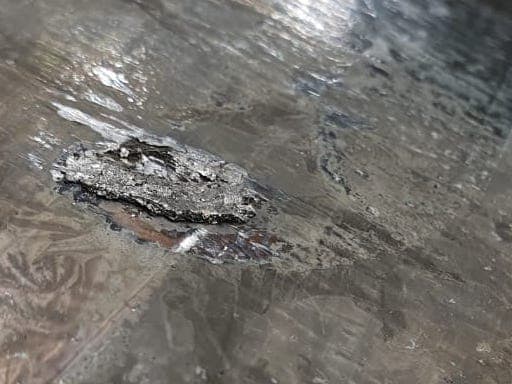 SANJEEV PATEL
- MOMBASA, KENYA
---
---
---
Previous closely related Q&A's starting in:
2001
Q. We have continuous hot dip galvanising lines with full Zinc bath in ceramic pot. When we increase the line speed to 150 mtr per min from 120 or 130 meter per min (processing and galvanising speed) the Zinc coating thickness goes up to 150 grams per square mtr instead of desired coating of 120 grams per square mtr.
Shall be grateful if someone can suggest the method to control the coating thickness with the higher galvanising speed.
R N Mahendru
- Nagpur, Maharashtra, India
---
2001
A. Hi,
It sounds like you need to increase your temp.The zinc when being pulled out at a faster rate doesn't have as much time to run off and thus cools to make a thicker coating. By adjusting the heat upward the zinc will flow off faster.
Dan Scarbo
- No. Adams, Massachusetts
---
2001
A. Dear Mr Mahendru
The zinc coating is a function of zinc bath temp, zinc bath chemistry ( % Al, % Pb and % Fe), strip temperature entering in the bath, air knife slot geometry, air pressure of wiping blower, height of air knife above zinc bath level and its angle, formation of zinc dross, strip cleaning in chemical degreasing and / or Nonox furnace. One can use various combinations of these parameter to achieve the desire zinc coating. Unfortunately, however the higher line speed above 120 m/min, zinc coating control challenge very difficult indeed.
Since you have not indicated current practices in your internet published letter, I don't know precisely what practice modifications to recommend.
G.D.Patange
- Mumbai, Maharastra, India
---
2006
A. TRY TO CHANGE THE QUALITY OF YOUR WIPING PADS.
TRY TO CHANGE THE TECHNOLOGY OF THE WIPING SYSTEM.
TRY TO FOCUS ON YOUR PEOPLE WHO ARE RESPONSIBLE FOR THE WIPING.
KOSTAS TZIAMPAZIS
- GREECE
---
December 18, 2011
A. DEAR SIR

DO YOU HAVE THE HOT BRIDLE IN YOUR LINE TO GET THE OPTIMUM TENSION IN POT AREA? ALSO THE UP PASS COOLING TOWER DUCT TOP & BOTTOM PRESSURE TO BE SIMILAR TO AVOID STRIP FLUTTERING. USE WIPER ROLLS IN ADDITION TO STABILISER ROLL IN POT TO CONTROL THE COATING AT HIGHER LINE SPEEDS. LAST BUT NOT THE LEAST THE OPERATOR'S TALENT & DEDICATION IS A MUST.
KIRUBAHARAN MANICKAVEL
- REWARI, HARYANA, INDIA
---
April 28, 2013
A. Dear Sir
Of course you know that the line speed is a parameter that controls coating weight; then you have to try other parameters to reduce coating weight:
m=K dv/p
d= air knife distance
v = line speed
p = air knife pressure
m = coating weight
Also you can use close loop control, or if you need more pressure it is better to modify the air knife blower.
Jamal Ashouri
steel - Esfahan, Iran
---
---
Want education or a book about continuous galvanizing
2005
Q. DEAR SIR'S
I AM LOOKING FOR SOME MATERIAL THAT CAN GIVE ME INFORMATION ON CONTINUOUS HOT DIP GALVANIZING LINE, GENERATION OF N2H2 THROUGH AMMONIA, ANNEALING TEMPERATURES FOR DIFFERENT GRADES OF HARDNESS AND ADHERENCE, ROLE OF Fe AND OTHER METALS IN ZINC BATH, SPANGLE FORMATION, SKINPASS AND TENSION LEVELER OPERATIONS AND COIL SHAPE PROBLEMS, etc.
I HAVE GONE THROUGH NET AND FOUND A BOOK CALLED "Hot-Dip Galvanizing: A Guide to Process Selection and Galvanizing Practice" [affil. link to book on Amazon] BUT I AM NOT GETTING ITS INDEX. ANYONE WHO KNOWS ABOUT SUCH A SOURCE CAN HELP ME.
WITH THANKS
WISHING ALWAYS BEST FOR YOU
M.
[last name deleted for privacy by Editor]
cont galv line - INDORE, MP, INDIA
---
2005
A. Hi, M. Amazon has a feature called "look inside this book" which shows you the table of contents and index for many books. Unfortunately, that feature is not currently available for this book or any galvanizing books. Hopefully a reader who has seen the book can advise whether it addresses your questions, and maybe by the time other readers view this page, the "look inside" will be active.
Amazon has at least 3 new books about continuous galvanizing if you can read Chinese.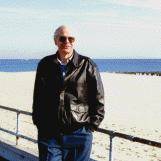 Ted Mooney, P.E.
Striving to live Aloha
finishing.com - Pine Beach, New Jersey
---
---
Stabilizer roll not rotating when processing thinner gauges
2007
Q. IN OUR GALVANIZING LINE WHEN WE PROCESS 0.27 MM AND 0.29 MM CR COILS AT 165 MPM FREQUENTLY STABILIZER ROLLS ARE NOT ROTATING CAUSING SCRATCHES ON SHEET. THESE STABILIZER ROLLS ARE NOT HAVING DRIVE. BARREL WIDTH IS 1600 MM.
OUR GALVANIZING LINE SPEED IS 185 MPM AND MINIMUM STRIP THICKNESS IS 0.27 MM,WE ARE FACING PROBLEM OF STABILIZER ROLLS STOPPAGE WHEN LINE SPEED IS INCREASED FROM 125 MPM TO 165 MPM. BOTH THE STABILIZER ROLLS ARE HOLLOW ROLLS AND MAXIMUM / MIN DIAMETERS ARE 200 MM/175 MM. WILL ANYBODY PLEASE EXPLAIN WHAT IS HAPPENING AND SOLUTION FOR THAT.
N.SRINIVASA RAO
SENIOR ENGINEER - JUBAIL, SAUDI ARABIA
---
2007
A. Stabilizer roll "freeze up" in fairly common when running thinner gauge and or narrow material. The only solution I have seen that will fix this would be to increase the intermesh between the stabilizer and the sink/pot roll. Increasing or lowering tension at the kettle may help as well well but I would try increasing the intermesh a bit. I usually run at about 3/4 inch intermesh and the problem usually goes away.
Mark Postema
- Rancho Cucamonga, California, USA
---
August 3, 2010
A. When setting your pot roll equipment, try putting the face of your rear stabilizer roll a bit protruding from the sink roll, say 2 mm in front of the passline. With the additional angle of contact created when your front stab is engaged, that should rotate the rolls.

Look into your bushings. Is there enough clearance and no build up of dross. If you are doing alum-zinc coating, this is very probable.

Am running 0.16 mm in my line. Alum zinc, at 180 mpm yet I don't have any stoppage of stabilizer rolls when I run
Nestor Cabrera
- Philippines
---
---
Continuous galvanizing process
2007
Q. Dear sir
I like to know what is the best and commonest technique for continuous galvanizing process?
Wet flux or NOF? Pb-Zn or Pure Zn bath?
best regards
Mahmoud Koushyar
- - Qazvin, QAZ, Iran
---
2007
? Please try to start the data flow by describing which you do, Mahmoud. Wet flux or NOF? Lead-zinc or pure zinc? Thanks!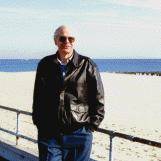 Ted Mooney, P.E.
Striving to live Aloha
finishing.com - Pine Beach, New Jersey
---
---
2007
Q. Dear sir, I want to know about the difference between pickling process used in flux type and NOF type galvanizing lines.
Sanjay Shah
employee - Ghaziabad
---
---
January 15, 2008
Q. Thank you for attention. We have wet flux Pb_Zn continuous galvanizing steel strip line.
How can we change our process from Pb_Zn to Pure zinc?
Mahmoud Koushyar
[returning]
- Qazvin, QAZ, IRAN
---
A. Hi again Mahmoud. You will find what I think is a good dialog on that subject in Topic 24568, "How to lower the Lead content in the zinc kettle".
Regards,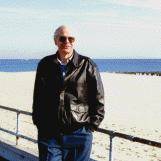 Ted Mooney, P.E.
Striving to live Aloha
finishing.com - Pine Beach, New Jersey
---
---
June 23, 2008
Q. Wet Flux Pb-Zn Galvanize process with no skin pass and mini spangle mill.

We are a new galvanizing line and we are facing the following problem during the production run.

1. Zinc cracking on thick gauge galvanize material when send to roll forming, with coating mass of 350 g/m2. Why is this happening?

2. Zinc peel off from it base material after going through the oven of our paint line process.

3. Can't achieve uniform spangle.

Please enlighten us on the above problem.
Tiong Mee Hing
- Kuching, Sarawak, Malaysia
---
---
Wrinkle Defect
May 12, 2009
Q. Dear All ;

I am an metallurgical and materials engineer and working in sheet steel factory in Turkey.
As shown in the picture ; there is a wrinkle defect (mark) in our galvanized sheet steels and we do not know the root reason of this problem.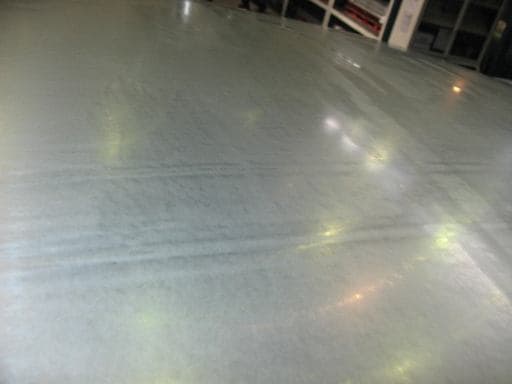 We have a continuous galvanizing lines and we could not find any problem about process parameters (tensions, atmosphere and furnace temperatures are normal). Could you have any idea about this surface problem.

Regard
Turgut Kirma
engineer - Bursa, Turkey
---
April 1, 2010
A. Dear Mr. Kirma,
What is the thickness and width of the material? What is the hardness?
I have seen this wrinkle marks before. It happened on thin strip 0.30 mm thick and 0.30 mm wide.
It also appeared on 0.20 mm thick and 914 mm wide. Both material is CQ (soft)
The wrinkle marks appeared after the strip exits the molten zinc.
we were using crowned sink roll. After removing the radial crown on the sink roll, the problem disappeared.

Hope the info helps

Voo
Yeok Kwee Voo
- Karachi, Pakistan
---
September 29, 2015
A. Hello,

I've seen this kind of mark on galvanised products.
The mark was already present on strip before galvanizing.
They were created during cold rolling. The problem is that the marks were not easily seen on line entry and they were very easily seen after galvanizing.

Take a look on your coils surface aspect.

Best regards.
Claudio Brito Ferreira
NLMK - Strasbourg, France
---
---
Wire galvanising wiping pad material?
April 25, 2012
Q. Hello,

I am an engineer and my company is implementing continuous wire galvanising process. We have fully designed and manufactured the whole galvanising line. Everything works fine except for the wipes.
The wire exits the zinc bath at 45 degrees angle and immediately passes through two wiping pads, which are 50 mm long and 25 mm wide. Right after wiping, the wire enters the quench tube were cold water circulates and cools the wire. As a wiping material I am using Palmetto Brite wire wipes.
The wire is clamped in between the pads with a clamping screw and the finish is good but after running for 2-3 minutes the coating gets thicker and rougher. The problem can be solved by applying a bit more force to the pads. The finish is smooth again for 2-3 minutes and then the same problem comes up. The same procedure is repeated until the physical limit of clamping is reached and wiping pad needs to be replaced.

Is there anything I might be doing wrong, or alternatively should be doing. Maybe I should try different wiping materials? What materials are you using for wiping galvanised wire.

More details:
Wire traveling speed 40 m/min
zinc tank length 2 m
zinc temperature 520 °C.

Any ideas would be highly appreciated.

Peteris
Peteris Zavadskis
engineer - Latvia
---
April 27, 2012
A. Sir,

Zinc temperature is very high. If the kettle is iron, it will not last long.

Regards,
Dr. Thomas H. Cook
Galvanizing Consultant - Hot Springs, South Dakota, USA
---
---
July 10, 2012
Q. We have a continuous galvanizing line for steel wires here in Kampala. We are using Palmetto Brite Wipes pads. Yes, they work well but padding is not automatic and is done by operators; the coating weight varies with operators and is sometimes less than what is required! My question is: Is there any cheaper alternative to pad wiping apart from nitrogen wiping or if there any way we can make pad wiping automatic (as in set it so as to achieve the coating we want automatically)?
Collins Wasswa
- Kampala, Uganda
---
May 25, 2017
A. Hi. I'm a production co-ordinator on a 24-wires galvanizing line.
Here our pads (from Robco) are made from teflon.
When all parameters are good (lead, charcoal, HCl, flux), pads can last a day or more depending on zinc level and welding quality.

I've talked to some people in Bissen Luxembourg and they said that their pads can last more than a week.

Mathieu Laporte
- Montreal Canada
----
Ed. note-- Readers: to the extent possible, try to keep any suggestions generic, suggesting operational procedures, pad materials and types, etc. No testimonials to brand names please (why?).
---
---
March 24, 2013
Q. Sir, after sink roll change we keep the line speed lower for smooth rotation of sink roll. So is there any method through which we can enhance the productivity by accelerating the speed (as new sink roll rotation is constrained), i.e., by doing some change in assembly of sink roll?
Pankaj Kumar
- Ahm, Gujarat, India
---
---
September 5, 2019
Q. We work on hot dip galvanizing pipes and we are having hard time to control zinc thickness. We use air knives to control zinc thickness but we are not getting enough results. What would be the optimum pressure/ CFM to blow off excessive zinc.
Steven mary
- Arkansas, USA
---
September 15, 2019
A. Sir: I have used hot air to reduce the external zinc coatings on pipes.

To get a better understanding of fluxes and to use the 20 second dynamic test on flux, See the on-line library on this website.

Normally the zinc coating on the inside diameter of the pipes is four times thicker than the outside diameter thickness. Do you steam blow the inside of the pipes? What is the i.d. thickness of the zinc on the pipes?
Regards,
Dr. Thomas H. Cook
Galvanizing Consultant - Hot Springs, South Dakota
---
---
September 14, 2017
Q. Hi.
How is it possible to achieve zinc coating of above 50 g/m2 especially for wires of diameters below 1.90 mm using the pad wiping method?
Bath length is 2 m.
Bath temp is 450 - 460.
Line speed is 60 m/min.
Collins Tony
- kampala,uganda
---
April 5, 2018
A. We are currently supplying wiping pads for a steel company in India. The Pads are lasting around 10-12 hrs for smaller sizes at high speeds and 24 hrs for bigger sizes at lesser speeds. The pads give better performance if the scaling is removed by pickling. If Mechanical scaling is used then life is reduced.
Amol Tanawade
- Mumbai, Maharashtra, India
---
---
February 4, 2020
Q. CONTINUOUSLY NITROGEN WIPING NOT GOOD
... BUT N2 PURITY IS 0.01, NO ROUGHNESS BUT SURFACE LOOKS LIKE LITTLE BIT LUMPS.
ALREADY WE DID NITROGEN TANK EMPTY-OUT 3 TIMES. ZINC BATH TEMP ALSO UP TO 460. WE TRIED ACID CONC 12, FLUX 5.0 PH, SP.GRAVITY 1.06, AND NITROGEN PRESSURE ALSO GOOD. MAY I KNOW THE PROBLEMS?
RADHAKRISHNAN RAJENDRAN
KHALEEJ STEEL - UNITED ARAB EMIRATES