60,000 Q&A topics -- Education, Aloha, & Fun
topic 49988
Cadmium Plating Problems
A discussion started in 2008 but continuing through 2020
Can't plate internal cavity
September 15, 2008
Q. We have parts we want to get cadmium plated; however, our vendors say they can't because of large internal volumes.

The parts are approx. nine inches long, have an O.D. of 8 inches, and an ID of 7.8 inches - the internal cavities are approx. 8.9 inches deep.

Our problem is that our vendors say they can only plate three or four inches deep inside the parts.

The base metal is E4340 - can anyone suggest a good alternative to cadmium plating for this material?

thanks,
Jerry Smith
product designer - Huntsville, Alabama
---
September 15, 2008
A. Hi, Jerry. We have many threads here about possible substitutes for cadmium plating; please put "cadmium plating alternative" or " ... substitute" into the google custom search engine to find those many informative discussions. But the thing is ... obviously, nothing has ALL of the properties of Cadmium, and substitutions can only be suggested with extreme care after understanding the full functions of the component.
The problem here is not cadmium plating specifically, but economical plating of an internal cavity. It is certainly possible to cadmium plate these parts, but perhaps not within your budget. Internal anodes will be required, and perhaps additional handling, like plating with the open end of the hole up, then inverting to minimize dragout, etc. Best of luck.
Regards,
Ted Mooney, P.E.
finishing.com - Pine Beach, New Jersey
Striving to live Aloha
---
October 12, 2008
A. It is possible with additional anode to be given in ID. We are following the same for aerospace components and we are getting the same. If require You can go for even local plating also.
T.Chandra Sekhar Reddy
plating shop employee - Mumbai, Maharashtra, India
---
October 14, 2008
A. This is not an easy part to plate, so many platers will pass upon the opportunity. It has to be run on a hand rack since it must be plated with the opening up to avoid gas generation being trapped. Parts this size are bulky/heavy which slows down production. It will require several racks made especially for the part. It WILL require an internal anode. Stick cadmium for anodes are very difficult to come by. We ended up casting our own which is a safety problem. Cadmium fumes are toxic!.
Why cad? You might be able to use zinc. EN might work, but would be more costly. Silver is an excellent replacement for cad for most uses, but that is really expensive.
James Watts
- Navarre, Florida
---
---
Cadmium Barrel Plating is Gritty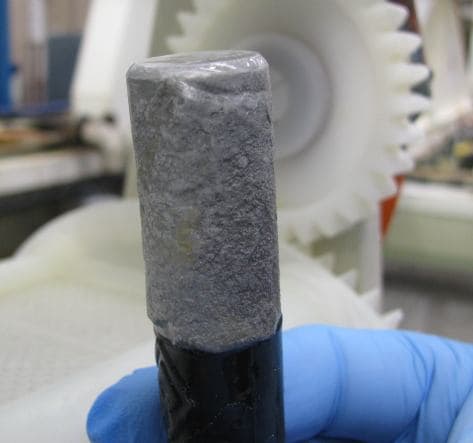 August 20, 2014
Q. We are experiencing problems with our cadmium barrel plating.

On removing and rinsing parts from the barrel, the finished parts are exhibiting minute particles (grain like) randomly dispersed on the surfaces. There are not embedded in the the cadmium plating but more so on the surface. We have to remove the particles using a fibre glass pen.

The contact bombs on the end of the danglers are covered in grainy particles (sand like) which I believe is contributing towards the particles on the finished components.
What is the reason for the grainy build up on the bombs. This occurs even after 1 or 2 loads. Is it because the bombs are sitting static in the barrel during processing.

Any suggestions as to how to solve this problem.

Many Thanks.
Nigel Bell
Process Engineer - Crumlin, Count Antrim,Northern Ireland
---
---
Cadmium anodes turn black only during plating
February 12, 2020
Q. What would cause a black film to form on cadmium anodes while plating that would dissolve very rapidly off the anodes when plating is complete.
Don Davis
American Airlines - Tulsa, Oklahoma
---
February 2020
A. Hi Don. This might depend on whether the bath is cyanide, acid, Ticad, LHE ... so it would be helpful to know. Thanks.
Regards,
Ted Mooney, P.E. RET
finishing.com - Pine Beach, New Jersey
Aloha -- an idea worth spreading
---
February 12, 2020

Q. The plating solution in respect to the post is LHE cyanide cadmium. The film does not seem to effect plating efficiency or HE.

Don Davis

[returning]




American Airlines - Tulsa, Oklahoma





---

February 12, 2020

A. In a common cyanide cadmium solution the anodes turn black when the free cyanide is too low. Get it back up to about 18 oz/gal and the metal around 3 oz/gal, try it in a bucket first and see if the black goes away and you see clean cadmium color.

Robert H Probert

Robert H Probert Technical Services

Garner, North Carolina
---
March 2, 2020
A. Maybe it's turning black because you apply high (very) voltage? After you switch off, the anode turns to normal?
Izzuddin Jaafar
- Selangor, Malaysia
----
Ed. note: This is only one of many 60,000 threads on finishing.com; we have some threads focused on specific cadmium plating problems like topic 47214 "Cadmium plating turning black" and topic 36051 "Cadmium plating blistering/adhesion problems".