topic 36051
Cadmium plating blistering/adhesion issues
A discussion started in 1998 & continuing through 2017
(1998)
Q. We experience problems de-embrittling zinc plated high tensile steel parts. This is not a new problem, we have continuously had problems for 50+ yrs., and other British platers apparently do as well. We used to do cadmium plating, and never had any problems with this process. However, items that were previously cadmium plated and are now zinc plated present problems. This indicates that the zinc plating is the source of the problems.
The problem:
Bad blistering, or dulling of the plating after de-embrittlement. This does not occur on every item in a batch and it is difficult to identify why this should be. The problem does not occur on every base material, but those that give rise to problems are always troublesome. We cannot see any pattern in the base materials, except one job that is heat treated (to harden it) just before we receive it for plating is always bad. However, when we ask our customers if other problem jobs are heat-treated this does not always seem to be the case.
Has anyone experienced these problems? And solved them. Please let me have your thoughts.
David Grimes
plating company - Farnham, Surrey, United Kingdom
---
(1998)
A. Dear Dave,
I have experienced this same problem years ago when Chloride Zincs were first on the market, it seemed at the time that the "Blistering" was not a blister as such more an Exfoliation, the Zinc used to "grow" and just flake off, but never to the base steel always to a Zinc base, I thought that the problem was caused by high concentrations of the Wetter component of the Brightener system, any way we seemed to be able to overcome the problem by lessening the wetter component from about 3% by volume to about 2.2 - 2.5 % maximum with a corresponding drop in the brightener component, from memory the add rate of the brightener was down to 70 % of that recommended by the supplier.
I know there have been improvements in the systems in the meantime but it is worth a try anyway, if it fixes your problem let us know
regards
John Tenison - Woods
- Victoria Australia
---
(1998)
A. DAVID,
THE HARDNESS OF THE BASE METAL PLAYS AN INTEGRAL PART IN WHETHER THE ZINC PLATE STAYS ON OR BLISTERS. ANY STEEL PART WITH A HARDNESS OF 38 ROCKWELL C OR GREATER, SHOULD NOT BE ZINC ELECTROPLATED. HYDROGEN EMBRITTLEMENT IS THE CULPRIT. MECHANICAL PLATING WHICH DOES NOT IMPART HYDROGEN INTO THE BASE METAL IS REALLY THE CHOICE OF PLATING.
IN N.A. FORD, GENERAL MOTORS, AND CHRYSLER ALL HAVE MECHANICAL PLATING SPECIFICATIONS JUST FOR THIS PURPOSE. CHECK WITH TERRY CLARKE OF Macdermid G.B. FOR MORE INFORMATION
I KNOW OF SOME PLATERS, BECAUSE I USED TO BE ON THE CHEMICAL SUPPLY SIDE, DO GET AWAY WITH THIS BLISTERING BY REWORKING THE PARTS. GUARANTEED - THEY WILL BE FINE THE SECOND TIME THROUGH. MAKE SURE YOU ADJUST YOUR PRICE ACCORDINGLY.
FINALLY, THE TYPE OF SOLUTION ie. CYANIDE/CHLORIDE/ALKALINE AND THE THICKNESS OF THE DEPOSIT WILL CAUSE BLISTERING
CHLORIDES HAVE A HIGH ORGANIC INCLUSION IN THE DEPOSIT WHICH WILL EXPAND UPON HEATING EG.BLISTERS
ALKALINES ARE PRONE TO "POST DELAYED BLISTERING" DUE TO STRESS
CYANIDES ALTHOUGH THEY DO NOT COMMONLY BLISTER CAN IF OVERLOADED WITH ORGANICS
ANY ELECTROPLATED ZINC DEPOSIT, AS IT APPROACHES 1.0 MILS IN THICKNESS, WILL TEND TO BLISTER.
REGARDS
RAY
ray delorey
- CAMBRIDGE, ONTARIO, CANADA
---
(1998)
A. I have experienced similar problems with Zinc plating blistering prior to painting when the paint was forced cured, or powder coated. I also believe it is a problem with entrained brighteners,or brightener levels. However, interestingly enough, the main prevention step was determined to be controlling the plate thickness. When the thickness was controlled to .2-.3 mils the problem went away.When the plate thickness was above .4 mils it blistered when heated.
Ward Barcafer, CEF
aerospace - Wichita, Kansas
---
(2000)
A. While probably stating the obvious, the embrittlement of high-strength (i.e. high-carbon) steels is due to entrapment of atomic hydrogen in the steel.
My experience with this problem was when having high-strength carbon steel parts plated with zinc chromate in a batch plating process. The only solution we found was baking of the plated parts at 350-375 °F for 1-3 hours (depends on thickness of part). This theoretically removed quantities of entrapped hydrogen from the steel and coating. This completely eliminated the problem without changing the plating process itself. These parts were AISI 4140/4150 steels which were heat-treated prior to plating with tensile strength in the 150 ksi range. The baking requirements for your steels might be somewhat different. If we did not bake these products we encountered periodic embrittlement failures in service. The metallurgical condition of the steel to be treated also influences the embrittlement potential.
It is probable that hardened parts require consideration of a different cleaning method to reduce the potential for hydrogen embrittlement. Blast-cleaning or alkaline cleaning pretreatment may reduce the potential for hydrogen embrittlement for high-carbon, high-strength steels when compared to other methods which evolve hydrogen as a by-product. Those more knowledgeable about plating process might know other plating process controls which could achieve reduction in hydrogen entrapment.
Robert P. McCrossen
- Jacksonville, Florida, USA
---
---
Will cadmium plating adhesion drop if we switch from cold rolled steel to sintered component?
(1999)
Q. We are in the process of changing material for a component from 1215 cold rolled steel to a sintered Powered Metal having similar properties for an Aerospace component. The plating requirements call for Cadmium plating to be applied. We would like to access information regarding adhesion factors or differences (if any exist) of the Cadmium plating on the different materials. Any suggestions as to where we should be looking for this data? Thanks
Dale Beymer
- Burbank, California
---
A. Hi Dale. The goal for plating is perfect adhesion, meaning that either the substrate or the coating will tear--separation will not occur at the interface. I'm not personally aware of a reason to expect less in this case.
However, what I would be much more concerned about would be absorption of plating solution into any porosity in the sintered powdered metal. I think you may want to investigate vacuum impregnation to seal the powdered metal parts before plating. Good luck.


Ted Mooney, P.E.
finishing.com
Pine Beach, New Jersey


---
---
Delayed Blistering in Cadmium Deposit
(2000)
I am having trouble with delayed blistering using a cadmium cyanide plating bath. The chemical analysis of the bath is within the its operating parameters. The only suggestion from my analysis was to add 50 ppm of nickel to the cadmium bath. Will this help eliminate the blistering problem? Cleaning/Rinsing is my first suspect as to the cause of the problem. Another concern I had was contamination from the ammonium nitrate stripper. We use the ammonium nitrate to strip the cadmium, when re-plating. Could the ammonium nitrate dragout be causing a problem?
chris mccain
Gadsden, Alabama USA
---
(2000)
What is the composition and history of the base metal?
Tom Pullizzi
Falls Township, Pennsylvania
---
---
(2005)
Q. We have two cyanide cadmium plating tanks. Recently a 15% draw off of the solution was conducted to maintain the carbonate levels. After this draw, one, and only one, of the tanks started having blistering/adhesion problems. The draw and chemistry make up was conducted in the same fashion.

Specifics:
Similarities
Both tanks use the same cleaner and HCl pickle.
These problems are limited to areas of the parts where the surface finish callout is 16 or smoother.
The chemistry of both tanks is very close, and are well towards the mid range of the specification.
Current densities of plated parts are set the same between tanks.
Size and agitation in both tanks are similar.
Temperatures are within 2 degrees.

Differences:
The tank without problems has measured rectifier ripple of 45% compared with 5% on the problem tank.
The tank without problems has ~60% of the anodic surface area compared with the troublesome tank.
Part to anode distance is 9" and 11" for the bad and good tank, respectively.
The bad tank has an FRP liner and the good tank has a Koroseal liner.

This has become a real puzzler, and any help or insight relating to troubleshooting the tank would be appreciated.
David Harvey
Aerospace - Portland, Oregon, USA
---
(2005)
A. Hi David. I think perhaps this calls for Hull Cell testing. I think you could use a hanging Hull Cell in each tank in this case, which would further reduce the variables to narrow it down to whether the plating solution itself is the problem. Good luck.
Ted Mooney, P.E.
finishing.com
Pine Beach, New Jersey
---
(2005)
A. Has chromic acid from chromate carryover from ragged racks entered the tank?
Have you mixed in titanium anode baskets, which alternately anodize and do not pass current causing voltage increase and then strip when the current is turned off?
Surface Prep? Are you plating onto leaded steel or 4000 high strength steel?
Switch the rectifier leads to opposite tanks and see what happens.
Dip out solution into a 5 gallon bucket, hang over an anode basket, add 4 oz/gal Sodium Cyanide, plate and see what happens.

Robert H Probert
Robert H Probert Technical Services
Garner, North Carolina
---
(2005)
Q. Thank you for all the input. Follow up to the suggestions are:

Hull cell plating between the tanks was inconclusive regarding adhesion.
Chrome levels in the tanks were measured and were quite low (< 2 ppm).
We do use titanium baskets to hold our cadmium anode balls, but this has not changed in years.
We are plating 4000 series steels and use a strong alkaline soap clean followed by HCl pickle prior to plating.
Our tanks are not close enough together to allow for switching of the bussing to test differences in the ripple.

We did notice an improvement by putting reverse current to the anode baskets, but I'm not sure if this is coincidental or not. Any insight as to why this might improve the condition?

Also, I have always considered plating adhesion to happen on such a micro level that surface roughness should not have a real effect. Is this the case?

Thanks again for all the feedback.
David Harvey
- Portland, Oregon, USA
---
A. Hi. I would agree that plating adhesion does not require "tooth" and is not dependent upon a rough or smooth surface.
Regards,
Ted Mooney, P.E.
finishing.com
Pine Beach, New Jersey
---
(2005)
A. You should not use titanium baskets in a cyanide solution. When the current is turned on the titanium "anodizes" and becomes less conductive, the voltage goes up (if automatic) and the current goes down. Recommend a change to steel baskets now.

A dip in HCl on 4000 is seldom enough activation, try a Nickel Chloride Strike: 2 Pounds per gallon Nickel Chloride with one quart per gallon HCl, cathodic. Do not use the S-rounds - use Rolled Depolarized Anodes and take then out when not in use.

Robert H Probert
Robert H Probert Technical Services
Garner, North Carolina
---
---
Cadmium plating adhesion tests?
(2007)
Q. Hello;

I want to apply Rubbing as an NDT test for adhesion of cadmium plating. Anyone know how to perform such a rubbing test? Or does anyone know a relevant standard or process specification for rubbing?

Thanks in advance.
Burak Deger
engineer - Turkey
---
(2007)
A. ASTM B201, 'Standard Practice for Testing Chromate Coatings on Zinc and Cadmium Surfaces,' describes rubbing with a soft gum eraser to determine the adhesion of chromate coatings.

ASTM B766, 'Standard Specification for Electrodeposited Coatings of Cadmium,' describes several destructive-type abrasion tests but also refers to ASTM ASTM B571 [link by ed. to spec at TechStreet], 'Standard Practice for Qualitative Adhesion Testing of Metallic Coatings' for additional methods. The burnishing test (rubbing with a rounded end steel rod) given there is relatively non-destructive.
Ken Vlach
- Goleta, California
Finishing.com honored Ken for his countless carefully
researched responses. He passed away May 14, 2015.
Rest in peace, Ken. Thank you for your hard work
which the finishing world continues to benefit from.
---
---
Blisters in cadmium plating 8740 material
October 26, 2008
Q. HOW CAN I ELIMINATE BLISTERS IN 8740 MATERIAL THAT IS BEING CADMIUM PLATED TO AMS QQ-P-416 [link by ed. to spec at Defense Logistics Agency, dla.mil] SPECIFICATION?
ROBERT CANTILLO
METALLURGICAL ENGINEER - SANTA ANA, CALIFORNIA, USA
---
October 31, 2008
I am not familiar with your base metal. I do know that in high carbon steels like 4340 that you can over-clean or over-etch it and get millions of tiny blisters. If you get blisters that are over 1/8", then you probably are not cleaning or etching adequately.
You might have to go to a nickel strike to prevent it.
James Watts
- Navarre, Florida
---
November 3, 2008
Like James, I am not familiar with 8740, but according to my ASM alloy book it contains in % carbon .38-.43, Manganese .75 to 1.00, Phosphorus .04, Sulphur .04, Silicon .2 - .35 . . . and these next three which are your problem: Nickel.4 - .7, Chromium .4 - .6, Molybdenum .2 - .3.
Because of the nickel, chromium and moly, you must use some sort of drastic activation. Start with a nickel chloride strike as James suggested; 1.5 pounds/gal nickel chloride and 1 quart/gal Hydrochloric Acid, rolled Depolarized Bagged Nickel Anodes (S-rounds will not work after the first day due to their rapid solubility), room temperature, about 2 or 3 minutes. If it works, then remove the anodes between loads to prevent the metal increase. If this does not work, then contact: "The Nickel Development Institute" ; get the address from Ted Mooney of finishing.com.

Robert H Probert
Robert H Probert Technical Services
Garner, North Carolina
---
November 4, 2008
Hi. The Nickel Development Institute is at www.nidi.org
Regards,
Ted Mooney, P.E.
finishing.com
Pine Beach, New Jersey
---
November 11, 2008
A. Can't use a nickel strike. AMSQQP416 requires cadmium directly on base metal for steel parts. Your problem is probably not cleaning. The material is usually heat treated to a high strength level (HRc 40-50). Treat it like a high strength steel. Make sure the heat treat scale is off. Try a stress relief (375 °F for 5 hrs.) before plating. Then run a DOE using various cleaning and acid dip times. I run different parts using 8740 and need to use different processes to avoid blisters. So try your DOE separately across different types of parts. 8740 is a pain (been there, done that)!
Brad Walters
- Orange County, California, USA
---
March 30, 2011
-- this entry appended to this thread by editor in lieu of spawning a duplicative thread
Q. We are plating ferrous alloys with a cyanide cadmium bath. Lately we have had blisters appears on the ID of shafts that present themselves after the hydrogen embrittlement relief bake. The parts are racked and a rack mark is present as a line throughout the ID. The blisters appear to be on one of those rack marks, however, after the parts are turned the other rack marks come out with no issues. We have switched over to a new nickel based brightener approved by our customer, however, our old brightener (discontinued) was also nickel based. Our chemistry checks out as good and we had a few weeks of plating in which no problems of any sort occurred. We've never experienced blisters after cadmium plate in the past 30 years. What are some factors that could lead to blistering for a cadmium plate?
Jonathan Lelah
Materials Engineer - Chicago, Illinois, USA
---
April 17, 2011
A. Hi Jonathan,

We too are experiencing blisters in cad plate lately . The problem most likely originates from surface preparation. In our case improper grit blasting appears to cause the problems. We do not use brighteners by the way.

best regards

Jeroen
Jeroen Visser
- Geldrop, Netherlands
---
Cadmium detachment
May 22, 2013
Q. We have problems related with cadmium detachment, the area with the problem we detected is where the support tooling have contact with the component and we clean and strip the tooling but the detachment is still presented.

We revised the cleaning of the tool and the cleaning of the area but the cleaning action that we took it is not working. We use the adhesion tape test to check the cadmium adherence sometimes we did the adhesion test and not cadmium detachment is presented but one or two days later we did the adhesion test on the same areas and we have detachment.

Can suggest to me that what can I need to check more to resolve this problem?


Jose Cuevas
- Mexico
---
May 27, 2013
A. What is the metal and alloy that you are trying to plate cadmium onto?

Robert H Probert
Robert H Probert Technical Services
Garner, North Carolina
---
May 31, 2013
Q. The base metal is 300M where we apply cadmium plating, we performed adhesion tape test on other areas and is ok but in this specify area with tooling contact is not ok
Jose Cuevas Cuevas
- Mexico, Distrito Federal, Mexico
---
---
July 20, 2013
Q. After cadmium plating & hydrogen de-embrittlement (SS4140 material ) blisters are noticed. For the pre cleaning I did two trials: I used 30% HCl & 25% sulphuric acid. separate bath for the 2nd trial 30% HCl amp;& 25% H2SO4 +100 gm/l ammonium fluoride salt. After direct cadmium plating, I have a problem of blisters; please suggest some good chemicals suitablefor pre cleaning.
Karthi Keyan. M
plating - Bangalore, Karnataka, India
---
July 22, 2013
A. Had the same problem many years ago on the same base metal.
Turned out to be over cleaning and / or over etching.

We cut both times in half, checked for water break and plated. Problem went away.
James Watts
- Navarre, Florida
---
July 22, 2013
A. Is it "leaded" steel ?

Robert H Probert
Robert H Probert Technical Services
Garner, North Carolina
---
---
April 29, 2014
Q. Hello All ,

We are facing a blister problem in cadmium plating on Aluminium (machined & Diecast) with Semi bright nickel under coat? Can anyone suggest me how to solve it ?

Regards,
Surya Narayana
Process Engineer - Tumkur , Karnataka , INDIA
---
May 2014
A. Hi Surya. I can suggest that the first step is to find out clearly what is not adhering to what. Is the cadmium peeling off of the nickel plating, which remains completely intact? If so you may need to do the cadmium plating immediately after the nickel plating and/or add a nickel strike to reactivate the nickel. If the nickel is peeling off of the aluminum you must look into what is between them: cyanide copper plating, electroless nickel plating, etc., because your nickel plating may be peeling from them, or the zincating may be defective and everything is coming off. Good luck.
Regards,
Ted Mooney, P.E.
finishing.com
Pine Beach, New Jersey
---
---
June 12, 2014
Q. We are facing patches and blister problems in cadmium bath. I think it has organic contamination, I don't know perfectly. What are the treatments I have to give. Please suggest.
keerthi p shivanna
- bangalore, karnataka, india
---
June 2014
A. Hi cousin Keerthi. You can carbon treat the bath to remove organic contamination. What organics do you suggest and why? What has Hull Cell testing told you?
Personally I'd be surprised if that was actually the cause of the problem --although it's possible. Is this a cyanide bath or acid bath, rack or barrel? What is the substrate, mild steel?
Heaven helps those who help themselves -- people would like to help you, but as you can see from the dozens of previous entries on this thread regarding blistering of cadmium plating, plus many other threads about cadmium plating on this site, and from the 3-page table on troubleshooting cadmium plating baths in the Canning Handbook, there can be many interrelated causes. To make progress, we'll probably need to know what you learned, not just that you have a problem :-)
Luck and Regards,
Ted Mooney, P.E.
finishing.com
Pine Beach, New Jersey
---
June 13, 2014
A. Hi Keerthi,

As per your above question 1.Patches 2.Blister and 3.Contamination .

1.Patches : Patches occur due to contamination of foreign metals such as Copper, lead, Tin, Iron and other metals and decomposition of organic brighteners into the cadmium plating solution.

2.Blister : Your question is not clear which substrate you getting blister, whether plating or under coat or zincating. Insufficient activation or neutralising and poor cleaning causes the blister or detachment of plating.

3.Contamination : Contaminated foreign metals (organic Impurities) in the bath should be removed by activated carbon treatment and filtration.

I hope your problem will solve and helpful to you

Regards,
Surya Narayana
Process Engineer - Tumkur , Karnataka , INDIA.
---
---
Blistering on Cadmium Plated Steel Parts (S98/S99) after Chromate Passivation
February 27, 2017
Q. Hi. Recently we are experiencing a blister kind of defect on our cadmium plated parts.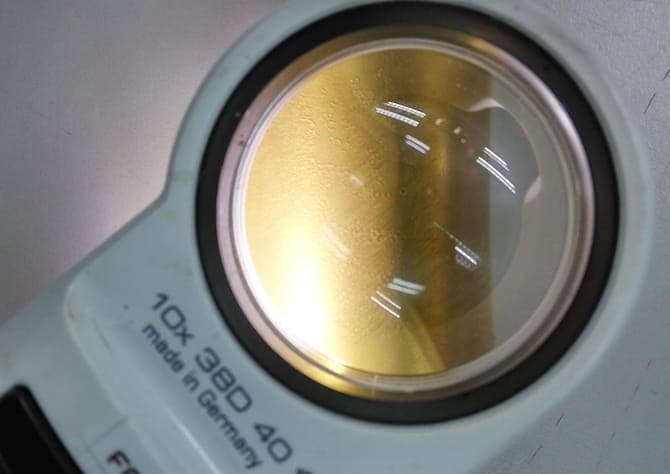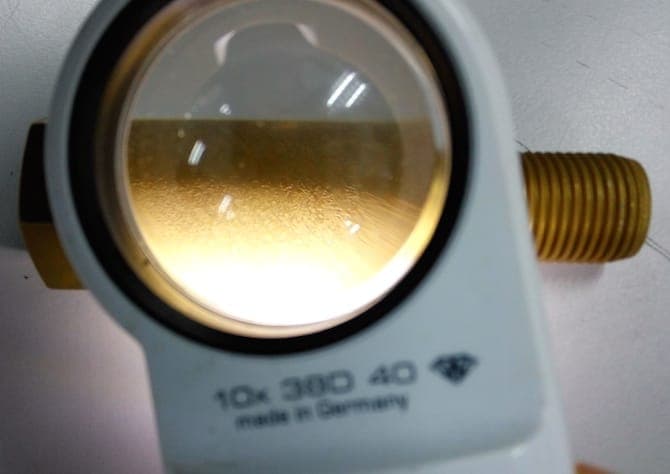 We have conducted several tests as per customer specification requirement on cadmium plated parts (adhesion test and porosity test) to confirm that the cadmium has uniform coverage. Both of the tests are showing positive result. Solution composition in the tanks is also within the required limits.

Could anybody advise what could go wrong in our process?

Thank you,
Anitha
ARIKRISHNAN ANITHA
AEROSPACE INDUSTRY - PELABUHAN KLANG, SELANGOR,MALAYSIA
---
---
June 22, 2017
Q. Hi,

I had some problems with cadmium plating on steels and stainless steels.

The main problem was with small bushings up to one inch in diameter. The bushings came with fine surface roughness. We tried to deposit cadmium using standard procedure: cleaning, abrasive cleaning, electro cleaning, nickel strike and than cadmium. we visually examined the specimen and same seemed fit (dull gray color).

After hydrogen relief for 23 hour at 191 °C we tried to passivate the cadmium using chromatic passivation. We found that either the passivation does not catch or the cadmium itself does not stay.

We tried to change the rinsing water in the end of the process but with limited success. Changing ovens was suggested to be a cause because we use put different parts in the same ovens. There is also suspicion in the passivation solution.
We have also seen that this phenomena appears mainly with bushings.

Could you please look at the process and suggest reasons to why after hydrogen relief we get those results?

Thanks in advance,
Miron Lev
- Israel


This public forum has 60,000 threads. If you have a question in mind which seems off topic to this thread, you might prefer to Search the Site