Live! From beautiful Pine Beach New Jersey: Welcome to the world's most popular metal finishing website
topic 47214
Cadmium plating turning black
A discussion started in 2003 but continuing through 2019
2003
Q. We have a situation where Cadmium plated and chromate passivated parts are being rejected following short term storage due to black patches on the surface. This is not the white rust normally associated with corrosion of cadmium, could anyone help with advice on the possible causes.
(note - my research suggests that inadequate rinsing - aided by a porous coating - could produce this, could anyone confirm this or offer an alternative cause)
Regards
Nick Clark
- Bristol, Avon, England
---
---
Cad plating turns black in a few days
2007
-- this entry appended to this thread by editor in lieu of spawning a duplicative thread
Q. We are cadmium plating fasteners in a cyanide bath and we are finding that the finish is turning black after 4-6 days. Parts come out of he process more or less bright white.
After the cad plate we rinse and apply a chromate, rinse and dry.

We have been doing this for more than 20 years and sometimes the plated parts turn yellowish to brown, but never black.

I'm enclosing a picture so that you can se the magnitude of the black color, together with a freshly plated part. You can see one fastener is a little yellowish after a couple of weeks, but the others that are black, where plated only 4 days ago.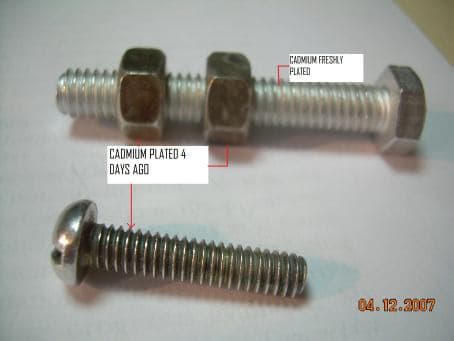 Can the brightener be the culprit? I've heard that to much Nickel in the brightener can cause this black spots.

Also, if we submerge a black stained part in a cyanide containing solution, we get a bright clear finish, so we think this stain is over the cad deposit.

Thank you for your help.
Carlos Cielak
plating shop - Mexico City, DF, Mexico
---
2007

A. I never had the problem, so can not truly say. Typically, you have a sour rinse, probably with a high sulfide content or your packing containers have a high sulfide content (which is common in some cardboard and some paper)and you storage area is in slightly high humidity(IE: not air conditioned) Not that some plastic bags can cause problems also.

James Watts




- Navarre, Florida





---

2007

A. Off line in buckets, set up a 1/4%/vol nitric acid to neutralize the cyanide, then another bucket of fresh made chromate. Wait 5 days and let us know. I suspect your chromate pH is out of spec due to CN drag-in. So neutralize in nitric first, then chromate.

Robert H Probert




Robert H Probert Technical Services




Garner, North Carolina





---

2007

A. I WOULD LIKE TO REQUEST TO YOU GET YOUR CAD BATH ANALYSED PROPERLY FOR IMPURITY CONTAMINATION -- SAY COPPER, IRON, ETC.
IMMEDIATELY YOU CAN DO ONE THING: PREPARE A NEW PASSIVATION BATH AND TRY SOME SAMPLES (YOU CAN MAKE 20 LTS)
AFTER PASSIVATION, DO WATER RINSE,THEN HOT WATER RINSE, THEN DRY COMPONENTS PROPERLY.
I THINK YOUR PROBLEM WILL GET SOLVED.
WITH BEST WISHES,

Ajay Raina




Ludhiana, Punjab, India




---
---
June 21, 2013
-- this entry appended to this thread by editor in lieu of spawning a duplicative thread
Q. We have some parts that we currently produce for a customer, the parts are Bright Cad plated. Once we get parts back from plater they look great, however over time they begin to show black spot through the Cadmium. we have had several labs look at this products and they say that it is due to the cleaning process, we have tried 3 different vendors and they all get the same results, are we missing something. We have had parts stripped and replated and same thing happens, material be used is a C1018. We have asked platter for titration results and they look ok from what we can tell. we have asked to have parts baked prior to plating and platter stated that they could not do it because they would rust as they do not have in line dryers. We are total lost as to what this could be any help would be great.

Thanks
Brian
Brian A
- Jefferson, Ohio USA
---
---
Black stain in cadmium deposit after chromate
January 7, 2019
Q. We regularly, but not always, end up with parts having black or gray little stain all over after chromate conversion. It seems to be done at the plating stage as we have changed the chromate solution for a new one but the problem still occurs.
Pierre Legault
shop employee - Montréal, Québec, Canada
^- Privately contact this inquirer -^
---
January 17, 2019

Thank you for your comments!
I attach some photos that can help you understand our problem. Pierre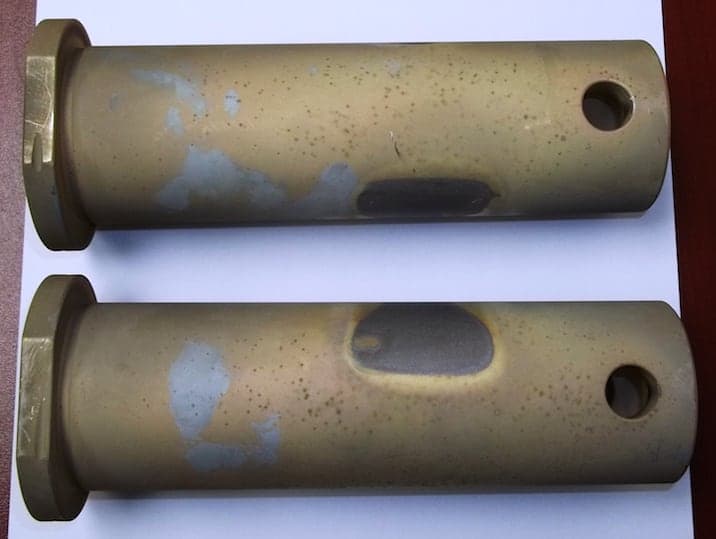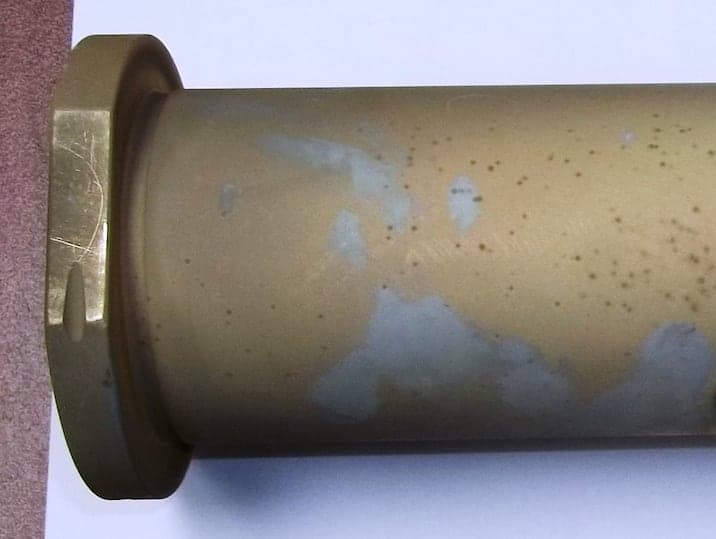 Pierre Legult
[returning]
shop employee - Montréal, Québec, Canada


If you have a question in mind which seems off topic, please Search the Site