Live! From beautiful Pine Beach New Jersey: Welcome to the world's most popular metal finishing website
topic 4913, p2
DIY Nickel plating onto steel
---
1 2
---
A discussion started in 2000 but continuing through 2018
March 4, 2013
Q. Greetings, I restore antique toy sewing machines and most of the moving parts are nickel plated. I am building a plating operation of my own in my hobby room and am ready to try it out. I've just completed the power supply portion. I'm using a battery charger which is controlled by a home fan rheostat. I have a volt/amp meter installed in the line.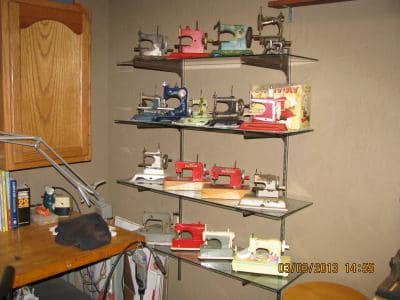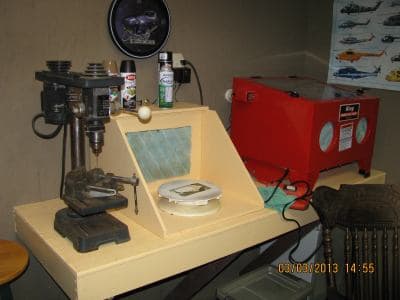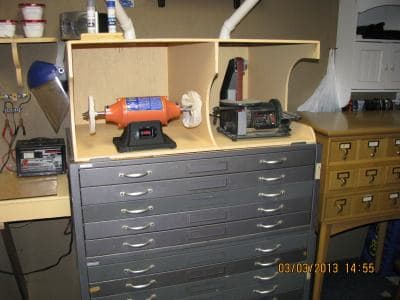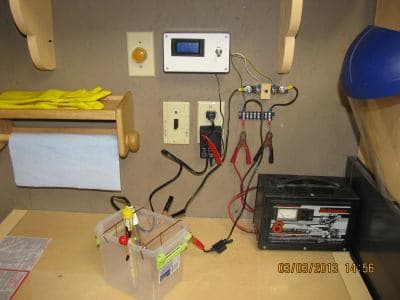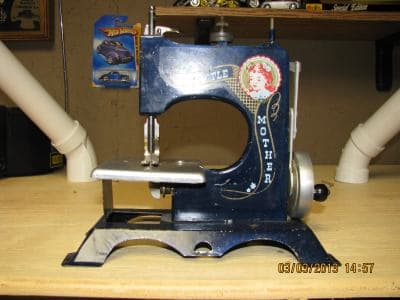 In my reference book I'm given a formula using nickel sulfate, ammonium sulfate, magnesium sulfate, boric acid. I have all these chemicals except nickel sulfate which I'm about to purchase. Now I see in your forum that nickel chloride is used. My formula mentions nothing about this item. I'm going to be plating raw steel. I will pickle the parts after sandblasting the old nickel off. Can you help me with the bath solution? Bob
Bob Benedict
- Humboldt, Tennessee USA
---
---
March 6, 2013
Q. Ted, One more question. Does the nickel being plated come from the Nickel Sulfate or is a nickel anode necessary also? If an anode is not used, what is used in it's place? Thanks again, Bob
Bob Benedict
- Humboldt, Tennessee, USA
---
---
March 8, 2013
Q. Ted, Here's where I'm at. I understand now what your talking about with titanium baskets and S-rounds. Since I've had little success in locating these items at a reasonable price, I'm going to try plating with nickel sulfate and ammonium sulfate instead of nickel chloride using a strip nickel anode as my hobbyist book says. I'll let you know what happens. Any help you can give me as to where I can buy small quantities of S-rounds and a small basket and bag if my plan fails? Thanks so much for your help so far. You've taught me a lot. Bob
Bob Benedict
- Humboldt, Tennessee USA
---
March 17, 2013
Q. Ted. Here's the outcome of my first attempt at nickel plating. I tried a part that measured 3"x3". I had sand blasted it about 2 weeks ago. I was able to control the amps and voltage without any problems with my home built system. I run 4.1 volts and 1.8 amps for 15 minutes. The finish was very light. I couldn't buff much gloss to the part. I believe I did several things wrong. First, I sand blasted and let the part sit for almost 2 weeks. Secondly, I didn't wash the part before I plated it. It had to have dust on it from time sitting and blasting. Thirdly, I don't think I let it in the tank long enough. I'm going to scrub the part with soap and water and try again. Can I use tooth picks to protect threaded holes from plating? I assume any part touching the hanger wires will not plate, correct? I could see the particle movement from my 1"x6" flat nickel anode during the process. Still having problems finding round nickel anodes. Any comments or suggestions would be greatly appreciated. Bob
Bob Benedict
- Humboldt, Tennessee USA
---
March 20, 2013
Q. Why do we need to use "titanium" baskets or wire to hold anodes?
Thanks again, Bob
Bob Benedict
- Humboldt, Tennessee USA
---
March 20, 2013
Q. Thanks for the explanation of how the site works. Here all along I thought I was the only hobbyist out there trying to nickel plate at home and I had your undivided attention. LOL I am plating and receiving excellent results from my home built plating line. Something strange happened to my bath after sitting in a closed jug for a couple of days. I went to plate again today and when I emptied the bath into my plating tank, it had a large amount of crystalized substance in the bottom of the jug. I emptied that into the tank also thinking I could dissolve it again once I heated the bath. Even with this hard substance in the bottom of the tank, the plating process went very well. They didn't dissolve at all. This time I left the crystals out when I emptied the bath into my storage bottle. Do you think they can be powdered again and dissolved during another session of plating? I hope this is not my nickel sulfate. They are blue just like the sulfate when I purchased it. Any ideas? Bob
Bob Benedict
- Humboldt, Tennessee, USA
---
---
April 12, 2013
Q. I recently tried to nickel plate several steel parts and 2 brass rods about 5" long x 1/8" Dia. all in the same bath and at the same time. I left them in for about 30 minutes, 4 volts, 1.2 amp. The steel parts plated fine but the brass didn't take the nickel. Any answers as to why. They were highly polished. Should I have blasted them before plating? Also, how do I know a bath is worn out. The 6" nickel anode I'm using doesn't seem to be deteriorating at all. Thanks for your help. Bob
Bob Benedict
- Humboldt, Tennessee, USA
---
September 4, 2013
Q. Ted

I wanted you to know your site help me greatly a few years ago when I was setting up a Wood's Nickel Bath. Thanks for being patient and not responding negatively to some of the inputs. Some people have no respect. I set up the bath at 59 grams of nickel per liter. It has risen to the low 70's due to anode etching. We keep the % free acidity at approximately 14 %. I was planning to remove some of the nickel back to 59 g/l. I haven't seen any problems with the high nickel content. I would like your comments on this. Thanks again

Dickie
Dickie Martin
- Laurens, South Carolina, USA
---
---
November 23, 2015
-- this entry appended to this thread by editor in lieu of spawning a duplicative thread
Q. I recently attempted electroplating an old single cylinder engine head. The head is cast iron, and originally came plated, but essentially all that was left of the original plate was where the hex bolt heads had it covered up (engine is about 100 yrs. old).

I used pure nickel in the recipe for nickel acetate, along with vinegar.
My setup was amateurish, (five gallon plastic bucket, with 5 nickel plates suspended in the solution from copper wire, which I connected to a low volt wall charger + wire.
Negative hookup on the object was a cleaned nickel 55 welding rod bent to fit securely in one of the bolt holes on the head.

After about 2 days, the head seemed to be plated nicely, and polished up quite well. 2-3 days after that, I noticed a very light brownish powder in spots on the finish.
I wonder if the nickel plate is not thick enough, or would the major mistake be using less than a pure nickel rod for the negative hookup? Content of the negative rod is 55% Ni, with the remainder being iron, and several trace minerals, including copper.

I also had earlier plated two pipe fittings for the engine with the same setup, and haven't noticed any "rust" powder appearing on these.

Thanks for any help/advice
Truman Dodson
Rebuilding vintage engines - Scarbro, West Virginia USA
---
---
September 16, 2017
Q. How do you test the nickel content of your solution?
I have been lucky enough to have been given a few liters of premixed nickel plating solution, brightener and some copper plaiting solution formulated by an industrial chemist :) The stuff works a treat however down here in NZ finding pure nickel to use as an anode is not an easy task.

For the anode I ended up getting my hands on some nickel battery strapping. This is 99.95% pure and seems to be working well so far.

Having done a fair amount of copper electroforming and battling with oversaturated copper solutions I was wondering if the same thing happens with nickel and if so how can you test and balance the solution?
Im not overly keen on having to build a backyard mass spectrometer at the moment but it is on the long list of toys to add to the workshop :)

Boris van Galvin
evil genius - Howick, Auckland, New Zealand
---
September 16, 2017
Q. Thanks Ted :)
I will see if I can locate some sulfurized nickel locally. I did a few test plates last night with the setup I have that seemed to work quite well; however, the second piece, which was an electroformed copper acorn, started to get a nice layer on it then for some reason the nickel started to get stripped back off mostly around where the cathode was attached. It left a pretty awesome effect but was not ideal.

Not sure if this is a result of a depletion of the nickel in the solution, a power supply issue or some other problem.
Boris van Galvin
[returning]
- Pakuranga, Auckland, New Zealand
---
September 23, 2017
Q. Finally I have managed to locate some nickel locally however it came in the form of small blocks and not strips. they are about 25 mm X 25 mm X 15 mm thick so for my home setup these will last a long time...

Currently my bath is a pyrex jar. It was great for strip, however, with these anodes it's going to be a little harder to join them. So I had several thoughts...

Drill a hole in them and string them together along a stainless rod was my first thought but I was not sure if the stainless is going to break down and start to contaminate the nickel. I thought about getting some titanium but that comes at a pretty high cost down here.

If however Stainless does not break down I was thinking about maybe making a stainless bath and just dropping the anodes in to the bottom; then all I need to do is connect the bath to the + of the supply and start plating.

For the time being I may just run a sealant in the outside of the stainless shaft so it does not come in contact with the solution but would like to find a better alternative.

I would appreciate any advice on this...
Boris van Galvin
[returning]
- Pakuranga, Auckland, New Zealand
---
September 25, 2017
Q. Thanks again Ted,

As stated the solution I have is premixed from a supplier of plating solutions, was put together for me by an industrial chemist along with a bottle of brightener.
Using a Nickel anode and the the plating power supply I built with regulated voltage and current I get a really nice layer of Nickel on parts, this includes the plastic parts that have been coated in a layer of graphite to bring their surface resistance down to about 300 Ohms.

The voltage is set on the supply to about 3V and the current is reduced dependent on the size of the object. The nickel deposits using this method are coming out consistently at about 35 microns. I have however also managed to do a couple of test parts where the plating was a lot thicker but did find that there seemed to be a lot of internal stress on the plastic part as it seemed to warp slightly. This may or may not have been as a result of the plating and I have not had the chance to reprint the test piece to see if it was.

Ideally I would like to use a titanium mesh to hold the anode in the solution but in New Zealand it's not viable to purchase this in small quantities and a large amount is just not viable.

The tank I used when I did my apprenticeship many many moons ago was a plastic tank with a kind of canvas liner with all of the nickel anodes stacked around the edges. The + was feed in to the tank at one end and all of the nickel "bricks" made contact with each other. This however is only really viable for a larger tank.

We used a stripping tank that was made from Stainless Steel and filed with cyanide. My thoughts were to look at making a small stainless tank and lay all the nickel anodes in the bottom and around the sides at strategic points. this would mean they would all be connected to the + via the stainless tank wall however I was not sure if the stainless would be eroded and contaminate the plating solution.

Boris
Boris van Galvin
[returning]
- Pakuranga, Auckland, New Zealand
---
---
How to calculate amperage/voltage for Watts Nickel?
November 30, 2017
Q. I am trying to nickel plate steel bicycle parts, I have the Watts bath prepared and the water tank heater ready to go. I bought a variable DC power source but my question is what should I have it set to and how long should I run it. I am doing this in about 1 gallon of solution. The surface area that I want to plate is about 20 sq inches.

Side question is, how many times is the Watts bath solution good for? How many times can I plate something in it before having to dump it and mix a fresh batch?

Thanks so much for your help.
Andrew Koltuniak
- San Francisco California , USA
---
How to clean parts before plating them?
December 2, 2017
Q. I am nickel plating steel bicycle parts, the steel is new and I have sanded and cleaned it to a smooth finish. What else do I need to do to prepare the part for plating? Thanks
Andrew Koltuniak
[returning]
- San Francisco California , USA
---
Chemical amounts for my solution
December 3, 2017
Q. Hello again, one more question, I have ordered two pounds of Nickel Sulfate, a pound of Boric acid and one pound of Nickel Chloride. I fear that I under calculated the amount. I need 2 gallons of solution and based on what I have seen here and other places I will need about 72 ounces of sulfate, 24 ounces of chloride and 12 ounces of Boric acid to mix with 2 gallons of distilled water. Do these amounts seem correct? If not please tell me how much you would use for a 2 gallon Watts bath.

Thanks again.
Andrew Koltuniak
[returning]
Bicycle frame builder and finisher - San Francisco California , USA
---
---
Change salts in Watts nickel bath to acetate
April 6, 2018
Q. Hi all. I'm a hobbyist and have plated a few parts, but mostly only plate out of curiosity and not functionality. I've been using a Watt's bath, but also have done the Nickel Acetate experiment. My question is... Is it possible to use different salts in a Watt's bath such as directly substituting nickel acetate for nickel sulfate? I believe I read other salts do not have as high of a deposition rate, but that wouldn't be an issue for me. Would maximum plating thickness be affected or anything else? Also, what would happen if I combined my leftover nickel acetate solution with my nickel sulfate solution? I do not want to try for fear of ruining my sulfate solution.
Cortez Gonzalas
Hobbyist - Youngstown, Ohio, USA
---
---
April 12, 2018
Q. Hi, I have been replating some old (1910s - 1920s) Meccano in Nickel - as it was originally manufactured - using the Watt's bath with pretty consistent success. The set up I have can cope with the smaller items - up to 6 inches, but not the larger pieces. It is a 2 litre glass beaker sitting on a stirrer hotplate - to agitate and get the temperature up to around 50 7deg;C (I am a Chemistry teacher so have access to the normal lab kit which the average DIYer would not).
I have just put together a larger plating bath, but I don't have a big enough glass vessel so have put it in a plastic tub, unfortunately I can't heat this with the hotplate (though I can still agitate as before with a magnetic flea).
My question is therefore, how important is it for the Nickel plating process to have the bath at 50 degrees - if I ran it at ambient temperature (my garage would typically be 10 °C) what effect would that have on the plating - slow it down or make it not work at all? Any thoughts would be gratefully received. By the way I am only after a thin coating, so run the bath for 5 - 10 minutes for each piece at the lower end of the recommended current density range (which approximates to about 4 volts typically).
Kind regards
Andy
Andy Johnson
- Godalming, Surrey, UK


If you have a question in mind which seems off topic, please Search the Site