60,000 Q&A topics -- Education, Aloha, & Fun
topic 26881
Chemicals for nickel plating hard to find
A discussion started in 2004 but continuing through 2020
2004
Q. I am looking to purchase a small amount of nickel salt to try to do some nickel plating. In addition to the Dibuthydithiocarbamate I will also need a small quantity of sal ammonia. Can someone tell me where to purchase a small amount? Also why is it so hard to find?
Paul Primmer
- Columbus, Ohio, USA
---
---
March 13, 2020
-- this entry appended to this thread by editor in lieu of spawning a duplicative thread
Q. I have a serious question and have never been able to get an answer from any source yet. I make vintage replica items for musicians. I am making nickel silver covers and plating them myself using the [brand name deleted by editor] products. I am using an aging method, mostly using ferric chloride. The problem with [brand name deleted by editor] nickel plating materials, probably. Their BRIGHTENER, in particular, is nothing like the nickel plating done on parts in the 1950's. These old parts do not retain the bright finish and tarnish quite easily.

I know that some companies are still plating this way, because I've been able to age some nickel plated parts very easily, but am not able to do it to my plating.

I am assuming they are using maybe some CHROME? In their brightener that simply will not let me use acid darkeners or ferric Chloride to age my plating. I have seen on some supplier sites that they offer brighteners that are not super shiny and offer them in various degrees. However, none of them will answer my emails and my attempts to buy in very small quantity so I can do a plating that I can easily AGE. Any information would be just wonderful, as I am battling this problem going on 15 years or more, and am having to resort to extreme measures to get the kind of vintage "looks" I am trying to copy. I am including a photo of a vintage article and how the nickel plating ages on these articles.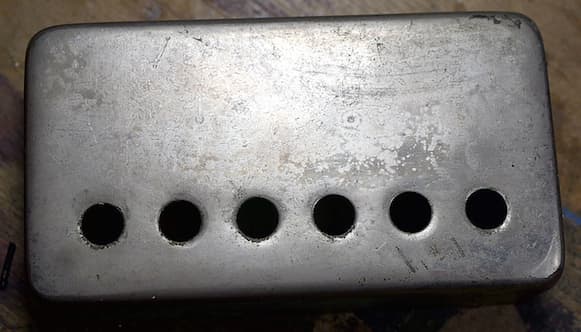 Thanks for your time, hope to hear back with sources or knowledge,
Dave Stephens
Owner small business, looking to replicate vintage items - BATTLEGROUND, Washington, USA
---
Saccharin brightener in Watts Bright Bath?
March 15, 2020
Q. I ordered supplies to do a basic Watts nickel plating bath as per your helpful recommendations; I greatly appreciate your time.
I have read that saccharin is a good brightener to use, will it be anymore brighter than the higher nickel chloride Watts bath? Can I use it in the higher chloride bath recipe?
I seem to have read that SODIUM saccharin works better? Bear in mind I am amateur plater and have been using hobbyist materials from a well know hobby plating vendor to plate my commercial low volume products. So, this will be my first use of mixing my own chemicals to achieve a vintage method of bright plating that I can easily age.

So, I cannot find out how much sodium saccharin to use per gallon? Need real world advice here, and can't find an answer in the Volume 5 ASM book you recommended. Again, thanks for your time in sharing your professional time.
Dave Stephens
Dave Stephens
[returning]
- BATTLEGROUND, washington state, USA
---
March 15, 2020
Q. I've never had a problem with being an OCD research driven guy ;-)
I've been plating for 15 years, using hobby resources, admittedly, but I am bound and driven to master this Watt's bath method for what I'm doing, and I think I can make it work. I am 70 years old and have a niche product, that involves small scale machining, plating and other craftsman/artist processes. I do have an adjustable rectifier DC plater transformer, and large nickel plates, so am not really starting from the beginning. I have those same 15 years of experience using ferric chloride to simulate 60 years of human acid sweat etching on vintage nickel plated surfaces. It works incredibly well, but on modern nickel plated surfaces its quite difficult, and involves abrasive sanding to break the hard glaze of the plating so the FC can more easily etch it successfully. This involves multiple abrasion and FC etching, and other techniques I've developed to eat away plating down to base nickel silver. I think Watts plating will simplify my aging techniques because I don't think its a surface that would survive the long process of destroying the really hard nickel plating designed to not tarnish EVER ;-)

I will do as you suggest and do the basic bright Watts nickel plating, and will have to experiment with voltage and amperage, but it's probably the same as I am doing now. I will attach a photo for your amusement of a super age/destroyed plating to show you the most extreme version of what I'm doing.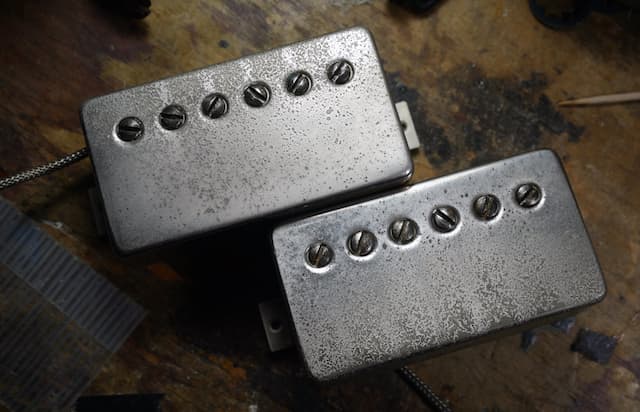 I do really appreciate your help, and you're right, I don't even know anyone in my business who is plating their own covers, nor coming close to my aging looks, nor would even put in the insane hours I do to invent these techniques that no one can figure out what I'm doing, LOL. Wish me luck ... Dave
Dave Stephens
[returning]
- BATTLEGROUND, Washington, USA
---
March 2020

Thanks, and good luck. For sense of scale are they electric guitar pickups with the distance between screws the distance between strings?
Regards,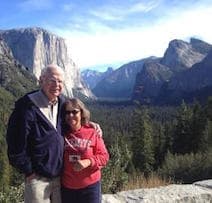 Ted Mooney, P.E. RET
finishing.com - Pine Beach, New Jersey
Aloha -- an idea worth spreading
---
April 4, 2020
Q. OK, I spent a fortune on the Watt's chemicals. I took the maximum weights from the Wikipedia chart for "bright" chemical mix, and used 80% of the max, in a gallon and a half. It's all mixed up and ready to go. But the pH reading isn't up to what they show it should be. They show 4.7-5.1 pH. I'm getting 3.42 pH. Please see my chart and what I mixed up.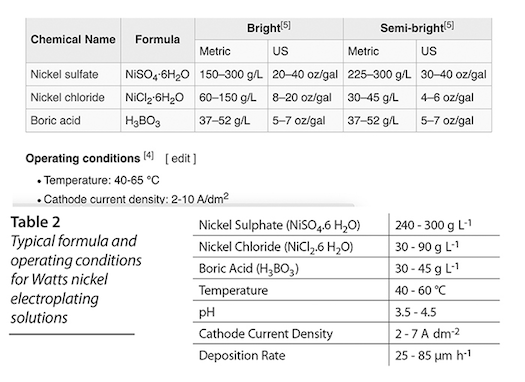 Should I mix in the 20% of the chemicals that I left out? I was a little worried about having too saturated a mix, which is why I didn't use the maximum weights allowable.

I"m scared to death of ruining the bath, its more than $100 in that pail. Plus I don't want to ruin numerous covers.

Hope you can give me some pointers here, this is costing a lot of money and have very high hopes this will be what I need.
Thanks,
Dave Stephens
[returning]
- BATTLEGROUND, Washington, USA
---
April 6, 2020
The pH was cut off the image is all. I found another source that's not so crazy as Wikipedia anyway.

So, am completely discouraged tonite. The "bright" Watts bath didn't do anything but plate pure dull matte nickel. Not what I was hoping for. I wanted the covers to come out of the bath BRIGHT. No polishing needed. I'm sending a photo of what came out. The dark specks are not related to the plating so ignore those.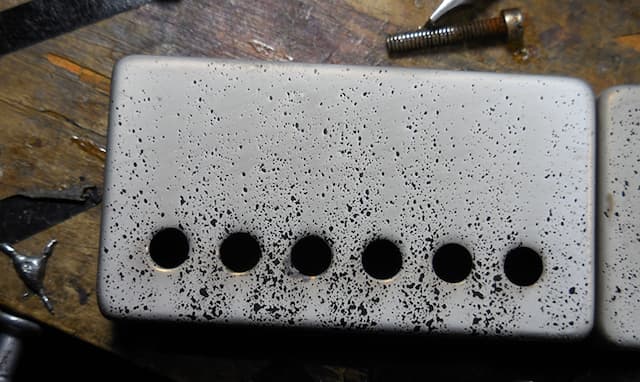 I have 1950's covers that are bright nickel and have stayed bright all these years. If I dab nickel darkener acid on them they instantly go black. If exposed to ferric they instantly lose shine and get a little dark. The hobby brightener I use so incredibly hardens the nickel into a shine that cannot be "aged" without alot of scrubbing and torturous work to even come close to making them look aged. This is why I am trying to find out how to duplicate the plating on these 50's parts. I don't think they just plated matte nickel then polished it, because the inside of the covers are bright nickel. So maybe what I am hoping isn't possible?

I was hoping to find a company that sells nickel brighteners that aren't so bullet proof that they never tarnish, but the one company I wrote to wouldn't reply and probably weren't interested in selling me a small quantity.

If you have any other suggestions, believe me I appreciate your level of expertise, and believe me I have SCOURED your website and not found what was looking for. Also cannot find how the current density formula works. 2-10 A/Dm2 Does that mean Amperes divided by squared meters? I used 2 Amperes to plate this piece, according to the easy to understand hobby plating settings.
Dave
Dave Stephens
[returning]
- BATTLEGROUND, Washington, USA
---
April 9, 2020
"As I have said, please try to at least look at the chapter on nickel plating in that ASM Metals Handbook and maybe try the formaldehyde and saccharin brightener combination that it speaks of."

Q. I have the ASM handbook in pdf form, and there is no formaldehyde/saccharin brightener formula that I could find. I do dig thru these ASM and Nickel Plater's Handbook, over and over and over...
Do you have a page number reference? Or are you remembering from a different book? The only mentions of formaldehyde are for formaldehyde chloral hydrate, and I can't find anyplace that sells that, Fischer doesn't. Will just regular formaldehyde work combined with saccharin? I already have saccharin. Just need a super simple brightener so that after mirror polishing the nickel silver cover, it will come out plated shiny instead of matte nickel. As for your not understanding what I am trying to get, I want a soft bright plating right out of the bath with no polishing needed. The hobby stuff I use puts a HARD bright finish that resists all forms of chemical darkeners, "aging" acids etc. I also looked through the Nickel Plating Handbook as well. If its not possible to make a simple easy to make brightener for a Watts bath, just give me the brutal TRUTH ;-) At least I successfully made the Watt's bath, and for that I thank you ;-)
Dave Stephens
[returning]
- BATTLEGROUND, Washington, USA
---
April 9, 2020
Q. OK, so if that makes sense. After reading some different places and sources, and looking on Fischer Scientific, would this get me where I want to go?

Carrier Brigthener
benzene sulphonic acid) in concentration 0.1-3 oz/gal (0.75-23 g/l)

Levelers, second class brighteners allyl sulfonic acid in concentration 0.0006-0.02 oz/gal

These are chemicals I can actually find and BUY.
Sorry to be so bothersome, but this stuff is slow to absorb, am doing my best. This involves spending another $70 probably, but looks worth a try? And yes I'd try it in a small sample of my Watt's bath.
Dave
Dave Stephens
[returning]
- BATTLEGROUND, Washington, USA
---
---
July 3, 2020
Q. Am back again. I've decided to give up on coming up with a super simple bright nickel plating bath. So, I did buy these chemicals, saccharin, Benezenesulfonic, and Phenosafranin. I used suggested amounts per gallon and mixed it up and dissolved it in some distilled water and mixed about 70% of that into my perfectly working Watts bath that has no other additives. This mix was red in color, probably from the Phenosafranin. I got pretty excited when I saw down into the depths that the nickel was going on BRIGHT! FINALLY!!
But then I noticed some bubble adherence and wiggled the cover in the solution and bubbles came up. Then I noticed with a strong flashlight there was an aerosol mist coming off the top of the solution, directly over the plating nickel silver cover. Not good ... So, I let it run the full 30 minutes, I tried reducing the amps and it still was gassing off. But then even after the electricity was shut OFF, it was still creating bubbles off the cover. Bad news. When I pulled the cover out of the bath, it was evenly peppered with pin prick pits all over it. FAILURE.
Tried to save it by polishing it down, but I had to polish so deep, the plating was polished off. Pretty much this entire batch of over $100 in chemicals is ruined. I just wish there was a simple bright nickel bath without any hard chromium or whatever they use in the hobby commercial brighteners was printed somewhere, that you can mix yourself with simple chemicals that can be used in a Watt's bath. I looked and looked there is no such thing. Not even in the history of nickel plating did I find something like that.
I will make another Watt's bath, even though I have to polish it after plating, it did some things in my aging work that the commercial plating bath can't do, so at least I got something useful out of this madness. Photo sent for you to see: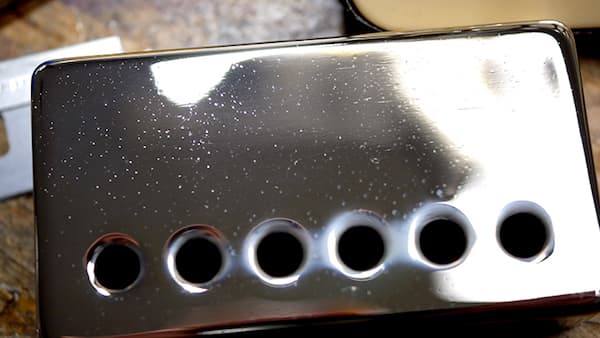 I do kinda wonder if just the Phenosafranin by itself added to the Watt's bath would work, but I'm not rich ;-) I do have another obtuse question, I am using the blue polish from my supplier and have tried the white also, but no matter what I use, I can get a bright mirror finish, but there is alway these micro smear looking mark in the nickel plate. They say use talcum powder on the buff, but that sure doesn't work either. With the commercial plating bath I use it comes out of the bath not needing to be polished, but I wonder if there's a way to get a perfect total mirror flawless shine on nickel using a polishing machine if needed? Thanks for you time and help,
Dave Stephens
Dave Stephens
[returning]
- BATTLEGROUND, Washington USA
---
July 3, 2020
Q. They are gas bubbles for sure. I do have agitation, there is a small aquarium flow/filter pump that swirls the water slowly around in the pail. I jiggled the copper wire holding the cover to see if there was gas bubble build up because I couldn't see the flat surface under the dark green solution, and there was. No matter how low I ran the amps. Even with the electricity OFF there were bubbles building up on the cover, which I don't understand why, unless the pH got radically altered, which I have yet to check.
I did think about Sodium laurel sulfate, so I have not thrown the bath out yet. Maybe it will help, and I WILL give it a try. The Phenosafranin is from one of your recommended resource the ASM book or the Nickel plating handbook. In fact it was the ONLY brightener I could even FIND. Most of the ones mentioned just aren't available anywhere or have slightly different names than the simple reference names in those writings. Or they are illegal. Phenosafranin definitely WORKS. And yes it's very red which was a shock. I got my chemicals from Fisher Scientific. I did think about the Hull cell thing, but I'm not sure it would have caught this problem or not. I just crossed my fingers and made sure of the concentrations, etc. I'll give the laurel sulfate a try. I just checked the pH and its 3.4 pH, so at least that's not the problem. Thanks as usual, will see if the shampoo ingredient could solve this problem except I'll buy it pure instead of using shampoo ... Thanks.
Dave Stephens
[returning]
- BATTLEGROUND, Washington USA