Where the world gathers for
plating, anodizing, & finishing Q&As since 1989
Nickel Plating Appearance in the Late 19th Century

-----
)
Q. I'm a hobbyist,
I have just acquired a 1900 Columbia Graphophone which has a cast iron base coated with very bright nickel - no yellow tint and no oxidation after 120 years.

I have been told by other collectors that it is nickel plated.

It looks almost like chrome but no blue tint and I understand that chrome plating wasn't perfected until around 1920 .
Tony Press
- Victoria, Australia
August 16, 2022
---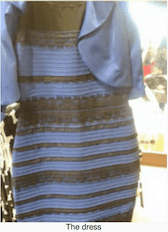 A. Hi Tony. Do you remember "The Dress" which trended on the internet a new years ago because millions of viewers saw it as gold & white, while other millions saw it as blue & black?

Be aware that 'blue tint' and 'yellow tint' are very subtle things which you'll probably only be able to see in side-by-side comparison. Find a friend with a shiny Harley and put your graphophone outside right next to its chainguards and other brightwork, and tell us what you see then :-)

Visual appearance is unfortunately a very poor indicator of what something is anyway. Your graphophone may be nickel plated, and someone may have clear coated it, or they might have had it chrome plated at some point. You can do a destructive test by finding an inconspicuous area and carefully (wearing googles and gloves) rub it with muriatic acid to remove any chrome. After rinsing very well and drying, you'll have your built-in side-by-side comparison if it was chrome plated.
If you have more friends than me, maybe you also know someone who works in a scrapyard: most these days have handheld "scrap sorter" X-ray fluorescence machines which can detect chrome non-destructively.
Luck & Regards,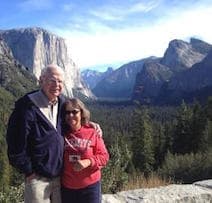 Ted Mooney
, P.E. RET
Striving to live Aloha
finishing.com - Pine Beach, New Jersey
---
---
---
Closely related historical posts, oldest first ...
Q. I am an architect in the process of reconstructing an 1891 Queen Anne Victorian on Martha's Vineyard, originally built by Philip Corbin. Corbin was a hardware entrepreneur from New Britain, CT primarily with the P&F Corbin Co. As owner of the hardware company, he undoubtedly had the ability to take hardware from his shelves to decorate his summer home. At the front of the house (Owner Quarters), the hardware was richly decorated, silver plated and tiger striped. At the back of the house (Staff Quarters), the hardware was nickel plated.
Our question is, what did bronze hardware that has been nickel plated look like back then? Did it look like the Polished Nickel of today, which is very shiny and bright? I am told by some in the historic hardware business that in 1891, there was only one type of nickel plating and that the shiny nickel plating of today is due to the 20th century introduction of 'brighteners'. Nickel plating in the 1890's, according to some, would have actually had a Matte, Low Lustre finish. Tom Hennessy of the Lock Museum of America researched 'Locks and Builders Hardware' and found that there was only one menu for nickel plating in 1891 which read as follows: 'Z-10, buffed'. So I am beginning to think that if we are trying to replicate the nickel plating of 1891, we should look toward a matte, low lustre finish.
Any comments on this subject would be greatly appreciated.
CHRIS DALLMUS
Architect - Cambridge, Massachusetts
2004
---
A. Good question! The earliest documents I have in my library are from 1941, which isn't nearly old enough for me to be able to help much. You might want to visit the Garden State Branch AESF Library at New Brunswick Plating [a finishing.com supporting advertiser] in New Brunswick, NJ, as it is probably the best historical plating library in the hemisphere. Here is a reprint of some of their early documents about nickel plating...
Another source of historical info might be the International Nickel Company (INCO).
In the October 1989 issue of Plating & Surface Finishing, columnist W.H. Safranek (dec.) notes that the first nickel brightener was patented in 1908 and the first commercial bright nickel wasn't patented until 1936. However, his column relates his knowledge that buffing was used to get bright nickel deposits in the 1930s and I inferred from it his belief that buffing to brightness probably goes back to the earliest days of nickel plating. Put it this way, why wouldn't they buff it to brightness since buffing/polishing was well known? That doesn't mean they did, just that it's my guess that they did; but I think you can find out for sure at the Garden State Branch AESF Library what they actually did.
Nickel has a yellowish cast compared to the more bluish nickel-chrome plating; this yellow cast gets quite pronounced over time due to tarnishing of the nickel. There is an absolutely beautiful example of 1917 nickel plating in the Woodrow Wilson Museum in Staunton, Virginia. I totally loved the nickel plating on the president's Pierce-Arrow but did not have an opportunity to speak to the curators about how much replating (if any) was done, and if so how they decided what it looked like in 1917.
Keep in touch on this project!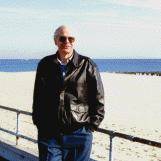 Ted Mooney
, P.E.
Striving to live Aloha
finishing.com - Pine Beach, New Jersey
---
A. I can confirm that there was a bright nickel process as early as 1929. That's the earliest document I have found here. If fact the brightener was called Nibright. I found documentation on black nickel as early as 1937.
Jason Deible
- Grand Rapids, Michigan
---
Q. I have uncovered a photo of the original Nickel plated hardware that was at the Corbin Norton house and it shows the nickel as a Low Lustre finish. Of course, this photo was taken when the hardware was 100 years old. The Polished Nickel of today almost has a mirror-like quality and we are endeavoring to provide hardware finishes in this restoration that are appropriate with the available technology at the time of construction of the house in 1891. It seems as if, from Ted and Jason's comments, that the finishing of the hardware at this house preceded the advent of brightener additives to the nickel plating process.
Thanks for all of your help. And Ted, I'll pass on the nickel plating recipe to our historic hardware manufacturer in San Francisco. He'll love seeing it.
CHRIS DALLMUS
[returning]
- Cambridge, Massachusetts
2004
---
A. Some of the very old Nickel Plating that I have seen, looks buffed to a high level of luster after plating. I guess bright has always been the IN thing and I do not think that the satin finish or matte was normally preferred back then.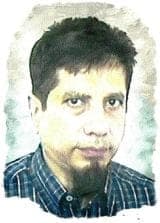 Khozem Vahaanwala
Saify Ind

Bengaluru, Karnataka, India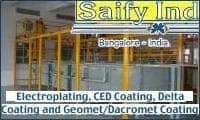 ---
Q. Khozem,
Thanks for your response. In your estimation, would nickel plating back in 1891 look similar to today's Bright Nickel or would it have been simply highly polished, not unlike the difference between today's lacquered brass vs yesteryear's highly polished, yet unlacquered brass?
CHRIS DALLMUS
[returning]
- Cambridge, Massachusetts
2004
---
A. Two very good books about 19. century plating can be free downloaded, Alexander Watts Electro-Metallurgy and James Napiers Manual of electro-metallurgy, www.digitalbookindex.com!
Hope it helps!
Goran Budija
- Zagreb, Croatia
---

Darn you, Goran! I'm so busy on a dozen things that I'm tearing my hair out, and then you go and introduce me to a website where I just can't resist frittering away hours at a stretch :-)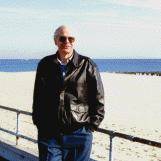 Ted Mooney
, P.E.
Striving to live Aloha
finishing.com - Pine Beach, New Jersey
---
A. Very useful website for information about old style nickel plating(and about plating, colouring,soldering,cleaning and polishing of metals): http://thelitterbox.org/librum/i-sacof/ (Scientific American Cyclopedia of Formulas,1910.)
Goran Budija
- Zagreb , Croatia
---
A. If you haven't already found it, a specific article that may be helpful would be "Electro-Plating of Metals: Methods of Nickel Plating" Scientific American Supplement 70 (Dec. 24, 1910): 405-406

[from: "Metals in America's Historic Buildings" [affil. link to book on Amazon] published by the National Park Service, 1992]
Peter Wollenberg
Wollenberg Building Conservation, LLC - St. Louis, Missouri
September 14, 2009
---
A. This response is probably too late for your consideration, but I'll post anyway. I have just received a salesman sample kit of old snake buckles which is thought to date from the 1890s from Britain. The buckle inventory numbers were followed by a letter that relates to the plating. Most of these buckles and their keepers, through which the cloth belts looped when mounted, were of steel or iron (magnetic) and plated. A number of them are nickel plated and the plating is shiny - similar to the nickel plating on early nineteen hundred carbide cap lamps, but they were nickel plated brass. The two sample cards of buckles had a fleece sided cloth that covered the buckles and served to keep their surfaces from being scratched or rubbed, when the two cards were closed into a case.
David Hubbard
- Charlottesville, Virginia, USA
October 1, 2012
---
A. Hi, David. This page is read by thousands of readers over the years, so a response like yours is never too late :-) Thanks
Luck & Regards,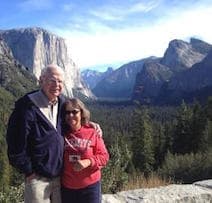 Ted Mooney
, P.E. RET
Striving to live Aloha
finishing.com - Pine Beach, New Jersey