Live! From beautiful Pine Beach New Jersey: Welcome to the world's most popular metal finishing website
topic 44081
Patina on nickel, Artificial aging
A discussion started in 2001 but continuing through 2018
2001
Q. Hello,
Does anyone know of a tarnish or oxidation technique for nickel plate. I am looking for something very subtle to grey it or in other words darken the value. It would be over matte nickel.
Thanks to any and all,
Victoria Reynolds
- Healdsburg California
---
Digital version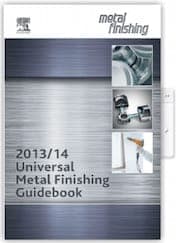 (No longer published, but Elsevier hasn't yet de-commissioned the online version of the Guidebook)
Download it before it disappears.
2001
A. DEAR VICTORIA,
THE ACETATE SOLUTION THAT IS USED IN PATINATION OF COPPER WITH BLUE COLOR IS USED ALSO FOR NICKEL. THE FORMULA YOU CAN GET FROM METAL FINISHING GUIDEBOOK UNDER THE TITLE OF METAL COLORING =>

GOOD LUCK,
RAAFAT ALBENDARY
NATIONAL PLASTICS ELECTROPLATING - CAIRO, EGYPT
---
---
To minimize your searching efforts and to offer multiple viewpoints, we've combined some threads into the dialog you're viewing. Please forgive any resultant repetition or failures of chronological order.
---
---
Patina on nickel plating
2005
Q. Hello, I have a question about how to patina a nickel plated piece of steel. I am staring with a sand blasted piece of 1 inch square stock, and had them nickel plated with no polish. I'm trying to distress the finish if possible. Does anyone have any ideas; i.e. a chemical wash, heat, etc.
Thank you,
Paolo Cividino
Tutto Ferro, furniture builder - Reno, Nevada, USA
---
---
2007
Q. Does anyone know how to create a "grayscale" using metal finishing techniques.
I want the following outcomes:

1) White = nickel
2) 25% gray = ?
3) 50% gray = ?
4) 75% gray = ?
5) Black = Black Oxide

I am starting with either Brass or nickel pieces and I am open to any suggestions on how to achieve a "grayscale".

Thanks.
A. Moses
artist - St. Louis
---
2007
A. Electroplating applies only metal, so it may not be ideally suited to this requirement. I believe it could be achieved with PVD coatings where various carbides, nitrides, etc., can be deposited -- but PVD may be impractical for an artwork. Another possibility would be black chrome, which I have seen in almost every shade of gray. But it sounds difficult.
Neither nickel nor chrome is truly white though. I think the best solution, therefore, would be silver plating (which is truly white), sulfided to various degrees, and I don't think it would be difficult. The hard part would perhaps be a clear coat that maintains the silver in that state over the long term. Good luck!
Ted Mooney, P.E.
finishing.com
Pine Beach, New Jersey
Striving to live "Aloha"
---
---
2007
Q. I have a vintage guitar which has had to have some metal parts replaced with new nickel plated ones. Some of them (the pickups) have been chemically "aged", so the plate is a little satinised, with some areas worn through.

Some of the parts need a similar treatment, i.e., take the shine off a little and yellow. I am advised to do this with etching solution - ferric chloride. Does anyone have experience of this process and the pros and cons.

Simon
Simon Honner
musician - London, United Kingdom
---
2007
A. I suspect that the brighter, less yellow, non tarnished items have chrome plating on top of the nickel. Although it's a hazardous material, it is possible to put the chrome plated parts in muriatic acid for a minute to remove the chrome and leave the nickel.
Ted Mooney, P.E.
finishing.com
Pine Beach, New Jersey
Striving to live "Aloha"
---
2007
Q. Hi there, Just wondering how I should age my Nickel plating on an old guitar with new(er) parts. I have read the (very few) articles on this and was wondering, how to do it with household items.(If possible) Could you give a list? without brand names? and common procedures for safety. Thanks, Addison
Addison Babinski
- California
---
January 26, 2011
A. I have had good luck tarnishing nickel with red wine vinegar fumes. I simply suspend the parts over a small amount of vinegar within an air tight container.

Make sure you clean the parts before to remove any oils.
Adam Burger
- Sydney, NSW, Australia
---
---
How to further patina or rust door handle in the vintage nickel finish ?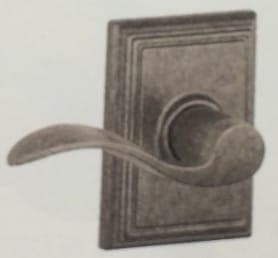 May 25, 2016
Q. We are replacing 16 privacy door knobs with door handles in a manufacture vintage nickel finish. The manufacture's finish looks too perfect for the rustic theme that runs throughout our shore house. Please share your your advice.
Thank you ! Bonna

Bonna Weinstein
Home owner - Rydal, Pennsylvania USA
---
September 3, 2018
According to David Fishlock's book Metal Colouring (Teddington 1963), barium sulphide solution can be used as nickel coloring solution.
Golden bronze for nickel

barium sulphide 1,5 - 4,5 gms
water 1 lit/ 40-70 °C temp.

Black color

potassium thiocyanate 0,5 gms
sulphuric acid 5 gms
hydrogen peroxide (30%) 25 cc
water 1 lit / pH 1-2

Hope it helps and good luck!
Goran Budija
- Zagreb,Croatia
---
---
August 31, 2018
Q. I've been just setting my nickel plated parts on a gas grill and they get a nice matte grey finish that hides a lot as opposed to its original shine. Is this damaging to the metal? Is it a durable finish? it seems to be.
john murphy
revomotors - san francisco, California


If you have a question in mind which seems off topic, please Search the Site