60,000 Q&A topics -- Education, Aloha, & Fun
topic 43365p2
Hot dip galvanizing flux Q & A's, Problems and Solutions
---
---
A discussion started in 2006 but continuing through 2020
May 3, 2012
Q. Dr. Cook,
We do 2000 tons of angle galvanizing every month. We use pre-flux bath followed by dryer followed by galvanizing. We are not using any ash boxes. Our ash generation is 0.68% and dross generation is 0.39% of total production. Gross zinc consumption is 4.5%.
Please advise on quality of pre flux bath that should be maintained and method of zinc recovery from ash skimmings.
MADHU RANJAN
- Bhiwadi, Rajasthan, India
---
May 4, 2012
A. Sir,

If these are heavy angles (thick) then your results are average to good. If they are light (thin) angles then your results are very good to excellent.

I believe I have already responded on this website to your other questions.

Regards,
Dr. Thomas H. Cook
Galvanizing Consultant - Hot Springs, South Dakota, USA
---
---
Ash gets stuck inside tubes
May 8, 2012
Q. We are galvanizers of tubular towers in which tubes are heated and pressed with a gap of 19 mm. While galvanizing these tubes, ash gets stuck to the walls of the tubes inside and these tubes are rejected.

Can you please guide as to how exactly to overcome this problem?

For your info, all the tubes are almost taken out of zinc bath @ 45 deg angle.

We are using triple salt of zinc amm. chloride with 18 to 22 Be and temp of flux is around 40° C and dried at 50° C

Shall wait for your suggestion.

Thanks & regards
Srinivasan.R
Srinivasan R
- Chennai, Tamilnadu, India
---
May 12, 2012
A. S.R.

Perhaps you could e-mail a photo of a "passing" and a "rejected" "TUBE" with some scale indicator (ruler or tape measure or a human hand in the photo). I have had very good success in reducing ash on product over the years via flux composition. In the last 1.6 years I have had outstanding success, via other means of eliminating flux and ash sticking to the product. The work goes on.

Regards,
Dr. Thomas H. Cook
Galvanizing Consultant - Hot Springs, South Dakota, USA
---
June 11, 2012
Q. Dear Dr.Cook,
Refer to my question dated May 8th & your reply on May 12, thank you very much for replying. Sorry being late as I was on my holiday.

I attach 5 photos which indicate ash sticking to the walls of the tube inside.
(Click thumbnail graphic for higher resolution photo)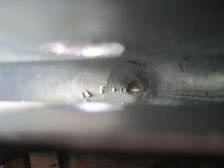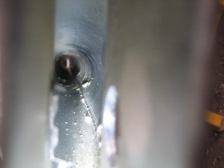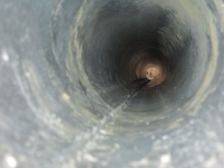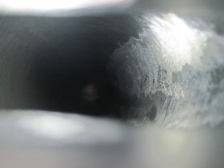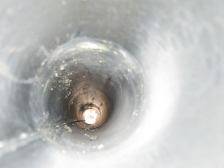 I would be very thankful to you if you can help us out on this issue.

It is considered rejection by the client.

Hoping to hear from you.
Thanks & regards
srinivasan.r
[returning]
- puducherry, India
---
June 18, 2012
A. SR
I am not able to determine your problems from your photos.

Crux Dee
First I do not necessarily believe the flux test results. Secondly you are using mixed (both USA and European methods). Your have high temperature 65 °C. (USA) but high baumé and low ACN (Europe) flux. My experience is that such mixing of methods does not work properly. I do not have a "manual for flux preparation."

M.Patel
What is the chemical composition of the brass wire and why would you want to galvanize brass wire?

Regards,
Dr. Thomas H. Cook
Galvanizing Consultant - Hot Springs, South Dakota, USA
---
---
May 9, 2012
Q. HOW TO PREPARE THE HOT DIP GALVANIZING FLUX SOLUTION

REGARDS
NAG
CHEMIST
NAGESWARA RAO CHINTA
- HYDERABAD, INDIA
---
May 9, 2012
A. Hi, Nag.
Sorry, but in this context I can't quite understand the question. Please take a paragraph or more to try to phrase your question in terms of the answers that are already on the page. Thanks!
Regards,
Ted Mooney, P.E.
finishing.com - Pine Beach, New Jersey
Striving to live Aloha
---
---
May 17, 2012
Q. Hello Sir,
Recently I sent my flux sample for a detailed chemical analysis and what I got the results is following. As we are new in hot dip galvanizing and have not reached the profit path, will someone kindly suggest prime actions to control the process fairly as our ash/dross limit is high and I heard that it's because of a bad flux. Test Result Says,
Zinc, Total = 108 g/l (gram per liter)
Ammonium Ion = 59.5 g/l
Zinc Chloride = 225 g/l
Ammonium Chloride = 172 g/l
pH at 25 °C = 3.92
Density at 25 °C = 1.2057 g/l
Total iron = 1.19 g/l
baumé at 25 °C = 25
While we are maintaining our Flux Bath temperature at a value above than 65 degree C.
Zinc bath has,
Zn= 98.8
Iron=0.02
Lead=1.09
Copper=less than 0.01
Aluminium = less than 0.01
Mn= less than 0.01
What's your expert advise?
Thanks!

Crux Dee
- Dammam, KSA
---
May 17, 2012

A. In your zinc analysis you said "less than 0.01%", did you mean less than 0.001% ?




Geoff Crowley


galvanizing & powder coating shop
Glasgow, Scotland



---

May 18, 2012

A. Sir:

Obviously you are using a European flux composition, which in my experience does not provide proper fluxing and economical results. It is true that I could calculate how to convert this flux to the North American flux formulation and in a detailed way. Actually that would be a mistake because I do not even trust the test results given. However, if this were done properly and you were trained to maintain good flux then you would have perhaps one item under control and you would then have only perhaps nine more items that need to be worked on to get good results.

My article TESTING AND CONTROL OF HOT DIP GALVANIZING FLUX in the journal METAL FINISHING would be quite useful and likely can be purchased on the internet or obtained via inter-library loan.

I do not understand why Europeans think their flux formulation is a good one? Flux manufacturers in the USA have been angry with me for nearly 40 years because the quantity of flux used in the USA is much, much less than before I started working in galvanizing. The use of flux in the USA is also much, much less than in Europe.

Regards,

Dr. Thomas H. Cook




Galvanizing Consultant - Hot Springs, South Dakota, USA




---
May 19, 2012
Q. Sir Geoff Crowley,
Yes its %. Sorry I forgot to mention that.
And Dr. Cook,
Was that flux description for me? And I really want to obtain your manual for flux preparation.
Crux Dee
- Dammam KSA
---
May 20, 2012
Q. We are performing the process of hot dip galvanizing for coating on the brass wire with the diameter of 3mm.
In this we are facing a problem of improper bonding lets say like after few months the coating will peel-off from unspecific area. We are not able to find the proper flaw in our process can you give us your valuable suggestion so that we can go for production stage trial?

Best Regards
M.Patel
- Dubai, UAE
---
June 21, 2012
Q. At what Fe+2 concentration does one have to consider ACNV as opposed to just ACN?
Kevin Carroll
- Long Beach, California
---
June 22, 2012
A. Kevin:

Good question. A few years ago I gave a corporate workshop and I tested the 10 fluxes first. In one case, the ACNV was about 0.4 whereas the ACN was 1.2 (near triple salt). The reason for such deviation was obviously the high iron content, which by my limited memory was around 5%. The easy way to answer this question is to calculate both ACN and ACNV but ALWAYS use ACNV as your standard. It has taken many years just to get galvanizers knowledgeable to ACN. Now the task is to get them to understand and use ACNV.

As a side note, a few months ago I found an ACNV of 1.0 for a 10,000 gallon flux tank and advised that about 4,500 pounds of ammonium chloride was required to attain quadraflux with ACNV of 1.6. The galvanizer added about 3,000 pounds of ammonium chloride and then sent it to a flux company for testing. The result was 0.69 for ACN which was clearly NOT correct. This flux had a sulfate of 1.2% and iron (Fe+2) of 0.8%. I have never really decided where to include sulfate but I expect it should be included in the denominator. This has not been an issue for me because the way I test gives ACNV directly and I have used this ACNV very successfully for many years. 15 years ago I made up in lab a flux with ACN = 1.00 and sent it to 13 labs. ALL the labs got VERY WRONG RESULTS. The results are published in METAL FINISHING under a title like TESTING AND CONTROL OF HOT DIP GALVANIZING FLUX.
Dr. Thomas H. Cook
Galvanizing Consultant - Hot Springs, South Dakota, USA
---
June 25, 2012
Q. Dear Dr. Cook.

The composition of the Brass wire is 60% copper and 39-39.5% zinc; balance is impurities.

The need for galvanizing the brass wire is for a marine application.

Please suggest what kind of flux can be used for the same, and whether we can use Zinc Ammonium Chloride or if anything else is required for the base metal brass?

Best Regards
M.Patel
- Dubai
---
June 25, 2012
A. Sir,

I expect triple flux will allow you to galvanize brass wire. Over time, copper will enter the kettle zinc and likely cause the iron zinc kettle to have a short lifetime.

I have no experience in galvanizing brass.

Regards,
Dr. Thomas H. Cook
Galvanizing Consultant - Hot Springs, South Dakota, USA
---
---