topic 40492
Satin nickel plating problems
A discussion started in 2004 but continuing through 2018
(2004)
Q. Hello. We plate zinc die cast with cyanide copper then acid copper then satin nickel. But with both zinc die cast parts and mild steel parts after the satin nickel they are getting blackened like black stains. We polish them but it was in vain. Our scrap rate is getting high. Is it possibly excessive satin brightener? or...? So, could you help me?
Emre Tuna
engineer - Istanbul, Besiktas, Turkey
---
(2004)
A. Hello,
I think for zinc diecast components you need to give a very good coating of cyanide copper , which is been deposited at lower current and a very smooth deposit, also then a bright nickel coating and at last satin nickel, if the satinizer is not been added at controlled measure it results in black spots , also if the primary additives are not in range also ends up in such problems , carbon treat the bath, dummy , make this a regular practice and work with limited additions of satinizer , ALL THE BEST !
REGARDS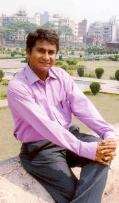 Praveen Kumar
plating process supplier
Mumbai, India
---
(2004)

A. Raise the Nickel sulfate content above 400 g/l. I know it sounds strange but it is a proven method to solve black spots problem on satin nickel.




Sara Michaeli


chemical process supplier
Tel-Aviv, Israel



---

(2004)

A. Hi, get long-time stable satinizer. Satinizer breakdown will bring this guest (so called black spots) to your house regularly.

Good luck

Qutub Saify




- Ajman, United Arab Emirates




---
---
To minimize searching and offer multiple viewpoints, we've combined multiple threads into the dialog you're viewing. Please forgive any resultant repetition or failures of chronological order.
---
---
(2006)
Q. We are in lock manufacturing Business. We have manual satin nickel process on M.S.
We are facing the problem black spots after satin nickel process. We are doing filter on regular basis, at least 1.5 - 2 hours daily before work starts. Now the concentrations of bath are listed below.

1. Nickel Metal = 100-105 gms/litre
2. Chloride as Nickel chloride = 50-60 gms/litre
3. Boric Acid = 40-41 gms/lit.

Please give me a suggestion to solve this problem permanently.
Rajendrakumar R Mudholkar
- Mumbai, India
---
(2006)
A. Dear Mr. Rajendra,

Please clear the surface with filter paper before starting production, check temperature of bath it should not go above 60 °C.

filtration duration should be at least 4-6 hours with carbon pack, per filter use carbon up to 250- 400 gms.

Enjoy satin plating.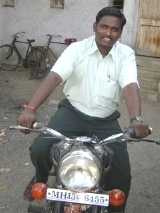 Vishwas Nangare
motorcycle accessories mfgr.
- Aurangabad, Maharashtra, India
---
(2006)
A. I know in bright nickel black stains indicate a copper impurity. I do not know if it is the same for your nickel.
Check ppm of copper.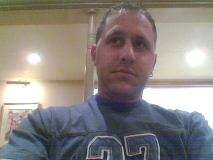 Gary Joseph
Johannesburg, South Africa
---
(2006)
A. Hi there,

One has to take a lot care for filtration in satin nickel , but there are emulsifiers which don't need filtration everyday , organic impurities and excess addition of organics results in black deposition , and maybe there is contamination of metallic impurity , on my opinion you should dummy the solution on regular basis...........and in the end maintain chloride 30 - 40 gms / ltr
Thanks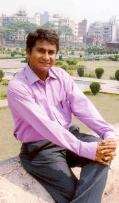 Praveen Kumar
plating process supplier
Mumbai, India
---
(2006)
A. Black spots in Satin Nickel do not come from copper/zinc contamination. The cause is insufficient filtration.
Try to filter the solution into a holding tank, clean the plating tank very well and then filter back the plating solution into the plating tank.
You must use filter aid along with the carbon!
Sara Michaeli
chemical process supplier
Tel-Aviv, Israel
---
(2006)
A. Dear Sir,
Tell me your tank size. If your satiniser addition is excess then also this may happened.
The satiniser additive is mix & stir vigorously with 20 times DM water then add to the tank and mix properly, dummy the solution, your problem will definitely be solved.
Vishal Duse
- Aurangabad, Maharashtra, India
---
Shade variation after bright & satin nickel plating on MS components
December 28, 2016
Q. We are doing satin nickel finish after copper plating and bright nickel plating. We are getting some shade variation on the components, i.e., within the same components and the matching parts. Due to this our dispatch is getting affected. How to resolve this issue? Is there any rework methods to de-plate the satin and do re satin nickel on those components?
Shanmugam Piramanayagam
Plating shop employee - Goa, India
---
February 6, 2017
A. Hi Shanmugan,
In the past I have noticed that inadequate final rinsing and drying can be a culprit in situations as described. Do you use post-process IPA?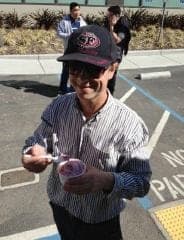 Blake Kneedler
Feather Hollow Eng.
Stockton, California
---
March 2, 2017

Thanks for all your suggestions.
After proper removal of aged satinizer and increase of Density of the satin bath, now we are getting proper satin finish.

Regards
Shanmugam Piramanayagam
[returning]
- Goa, India
---
---
Rusty Satin Nickel Plating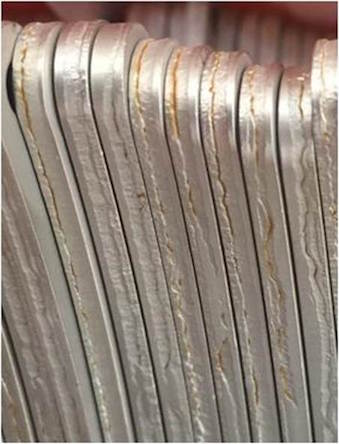 March 17, 2017
Q. I am an engineer for Electroplating in manufacturing company in Batam, Indonesia.
I have rusty issue in the plating surface, the plating type is Nickel Satin.
Could you help me why this thing happens? Solutions?
Thank you
Arya Simanullang
- Batam, Kepri, Indonesia
---
March 2017
A. Hi Arya. There is a lot involved to achieve successful plating; things could be wrong in 50 different places from an unplateable substrate due to pitting, to poor alkaline cleaning, to inadequate acid dip step, to poor rinsing, to inadequate plating thickness, to poor packaging or storage conditions. I think we can help you, but we would need a pretty cleared detailed question.
I don't know what this component is, and the picture may be deceiving, but it looks to me like you are trying to plate a part that has had no mechanical preparation done, and has very deep welding or casting gouges. What is the substrate please? And could you put a measuring tape or something in the pic to give us a sense of scale? Thanks.
Regards,
Ted Mooney, P.E. RET
finishing.com
Pine Beach, New Jersey
Striving to live "Aloha"
---
---
How to reduce the lack of deposit between layers in satin nickel finishing?
February 24, 2018
Q. We have had a lot of lack of deposit between layers. We rinse the parts after semibright nickel in angel acid rinse, then plate the satin nickel, rinse again and plate microporous nickel. After microporous we use two more acid rinses then we activate the part into a Chrome activator and finally put the Chrome layer. The defects are very tiny lacks of deposit between the semibright and the satin layer. I would like to know what are your suggestions about this item.
Roberto Camargo
Plating Process Engineer - Puebla, Puebla, Mexico
---
---
March 19, 2018
Q. I am doing regular carbon treatment to satin nickel tank. Before starting production my satin Hull Cell was found to be bright. After addition of satinizer I mix solution properly but still I am facing problem of one or two light spots of sparkling and white patch.
Nickel metal : 86 to 90. Chloride : 27. Boric acid : 40 g/l respectively.
Unhale Pavan
- Maharashtra, India.
---
April 3, 2018
Q. We are doing Satin Nickel plating on Motorcycle handlebars in a PLC controlled plating plant. We are getting Shade variation(glossy and matte finish in a single batch) in around 25% of the parts. Customer is not ready to accept such parts.

Whether this is process limitation or process variation? Please give your suggestion to sustain this shade in all the parts equally.
Paramjit Singh
National Industries - Ludhiana,Punjab (INDIA)
---
April 2018
A. Hi Unhale, hi Paramjit. I might have misunderstood, but it seems that Blake Kneedler and Shanmugam Piramanayagam have already discussed and resolved the same issue in this discussion. Can you phrase your situation in terms of what they have had to say on the matter? Thanks!
Regards,
Ted Mooney, P.E. RET
finishing.com
Pine Beach, New Jersey
Striving to live "Aloha"


This public forum has 60,000 threads. If you have a question in mind which seems off topic to this thread, you might prefer to Search the Site