60,000 Q&A topics -- Education, Aloha, & Fun
topic 23303
Adhesion test of Nickel plating
A discussion started in 1998 but continuing through 2020
1998
Q. Dear Sir,
We have a problem of testing the adhesion of the electroplated Ni layer. We would like to use a non-destructive testing method to test the adhesion strength of the coating.
The available destructive testing method, pull-off testing was suggested for this electroplated layer. But the polymer bonding between the electroplating and the testing assembly is not good compared to the adhesion of the electroplating and the substrate. So it is difficult to test the same using this.
Please suggest some ideas to test the same
Yours Truly,
Rajagopalan Ramaseshan
Kawasaki Heavy Industries Ltd
---
2000
A. Mr. Rajgopalan, I do not know a non-destructive test for nickel adhesion, but the simple destructive test is soldering a plug or a wire to nickel for pull testing.
Mandar Sunthankar
- Fort Collins, Colorado
---
---
To minimize search efforts and to offer multiple viewpoints, we combined previously separate threads onto this page. Please forgive any resultant repetition, failures of chronological order, or what may look like readers disrespecting previous responses -- those other responses may not have been on the page at the time :-)
---
---
Nickel plating adhesion problem
Q. The issue is with a metal piece made from B4A2C and finished F70E4A (Ni electroplate, brt. Mild. A weight of 250 lbs slides over the plate through 2 bearings. The piece is experienced flaking problems after a while. Is there a nondestructive test I could perform to verify the Nickel adhesion before the piece get into use? What destructive test I could perform to evaluate my supplier's process?
Regards,
Jose Arteagabeitia
- Monterrey, NL. Mexico
---
A. Have your supplier produce a test coupon using the same processing as the parts in question and then you can do a bend test.
Russell Richter
- Danbury, Connecticut, USA
---
A. Run a rounded steel tip over the part 10-12 times. If the adhesion is bad it may flake off or may not. The best way would be to try and lift off (exfoliate) the plating by rubbing a file on the edge of the part. nickel should grate off as a powder which is OK and not come off like a banana peel.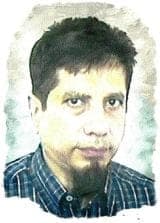 Khozem Vahaanwala
Saify Ind

Bangalore, Karnataka, India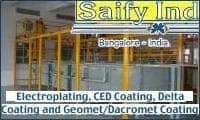 ---
A. Would a transparent self adhesive / scotch tape not do a job? Try it. Stick it well on product and try to lift with another end at one stroke. If plating comes off, you need to improve on pre treatments. A destructive test on coupon can be done. Try bending a coupon.
Payal Mag
- Charlotte
---
A. Pepe:
Disculpa la pregunta pero que es ese material B4A2C y que es ese acabado F70E4A? Es acero, aluminio ó que? Por otra parte, la prueba del doblez con cinta (bend tape test) se realiza sobre un cupón de acero de 1mm x 25mm x 100mm el cual se recubre y se dobla a 90 degrees, posteriormente se le adhiere la cinta (es especial y la fabrica 3M). Se le da un tirón fuerte en forma perpendicular. No debe observarse ampollas ni desprendimientos. Otra prueba mas severa es rectificar el cupon con piedra abrasiva.
Saludos y feliz navidad.
Guillermo Marrufo
Monterrey, NL, Mexico
----
Ed. note: This is an reply from a long time ago. We thank Guillermo greatly for his efforts to translate to Spanish to help his countrymen, but Finishing.com can no longer print inquiries and replies except in English. Sorry.
---
---
Test adhesion of nickel plating on aluminum
2003
Q. How can I test the adhesion of Nickel over Aluminum. Is there any standard for the above test.
Ilan Gabayan
- Haifa, Israel
---
2003
A. Use the slash test. Criss-cross the plated part with hatches cut into the surface with a sharp blade. Firmly adhere adhesive tape to the part, over the hatches and quickly pull it off again. Any poor adhesion will result in metal being attached to the tape. I do not know if there is a prescribed standard for this test, but it is very effective.

Trevor Crichton
R&D practical scientist
Chesham, Bucks, UK
---
2003
A. Additionally, I would bake the parts before doing the cross-hatch test. With extremely poor adhesion on aluminum, the plating may bubble just from the bake. Seeing if the adhesion is poor from the bake alone gives you the opportunity to see if your adhesion is "very poor" or "poor" (pass bake, fail cross-hatch).
Keith Rosenblum
plating shop - St. Paul, Minnesota
---
2003
A. A standard method for the test described by Trevor is given in paragraph 13 of ASTM B571 [affil. link to spec at Techstreet] Qualitative Adhesion Testing of Metallic Coatings. Also, the bend test in paragraph 3 is required by US standards Mil-C-26074 [link is to free spec spec at Defense Logistics Agency, dla.mil] and ASTM B733 [affil. link to spec at Techstreet] for electroless nickel plating. It can also be used for electroplated nickel per SAE-AMS-QQ-N-290 [affil. link to spec at Techstreet] and ASTM B689 [affil. link to spec at Techstreet].
Ken Vlach
- Goleta, California
Finishing.com honored Ken for his countless carefully
researched responses. He passed away May 14, 2015.
Rest in peace, Ken. Thank you for your hard work
which the finishing world continues to benefit from.
---
---
February 4, 2014
-- this entry appended to this thread by editor in lieu of spawning a duplicative thread
Q. I have a doubt regarding adhesion measurement. I use nickel phosphorous coating on steel. After electroplating I want to test the adhesion strength between Nickel-Phosphorous coating and steel. I want to buy equipment for this test. Can you please suggest me best machine for this test. I want to test only smaller material like 150 mm diameter.

Thanks in advance
Poovarasu Vadivel
- aachen, NRW, germany
---
August 11, 2014
-- Second Request
Q. Hello, I am a student at RWTH. I am doing thesis at Fraunhofer in aachen-germany. What I do is I use nickel phosphorous to electroplate the steel (which is mostly round part). I want to find the adhesive strength of the coating. I tried Positest Pull Off Adhesion Tester. But it did not work. Is there any other way to find the adhesive strength?
poovarasu vadivel
- aachen, nrw, germany
---
August 2014
A. Hi Poovarasu. We appended your inquiries to a thread about adhesion testing of nickel plating. The most accurate, but somewhat tedious, approach would probably be the Modified Ollard Test as illustrated in letter 18002, "Hard Chrome Plating Bond Strength and Test Methods: Modified Ollard Test". Best of luck.
Regards,
Ted Mooney, P.E.
finishing.com - Pine Beach, New Jersey
Striving to live Aloha
---
October 3, 2014
A. Re. adhesion strength of Ni plating. We (at Hoyt Co) experimented with Ni plating cast iron bearings to see if adhesion of Sn base bearing alloy could be improved by a Ni inter layer. We found bond strengths of Ni to cast iron of around 54 N/mm2 by using the Chalmers test which is destructive testing of a machined specimen.
Phil DANDO
- Horsham, Sussex, UK
---
---
August 24, 2015
Q. What is simple method to check adhesion of nickel plated brass threaded tubes?
jane dabke
- New Brunswick, New Jersey
---
August 2015
A. Hi Jane. Easiest would probably be to whack the end of the tube with a hammer to make it either flatten or shatter (depending on how soft the tube is). Alternately, if the tube is soft, wrap it around a suitably sized mandrel. If the adhesion is excellent, the nickel plating will adhere despite the stretching or shattering.
Regards,
Ted Mooney, P.E. RET
finishing.com - Pine Beach, New Jersey
Aloha -- an idea worth spreading
---
August 25, 2015
A. Good day Jane.

Ted has offered some good advice.
I would like to add that the adhesion of nickel on the brass threaded tubes can be compromised, as threaded brass contains lead.
Dependant on your cleaning cycle, I did deal with the lead issue, whether it be be a flourboric acid dip/ sulfuric + flourides (sulfuric acid alone will not remove the lead oxide produced from electrolytic alkaline cleaning).
I like to use the bend and break test, or the saw and grind test.
I place the item in a vise, and flatten the tube as Ted has suggested, or grind the tube trying to "pull" off the nickel plating.
A bake test is also useful,(650-700 °F? @ 1 hour) as it is non-destructive, however there will be discolouration of the nickel if the organics (nickel brighteners/wetter) are not removed prior to baking.
Hope this is useful.

Regards,
Eric Bogner
Lab Tech. - Whitby, on, Canada
---
---
April 4, 2017
Q. I am plating small cans for used in military equipment. After nickel plating, the customer crimps the top of the cans inward 90 degrees. We keep having issues with the plating flaking off during the crimping process. Any thoughts? Thanks!
Jonathan Hale
- Cleveland, Tennessee USA
---
April 2017
A. Hi Jonathan. While poor adhesion is the cause of many such problems, another potential cause is the plating being too stressed and brittle. Even with perfect adhesion, if you severely bend highly stressed and brittle plating it will crack off. You might try plating "stress tabs" and see what kind of tensile stress you are dealing with. What is the substrate ... steel? What kind of plating are you doing ... Watts bright nickel? Have you tried dull nickel or sulfamate nickel?
Regards,
Ted Mooney, P.E. RET
finishing.com - Pine Beach, New Jersey
Aloha -- an idea worth spreading
---
---
XRF Testing for Nickel plating adhesion?
February 12, 2020
Q. We make CBN electroplated (with Nickel) grinding wheels. Very infrequently we get peeling or delaminating problems. We had a problem recently with a rectifier that was spiking and caused underlying burn which caused peeling. We identified the suspect rectifier and took back a bunch of suspect wheels which we now want to test for underlying burn rather than just strip and re-plate the whole lot. What is the best way to do this? Can we x-ray them? Will heating them up and quenching them work?

Any help would be appreciated!
Jim Driscoll
Quality - West Hartford, Connecticut USA
---
February 2020
A. Hi Jim. To my obviously limited knowledge I think you're in totally uncharted territory trying to use a non-destructive test of that sort. While I suppose you could get the strongest adhesive tape you can find, and decide that adhesion is good enough if the part passes, you'd need to test every one -- which seems as hard or harder than stripping and replating.
There are baking tests for nickel adhesion which should be more practical if your grinding wheels can otherwise accept the heat, and if the baking is not enough to disturb the hardness of the electroless nickel. Hopefully someone can advise how hot and for how long, but I think it's quite iffy.
Regards,
Ted Mooney, P.E. RET
finishing.com - Pine Beach, New Jersey
Aloha -- an idea worth spreading