60,000 Q&A topics -- Education, Aloha, & Fun
topic 18002
Hard Chrome Plating Bond Strength and Test Methods: Modified Ollard Test
2002
Q. Dear sir:
We are working on coating the cast iron engine cylinder with hard chrome and now we would like to know if there is a way that we can measure the adhesion of the coating. Thank you for your attention, and your prompt response will be highly appreciated.
Sincerely yours,
Harsh Kumar
MINISTRY OF RAILWAYS - PUNJAB, INDIA
---
2002
A. Others may have a better idea, but you can do a "Modified Ollard Test". If you can't conveniently find info on it, I can certainly expound.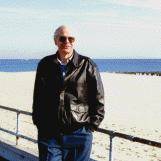 Ted Mooney, P.E.
finishing.com - Pine Beach, New Jersey
Striving to live Aloha
---
---
2003
Q. We have seen references to The Ollard test and the Modified Ollard test and have never been successful in obtaining any information on the subject.
We supply HVOF applied coatings on chilled cast iron and have used ASTM C-633-79 to measure bond strength.
Can you please forward or refer us to any information on the Ollard test?
Could you also perhaps speak to the difference between the Ollard and the modified Ollard test?
Does either apply or transfer to HVOF coatings or are they specific to chrome or certain materials and is the test specific to a certain substrates
Thank you,
David Antoniazzi
- Torrington, Connecticut, USA
---
2005
Q. Hi,
I'm a PhD student in mechanical science, and I'm also looking for some information on the Ollard test. I would be really grateful if you were able to send me some details on it.
Many thanks,
David MOULIN
- Metz, France
---
2005
Hi David A; Hi David M. The reason why you are finding it hard to track down this stuff is that the test is very old. The Ollard test is from 1925 and the modified Ollard test (by Knapp) is from 1949. You would need access to a computerized literature search engine to find references about it, not a web search engine, and then you need access to the documents that the abstracts reference.
These two sketches are from ASM's "Course 22 - Electroplating" and the April 1977 issue of Metal Finishing magazine. They show, respectively, the Ollard test and the modified Ollard test. The original test was applicable only to plating onto a round bar which is then machined down to 1" diameter, whereas the modified test can be used on rectangular panels & other shapes, and involves less machining and setup.
In either case the jig is put into a tensile tester (maybe actually a compressive tester), and then a calculation is made based on the cross sectional area. I haven't personally seen these tests run, but the advantage of these tests over competing adhesion tests is that they measure the actual tensile strength of the bond, and it looks like you could test almost any shape part. Good luck.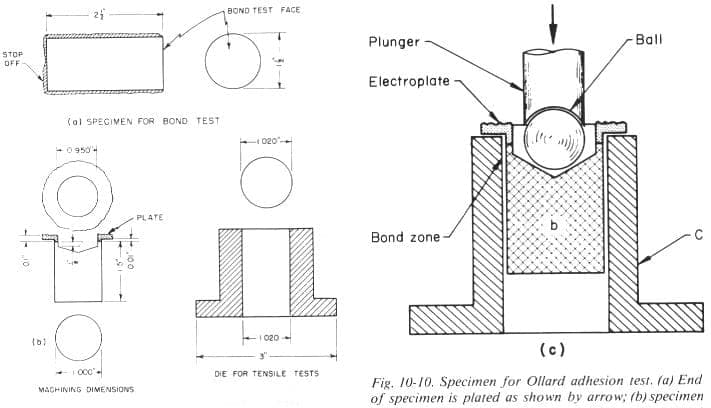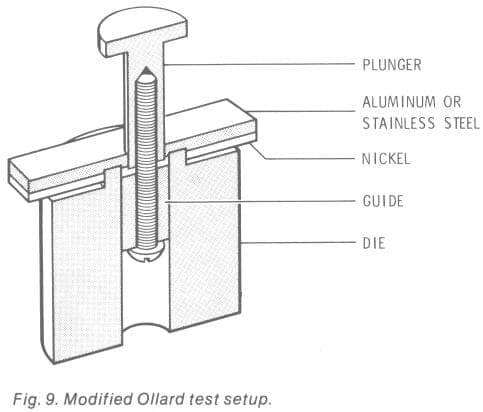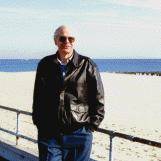 Ted Mooney, P.E.
finishing.com - Pine Beach, New Jersey
Striving to live Aloha
---
---
December 20, 2011
Q. I want to know bond strength value of hard chrome plating.
Dhananjay Patil
- Kolhapur, Maharashtra, India
---
December 20, 2011
A. Hi, Dhananjay.
My understanding is that in some cases "perfect adhesion" has been demonstrated with the the Ollard test; i.e., that the chrome will rip or the steel will rip before there is separation at the interface.
Regards,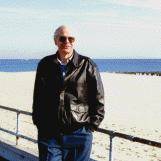 Ted Mooney, P.E.
finishing.com - Pine Beach, New Jersey
Striving to live Aloha
---
---
January 10, 2012
Dear Sir,

We have been trying to check the bonding strength of hard chroming. We made a bonding tester almost similar with Ollard test. The dimension of sample pieces before plating is 25.00 mm and the dia. after plating is 25.4 mm x 5 mm wide (the thickness of hard chrome 0,2 mm or 0.4 mm on diameter).
The gauge shown 4496 psi.
How to calculate the actual bonding strength?
How to calculate the area ?

Thanks in advance

Best Regards,
Ali Faizin
- Jakarta, Indonesia