topic 3606
Black Chrome Plating
A discussion started in 1999 but continuing through 2018
(1999)
Q. Black Chrome, is there such a thing, and how similar is it to regular chrome (other than color of course)? Interested in Black Chroming Cobra Kit Car parts that would normally be regular chrome.
Wayne McAllaster
Fremont, California
---
(1999)
A. Black chrome is a beautiful color, is very weather durable and is done by a fair amount of shops. It does have a tendency to show a silver color if it is significantly scratched, but nowhere as bad as black nickel or dyed or chromated parts.
James Watts
- Navarre, Florida
---
(1999)
Q. Thanks, James:
So then, there is such a thing as Black Chrome! Is it basically the same process/product as regular chrome? I wonder why more of it isn't seen on custom car/bikes? I have not been having any luck finding any shops that do it, and haven't had any luck on the net finding out more information about it. I've been told that there is no such thing, and that black nickel or dyed chrome is most people refer to when talking about Black Chrome. Your input will stimulate my quest, thanks again. Wayne
Wayne McAllaster
, returning
Fremont, California
---
(1999)
A. Hi, Wayne. Check our jobshops directory for plating shops that do black chrome
'Black chromium' has a couple of different looks. If you are old enough to remember when smoked glass was "in", there were residential and commercial dining tables and coffee tables which were 'black chrome' plated and the chrome looked like gray tinted glass--hard to describe--bright, sort of like chrome, but smokey. That's for decorative use like on a car.
The reason it was "out" is that tastes change and it's costlier than bright chrome. But it's having a great resurgence of popularity.
There also is "optical" black chromium; it looks like carbon black, sort of like black wrinkle paint but with exceptionally fine wrinkles, and is used to absorb light on the inside of optical stuff like microscopes and binoculars. I believe that black chrome still makes the most effective passive solar collectors.
Ted Mooney, P.E.
finishing.com
Pine Beach, New Jersey
---
(2001)
Q. Is Black Chrome used on handguns, and is it as durable as other normally used gun protective items? thank you
Steve Bukovac
- Stroudsburg, Pennsylvania
---
(2001)
A. I'm not real familiar with handguns, so I can't say too much, but I have heard of it and I don't know any reason why black chromium wouldn't be a fine finish for a handgun.
Ted Mooney, P.E.
finishing.com
Pine Beach, New Jersey
---
(2001)

I just wanted to thank you guys for having this thread here! I have been trying to get my wheels black-chromed for months! What a great resource...Thanks again!
Tony (Vipermad) Rickard
- Newport, Rhode Island
---
(2004)
Q. CAN YOU PLEASE TELL ME WHAT WEBSITE I CAN CONSULT, TO COMPARE BLACK CHROME AND BLACK NICKEL, I WANT TO SEE DIFFERENT COLOURS AND SHADES THEREOF, AS WELL AS PRO'S AND CONS OF EACH.
JOHANNES JACOBUS LE GRANGE
- KLERKSDORP, SOUTH AFRICA
---
A. Hi, Johannes. Sorry, I don't know of comparison pictures on line. Black nickel can be used for interior decorative parts, and it can be used for exterior wear parts, but I don't think you'd find it satisfactory as a decorative finish for exterior parts.
Regards,
Ted Mooney, P.E.
finishing.com
Pine Beach, New Jersey
---
August 13, 2009
A. JOHANNES of KLERKSDORP, SOUTH AFRICA asked about comparison pictures. This is a website I stumbled upon that may help. It shows different types of chrome plating done by one plating company.

www.reliableplating.com/blackchrome.html

Click on the dropdown list to see some other type of plating.

I hope it helps.
Rob McCarthy
- Pittsburgh, Pennsylvania
---
August 14, 2009

Hi, Rob. Thanks. These appear to me to be just computer generated graphics rather than actual pictures :-) ... but I guess anything is better than nothing. Thanks again.
Regards,
Ted Mooney, P.E.
finishing.com
Pine Beach, New Jersey
---
(2006)

I've been looking into black chrome because I have a z3 BMW that I've been working on for a car show coming up. There is a chrome paint that after you spray black base on the car and then again chrome is sprayed on and then cleared. Just to let you know a little about black chrome paint, House of Kolor has this paint =>

Raye Storts




- West Texas





---

(2006)

Thanks, Raye. Some of this site's supporting advertisers offer chrome-look paint, but we like to call it "chrome-look" rather than "chrome" or "spray chrome" so that readers don't get misled and confused. =>

Black chromium electroplating is one thing, while paint that looks something like it is something very different -- just as "gold-tone" paint is very different than real gold.

An application for chrome-look paint is that it is impractical to black chromium plate an entire automobile because the metal must be polished or every weld line, seam and mark will show, whereas painting the car with black "chrome-look paint" may be far more practical.




Ted Mooney, P.E.




finishing.com




Pine Beach, New Jersey




---
(2006)

To all inquiring about black chrome, It is absolutely beautiful! I have a "06 R1 and I just bought a set of custom black chrome rims for it this summer.First ones from this dealer special made. Ten times prettier than chrome! Almost as someone said like the tables or windows you see (like a mirror but black too, a must see)
TODD ANDREWS
- WAREHAM, Massachusetts
---
(2007)
Q. Can a part that is already chromed be re-chromed with black chrome

I have some parts for my Harley I would like to have done if so.
Glenn Puzino
- Brick, New Jersey
---
(2007)
A. Yes, Glenn. The shop will strip the existing chrome, probably buff and activate the nickel plating, then do black chrome plating on the parts.
Ted Mooney, P.E.
finishing.com
Pine Beach, New Jersey
---
(2007)
Q. Does the original perfect condition chrome have to be removed prior to applying Black Chrome? Are there different shades of Black Chrome? (lightly tinted to solid black).
Bruce Barrett
streetrod interiors - Arrington, Tennessee
---
(2007)
A. Yes, the chrome must be removed; but ninety nine percent of the plating is the underlying nickel, and it will probably be possible to save that. Both "smoked glass" and jet black are available, Bruce. Feel free to listen to our Podcast Interview with Willie World. We also have an Introduction to Chrome FAQ that you might find interesting.
Ted Mooney, P.E.
finishing.com
Pine Beach, New Jersey
---
(2007)
I have a bicycle that's black chrome straight from the Schwinn factory in 1988.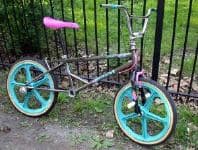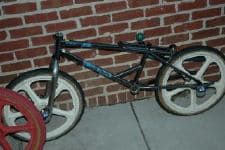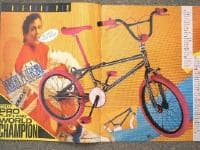 RIC
- La Canada, California
---
April 8, 2008
The Japanese motorcycle manufacturers used black chrome during the 80's. I just put on a set of Russel steel braided lines that are that way.
David Harrod
- Leavenworth, Kansas
---
November 4, 2008
Chrome has a history . The original chrome was brighter and more a blue tint. The original chrome process had a number of limitations. Notice most recessed areas of older vehicles were painted or hidden. The term chrome rob means the chrome did not go there, so you would see a chrome color to nickel color definition line. A new chrome -more environmentally friendly is also chrome but less in brightness, longevity, and scratch resistance. The new chrome being thinner tends to not show the nickel definition line as well. The new chrome has more a gold or brown tint. Black chrome is an extension of the new chrome. Therein relatively speaking the black chrome will scratch like the new chrome and the scratch will be more apparent because it is a darker color on nickel. The typical attraction to black chrome is the change in degree of black brought on by the surrounding change in light. Platers have their own individual black so be careful with a generalized request or expectation for black chrome.
Trevor McBride
- Conneaut, Ohio
---
April 2009
Thanks, Trevor. Lots of good info in your posting. But you are not correct that black chrome started with the new environmentally-friendly trivalent chromes. Black chrome was around long before trichrome (I was with Atotech when we were marketing CromOnyx black chrome, and later on when we became the first supplier of trivalent chrome plating). I'm confident that most if not all black chrome is still hexavalent chrome -- but that is not to say that trivalent chromium, which is a normal contaminant in hexavalent chrome plating, plays no role in the blackening.
Regards,
Ted Mooney, P.E.
finishing.com
Pine Beach, New Jersey
---
January 23, 2009
We put in a black chrome plating bath in early 2008 and the process has been well accepted by several of our customers. We also did the wheels on the first 1/50 Hurst Vipers that recently sold at Barrett Jackson for $275,000.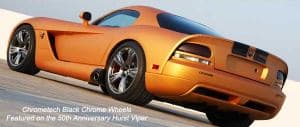 Cost is about 30% more than regular chrome.
Don Unrein
- Santa Ana, California
---
April 5, 2009
Q. I am in the process of restoring a 1950's Schwinn Bicycle. It was mentioned to me that I should consider black chrome for some parts of this bike. Specifically I was thinking about black chroming the sprocket and crank. This would go nicely with the black anodized rims I am working with. I am wondering if you think it is worth the expense given the short longevity of this particular plating method I have been reading about? If you do think this plating method would work well with this particular application could you refer me a plater that could do justice to my current project? I also work with custom Harley Davidson choppers, so I have the potential to bring the right facility a good amount of work.

Thank you for your consideration.

John
John Gladhart
hobbyist refurbisher - Monrovia, California
---
April 13, 2009
A. Hi, John. Black chrome is quite durable, but I can't say what is worth it to you. Good luck.
Regards,
Ted Mooney, P.E.
finishing.com
Pine Beach, New Jersey
---
June 11, 2009
Q. If black chrome is an electroplating process, is there any reason it would need to air dry to fully cure? I'm getting some parts black chromed and this is what the plater told me, but it doesn't sound quite right.
Chris Hughson
- Rochester, New York
---
June 11, 2009
A. Hi, Chris. It sounds to me like you are a getting chrome color paint, not real chrome plating. Please see our Introduction to Chrome Plating for a fuller explanation. Good luck.
Regards,
Ted Mooney, P.E.
finishing.com
Pine Beach, New Jersey
---
August 24, 2009
A. Here's a picture of a black-chromed wheel, next to a standard polished wheel.

www.hummerproducts.com/Black-Chrome-Wheels-Both-We.jpg

If you go to Google Pics, and try "black chrome", you'll get a tremendous selection!

Hope the link works.
Ted DeWeese
- Utica, Pennsylvania
----
Ed. note May 2016: Sorry that link is now broken.
---
February 8, 2010
Q. Hello, Can this finish be applied to an aluminum part that also has some rubber seals attached to it(i.e. window trim pieces) These are the window surround trim off a BMW.

Thanks
Jason Homrighaus
- Amsterdam, New York
---
April 9, 2010
A. I noticed a question here about black chrome finish on firearms. Back in the 1960's, black chrome was a pretty popular custom finish on firearms, particularly handguns. It has excellent resistance to wear and corrosion, and looks a lot like a blued finish. With the popular use of stainless steel in firearms today, you just don't see much plating being done.
Walter Jarboe
- Tifton, Georgia, USA
---
June 24, 2010
A. My understanding of the use of coatings on firearms is that it is not a plating at all, as that would chip and scratch too easily. Firearms are coated with titanium nitride (for a gold color) and titanium aluminum nitride or titanium carbon nitride (for a gray color). These are the same coatings used to harden machine tools and actually integrate into the substrate rather than surface coat it.
Hope this is accurate - can anyone else confirm this?
Andy G.
Andy Gravelle
- Santa Rosa, California
---
June 25, 2010
A. Hi, Andy. PVD coatings like those that you mentioned can be used on guns, and sometimes are, but the rest of your statement isn't quite accurate.
Well done electroplating can adhere perfectly. There is a mechanical procedure called the Ollard test which can be used to attempt to pull the plating off the part; when the plating is perfect, the plating or the substrate will rip apart rather than the interface between them. The inside of gun barrels, including huge caliber naval "guns" is often chrome plated. Electroplated coatings chemically "grow" on the surface so that there is actual metallurgical connection to the substrate (as opposed to paint, which adheres only through mechanical keying).
Regards,
Ted Mooney, P.E.
finishing.com
Pine Beach, New Jersey
---
1 2
---


This public forum has 60,000 threads. If you have a question in mind which seems off topic to this thread, you might prefer to Search the Site