World's #1 finishing resource since 1989
No login needed: Chime right in
topic 10818
Black chrome plating problem: Plating is gray instead of black
A discussion started in 2001 but continuing through 2019
2001
Q. Can anyone help me on black chrome plating? I have tried the following composition of the bath --

Cr2O3 (chrome anhydride) 250 gm/ltr
Acetic acid 170 ml/ltr
Current Density 150 asf
The problems are:
1) Jet black color is not coming; the color obtained is metallic gray.
2) When attempting brown color plating (with different current density value) with the solution, the brown color does not come uniformly there are gray patches at high cd areas. Raising the temperature helps; but since acetic acid is not stable at high temperature, the plating stops taking place.
Someone please help me find a olution to this problem or suggest some metal acetate which won't affect Cr plating and will be stable at high temperature
Thanks,
Viney Chaddha
- Gurgaon, Haryana, India
---
2001
A. Are you plating black Chrome on bright Nickel or semi-bright (Sulphur free) Nickel? Is your temperature control uniform throughout the solution? Are you oiling the parts after plating? Please post your situation and maybe I can help.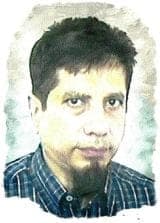 Khozem Vahaanwala
Saify Ind

Bengaluru, Karnataka, India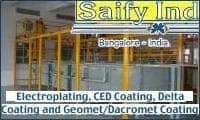 ---
2001
Q. Dear Khozem,
Thank you very much for the response. I have tried this in a five liter beaker on a small plate; the conditions are:
1) temperature is uniform (room temperature)
2) the plating is attempted on bright nickel
3) there is certainly no oil as the cleaning is as follows --
a) ultra sonic
b) cathodic cleaning
4) any oil film present may be that of the brighteners and anti-pit solutions used in bright nickel but the work piece is thoroughly rinsed after bright nickel
I would be extremely grateful if you can help
Thanks,
Viney Chaddha
- Gurgaon, Haryana, India
---
2001
A. Viney,
You must have a lower temperature 14-157° C. I also suggest that you analyze the trivalent chrome -- maybe you have too much hexavalent chrome in your black chrome solution. The ratio between anode and cathode is important; 1:2 the anode area shall be less than the cathode area.
Regards,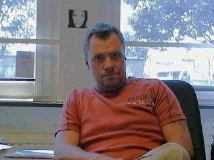 Anders Sundman
4th Generation Surface Engineering
Consultant - Arvika, Sweden
---
2001
A. It is essential to not have any sulphate present. Add some barium carbonate to ensure no sulphate. Usually the processes have other additives such as nitrate, fluoride, or boric acid.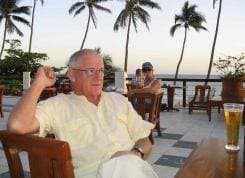 Geoffrey Whitelaw
- Port Melbourne, Australia
---
2007
Q. I wish You could talk on planet earth. Apart from that, the reason I was looking at this was because I am a designer in Spain and was looking up Black Chrome. Now I am confused. Where can I get some good pics?
Chris Fletcher
designer - Spain
---
2007
A. Hi, Chris. This is a technical forum where experts help other experts solve plating problems. You really can't ask for it to not be technical :-)
Letter 3606 has some pictures of black chrome plating, and you can ask one of the suppliers of black chrome services or black chrome plating processes for more pictures. But be aware that there are several different types for different purposes, including high absorptivity for solar collectors; non-reflective optical black chrome for insides of microscope and telescope tubes; and shiny decorative black chrome for auto parts, etc. Please tell us what you want to plate with black chrome and why. Thanks. Good luck.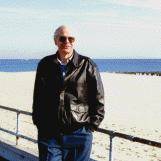 Ted Mooney, P.E.
Striving to live Aloha
finishing.com - Pine Beach, New Jersey
---
October 7, 2008
Q. I am looking for a good formulation or bath composition for black chrome plating. Hope someone can help me thru this.
Macy Melgar
- Makati City, Philippines
---
January 12, 2010
Q. Can you tell me how to make Black chrome surface finishing to have Black color. What is the factor?
Prapha Phonsan
student - Thailand
---
January 12, 2010
A. Hi, Macy. Hello Prapha.
Proprietary black chrome solutions are available from the international plating process suppliers like Atotech and Macdermid and Enthone, etc. That is the surest and fastest way to a practical solution, and it is what most quality plating shops do, because you get not only a proper formulation, but experienced assistance to make sure it works.
If you want to try to formulate the baths yourself, please try your best to phrase your questions in terms of the answers that have already already been provided. What do you find incomplete or confusing about them? Thanks.
Regards,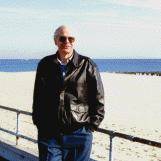 Ted Mooney, P.E.
Striving to live Aloha
finishing.com - Pine Beach, New Jersey
---
April 1, 2012
A. I believe the best solution for black chrome is chromic acid and BCR additive to make it black color.
Hope this solution can help you.

Q. Actually I'm a newbie in metal finishing processing.

What is the best for improvement for black chrome plating?
-- because it's very hard for this process, like jig mark issue and color issues.
Controlling the system is also very difficult, such as temperature of bath and current and voltage.

So I'm trying to improve the contact point by modifying a copper v-block and copper rod.

Do you have any idea for this issue?
Thank you for your cooperation.
amar arifin
- malaysia
---
April 2, 2012
A. Hi, Amar. Thanks.
I believe the trick to good contact is a combination of pressure and rubbing. Picture an electrical "knife switch" (see Google Images for knife switch if necessary). The general idea is for your copper rod to scrape against pressure -- as the combination of scraping and pressure presents a clean contact surface. Good luck.
Regards,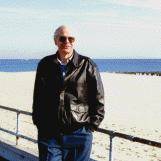 Ted Mooney, P.E.
Striving to live Aloha
finishing.com - Pine Beach, New Jersey
---
---
Contamination limit for black chrome plating tank
January 10, 2019
Q. We are plating black Chrome on bright nickel. Is there any upper limit for Copper, Nickel and Iron permitted on that bath?
Thank you in advance!
Bernardo Roque
GDO - Guadalajara, Jalisco, Mexico.
---
January 24, 2019
A. Hi Bernardo,

You may set Cu, Ni & Fe tolerance as 5 ppm, 50 ppm & 30 ppm respectively.

Regards,
David

David Shiu
- Singapore