topic 35573
Acceptance criteria after salt spray test
adv.
A discussion started in 2005 but continuing through 2018
2005
Q. What are the acceptance criteria for visual inspection after the salt spray test of Zinc plated & trivalent green passivated parts. There are two types of rust:
i) White &
ii) Red

Is white rust acceptable after 300 hours of salt spray test?
Sunil kumar Srivastava
automotive parts manufacturer - BangaloreIndia
---
---
January 16, 2009

A. While assessing Salt spray test results many interpret black spots or patches as failure of Corrosion test.This is only an intermediate stage and this is not to be taken as failure. Only White corrosion product and later on red rust formation need be considered for interpretation of SS Test results especially in the case of Zinc and Zinc alloy coatings.

Subramanian Ramajayam


consultant
Bangalore, Karnataka, India



---

January 16, 2009

A. Thanks, Subramanian! I can agree, but not 100%. Some specifications define failure, and in that case failure is whatever the spec says it is. And, of course, a buyer can write any spec they wish, which can define failure in any way they wish.

But what a buyer probably cannot do (as you say) is fail to define failure, but then claim that black spots or patches constitute failure :-)

Regards,




Ted Mooney, P.E.




finishing.com




Pine Beach, New Jersey




---
May 16, 2012
Q. I want to ask you only one question about salt spray on spanner coated with chrome plating.
We are using 1% NaCl for test and temp. of 35°, nickel thickness on the spanner is 12 micron. But it stands up to 15 hours, why?
Deepak Manmohan
- Jalandhar, Apunjab, India
---
---
December 5, 2012
Q. Normally in India we use acceptance criteria of 144 hours for salt spray.
However, it is not clear at what time/limit white rust should be accepted.

Prashant Deshmukh
- Mumbai Maharashtra India
---
---
December 14, 2012
Q. We are doing salt spray test on zinc plated parts.
As per our internal specification no white rust/red rust should appear after 144 hours.

However, what I understand is, white rust is actual corrosion of plating and not corrosion of base material.
So plating coat is actually preventing base material and sacrificing itself.

So why not accept white rust and only concentrate on red rust?
So what should be acceptance criteria for white rust?

Prashant Deshmukh
[returning]
- Mumbai Maharashtra India
---
---
---
November 4, 2013

-- this entry appended to this thread by editor in lieu of spawning a duplicative thread
Q. Dear experts,
We are producing hot rolled steel sheet metal part with zinc plating.
The salt spray test basis is ASTM B117 [link by ed. to spec at TechStreet] , 96 hours no white rust or red rust.
The test was passed, but customer refused to accept the parts because they found 1 black spot on a sampled part.
Now, he asks for a standard to testify that black spot is allowed after salt spray test is passed, before he can accept this lot.

However, I can't find any ASTM standard denoting the acceptance of black spot.

Would anyone share with me the standard or his experience how to deal with this situation?

Best regards,

Fai.

Tang Fai Tong
Engineering - Hong Kong
---
---
Do black spots on Electroless Nickel comprise salt spray failure?
February 24, 2014
-- this entry appended to this thread by editor in lieu of spawning a duplicative thread
Q. I would like to have some clarification on what is considered "corrosion" on electroless nickel. I am testing per AMS2404 [link by ed. to spec at TechStreet], using ASTM B117 to make up my solution. Periodically, I see black spots on my test panels. Is that corrosion, or does it have to be "red-rust" to be considered a failure?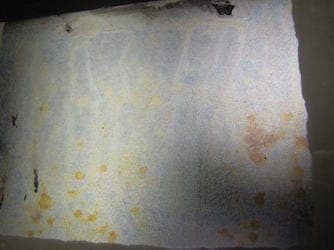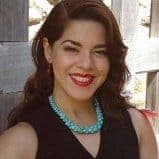 Claudine Meinhardt
Chemist - San Antonio, Texas USA
---
April 8, 2015
Q. I want to know in salt spray testing of painted material which type of rust comes earlier red or white?
Mohit Angirous
- delhi,india
---
---
E-coated steel lasts 96 hours salt spray, customer wants 480
September 2, 2015
Q. Hi

The customer product is CQ mild steel coated with e-coating and the customer specification is "no corrosion after 480 hours" in salt spray test. Reading the above posts, the spec "should be" between 96 hours to 144 hours. What are your thoughts on this? The substrates failed after 96 hours, with signs of red rust.
Regards
Sheldon
Sheldon Ball
- Pinetown, Kwazulu Natal, South Africa
---
---
June 23, 2016
Q. Is it possible to have agreement with our customer on the white rust, something like % of white rust observed over the total surface?

Also, I want to get some clarifications over the topic of Black spots.

I feel that either white rust or black spot acceptance depends on situation or product structure. Areas which are not cosmetically visible and not obstructing function can be allowed to have some % of white rust / black spots. In this case to we should have an agreement with our customer.
Pankaj Bansod
Automation - Hyderabad, India
---
---
Can e-coating on cast iron withstand 480 hours of salt spray?
August 24, 2016
Q. Hi Everyone,

I also have similar problem with Sheldon, but the difference is in material; I use cast iron for the Salt Spray Test. And the requirement said it must reach 480 (FPO-5) with no rust at any surface. The part uses Electro Deposition Painting (EDP). Do you think is it still possible? Does anyone have the same problem?

Regards,

Agung
Agung Budi Setiawan
- Bekasi, West Java, Indonesia
---
---
October 24, 2016
Q. I would like to know how to differentiate between white rust and salt residue of salt spray test. Can someone help?
KY Tay
- Bukit Mertajam, Penang, Malaysia
---
---
November 21, 2016
Q. SIR,
REQUEST YOU TO PROVIDE SOME NUMERICAL VALUE (REQUIREMENT FOR SALT SPRAY TEST).

WE ARE DOING SALT SPRAY TEST AS PER ASTM B117 FOR REINFORCING BARS WITH EPOXY COATING FOR 96 hr AS WELL AS 204 hr.

CORROSION RATE INDEX (cri) CALCULATED.

AT PRESENT WE ARE GIVING ONLY MASS LOSS (g/m2) AGAINST UNCOATED SAMPLES -- BOTH WILL BE SUBJECTED TO TEST.
RADHAKRISHNA K rao
CIVILAID TECHNOCLINIC PVT. LTD - BANGALORE, KARNATAKA, INDIA
---
April 11, 2017
Q. Hello all.
The salt spray test results report shows at 96 hours 5 g and the customer said I wish 10 g on e-coat process; the raw material is cast iron. The question is, for this process is it possible to meet with zero corrosion during 96 hrs ASTM B117 test.
Santiago lorenzo
Industrial Finishing - Brownsville Texas
---
---
June 2, 2017
Q. Hello to all.
Please clarify the black spot observed in SS test what is this effect during testing time?
VIJAY SINGH
lohia corp limited kanpur - kanpur uttar pradesh India
---
---
November 30, 2017
Q. Hi sir,
Define salt spray test and how many hours test for door handle (Mild steel) and what is the conditions. Which standard we need to refer for corrosion resistance test on ferrous materials?
balaji krishnsamy
- trichy, tamilnadu, india
---
---
January 20, 2018
Sir,
I want to know that in SS test what is method to check black corrosion on zinc plating. According to our product standard, conditions is 0.05% corrosion area of total test surface of base metal would be the passing criteria, so please help me can I consider black corrosion or spot as base metal corrosion or, if not, then what is the process to know base metal corrosion?
Shurveer singh
- Udaipur,raj. india
---
---
January 29, 2018
Q. Hello. I just want to ask you some help. Can you offer me any documents which I can get help while interpreting ss test results?
Thank you so much.

yunus sezgin
- istanbul TURKEY
---
January 29, 2018
Q. Hi TED;
thanks for answering.
We're processing fe-zn, fe-ni, fe-cr, cuzn-ni, zn-cr, zn-ni.

So I need something about these processes.

Thank you so much.
Regards.
yunus sezgin
[returning]
- istanbul TURKEY
---
---
February 4, 2018
Q. Dear all,

We are a manufacturer of metal parts and we have received complaints from customer about failure of salt spray test. They are claiming of 72 hrs SST and therefore we have forwarded the complaints to supplier. They have replied that the storage time is one of the factors that affect the test result since the product customer used has been stored for 6 months and the test is best performed within the period of 24 hrs after electroplating. We are not sure if there is any direct relationship for the result and time period.

May I ask if there is any time limit or requirements for salt spray test after the metal is freshly electroplated? Can supplier of electroplating guarantee period of time that the products can pass the test? I have heard of half year from the supplier but I'm not sure. Currently the supplier is claiming that the test should be best performed within 24 hours after electroplating. Thanks for all your support.
Vincent Lee
Wang Tak Metal Products - Hong Kong
---
---
February 23, 2018
Q. Hi, how are you.
We are producing mortise locks. We are using EN 1670 [link by ed. to English BS EN 1670 spec at TechStreet] for salt spray test results. So I want to know about rust. It says that there cannot be any spots larger than 1,5 mm in 650 mm2.
I don't know how to interpret that because which 650 mm2 area will I choose. I mean if there is a big plate and there is just one spot with 2 mm, what should I say. It is ok or not?
Thank you so much
yunus sezgin
[returning]
kalekilit - istanbul TURKEY
---
---
March 16, 2018
Q. Hi, my name is Steven Sze. I'm an aluminium panel design engineer. The panels are mostly used for building cladding. Our company is about to have one of our steel panels tested (aluminium interior) against Salt Spray Test 1000 hours. May I know if there is any standard that we can refer to, to define if our product "Passed the test" or "Failed the test"?
Steven Sze
- Brisbane, Queensland, Australia
---
---
March 15, 2018
Q. We are following ASTM B 117 and NADCAP regulations on our chamber and I occasionally have parts that get a brown stain that I have failed previously as rust. However, on my most recent test pieces, I submersed them in Copper Sulfate to plate them and they did NOT turn pink. We abrasive blast with aluminum oxide prior to passivation. Any ideas on what my brown stains are?

Thanks:)
Kyle Major
- Boss, Missouri, United States
---
March 20, 2018
Q. The material is 300 series stainless steel that has been abrasive blasted and passivated.
Kyle Major
[returning]
- Boss, Missouri, United States
---
---
How to QUANTIFY the extent of failure in salt spray test
August 11, 2018
-- this entry appended to this thread by editor in lieu of spawning a duplicative thread
Q. My situation:
Anyone can help? How to quantify the failure in salt spray testing?

For suppose I found the failure at the last minute or if I see the failure at very little amount?
How to measure the extent of failure in the test.
Because I found the black coloured rust formation on the steel sheet within 140 hours.
Sri Raj
Tester - Puducherry, INDIA
---
---
September 10, 2018
Q. Hi,

We have some bolts which are coated with Yellow dichromate. Does white rust appears in this case also?
Sandeep Pawar
- Syracuse, New York, USA
---
---
November 15, 2018
Q. Dear all,
Our company uses coating Fe/Zn12/A/T2 on steel and zamak hardware. We start a discussion regarding evaluation of white rust. My question: how should we treat changing of part of coating surface to matte and grey/black color. I don't mean black spots, but whole areas. One of our laboratories claims it is white corrosion but I have doubts.

Anna Borowska Kos
- Gdańsk, Poland


If you have a question in mind which seems off topic, please Search the Site