Serious Education ... plus the most fun you can have in metal finishing.

Acceptance criteria after salt spray test
adv.
(2005)
Q. What are the acceptance criteria for visual inspection after the salt spray test of Zinc plated & trivalent green passivated parts. There are two types of rust:
i) White &
ii) Red

Is white rust acceptable after 300 hours of salt spray test?
Sunil kumar Srivastava
automotive parts manufacturer - BangaloreIndia
---
(2005)
A. Dear friend,

You are probably from the receiving inspection department, looking for tightening the supplier. Well.

All zinc coated material will have two types of corrosion, namely Zinc and Iron. The corrosion product of Zinc is Zinc oxides which are white in color. The corrosion product of Iron is ferrous oxide which is red in color. That's how you call the results as White rust and Red rust.

If you are getting a white rust, you can interpret the quality of chromate on zinc coatings. All plated products are chromated to protect zinc corrosion.

With the Red rust you can interpret the quality of zinc plating. The duration to start the red rust after white rust if it is low, then the zinc plating is porous.

In plating getting a white rust after 300 hrs is one of the best quality out of my experience. You need to specify the requirement of salt spray resistance, there are no standards. However remember every process has its own limitation.

V. G. Rajendran
- Trichy, Tamilnadu, India
---
(2006)
A. I believe that there are two types of rust called White rust and Red rust.

White rust is nothing but failure phenomena of coated surface and Red rust is failure phenomena of parent material.

White rust and Red rust can be decided by the nature of coating.Generally salt spray specification for white rust will be 46 hrs and red rust will be 120 hrs, of course depends on nature of coating.
Devarajan Ravindran
- Chennai
---
January 16, 2009

A. While assessing Salt spray test results many interpret black spots or patches as failure of Corrosion test.This is only an intermediate stage and this is not to be taken as failure. Only White corrosion product and later on red rust formation need be considered for interpretation of SS Test results especially in the case of Zinc and Zinc alloy coatings.

Subramanian Ramajayam


consultant
Bangalore, Karnataka, India



---

January 16, 2009

A. Thanks, Subramanian! I can agree, but not 100%. Some specifications define failure, and in that case failure is whatever the spec says it is. And, of course, a buyer can write any spec they wish, which can define failure in any way they wish.

But what a buyer probably cannot do (as you say) is fail to define failure, but then claim that black spots or patches constitute failure :-)

Regards,




Ted Mooney, P.E. RET




finishing.com




Pine Beach, New Jersey




---
May 16, 2012
Q. I want to ask you only one question about salt spray on spanner coated with chrome plating.
We are using 1% NaCl for test and temp. of 35°, nickel thickness on the spanner is 12 micron. But it stands up to 15 hours, why?
Deepak Manmohan
-
Jalandhar, Apunjab, India
---
May 22, 2012
A. Hi Deepak.
Nickel-chrome plating is a barrier layer type of plating, not a sacrificial plating. Thus, if there is any porosity or any pinhole, the nickel plating will accelerate the rusting of the substrate. You probably need duplex nickel plating or thicker nickel plating to improve the salt spray results.
Regards,
Ted Mooney, P.E. RET
finishing.com
Pine Beach, New Jersey
---
December 5, 2012
Q. Normally in India we use acceptance criteria of 144 hours for salt spray.
However, it is not clear at what time/limit white rust should be accepted.

Prashant Deshmukh
- Mumbai Maharashtra India
---
December 5, 2012
A. Hi Prashant. What specification are the parts plated to? The plating specification, such as ASTM B633 [link by ed. to spec at TechStreet] for zinc plating, sometimes defines what constitutes failure. If not, Subramanian's answer should be helpful to you. Good luck.
Regards,
Ted Mooney, P.E. RET
finishing.com
Pine Beach, New Jersey
---
December 14, 2012
Q. We are doing salt spray test on zinc plated parts.
As per our internal specification no white rust/red rust should appear after 144 hours.

However, what I understand is, white rust is actual corrosion of plating and not corrosion of base material.
So plating coat is actually preventing base material and sacrificing itself.

So why not accept white rust and only concentrate on red rust?
So what should be acceptance criteria for white rust?

Prashant Deshmukh
- Mumbai Maharashtra India
---
December 14, 2012
A. Hi Prashant. White rust is unsightly and it can "gum up" things (making it difficult or impossible to assemble/disassemble things, operate door latch mechanisms & triggers, fire extinguishers, etc.)
White rust is supposed to be forestalled with chromate conversion coatings... and there is nothing wrong with a spec that demands some given number of salt spray hours before white rust.
Regards,
Ted Mooney, P.E. RET
finishing.com
Pine Beach, New Jersey
---
---
November 4, 2013

-- this entry appended to this thread by editor in lieu of spawning a duplicative thread
Q. Dear experts,
We are producing hot rolled steel sheet metal part with zinc plating.
The salt spray test basis is ASTM B117 [link by ed. to spec at TechStreet] , 96 hours no white rust or red rust.
The test was passed, but customer refused to accept the parts because they found 1 black spot on a sampled part.
Now, he asks for a standard to testify that black spot is allowed after salt spray test is passed, before he can accept this lot.

However, I can't find any ASTM standard denoting the acceptance of black spot.

Would anyone share with me the standard or his experience how to deal with this situation?

Best regards,

Fai.

Tang Fai Tong
Engineering - Hong Kong
---
November 7, 2013
A. Hi Fai. As Subramanian tells us above, black spots do not constitute failure. However, I think the main problem here is that you and the customer must agree what specification you are plating to, and I see no mention of that. Specifications help define what comprises passing and failure.
If your customer is not requiring plating to a specification, I don't see how he can reject anything; nor can I see how you can claim to be offering a satisfactory plating service short of polling the whole world for every vague opinion :-)
Good luck, but please use this disagreement as a launching pad for correcting the omission by referencing specifications in purchase orders and certs. Good luck.
Regards,
Ted Mooney, P.E. RET
finishing.com
Pine Beach, New Jersey
---
---
Do black spots on Electroless Nickel comprise salt spray failure?
February 24, 2014
-- this entry appended to this thread by editor in lieu of spawning a duplicative thread
Q. I would like to have some clarification on what is considered "corrosion" on electroless nickel. I am testing per AMS2404 [link by ed. to spec at TechStreet], using ASTM B117 to make up my solution. Periodically, I see black spots on my test panels. Is that corrosion, or does it have to be "red-rust" to be considered a failure?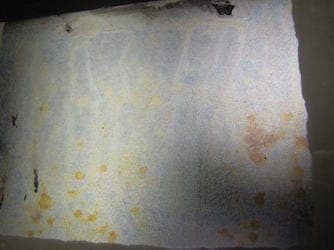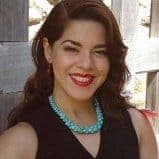 Claudine Meinhardt
Chemist - San Antonio, Texas USA
---
February 2014
A. Hi Claudine. ASTM B117 is basically the operating requirements for salt spray testing and doesn't define failure. Sometimes plating specs define failure, but unfortunately I don't have a copy of AMS2404 [link by ed. to spec at TechStreet] handy, so I can't comment on what if anything it says about failure. We appended your inquiry to an earlier topic where Subramanian says that black spots do not comprise failure so, in the absence of anything to the contrary in AMS 2404, you are correct that red rust is the dividing line between passing and failing.
Regards,
Ted Mooney, P.E. RET
finishing.com
Pine Beach, New Jersey
---
February 24, 2014
I have a copy of AMS2404, anyone need help please feel free to contact me.
Davey Shaw
Shenzhen, Guangdong, China
---
February 2014

Thanks Davey. It's copyrighted, so I can't ask for a copy, but if you would check how it defines failure, that would be a big help!
Regards,
Ted Mooney, P.E. RET
finishing.com
Pine Beach, New Jersey
---
February 25, 2014
A. Hi Claudine,

AMS 2404 says the base material shall be free from corrosion. So what you really need to know is whether the black spots are corrosion or whether it is something else causing the staining.

Incomplete oxidation of iron caused the formation of a mixture of the ferrous oxide and the ferric oxide (Fe3O4), this tends to be pretty black in color. The classic red corrosion product is the ferric oxide (Fe2O3).

So, can you analyse the black spot? XRF or SEM with EDX would be good tools to use. If the black spots contain iron then you have corrosion product and you should consider that a failure, AMS 2404 does not make any distinctions between corrosion product oxidation states.
Brian Terry
Aerospace - Yeovil, Somerset, UK
---
April 8, 2015
Q. I want to know in salt spray testing of painted material which type of rust comes earlier red or white?
Mohit Angirous
- delhi,india
---
April 2015
A. Hi Mohit. The rust from steel is called red rust, whereas metallic protective coatings on that steel (like zinc plating), if present, corrode to white corrosion products / white rust. In general, you would only get both white rust and red rust if the article is made of steel and has a sacrificial coating of zinc under the paint, and in that case the white rust comes first. But abstract questions are difficult to answer properly because the world if full of possibilities, and short of writing a shelf of books in reply, we can't cover every "If, and, & but". So if you can give us the details of your own situation, a more complete and reliable answer may be possible. Thanks.
Regards,
Ted Mooney, P.E. RET
finishing.com
Pine Beach, New Jersey
---
---
E-coated steel lasts 96 hours salt spray, customer wants 480
September 2, 2015
ACRONYMS:

CQ = commercial quality
Q. Hi

The customer product is CQ mild steel coated with e-coating and the customer specification is "no corrosion after 480 hours" in salt spray test. Reading the above posts, the spec "should be" between 96 hours to 144 hours. What are your thoughts on this? The substrates failed after 96 hours, with signs of red rust.
Regards
Sheldon
Sheldon Ball
- Pinetown, Kwazulu Natal, South Africa
---
September 2015
A. Hi Sheldon. I'm sorry but your posting seems to have two errors. First, the customer can require any specification for salt spray endurance he wishes (as long as it was referenced in the purchase order). Second, these "96 hour" and "144 hour" specifications are referring to zinc plated surfaces, not e-coated surfaces. E-coated surfaces do not fail in the same way as zinc coated surfaces, where the sacrificial zinc coating is gradually consumed.
I don't know your particular parts and your particular e-coating, but 96 hours sounds low for any high quality organic coating; are you doing quality phosphating before the e-coating? 480 hours does not sound impossible, and may not even be unreasonable. Good luck with the issue.
Regards,
Ted Mooney, P.E. RET
finishing.com
Pine Beach, New Jersey
---
---
June 23, 2016
Q. Is it possible to have agreement with our customer on the white rust, something like % of white rust observed over the total surface?

Also, I want to get some clarifications over the topic of Black spots.

I feel that either white rust or black spot acceptance depends on situation or product structure. Areas which are not cosmetically visible and not obstructing function can be allowed to have some % of white rust / black spots. In this case to we should have an agreement with our customer.
Pankaj Bansod
Automation - Hyderabad, India
---
A. Hi Pankaj. In general you are right that the buyer & seller are free to negotiate the performance requirements of the contract. But some published specifications actually forbid you from diluting them; they may contain wording that the purchase order can override with additional restrictions but cannot reduce the requirements or selectively quote. For example, if spec XXXX123 requires 96 hours of salt spray performance, the spec organization can declare that a purchase order saying "plate per spec XXXX123 but only 48 hours salt spray resistance is required for 'B' surfaces" is invalid.
Plus, a salt spray test is an accelerated test which is used to help determine if a process is under control; it usually does not mimic real-life performance, so to spend a lot of time defining allowable percentages of white rust on "A" surfaces vs. "B" surfaces, for example, may not be well applied effort because real-world corrosion patterns may be very different.
Regards,
Ted Mooney, P.E. RET
finishing.com
Pine Beach, New Jersey
---
---
Can e-coating on cast iron withstand 480 hours of salt spray?
August 24, 2016
Q. Hi Everyone,

I also have similar problem with Sheldon, but the difference is in material; I use cast iron for the Salt Spray Test. And the requirement said it must reach 480 (FPO-5) with no rust at any surface. The part uses Electro Deposition Painting (EDP). Do you think is it still possible? Does anyone have the same problem?

Regards,

Agung
Agung Budi Setiawan
- Bekasi, West Java, Indonesia
---
---
October 24, 2016
Q. I would like to know how to differentiate between white rust and salt residue of salt spray test. Can someone help?
KY Tay
- Bukit Mertajam, Penang, Malaysia
---
October 2016
A. Hi Kay. I think it's as simple as the fact that NaCl is soluble and will wash off.
Regards,
Ted Mooney, P.E. RET
finishing.com
Pine Beach, New Jersey
---
---
November 21, 2016
Q. SIR,
REQUEST YOU TO PROVIDE SOME NUMERICAL VALUE (REQUIREMENT FOR SALT SPRAY TEST).

WE ARE DOING SALT SPRAY TEST AS PER ASTM B117 FOR REINFORCING BARS WITH EPOXY COATING FOR 96 hr AS WELL AS 204 hr.

CORROSION RATE INDEX (cri) CALCULATED.

AT PRESENT WE ARE GIVING ONLY MASS LOSS (g/m2) AGAINST UNCOATED SAMPLES -- BOTH WILL BE SUBJECTED TO TEST.
RADHAKRISHNA K rao
CIVILAID TECHNOCLINIC PVT. LTD - BANGALORE, KARNATAKA, INDIA
---
April 11, 2017
Q. Hello all.
The salt spray test results report shows at 96 hours 5 g and the customer said I wish 10 g on e-coat process; the raw material is cast iron. The question is, for this process is it possible to meet with zero corrosion during 96 hrs ASTM B117 test.
Santiago lorenzo
Industrial Finishing - Brownsville Texas
---
April 2017
A. Hi Santiago. I'm not understanding your usage of grams of corrosion, and the customer wanting more corrosion than you are getting -- something seems to be worded funny. But, yes, you can certainly get 96 hours of salt spray performance from proper pretreatment and e-coating.
Regards,
Ted Mooney, P.E. RET
finishing.com
Pine Beach, New Jersey