Not a lecture hall but a roundtable with a seat for you!
60,000 topics spanning 36 years. Education, Aloha, & Fun
topic 33143
Stiffel lamps: How to repair Q&A's
Disambiguation:
This thread is mostly about how the lamps work, where to get parts, and how to repair them or find repair services. We have many threads on the subject of brass lamp cleaning, re-plating, and refinishing, including:
Thread 7229, "How to refinish brass lamps"
Thread 8423, "How do I remove brass plating at home?"
Thread 14342 "Stiffel lamp cleaning, refinishing, replating Q&A's"
Thread 17880, "What to do when brass lamps start to get black spots"
Thread 45165, "Seeking Stiffel lamp refinishing / reconditioning"
Current question and answers:
December 31, 2020
Q. I am trying to replace the socket on a 1960s Stiffel lamp. I cannot access the little screw that tightens the base of the socket to the main center rod of the lamp. I thought I could access it through the hole where the knob to switch the light on is but I cannot. I have no idea how they got this extra sleeve/cover on. It covers the socket and hides it. I've tried unscrewing everything and I cannot unscrew it.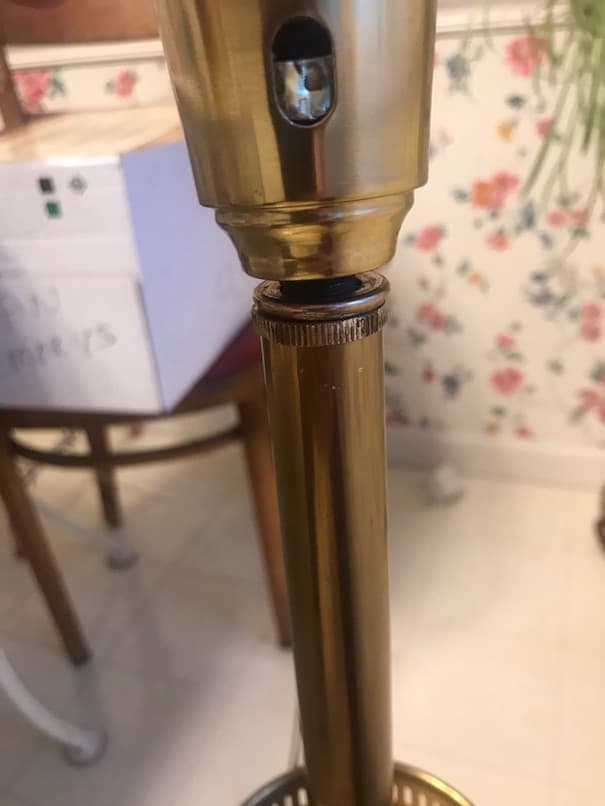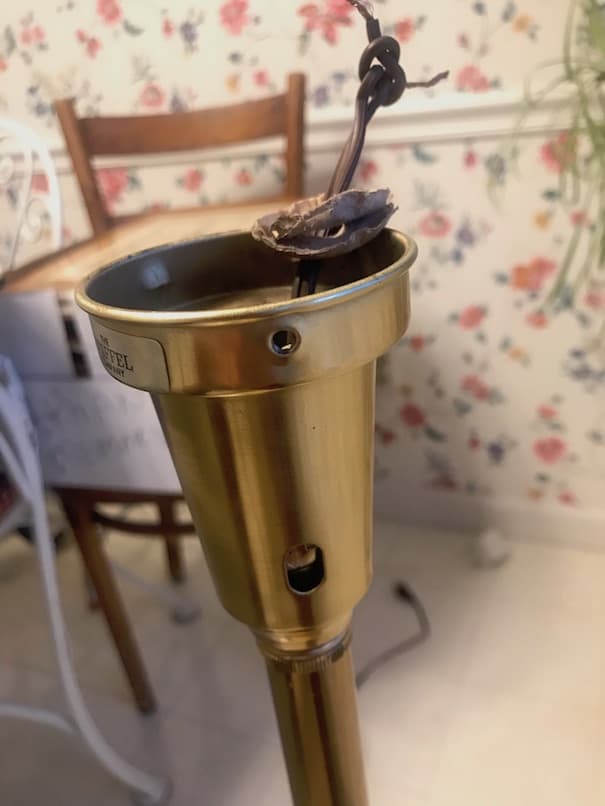 George Halley
- Westminster Colorado
---
---
---
Previous closely related Q&A's starting in:
---
2006
Q. We have a huge turn of the century (1890-1900, that is!) gas & electric chandelier from Pittsburg (I always misspell that -- did I?) We will rewire for all electric but are missing a piece. I have 2 questions...
How do I find out manufacturer and possible other pieces/parts available?
How to refinish and not make it look too shiny new? Want it to look bright but old.
Jan S
[last name deleted for privacy by Editor]
remodeler - Akron, Ohio
---
2006




You did good on the spelling, Jan -- always spell the shorter way; spell 'ax' without an 'e' because misspelling a 3-letter word is bad, but misspelling a 2-letter word is unthinkable! Same idea with "burg". Your spelling won you a cheeseburgher!

Stick with this thread for a discussion of pieces/parts, and see the 'disambiguation' note for threads about refinishing.




Ted Mooney, P.E.




finishing.com - Pine Beach, New Jersey




Striving to live Aloha




---
---
2006
Q. I am not sure what to write here since I am not a company just someone who needs to find a place to have my Stiffel lamp repaired. last night my lamp exploded a light bulb .... first one light bulb went out in a flash ... so I replaced it .... and the new one exploded ... the bulb was only 60 W, this lamp can take a 150 3 way ...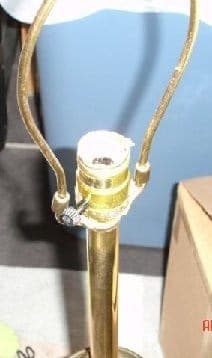 I love this lamp (it is one of a set) .. can anyone tell me where I might be able to get it repaired?
Debbie Forsyth
- Floral Park, New York
---
2006
affil. link
"Repairing, Rewiring, and Restoring Lamps and Lighting Fixtures"
from Abe Books
or

A. The required repair--probably installing a new bulb socket--is very very low tech, Debbie. Virtually any handyman anywhere can do it. In bygone days every neighborhood had a "fix-it shop"; you might try that term or "small appliance repair" in your yellow pages. If you have no luck with those terms, any electrician can obtain and install the required part.
3-way 150-watt sockets have two hot leads, one for the 50 Watt filament, one for the 100 Watt. As such, the socket is a bit more 'crowded' than a single wattage socket, and I'm guessing that screwing a bulb in is probably shorting things out because of corrosion or other damage. Good luck!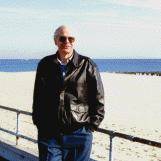 Ted Mooney, P.E.
finishing.com - Pine Beach, New Jersey
Striving to live Aloha
---
---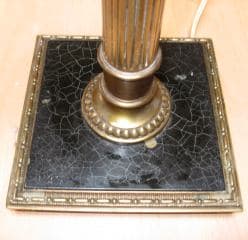 2007
RFQ: I have an old Stiffel lamp from my mother with the crest No. of 509 on the bottom. It needs some repair. What or where can I go to have this done?
Virginia Brewer
- Santa Fe, New Mexico, USA
---
---
October 4, 2009
Q. I have a Stiffel floor shiny brass lamp. It takes 3 regular bulbs and in the middle there is a socket for a "PS" bulb. I want to know where I can buy a PS bulb and do they make them in the energy efficient variety. Secondly, the lamp is missing the harp to which the shade attaches. The lamp doesn't look like it uses the standard harp. Where can I get a harp to fit?
Thanks for your help.
ann donohoe
- Phoenix, Arizona USA
---
October 5, 2009
A. Hi, Ann. This sounds new enough that there ought to be an instruction manual with it or freely available for download on the internet. I'd hate to guess at something like this, but it probably means "pulse start" -- a metal halide bulb that requires only two contact points because the ballast is built into the bulb =>
This bulb would already be somewhat energy efficient.
Googling led me to a site for lamp harps called mylampparts.com, and there are probably others. Good luck.
Regards,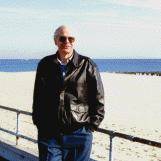 Ted Mooney, P.E.
finishing.com - Pine Beach, New Jersey
Striving to live Aloha
---
September 8, 2017
A. This answer is very late for the Oct 2009 question, but thought I'd share. I believe the Stiffel lamp the person had acquired was what is considered the 8-way light. The center does not have a harp. A glass diffuser usually sits aiming up and then the lamp shade sits on that. The lamp shade's cross pieces have a dip in them which holds the lampshade in place . The bulb that goes in the middle is a mogul base bulb. You can purchase an adapter and use regular bulbs. You can find the diffusers on Amazon or get lucky sometimes at a flea market (I was on a quest for one as my lamp got knocked over, so I have experience with this!) The diffuser usually is described as "milk glass diffuser" and they usually have a waffle like imprint on them. Both my sister and I have almost the same lamp and both have same diffuser.
Jen Cloutier
- Duluth, Georgia, usa
---
---
April 21, 2010
Q. My son has inherited 3 Stiffel Lamps that were purchased back between 1970 - 72. One lamp has a milk glass globe that the bulb fits into by screwing in - that globe has broken. Where can he purchase one. He lives in CT.
Cheryl Horton
lamp owner - Grand Rapids, Connecticut
---
Need to replace a Stiffel lampshade
July 19, 2010
Q. Hoping to find a replacement shade for a lamp I purchased 30 years ago. Dimensions are: 15" top, 15-16" bottom and 20" slant. 1" to 2" drop. It was a Stiffel and can't seem to find a replacement.

thank you

regards

Penny
Penny Massoth
private inquiry - Kent, Washington, USA
---
June 11, 2011
Q. I have a Stiffel lamp with a stripped thread on the center post and base, Where do I replace these items?
Diane Holdren
- Sequim, Washington, USA
---
June 15, 2011
A. Hi, folks.
lampstuff.com, mylampparts.com, txlampparts.com, grandbrass.com, and antiquelampsupply.com are a few sources for parts. Amazon has a few Stiffel parts listed. Good luck.
Regards,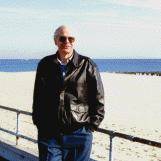 Ted Mooney, P.E.
finishing.com - Pine Beach, New Jersey
Striving to live Aloha
---
September 26, 2011
Q. I have a Stiffel floor lamp that fell over & broke the milk colored glass shade that holds the fabric lamp shade.I would like to replace the glass globe but local lamp shops can't find a supplier. Can you help me? Joe Kiely
Joseph Kiely
homeowner - Annapolis, Maryland USA
---
December 24, 2011
A. antiquelampco.com/Catalog/Diffusers.htm
Ondrea Wein
- Miami, Florida
---
---
January 23, 2012
Q. Thirty year old Stiffel brass floor lamp with three 60 watt bulb and a 3 way 150 watt center bulb. The center electrical connections deteriorate into burned pieces. Where can I obtain replacement parts and instruction?
tom jennings
- fort worth, texas, USA
---
---
Removing shade from old Stiffel lamp
December 3, 2012
Q. My neighbor gave us two Stiffel lamps about 38" tall and I have to replace one the bulb sockets, but how do I remove the milk glass shade without breaking it?

Thank you,
Dan Plocica
- Avon Lake, Ohio, USA
---
December 4, 2012
A. Hi Dan. There are a dozen different ways to build lamps and attach their shades. If you can send a photo to finishingdotcom1995@gmail.com, we may be able to figure it out. Thanks.
Regards,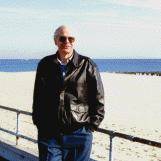 Ted Mooney, P.E.
finishing.com - Pine Beach, New Jersey
Striving to live Aloha
---
August 24, 2017
A. Solution: removing stuck glass shade from old Stiffel lamp
I have an old Stiffel lamp with glass shade. The shade is not held with set screws, instead it is just fitted to the sheet metal brass base that attaches to the column. I tried many times to twist, turn, pull etc. to get the shade off. No luck. It would not even turn. I wrote to Stiffel and they advised: spray the shade with WD40. Let it soak a minute or two. Then pull the shade upwards. It works! The gentleman at Stiffel told me that the shade gets baked on due to the heat. The shade is held on with some spring clips that will release by an upward pull after oiling Hope this helps someone!
Phil Lederer
- Rochester New York
---
---
October 28, 2013
Q. I have a Stiffel floor lamp purchased in 1988 048 2264-L. It has just fallen apart without a great deal of use. Its joints are wobbly. I had it in to a light place twice and they tried to put it together so it wouldn't fall apart, but it is falling apart again. We don't use it often as that is not where we sit when we are home alone but it does get moved when we vacuum. I would love to have it repaired but don't know any place near where we live in Washington state.
Joyce Johnson
- Mt. Vernon, Washington
---
---
February 3, 2016
Q. I purchased a Stiffel lamp in pieces at an auction. The lamp socket displays "Underwriters' Laboratories Listed portable lamp Issue no D-2519". Although the lampholder is marked LEVITON and has a turn switch, there is a push switch inside the base, operated by sliding tubes with collars and coil springs inside the main pillar. Can anyone direct me to a source where an exploded view sketch can be accessed? Any other form of info will also be appreciated.
Dave Germishuizen
Retired Pilot and handyman - Pretoria, Gauteng, South Africa
---
April 25, 2016
Q. I also purchased a Stiffel floor lamp with the switch being part of the lamp pole. The switch doesn't work, I need to fix it, any guidance would be greatly appreciated.
A. In addition, I've noticed a lot of questions on this site about cleaning up brass. I have cleaned many mid-century lamps that were brass plated and looked hopeless, into gleaming, beautiful examples. The secret is a lot of elbow grease and Barkeepers Friend [affil. link to info/product on Amazon]. If the brass is in rough shape I use the Barkeepers Friend liquid [affil. link to info/product on Amazon] and a sponge. If it looks hopeless I use the powder version (make a paste with a little water) and one of those off white, soft, non scratch pads with the plastic netting that 3M makes. Before you know it, the brass looks great. And, if you really want to gleam, use a good brass polish after -- Wright's Brass Polish [affil. link to info/product on Amazon] comes to mind.
Hopefully I helped someone, and hopefully someone can help me.
Brandt Irvine
- Croton on Hudson, New York USA
----
Ed. note Sept. 2019: Please see response from Bea Koempel-Thomas, which references the Stiffel patent where you can see good sketches of how it works.
---
April 2016
A. Hi Brandt. Thanks for the polishing tips.
There are a number of places which offer lamp parts and which claim to have experts available to help you. I think if you google "stiffel lamp switches", and ignore the ads for lamps and department stores, you can easily locate 2 or 3 or more such stores who you can phone, and describe the switch to, and they will get you what you need.
In general, switches don't "break", they wear out -- so a repair usually consists of replacing the switch rather than trying to disassemble and adjust it in some fashion. Good luck.
Regards,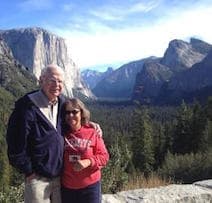 Ted Mooney, P.E. RET
finishing.com - Pine Beach, New Jersey
Aloha -- an idea worth spreading
---
(you are on the 1st page of the thread) Next page >
---