60,000 Q&A topics -- Education, Aloha, & Fun
topic 33143
My Stiffel lamps need repair / refinishing
A discussion started in 2004 but continuing through 2019
2004
Q. I have several Stiffel lamps that have tarnished over the years. I would like to have them repaired. They are otherwise in good shape and I haven't found any other lamps that I prefer. Please help me restore my Stiffels.
Ann G
[last name deleted for privacy by Editor]
sales - Staten Island, New York
---
---
2005
Q. I have two 30-year old Stiffel Brass Lamps. I am sure they were antique brass when new but became dark and spotted over the years. I have cleaned with brass cleaners and they are now shiny brass. What can I do to protect them? And could I restore the antique look. Will lacquer spray peel or crack? If it does is it easy to remove? Thank you.
Joanne Adams
homeowner - Manteo, North Carolina
---
2005
A. You can use 200 gm shellac/1 lit alcohol solution (if you want golden tint you can add some saffron and turmeric to this solution/ +filter it before use)! Good luck!
Goran Budija
- Zagreb, Croatia
---
---
2006
Q. I am not sure what to write here since I am not a company just someone who needs to find a place to have my Stiffel lamp repaired. last night my lamp exploded a light bulb .... first one light bulb went out in a flash ... so I replaced it .... and the new one exploded ... the bulb was only 60 W, this lamp can take a 150 3 way ...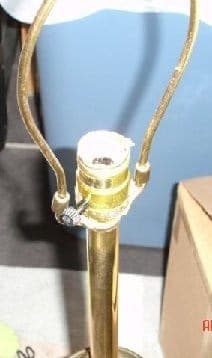 I love this lamp (it is one of a set) .. can anyone tell me where I might be able to get it repaired?
Debbie Forsyth
- Floral Park, New York
---
2006
A. The required repair--probably installing a new bulb socket--is very very low tech, Debbie. Virtually any handyman anywhere can do it. In bygone days every neighborhood had a "fix-it shop"; you might try that term or "small appliance repair" in your yellow pages. If you have no luck with those terms, any electrician can obtain and install the required part.
3-way sockets have two hot leads, one for the 50 Watt filament, one for the 100 Watt. As such, the socket is a bit more 'crowded' than a single wattage socket, and I'm guessing that screwing a bulb in is probably shorting things out because of corrosion or other damage. Good luck!
Ted Mooney, P.E.
finishing.com - Pine Beach, New Jersey
Striving to live Aloha
---
---
October 4, 2009
Q. I have a Stiffel floor shiny brass lamp. It takes 3 regular bulbs and in the middle there is a socket for a "PS" bulb. I want to know where I can buy a PS bulb and do they make them in the energy efficient variety. Secondly, the lamp is missing the harp to which the shade attaches. The lamp doesn't look like it uses the standard harp. Where can I get a harp to fit?
Thanks for your help.
ann donohoe
- Phoenix, Arizona USA
---
October 5, 2009
A. Hi, Ann. This sounds new enough that there ought to be an instruction manual with it or freely available for download on the internet. I'd hate to guess at something like this, but it probably means "pulse start" -- a metal halide bulb that requires only two contact points because the ballast is built into the bulb =>
This bulb would already be somewhat energy efficient.
Googling led me to a site for lamp harps called mylampparts.com, and there are probably others. Good luck.
Regards,
Ted Mooney, P.E.
finishing.com - Pine Beach, New Jersey
Striving to live Aloha
---
September 8, 2017
A. This answer is very late for the Oct 2009 question, but thought I'd share. I believe the Stiffel lamp the person had acquired was what is considered the 8-way light. The center does not have a harp. A glass diffuser usually sits aiming up and then the lamp shade sits on that. The lamp shade's cross pieces have a dip in them which holds the lampshade in place . The bulb that goes in the middle is a mogul base bulb. You can purchase an adapter and use regular bulbs. You can find the diffusers on Amazon or get lucky sometimes at a flea market (I was on a quest for one as my lamp got knocked over, so I have experience with this!) The diffuser usually is described as "milk glass diffuser" and they usually have a waffle like imprint on them. Both my sister and I have almost the same lamp and both have same diffuser.
Jen Cloutier
- Duluth, Georgia, usa
---
---
June 14, 2011
Q. Hi:

My Stiffel lamps have gotten dark streaks or tarnished and I got some advice on your site from Goran Budija (Zagreb Croatia) and he says use 200 gm shellac / 1 lit alcohol solution and if you want a golden tint you can add some saffron and tumeric to this solution. Well you need lots of luck as I have been all over with this advice and not one store has any idea what he is talking about. Can we get something in plainer English? I have 4 Stiffel Brass Lamps and they all need help but friends and neighbors are waiting for an answer also. Thanks.
Donna Chalhoub
- Mankato, Minnesota USA
---
June 2011
A. Hi, Donna. Goran is a metals conservator (the people who maintain the authenticity of cherished metal objects for museums), so he is usually right, but sometimes may be speaking over our heads.
He is suggesting buying shellac and alcohol, then mixing them 200 grams to 1 liter (about 1 part shellac to 5 parts alcohol). He is further saying that you can add the household spices saffron or tumeric to tint the mix to a golden color, but you'll have to filter the spices back out of it before you brush it on to your lamps.
If this approach is too "old country" for you, as it might be for a lot of Americans, you can simply buy a spray can of brass lacquer =>

Good luck.
Regards,
Ted Mooney, P.E.
finishing.com - Pine Beach, New Jersey
Striving to live Aloha
---
October 22, 2014
A. To polish brass, try Turtle car wax. Works well on silver.
b driedger
- cranbrook, BC, Canada
---
---
January 23, 2012
Q. Thirty year old Stiffel brass floor lamp with three 60 watt bulb and a 3 way 150 watt center bulb. The center electrical connections deteriorate into burned pieces. Where can I obtain replacement parts and instruction?
tom jennings
- fort worth, texas, USA
---
---
October 28, 2013
Q. I have a Stiffel floor lamp purchased in 1988 048 2264-L. It has just fallen apart without a great deal of use. Its joints are wobbly. I had it in to a light place twice and they tried to put it together so it wouldn't fall apart, but it is falling apart again. We don't use it often as that is not where we sit when we are home alone but it does get moved when we vacuum. I would love to have it repaired but don't know any place near where we live in Washington state.
Joyce Johnson
- Mt. Vernon, Washington
---
---
November 30, 2016
Q. I have a Stiffel floor lamp on which the lampshade screws onto the socket piece, then the light bulb screws into the socket. The socket needs replacing. How do I find that kind of socket? I need a substantial socket due to the weight of the shade.
Carol Ghaffari
- Vancouver, Washington
---
---
May 11, 2017
Q. I have a Stiffel lamp I purchased from Tuesday Morning. Its shade will not balance due to a stripped screw on top of the center frame or harp. It is a classic brass desk lamp with two bulbs on chains. My OC is annoyed because I cannot straighten it. Can it be repaired?
Sandra Henson
- Maumelle, Arkansas
---
May 2017
A. Hi. Depending on whether it is the stud or the nut which is stripped, it can be replaced if you can find one. But most people most of the time try to live with stripped threads for lampshades one way or another. If it's the nut that's stripped, you can pick up a jam nut at a hardware store -- this is just a thin hex nut you would use to secure the shade, then just sort of lay the old brass nut on top. Alternately, you can wrap thin string around the thread and usually get enough bite to use your existing stud and nut because there is no substantial load on it; just don't try this approach to hold the landing gear onto an airplane :-)
Regards,
Ted Mooney, P.E. RET
finishing.com - Pine Beach, New Jersey
Striving to live Aloha
---
---
June 12, 2017
Q. Hello, I have a beautiful vintage Stiffel lamp with Lenox base ... How can I determine the appropriate bulb wattage for this lamp?

Thank you for any insight!
Erin Ambrose
- Phoenixville, Pennsylvania, USA
---
A. Hi Erin. Simplest would be to just use an LED bulb because they use one quarter the power and generate one quarter the heat, so there is no way you would likely exceed the design rating of the lamp.
Regards,
Ted Mooney, P.E. RET
finishing.com - Pine Beach, New Jersey
Striving to live Aloha
---
October 30, 2017
Q. My Stiffel 8 way lamp has a central pole switch that broke. Someone previously disassembled the pole mechanism and I don't know in what order all the parts go back into the pole. Does anyone have a schematic of the lamp?

Jim C
Jim Campbell
- Greenhurst, New York
----
Ed. note Sept. 2019: Please see response from Bea Koempel-Thomas, which references the Stiffel patent where you can see good sketches of how it works.
---
---
Stiffel replacement lamp switch.
December 9, 2017

Q. I purchased 2 Stiffel ostrich egg lamps. One is missing the proper switch knob. Where might I find parts?
Denise Mcdonald
- Grand junction Colorado
---
Hi Denise. Please post a good photo of the knob you're trying to match.
Regards,
Ted Mooney, P.E. RET
finishing.com - Pine Beach, New Jersey
Striving to live Aloha
---
---
January 5, 2018
Q. I have a Stiffel floor lamp bought in 1998. It beautiful but the stem of the lamp which turns the lamp on and off doesn't work anymore. Do you know to fix it?
Pat Leonard
- Peachtree City Georgia USA
---
---
March 26, 2018
Q. Trying to repair my swing arm Stiffel lamp by replacing the socket. I am ready to assemble but now that I acquired all the pieces I have forgotten how to reassemble it. Does anyone know where Part C goes? I thought it went between N and D but inside A. However the threads are not long enough. Part C has a spring inside. Attached is a picture.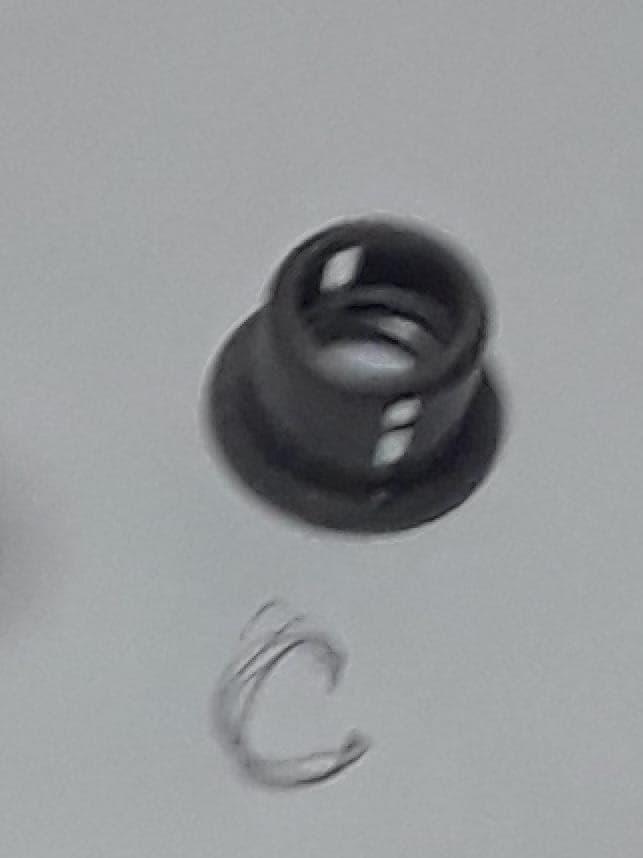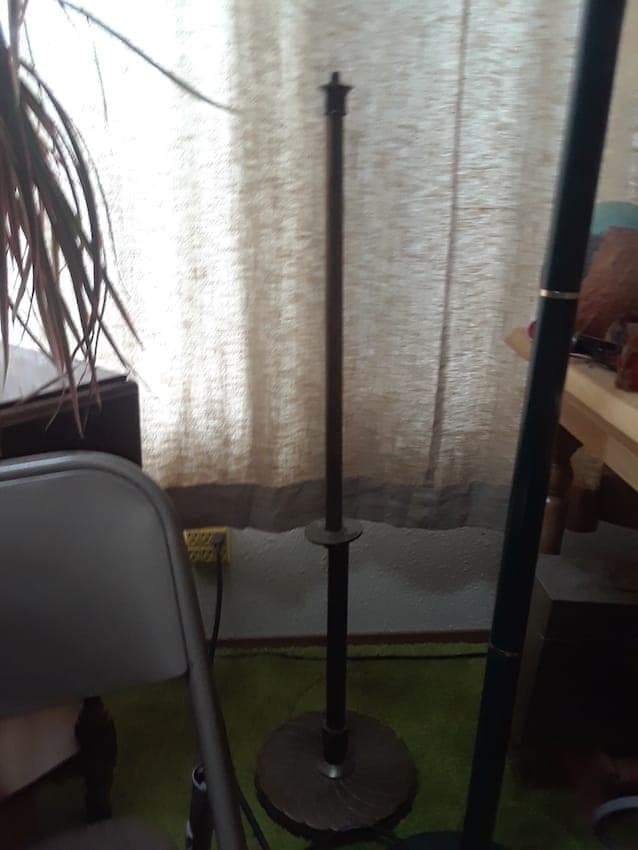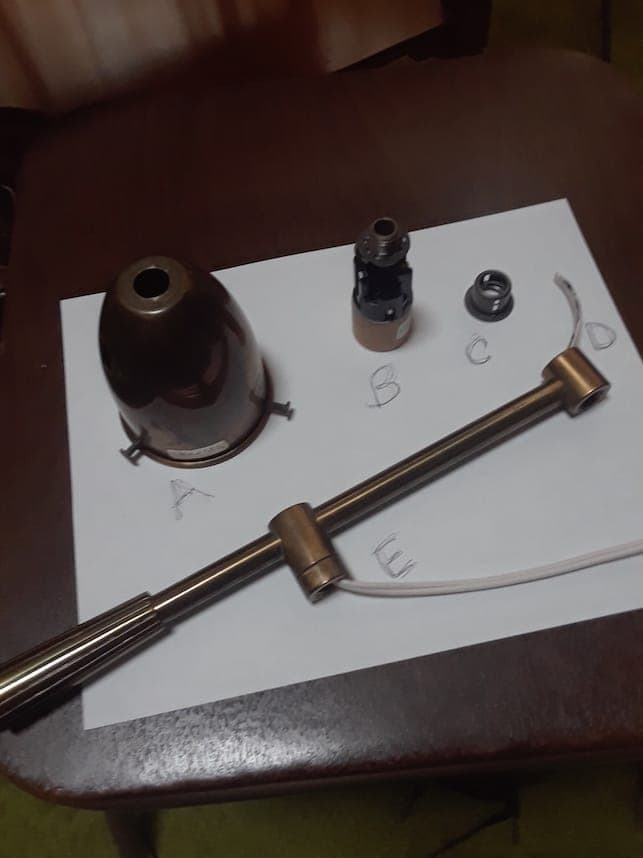 Neva Pavia
- Bellingham, Washington, USA
---
May 1, 2018
Q. My name is Byron Reynolds and I am looking to purchase this lamp =>
It is old from what I am told. If anyone can help it would be greatly appreciated.

Not sure of the manufacture.
Byron Reynolds
- Redford, Michigan
---
May 2018
A. Hi Byron. This site is primarily about metal finishing, so subjects like restoring the brass plating on Stiffel lamps come up, which attracts new questions, and we gradually shift from our main focus. This by way of warning that it's unlikely that any of our regular readers can offer history or preliminary appraisals (which I guess is the kind of "help" you are looking for). There are, however, sites which (for a fee) will try to tell you something about your antiques. Does it even say "Stiffel" on it though?
Regards,
Ted Mooney, P.E. RET
finishing.com - Pine Beach, New Jersey
Striving to live Aloha
---
May 1, 2018
Q. I have a 1999 Stiffel torchiere that needs repair. The lamp stem that attaches to the base is loose and therefore crooked. I had a handyman try to tighten it through the base bottom, but there is no screw visible. The lamp is quite heavy and very crooked. Can this be fixed?
Debra Gaveras
- Milwaukee, Wisconsin USA
---
---
June 28, 2018
Q. I repair lamps from time to time. I have run into a Stiffel floor lamp. The customer had taken it apart. So I have no idea how it should go back together. Does anyone have a diagram or anything that will tell me how to reassemble the pole switch. Thank You.
Greg Scharf
Scooby's Repairs - Des Moines
----
Ed. note Sept. 2019: Please see response from Bea Koempel-Thomas, which references the Stiffel patent where you can see good sketches of how it works.
---
August 18, 2018
Q. I bought an older Stiffel floor lamp with glass shelf. The solid pole above shelf is not straight. How can I straighten that part? Any instructions for taking apart and putting back together if that is required? Thanks.
Pat Horton
- Asheville, North Carolina, USA
---
August 2018

Hi folks!
We're more than pleased to make this space available for anyone who is interested in Stiffel lamps. But as editor of this metal finishing site I have no special expertise in the subject, nor am I more interested in this particular subject than in the other 50,000 topics on this site … so enthusiasts must discuss the topic and help each other, not just post a question, or the thread is in danger of deteriorating into simply a very long and extremely boring list of unanswered questions :-)
Regards,
Ted Mooney, P.E. RET
finishing.com - Pine Beach, New Jersey
Striving to live Aloha
---
---
Repair base of clawfoot lamp
February 18, 2019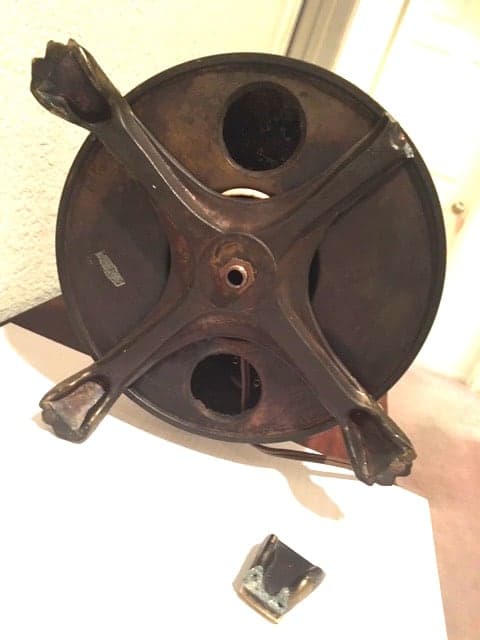 Q. I have a Stiffel lamp with a base resembling four claw feet. One of the feet has broken off. Can it be repaired? I've looked online for replacement parts, with no luck.
David Schmitz
Husband! - Rancho Cucamonga, California USA
---
February 2019
A. Hi David. If you have the pieces it might be solderable depending on what material it is, but it almost surely can be glued with epoxy adhesive or possibly even with superglue.
I've personally been amazed by J B Weld epoxy =>

Regards,
Ted Mooney, P.E. RET
finishing.com - Pine Beach, New Jersey
Striving to live Aloha
---
---
July 19, 2019
Q. I have two 3-ft lamps, I need to change the wiring and new 3 way socket. The shades set on top open on the top. how can I get to open.
Linda L Launder
- sun city, Arizona, USA
---
August 19, 2019
Q. I purchased two Stiffel lamps at a yard sale they are in good condition but a little tarnished, my question is if I polish them do they decrease or increase in value?
Orville BRANHAM
consumer - THE VILLAGES, Florida
---
August 20, 2019
Q. How do you get the bottom off a Stiffel lamp to replace the 3-way switch?
KENT A SCHROEDER
RETIRED - KEARNEY, Nebraska
---
September 9, 2019
A. Hello,
I grew up with a Stiffel floor lamp with the patented pole switch, of course without realizing how unusual they were -- and how difficult it would become to get them repaired. The patent expired long ago, and unfortunately, no companies currently seem to use the switch technology, which I think is really sad because it is just cool (IMHO). The patent is US2459898, entitled "Means for Actuating Electrical Switches," and one should be able to find it easily using your favorite search engine. Just download the pdf, and the figures and description may be helpful for those seeking to put one back together or trying to make repairs. Now that I'm a patent attorney (not an offer of services), I wanted to share the patent information for those who may be seeking to repair the pole switch in a Stiffel floor lamp with that switch -- a really early 'remote control' even if not very remote.

A bit of history; as shown on the patent, the inventor, Theophile A Stiffel, was in Chicago in April of 1948 when the patent application for the pole switch was filed. The Stiffel company probably wouldn't have started selling lamps with this switch until 1947, and it could have been much later since the patent would not have expired until the 1960s. My grandfather actually spent some time in Chicago as a baker in the late 1800's, but he had moved to Washington State by the turn of the century and passed away during the 1960s, so I'm not sure whether he may have gotten the lamp from a friend or relative in Chicago or if they were sold throughout the US. After I inherited the lamp, I found it was no longer working, and went through the hassle of getting mine repaired. I was lucky to have an older-generation lighting-repair person in distant family who knew about the switches! Then, recently online I bought an alleged one that I wanted to give as a gift, but I now believe that was actually a Frankenstein lamp because even though there were Stiffel markings, the style of the lamp was much different, it seemed much more 'loose' and fragile, and the same family member could not repair the second one.

If anyone knows of a manufacturer that might interested in reviving use of this type of switch, I'd love to hear about them because I just love using a lamp with this type of switch, and they are getting harder and harder to find!
Bea Koempel-Thomas
- Spokane, Washington USA
---
September 2019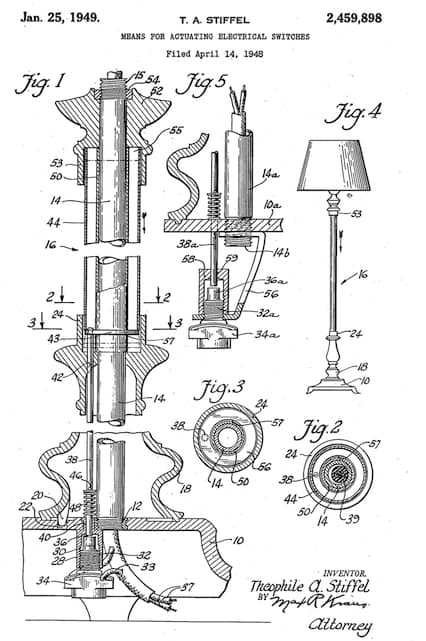 Thank you, Bea. That was a very interesting patent, and the patent drawings should help any readers with this problem. :-)
Regards,
Ted Mooney, P.E. RET
finishing.com - Pine Beach, New Jersey
Striving to live Aloha
---
---
February 23, 2020
Q. I have a Stiffel torchiere table lamp that will not turn on anymore. Where can I get a twist switch and how do I do the wiring since it probably needs replacing too?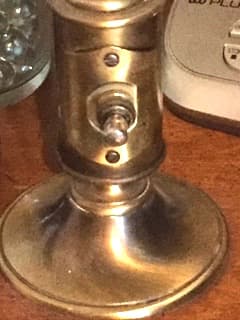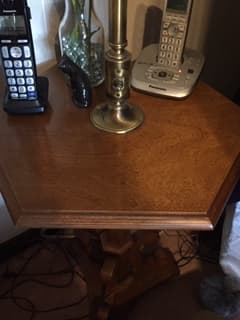 Kristine Durocher
- Thompson Connecticut usa
---
February 2020
A. Hi Kristine. Although your graphics are a bit on the small side for me to see clearly, it looks like this is a switch with a special finish, not something you can pick up in the electrical aisle. But after unplugging the lamp, unscrew those two small screws so you can remove that brass cover plate and get a better look. You probably need to shop at a place like mylampparts.com, grandbrass.com, or maybe by searching for 'stiffel lamp parts' on Amazon.
You can re-wire the switch by putting the wires on exactly the same places on the new switch, or by replacing wires with ones of identical length, color, and gauge. For more general info on household wiring, big box stores all have small paperback books on the subject, although it is obviously best to simply have it done by a licensed electrician. Good luck!
Regards,
Ted Mooney, P.E. RET
finishing.com - Pine Beach, New Jersey
Striving to live Aloha
finishing.com is possible thanks to our supporting advertisers, including this shop: