60,000 Q&A topics -- Education, Aloha, & Fun
topic 29370p7
Marking system for rings
---
< Prev. page (You're on the last page of this topic)
---
A discussion started in 2004 but continuing through 2019
H
e
r
e
'
s

1
8

m
o
r
e

Q
u
e
s
t
i
o
n
s

J
u
s
t

a

s
m
a
l
l

s
a
m
p
l
e

f
r
o
m

t
h
e

l
a
s
t

3
0

d
a
y
s


October 18, 2017

Q. I have a gold ring with inside markings that I can't make out other then a circle with a capital A inside the circle.
Can anyone help me with this ring.

Kathi Spears

- Pocahontas, Arkansas, USA

---

October 18, 2017

adv.
"Hallmarks and Date Letters on Silver, Gold and Platinum"
by Eric Bruton
from Abe Books
or






adv.
"Hallmarks of the Southwest"
by Barton Wright
from Abe Books
or


Q. I have a ring that I purchased in an auction. It's stamped with "14k rt". What does the rt stand for?

Jackie Colonna

- Carlsbad, California USA

---

October 20, 2017

Q. Hi,

What does the TM refer to? its engraved just before the 925

thx

Sameer Agherdien

aquarist - Port Elizabeth, south Africa

---

October 25, 2017

Q. What does CR1K© mean on the inside of my 10k gold ring? It has several small diamond and a moderate size ruby.

Andi Breedlove

- Hazlehurst, Georgia USA

---

October 26, 2017

Q. My ring has 925 on the inside however, I can't tell what the symbol is behind it. Can you please help me?

Stefanie Turner

- Rome, Georgia United States

---

October 28, 2017

Q. I have a silver ring that is stamp 18K GE A with circle around it what does it mean?

Misty Sleep

- Topeka, Kansas,usa

---

October 30, 2017

Q. I have a white gold ring that has no gems just a band, but it also says 155 on it. Can you please tell me what that means?

skye singleton

- Sedro Woolley, Washington, USA

---

October 31, 2017

Q. Hi I have a gold ring that says ADI 995 china CZ on it. What does this mean?

Tyler Reaves

- Tucson, Arizona USA

---

November 1, 2017

Q. I just bought a ring from the $2 box at local 2nd hand store. I don't normally but it caught my eye on my way to a warm coat and so pretty and shiny. Anyway when I got home I noticed that there is a mark on outside of the band it is a bit warn but I think it's a 91, 61, or even a gl but the last mark looks like it could be a 5,2,s. Oh I don't know,I think I am more curious as to why a mark would be on the outside.. I am sorry to bother you over probably nothing, but if you have any ideas I would love to hear them. Thank you

Debby Healey

Care for elderly with Alzhiemers - Chesterland, Ohio, U.S.A.

---

November 4, 2017

Q. I have bought a white gold diamond ring, markings
Are 375 on one side then 10k on the other, there is no diamond stamp , there is a 417TGGC stamped on it.
Have no idea of the meanings

Juliana chappell

- Hilperton wiltshire England

---

November 7, 2017

Q. I have set of earrings that are stamped 925 along with the letters sold. we all know what 925 stands for, but what about the SLD?

James Coffman

- Topeka, Kansas,united states

---

November 13, 2017

Q. I have a silver ring & it looks like rope & it is "twisted" in 3 different ways. Can anyone please tell me what it stands for? I have a photo. =>

Thank you!

Linda Joyce Caughron

Personal - Bartlett, Tennessee - USA

---

November 13, 2017

Q. I have a ring that is an antique and it has a stamp on it that I am unable to find online what it means. Maybe someone can help me out and better explain the meaning. Possibly maybe the maker stamp? It has a 14k stamp on it as well. Please help. Thank you!
SN RLL

Nicole quintero

- Torrance california

---

November 15, 2017

Q. Hello! I have a hallmark stamp on my engagement ring that looks like a beaver tail with 14k and D050 on the other side =>

Christy Parks

- Wilkes Barre, Pennsylvania, USA

---

November 16, 2017

Q. Hi, I have a set of engagement ring and band no Stamped it's a yellow ring but I'm confused of checking what metal it is? It was acid tested from 10k,14k,18k and no reaction then I used acid for 22k and it was fade after few seconds. I want to make sure what it is so I pour the whole 14k acid in a plastic cup and left the ring inside whole night and it turned in to a light yellow color in the morning (no green) what metal is this?and additional when I rubbed into a stone it's a white color metal
one day I cleaned it with a metal cleaning solution and it turned back to a deep shiny yellow color
Can you pls tell me if this metal is gold or not? Thank you

Adore Meyers

- Maryland

---

November 17, 2017

Q. White 14k ring with diamonds. Band inside says EDS-7 and 1 with a . then a line under it, followed by 30. What does it mean??

Joan Dawson

- Pittsburgh pa USA

---

November 18, 2017

Q. hi?. so I have this ring with little diamonds around a big one on the center and is marked 585 and 14k on the inside.. is it really a white gold or a fake one?

just katez

- NCR,Region 3,Philippines

---

November 21, 2017

Q. I have a 10k ring with the letters AU what does that mean I can't find any info anywhere??

Paula Chambers

BUYER - Mt. Grove Missouri USA
---
---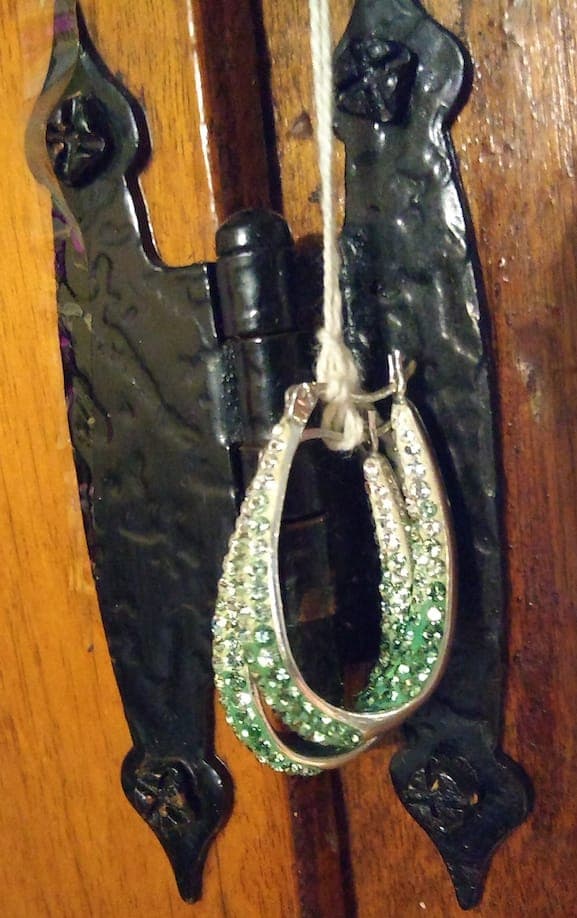 Q. I have silver earrings with AU and a c circled backwards. Does anyone know what it means or a book or site that reference these?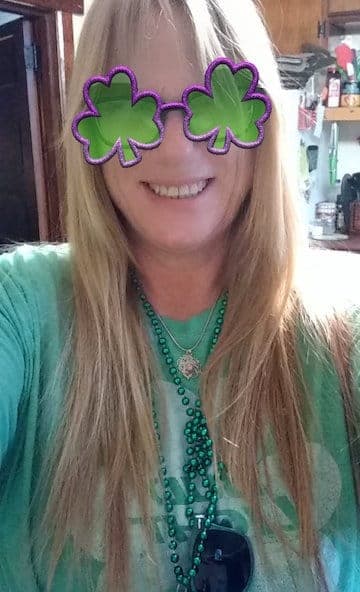 Nissa Rader
- Parkersburg, West Virginia USA
---

Copyleft
A. Hi Nissa. The "copyleft" symbol is interesting. On the one hand Wikipedia says it has no legal meaning; but on the other hand it says it means you are free to copy the design in your own works, but if you do, you can't copyright them.
As for books or sites with hallmarks, many suggestions have already been offered on this thread; repeating stuff on a thread that's already too-long thread would hinder people more than help them. Please review their suggestions and share your thoughts. And share the Jameson please. Thanks.
Regards,
Ted Mooney, P.E. RET
finishing.com - Pine Beach, New Jersey
Striving to live Aloha
---
Comment:

Thank you to all whom have had answered some of these questions. I have read quite a few. And it baffles me to see how many people ask the same questions over and over; not only do a lot of initials and letters mean makers marks but they could also mean somebody's initials that it was bought for :-)
Tim Clark
- Lawrenceville Georgia USA
---
---
14K A & P
November 17, 2019
Q. My grandmother had a ruby and diamond bracelet. It had matching earrings & a ring. The bracelet is stamped 14K and I believe A & P. What designer or design company is this?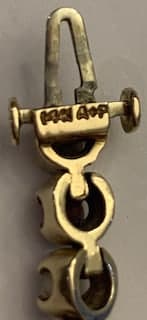 Rebecca Gruberger
- New York
finishing.com is possible thanks to our supporting advertisers, including this shop: