60,000 Q&A topics -- Education, Aloha, & Fun
topic 44569p2
F.B. Rogers Tea Set -- Is It Silver Plate or Sterling Silver? p.2
---
---
A discussion started in 2007 but continuing through 2019
January 29, 2012
Q. I came across an "F.B. Rogers" bread plate. That is the only thing written on the back. I am assuming it is a forgery since it does not have a crown emblem, but is heavy like silver and polished up very nicely. Were there any "F.B.Rogers" items manufactured without the crown?
Rebecca Diane Barton
- Amarillo, Texas, USA
---
February 21, 2012
Q. Due to the timeline of the F.B. Rogers Silver plating Co.'s history, if it says "F.B. Rogers" on it, is it antique? Or after their acquisitions and mergers, did they still print FBR on their pieces? Also, I saw above that they only had things made in the USA. I've seen a couple of goblet sets on eBay, one made in Spain and the other in Portugal. Those would be replicas then?
Deanna Clark
- Philadelphia, Pennsylvania, USA
---
March 19, 2012
Q. F.B.Rogers marked with a crown and 1883. Underneath the marking is what I believe to be the pattern number. 3354. However after hours of internet searching I cannot find anything that is identical with the same numbers. I believe it's a percolator but of abnormal size. Any help would be much appreciated.

Thanks,
Scott
Scott Semmelroch
- Ferndale, Michigan, US
---
April 3, 2012
Q. I have a Silver platter with nice etching on the face of it and has the stamp FB Rogers Trade Mark Silver Company 1883 with number stamped under the trade mark #60S1 or #6051.
Thank you
David Cortinas
- Yuma Arizona USA
---
April 9, 2012
Q. Large three-legged bowl w/Lid My bowl, that I found in a box in my attic, has the "1883 F.B. Rogers 9058" on the bottom and is very heavy. I didn't notice a "pinkish" hue that someone else had mentioned for the silver-plated. I was going to take it to a pawn shop to have them check it out but I am very nervous about whether they will actually be truthful or not. Can you tell me if it is definitely silver-plated?
Vicki LaFavers
- Greenfield, Indiana USA
---
April 13, 2012
Q. I have a tea service with tray, 2 tea pots, sugar bowl and hinged creamer. Below the fb.rogers silver co inscription are the numbers 2670. is this silver or silver plated? Thank you
kathy daniels
- beckley, West Virginia, us
---
April 14, 2012
A. Hi David, Hi Vicki, Hi Kathy.
No readers have ever challenged the responses posted 5 years ago that this stuff is silverplate, and it's not marked Sterling or 925, or anything else. I don't think you'll find claims that any F B Rogers item is solid silver.
But you can test it yourself or take it to a jeweler, gold store, or pawnbroker. Letters 25450, 36471, and 42765 cover home testing. Good luck :-)
Regards,
Ted Mooney, P.E.
finishing.com - Pine Beach, New Jersey
Striving to live Aloha
---
May 21, 2012
Q. I recently purchased an F B Rogers Cake Stand that is stamped with correct mark but also is stamped with 915. Is this a model number or a mark for silver purity? I'm not expecting anything special as I bought it suspecting plate.
Grant Knox
- Shepherdsville, Kentucky USA
---
May 23, 2012
A. Sorry Grant, it's just a model number. It's silverplate.
Regards,
Ted Mooney, P.E.
finishing.com - Pine Beach, New Jersey
Striving to live Aloha
---
June 6, 2012
Q. After reading all your posts and seeing what my item is marked, I'm sure it's silverplate, but I wanted to know what the 933 double plate means. This is a hinged, lidded coffee pot. Apparently it meant something to someone as they have engraved numbers in the bottom in case stolen. (I assume) I have other silverplated items that do not have this stamped on it. IS this item any better?
Katy Krieger
- Cincinnati, Ohio, USA
---
July 10, 2012
Q. I got this set one year for Christmas. It sat in my closet never used it. Know nothing about it. It says "Rogers co stainless China" on the back. If anyone knows anything about it I would greatly appreciate it, thank you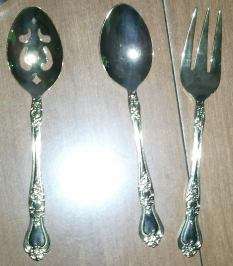 lance powers
- bangor Maine united states
---
July 10, 2012
A. Hi Lance. It's just a stainless steel serving set. Many families have one or more. It was a $25 or $30± item when new. Good luck.
Regards,
Ted Mooney, P.E.
finishing.com - Pine Beach, New Jersey
Striving to live Aloha
---
July 27, 2012
Q. Hi! I've been searching online for a silver plate tea set. As I was researching, I came across this site and was extremely interested by all the details and history arising from it. With what I've read on this site, I'm extremely confused about the set I'm most interested in. It's said to be from Rogers Silver Co., but there's no mention of an FB. Instead, these markings are found:

1881 Rogers Canada
P Copper
B M MTS
9977

If FB Rogers began in 1883, could this be something produced by the same company in 1881 in Canada? Recommendations for purchasing?
Thanks!
Stacy Guthmiller
- Puyallup, Washington, USA
---
July 27, 2012
"Jackson's Hallmarks"
English, Scottish, Irish
Silver & Gold Marks
from Abe Books
or

A. Hi Stacy. This is a metal finishing site, hence our interest is mostly in the process of silver plating. Tracking down hallmarks or appraising an item, is a bit off topic for us; sorry.
But Rogers 1881 is just the name of one of many companies making silverplate. I understand it was bought by Oneida in 1929, but that doesn't mean they stopped using the Rogers 1881 trademark in 1929. "P Copper B M MTS" probably means that it is plated copper, with the mounts made of brittania metal alloy. "9997" is just a pattern number.
Other sites, that focus on collecting, note that almost none of this stuff has any value; so buy what appeals to you, not what you think has resale value ... because it almost surely doesn't. Please look for similar stuff on e-bay and if you still feel it is valuable, take it to an antique shop. Best of luck.
Regards,
Ted Mooney, P.E.
finishing.com - Pine Beach, New Jersey
Striving to live Aloha
---
August 12, 2012
Q. I have a oval bowl type platter with scalloped type edges.It has four curved feet and is approx. 14" x 10". I had received this as a wedding gift in 1986. It still has the original plastic which says F.B.Rogers Silver Company. It shows the crown with trademark 1883. The platter itself says.. by Georgetown. That's all I actually see on the platter. It is very beautiful and heavy. I have looked everywhere on line and ebay trying to find out information on it, as to what type of silver it is and what the approx. value may be. I am thinking of selling it, but I have no idea what to ask. Do you happen to know anything about it? I would appreciate any info you would share with me. Thank You in advance! Karen
Karen Lowe
- Newburgh, Indiana USA
---
August 12, 2012
A. Hi Karen. It is almost surely silverplate because virtually every such piece is, and the metal itself is not worth anything unless it's stamped "Sterling". You can take it to a gold buyer for testing to be sure -- they're on many city street corners, or test it yourself or take it to an antiques dealer. Maybe you can see similar items at Goodwill.
But when people talk about ebay, it's not that you must find your exact piece -- that might never happen because there are thousands of patterns. Since it has no intrinsic metal value, it's only worth what someone is willing to pay, and if people are offering $2 or $20 or $200 for generally similar items, that's what you need to know. It's not likely that anyone is desperately scouring the world for your exact specific piece -- they'll settle for something generally similar. Good luck!
Regards,
Ted Mooney, P.E.
finishing.com - Pine Beach, New Jersey
Striving to live Aloha
---
January 18, 2013
Q. I read all questions/answers but questions about F.B. Rogers with no CROWN LOGO or 1883, were not addressed.

I have a tea set with just "F.B. Rogers" but there's not a crown logo, 1883 or indication of silver, although I did find out F.B. Rogers DID have some silver pieces (118, 142, 144, 149, etc.) Here is the link to the website with the information - www.replacements.com/silver/FBR.htm

I've been in business for over 20 years and know that some companies do not come up with a logo until later years, so I'm wondering if this may be one of the original sets. I'm not questioning whether silver or silver-plated, just as to how old this set may really be, considering no insignia!

Thanks for your time!
Kathy Newhouse
- Arlington, Texas, USA
---
September 8, 2013
Q. I am moving and trying to "let go" of many things collected over the years. I came upon this site and have read all of the postings.

It seems to me that since there are so many different markings and not one uniform mark, that it would verify that these items are not expensive or valuable.

My item falls under that category also. I have a 12.5" round platter. One the front is what I think is a family crest. It has three animals (maybe deer). The middle animal is sitting on something that looks like a badge that the other two are holding up. Under all of that is a ribbon, and inside the ribbon it says (I think) MAJOR AB ADVERSIS. On the back is the King's Crown. At the top and on each side of the Crown it says TRADE MARK. At the bottom of the Crown and on each side it says 18 83. Then under the Crown it says F.B.ROGERS SILVER CO. Under that it says SILVER ON COPPER. Finally, under that it says 1914.

What is your opinion? Thanks.
Jackie Altvater
- Taneytown, Maryland, USA
---
December 2, 2013
Q. I have an F B ROGERS chaffing tray holder, appears very old. It has on each leg, inside, 1844 stamped. Any ideas? Thanks.
Ron Epperson
- West Palm Beach, Florida, USA
---
December 9, 2013
A. Hi Ron. 1844 was the year Rogers was founded, not the year your tray was made. If it doesn't say "sterling", it's not worth anything. Sorry. You might look at letter 36471, "Testing Silver at Home for the Average Consumer", especially the October 23 posting, with the youtube video, "What to Do with Plated Silver".
Regards,
Ted Mooney, P.E.
finishing.com - Pine Beach, New Jersey
Striving to live Aloha
---
December 23, 2013
Q. I have a collection of flatware which appears to had it's silver plating removed. It's stamped 1847 ROGERS BROS and lacks any detail so it appears one could've used steel wool to rub off the silver plate. The stamped area is lower yet shows no silver plating either. Could the old plating just worn away and/or flaked off when immersed in boiling water?
Bill Wilson
- Longview, Texas, USA
---
December 23, 2013
A. Hi Bill. Boiling water would not remove silver plating.
Beyond that, there really isn't much to say because the silver may or may not still be there (although it does sound unlikely that there is silver left if all the detail is worn away), and nobody can speculate accurately about what some unknown person may have done at some unknown time in the past. Good luck.
Regards,
Ted Mooney, P.E.
finishing.com - Pine Beach, New Jersey
Striving to live Aloha
---
---