60,000 Q&A topics -- Education, Aloha, & Fun
topic 4785
Polishing Silver with Aluminum Foil and Baking Soda
A discussion started in 2000 but continuing through 2020
2000
I've been repairing & finishing musical instruments for 16 years. Does anyone know where to get "Quick Dip" silver cleaner? I can no longer find this for sale anywhere. Or does anyone know of any other effective LIQUID silver cleaner?
Patricia K
[last name deleted for privacy by Editor]
musical Services - Winnipeg, MB, Canada
Ed. note: We can't find "Quick Dip" either, Patricia, and Letter 24937 explains why it may not exist anymore.
---
---
2000
I love this question!
The usual tarnish on silver is the black sulfide. The cool thing about this is that you can instantly remove the tarnish from any silver item with commonly available household items, and I do mean fast!
Aluminum is far above silver in the activity series for metals, and in a suitable solution will reduce the silver in the silver sulfide, reforming silver metal. The reaction is spontaneous and rapid in warm water:
2Al(s) + 3Ag2S(s) + 6H2O -> 6Ag(s) + 2Al2(OH)3(s) + 3H2S(aq)
So, all you have to do is get a container big enough for the silver item, partially fill it with warm water and a couple tablespoons of sodium bicarbonate, a.k.a. Baking Soda , place some clean aluminum foil in the container and then just dunk the tarnished item in the bucket. The silver item has to touch the aluminum. It works in a few seconds, no scratches, no muss, no fuss, and then all you you do is rinse the item off. There is no adverse environmental impact, none of the ingredients are in any way toxic (they are food grade!), there is no abrasion or scratching of the silver and you can use your bare hands to remove the treated items from the solution. Just rinse and dry the silver when you are done, & pour the "used" solution down the drain! Re-use or recycle the aluminum foil.
A big old aluminum cooking pot works well as long as you use some 0000 steel wool [affil. link to Rockler] on it first to remove the native aluminum oxide. This "treatment" works on silver plate, jewelry, any tarnished silver. Try it friends! Better living through chemistry!
Dale Woika
- Bellefonte, Pennsylvania
---
2000
Besides the Al treatment mentioned the other formulations are approx. 50 g/l of thiourea in about 1-2% acid - sulphuric, phosphoric, sulfamic. Avoid contact with stainless steel as this will be stained or attacked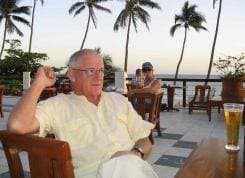 Geoffrey Whitelaw
- Port Melbourne, Australia
---
2000
...or if you want a commercial product, H.J.Hagerty & Sons sells Silver Dip [affil. link to product info on Amazon]. Same folks who make the polish. But it would have to be near black for me to use it. You will have to polish after treatment.
Jim W
- Cobbs Creek, Virginia
---
2000
I've been looking for Noxon Silver Dip too, and can't find it. It works wonderfully! My question is, if you use the Baking Soda and aluminum mixture, can you make up some to keep in a jar to use over and over again? If so, do you leave the aluminum foil in the jar? I like to keep a jar near my jewelry and dip tarnished items before I wear them. I never have time to mix up stuff when I'm getting dressed to go out, but I do have time to open a jar and dip. Thanks!
Sally C
- Boulder, Colorado
Ed. note: Letter 24937 explains why "Noxon Silver Dip" apparently may not exist anymore, Sally.
---
2001
Quick Dip Silver Cleaner....I have been trying to find this for the last 6 months with no luck. The last bottle I have says the company is:

Boyle Midway, Toronto, Ont. M8Z5M5
(It didn't show the street address.)
If anyone has more information, PLEASE let me know.
Sandy B
- Beiseker, Alberta, Canada
Ed. note: Letter 24937 explains why "Quick Dip" apparently may not exist anymore, Sandy.
---
2001
Found Hagerty Silver Dip [affil. link to product info on Amazon]. Works great (about the same as "Quick Dip" silver cleaner). I also found a product called Tarnco at Walmart in Calgary that works very effectively. Needless to say, after not having anything for sometime, I now have two sources.
Sandy B
- Beiseker, Alberta, Canada
---
2001
I tried Dale Woika's suggestion about using the baking soda and warm water....the only visible result was a bunch of baking soda saturated with water...it did NOT work for me!
M.D.Rai
- San Jose, California
---
2001
I tried the sodium bicarbonate, water and aluminum foil. It did not work. What am I doing wrong?
John F
- Schenectady, New York
---
2001
I too tried the aluminum, baking soda and water effect with grand results; what I did was boil the water, and the coins came out "clean as a whistle".
Mary Jo Muffler
- Brick, New Jersey
---
2001
Silver:
As with gold, wash and clean in warm soapy water and dry off. Further cleaning may not be necessary, however, most detecting finds will. To clean further you need a small plastic container, lunch box style will be fine. Cover the bottom of the container with kitchen foil and put in half a teaspoon of washing soda [affil. link to product info on Amazon]. Place the artifact or coin on top of the kitchen foil, cover with boiling water and leave to cool. Remove the item and clean again in warm soapy water with a soft toothbrush. For a final polish, dip artifacts in silver dip for 1 minute, wash in warm soapy water and dry off. Polish with a soft cloth. DO NOT dip silver coins in silver dip, or polish them.
Another way to clean silver artifacts and hammered coins is with a car battery charger [affil. link to product info on Amazon]. Put a teaspoon of washing soda in a small plastic container and fill with about an inch of boiling water. Put a stainless steel spoon in the red positive clip, and immerse it in the solution. Put the item to be cleaned into the black negative clip, and immerse it in the solution, about an inch and a half away from the spoon. Switch the battery charger on and watch it bubble around the item, lifting the contamination off the silver. If you slide the item you are cleaning closer to the spoon you will notice an increase in activity in the cleaning process. If you move the item away you will see a decrease. It is important to know and use this when cleaning very delicate items.
You only need to leave items being cleaned in the solution for 2 minutes at the most. Switch off the charger and remove the item from the solution. Clean with warm soapy water using a soft toothbrush and dry off. For a final polish, dip artifacts in silver dip for 1 minute, wash in warm soapy water and dry off. Polish with a soft cloth. DO NOT dip silver coins in silver dip, or polish them.
To tone and highlight the type and legend on silver coins, use the same battery charger solution you used to clean the coin with, but, put the stainless steel spoon into the black negative clip, and the coin in the red positive clip. Place both back into the same solution , making sure you can see the coin clearly. Turn the battery charger on, keeping your hand on the switch so that you can turn it off again quickly. Turn the battery charger off as soon as the coin goes black - this will literally take 1 or 2 seconds at most.
Remove the coin and put a small amount of any one of the modern household oven and grill cleaning pastes on your thumb. Gently rub the paste onto one side of the coin, then wash it off and check the coin. Repeat this exercise until you highlight the type and legend, toning down the black deposit, to your own satisfaction. Repeat this then for the other side of the coin.
Andrew S
- Alexander City, Alabama
---
2002
The Dale Woika tarnished silver cleaning method works great!
My wife had some very tarnished silver (probably 40 - 50 years worth) that she got after her mother passed away. We lined a bucket with foil, heated about 3 to 4 gallons of very hot boiling water and dumped in lots of good old baking soda. It was amazing, we dipped the silver in the mixture and it did a great job of getting most of the tarnish cleaned. We cleaned about 30 pieces.
There were some spots that didn't come off completely and it didn't clean some of the decorative small groves on the silver pieces but we were able to get the bulk cleaned very well.
After each piece was done, there was a baking soda coating/film left on, that was easily cleaned with silver polish. This also cleaned most of the spots and groves and sure made the silver look like new again.
I think the key is 'boiling water and lots of baking soda - we used about two and a half boxes - a few spoon fulls doesn't cut it.
Thanks for the idea - it really works and is environmentally safe.
Dave/Donna B
[last name deleted for privacy by Editor]
- Apalachin, New York
---
2002
The trick is to use washing soda [affil. link to product info on Amazon], not baking soda. It works well with the aluminum plate I bought at a boat show a few years ago. Adding foil to the bottom of the glass container, then the plate, then the soda, then boiling hot water works!
Helen L
[last name deleted for privacy by Editor]
- Sarasota, Florida
---
2005
2002
I too am desperately looking for a quick dip silver cleaner. If Noxon is no longer available, is there another product that is the equivalent?
Sincerely.,
Tina P
[last name deleted for privacy by Editor]
- Daytona Beach, Florida
----
Ed. note: Maybe the Hagerty Silver Dip [affil. link to product info on Amazon], Tina?
---
2002
This is a thread that just keeps on going, seemingly with a life of it's own...
There are a couple other compounds of silver that can blacken the surface other than the silver sulfide (tarnish) which is typically found on household silver products. Silver oxide is possible on items which have been in corrosive or hot environments, and there are other compounds (i.e., silver cyanide) which are black or dark brown. Fortunately, silver chemistry tends to be along similar lines of bonding mechanisms, so there are potential solutions to most of these stains as well. Most of these compounds are somewhat more soluble in ammonium hydroxide than in water, and a good way to make ammonium hydroxide at home it to mix ammonia with water. Ammonia, bought at the grocery store, is in fact a solution of ammonium hydroxide. If you try the tarnish removal system with aluminum reduction method and it does not work almost immediately, try soaking the parts in some warm ammonia solution first. Do this outside--ammonia fumes are nasty--and --never-- mix ammonia with any other household cleaners or disinfectants for obvious safety considerations! Keep in mind if you use ammonium hydroxide to dissolve the oxides, any silver in the oxide layer will not be reduced & the silver in the oxide will be lost (unlike the tarnish system in which the silver is actually re-deposited). However, oxide layers tend to be rather thin on silver. Ammonia solutions will not harm silver.
By the way, from an earlier response, washing soda is sodium carbonate monohydrate, and Baking Soda is sodium bicarbonate. Either "chemical" works well in the silver tarnish removal system using water & aluminum, as they are almost the same thing. Baking Soda is just easier to obtain thanks to Arm & Hammer! Happy silver cleaning!
Dale Woika
- Bellefonte, Pennsylvania
---
2002
I was searching the web trying to find a company that sells the metal plate that cleans silver (also used, I'm told, by museums). Someone else had posted a question on the internet site I was looking at asking if anyone knew where to buy one. I had bought one at the Texas State Fair a year ago, but unfortunately had lost it when I moved. I had hoped to buy one on the internet, but since I couldn't find the web site in my search and October 20th was the last day for the Texas State Fair I rushed to the fair and bought another one. For anyone interested in buying one an email address is www.cleaningplate.com.
JoEllen V
[last name deleted for privacy by Editor]
- Irving, Texas
---
2002
You can do just as well with Aluminium flashing material sold at most building supply companies. It is thin enough to cut with heavy shears or tin snips. I see a lot of the plates in thrift stores.
Thuston E
[last name deleted for privacy by Editor]
- Albuquerque, New Mexico
---
2003
I have a silver sculpture in the form of a small (10" x 12") tree. No leaves just limbs and the Aluminum procedure won't work because I can't make contact with all the surfaces on the tree! Need just a solution! Any suggestions?
Kenneth R
[last name deleted for privacy by Editor]
- Charlotte, North Carolina
Ed. note: Maybe we're misunderstanding, but if the item is conductive, any point on it can touch the aluminum and the rest of it should get cleaned.
---
2003
Home-made Silver Dip: Put some hot water in an aluminium pan, some water softener powder and salt. Dissolve the ingredients before dipping silver. Tarnish will dissolve immediately. Dip silver in cool water to rinse off solution when done. No need for polishing.
I do not know the exact proportions of each ingredient, you might have to try a few times before you get it right, but when you do the results are amazing. Will remove tarnish from even the most intricate areas of silver. You can mix as much or little solution as necessary for larger or smaller pieces.
Nina B
[last name deleted for privacy by Editor]
- Hamden, Connecticut, USA
---
(you are on the 1st page of the thread) Next page >
---