topic 29370 p3
Marking system for rings
---
---
A discussion started in 2004 but continuing through 2018
April 26, 2012
Q. Hi,

Could you please give me some insight as to what "18.PLO" inside a white metal ring could be.

Thanks, Karin
Karin Jackson
- Uralla, NSW Australia
---
April 28, 2012
Q. Hi. I bought a gold 14k ring for my wife with 3 sapphires and 2 diamond stones. Inside there is an engraved marking -- it looks like HI namdar or HI namdax? too small I don't know what does it mean. I hope you can help me. Thank you and regards.
Tyler Thomas
- British Virgin Islands
---
---
May 15, 2012
Q. My sons found a ring digging outside. It was covered in mud, but cleaned up nicely. Its garnet surrounded by ten diamond stones. Is marked ga in the golden band. All I can find online is ga is a possible m makers mark. Could this be of any value. The gold tone seems flawless for the condition it was found.
Joy Frantz
- Washington, Pennsylvania, USA
---
May 22, 2012
A. Hi Joy. All we can do is guess whether the garnet, the diamonds, and the gold are real whereas any jeweler will probably tell you in seconds. My guess is that it is costume jewelry and the ga means garnet.
Regards,
Ted Mooney, P.E.
finishing.com
Pine Beach, New Jersey
---
---
June 10, 2012
Q. Hi,

I have an old ring that looks like silver. It is marked with A.19 and 900. Do you know what these could mean? Thank you.
Susan Calloway
- Marysville, Washington, USA
---
June 26, 2012
Q. I have an old wrist watch with a sign of 10\000 what does it means. other said its gold plated? is it true? just want to now the markings of it?

Gionesce Adlawon
- Philippines
---
June 29, 2012
Q. I have a claddagh ring that has printed on the inside made in Ireland, but also has two markers I have no idea what they mean. One of them are the letters O C in a bolder type font, the others are in small boxes and appear to be the letters H.G.R. what does this mean??
Britanny Bowers
- Lancaster, New Hampshire, USA
---
September 6, 2012
Q. I have a gold ring marked with "14K R" and I don't know what the "R" stands for, any help?
Alec Cobb
- Carleton Michigan, USA
---
September 17, 2012
Q. I have a ring that has 925 on the inside as well as the c copyright mark along with the word "thailand" on the inside of the band. The ring has 6 large stones that appear to be sapphires along with small black stones in the middle. The ring appears to be old but is very beautiful.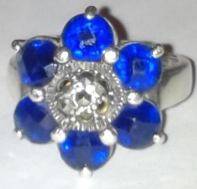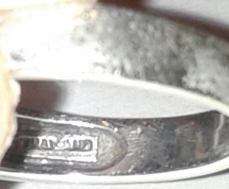 I would like to know what the inside markings mean and if this ring could possibly be Thailand Sapphires? Any information is greatly appreciated. Thanks!
Wanda Page
- Amite, Louisiana USA
---
---
October 18, 2012
Q. I have a ring that is the color of either silver or white gold. It has a 14K symbol on one side of the inside of the band and then it has Q.Q on the other side. The stones are clear, and look like they could be real. What does the Q.Q mean? Does this sound like a real ring?
Abbie Watkins
- Fort white, Florida, USA
---
October 18, 2012
A. Hi Abbie. Assuming the 14k mark isn't counterfeit, and it's probably not unless it has a shady history, yes, it's real 14k gold.
Stones that aren't huge and aren't diamonds aren't, to my knowledge, worth a bunch though.
Regards,
Ted Mooney, P.E.
finishing.com
Pine Beach, New Jersey
---
---
November 4, 2012
Q. I have a silver color ring that I purchase from a yard sale. The inside mark is a heart with a B inside. Could you tell me what this marking means?
Thanks
Genevieve Yhap-Zebro
Hobbyist - Hillsborough, New Jersey, USA
---
---
AP14K
November 27, 2012
Q. My grandma was going through her rings and in the band of one it reads "AP14k" what does this mean? I know 14 k gold but I don't know what the "AP" means. Thank you!
Holly Stoll
- Milford, Pennsylvania
---
---
November 27, 2012
Q. Hi there, I have a gold ring with the markings B1701 on the inside and it also has these scratches. Three slanted lines one way and three slanted going the other way. both markings are on the inside. I can't find what they mean?

thanks sara
Sara Blum
- Canada
---
November 28, 2012
A. Hi Sara. When you say gold, I guess you mean "gold color" or "gold tone"? If it doesn't have a karat mark it's probably not gold. If it doesn't have a "sterling" or ".925" mark it's probably not silver. If you send a photo of the markings it's vaguely possible that a reader may be able to identify the maker, but it's probably just one among hundreds of thousands of styles of costume jewelry. Look up the trademarks for Silpada and see if their 3-prong arrowhead is the scratches you are describing. Good luck.
Regards,
Ted Mooney, P.E.
finishing.com
Pine Beach, New Jersey
---
---
December 24, 2012
Q. I have a ring that is stamped "ATI THAI" inside. Can you tell me what that means? Thanks so much.
Stephanie Ellenberg
- Cleves, Ohio
---
---
January 7, 2013
Q. I was given a ring for Christmas and noticed inside the ring there is a "14K" imprinted and the letter "p", the star symbol and the letter "m". I was wondering what they both mean.
Kim Ingram
- Canal Winchester, Ohio, USA
---
January 10, 2013

Folks! 14K means 14/24's gold. If you include a good photo of the hallmark there is maybe a very slim chance of a reader pointing you in the right direction towards what the hallmark means. But there are hundreds of thousands of hallmarks if not millions, and a verbal description of a hallmark is a waste of bandwidth; millions of readers have seen these pages over the last 18 years, and in all that time not a single reader has ever hazarded a guess from a verbal description of a hallmark :-(
Regards,
Ted Mooney, P.E.
finishing.com
Pine Beach, New Jersey
---
---
January 15, 2013
Q. I am thinking of purchasing a ring that has this stamp inside. I tried to send a photo but I do not have outmail capabilities ;(.
But it says 925 P "star" M. I am told that it is silver plated. My question over what?
Cindy Skiba
- Mpls, Minnesota, USA
---
January 18, 2013
A. Hi Cindy. If it's marked "925" that indicates it is 92.5 percent pure silver, i.e., "sterling silver". It is possible that it is solid sterling silver and still has silver plating on it, because the silver plating could be 100% pure silver to deter tarnish, or the plating could be rhodium for the same reason.
It would certainly be misleading and absolutely illegal to stamp it 925 if it is not solid 92.5% pure silver.
Regards,
Ted Mooney, P.E.
finishing.com
Pine Beach, New Jersey
---
---
February 12, 2013
Q. My wife bought a ring with the letters "9 ct oc" could you please tell me what this means, as she paid 180 euro for it but got a value on it from another jeweler who said it was worth only 60 euro. It's a white gold ring; the second jeweler said it was a second-hand ring sprayed with rhodium. Thanking you for your time. John
john noctor
- dublin ireland
---
February 12, 2013
A. Hi John. The symbol for purity of gold is Karat, Kt, or K.
Carat or "ct" refers to the size of a stone. So why a ring would be marked "9 ct" is a mystery, but indicates that it might be a fictitious marking. The second jeweler didn't comment on that!? The "oc" is probably the designer, and there are a million.
If it is 9 Kt gold, it's 9/24 pure, 37.5%. So multiply its weight by .375 by the current price of gold and you'll have the intrinsic value.
Most white gold is rhodium plated, so that's no surprise. Nor am I shocked that one jeweler would only be willing to give you a third of what another jeweler sold it for. They are both in business, both negotiating against you on price, and who knows how long the first jeweler had to keep it in the showcase and pay the heating, lighting and rent before it was sold, or how long the second jeweler will have to. Say it's "objective value" is 100 Euro, and you paid 180 -- yes, that's a markup, but I don't think it's outrageous at all. Good luck.
Regards,
Ted Mooney, P.E.
finishing.com
Pine Beach, New Jersey
---
February 13, 2013
Q. Hi Ted, thank you for your prompt reply. Just to say there are stones on top of the ring he said cubic. The second jeweller said it was an old ring but it was sold to my wife as a new one. There are no other marks stamped symbols on it, just the letters I told you about. Should there be? Thanks again, John
John Noctor
- Dublin, Ireland
---
---
April 26, 2013
Q. I have this old Italian style men's 10K white gold diamond ring, inside is engraved with the following "10K" which is obviously 10 carat, beside that is "8.5" in which I assume to be the size of the ring, however what I'm puzzled about is the engraved symbol beside that in which appears to be of a diamond-like shaped heart form with an horizontal oval-like spin through the middle of the symbol ... any thoughts? Thanks so much! :)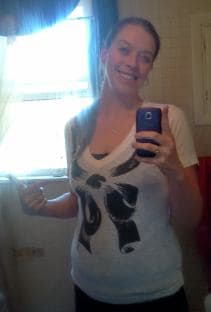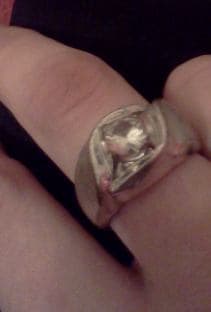 Inez Goulet
- Haverhill, Massachusetts, USA
---
May 25, 2013
Q. I found a ring in my old bag of jewellery it looks real but I don't remember buying it. It has a stone in it and looks like it says YAP or YAR. Then on the other side it looks like a M or a W. What do these marking mean if anything?
Becky Atkinson
- United Kingdom
---
May 27, 2013
Q. Hello! I bought a gold band ring today that has the lettering 375 VLDS V1C7X on it. (Or it may be a K at the end, I'm not sure). I was just wondering what it means?

I have photos of the engravings, but I'm not sure how to upload it.
Natalie Codrington
- Morisset, Australia
----
Ed. note: You can attach the photos in e-mail to , but unfortunately it will still be unlikely that anyone will recognize it. Good luck.
---
---
June 4, 2013
Q. Actually I'm asking a question. Just purchased a ring, white gold with a gold box shape in middle of mount, diamonds in middle and around box stamped with BHK14k. What does this mean. And thank you! Robin.
fawn temple
- cambridge, ontario canada
---
June 5, 2013
A. Hi Fawn. 14K doubtless means 14 karat gold. We'd like to help with the rest but it's probably a maker's mark and hopeless (we've posted hundreds of such requests but there are an almost infinite number of makers, and most people naturally come to this public forum page to find out about their own not help others find out about theirs). Good luck.
Regards,
Ted Mooney, P.E.
finishing.com
Pine Beach, New Jersey
---
---


If you have a question in mind which seems off topic, please Search the Site