60,000 Q&A topics -- Education, Aloha, & Fun
topic 28871
Hardening 304 & 316 stainless steel
A discussion started in 2004 but continuing through 2020
2004
Q. I have a local college that wants to harden stainless steel cutters made of 304 stainless, and I would like to know if you have a procedure for this.
David M. Brower
machine shop - Columbus, Ohio
---
2004
A. 300 series of stainless steels are known as austenitic grades and are not hardenable by heat treatment. Some hardening can be obtained by mechanical work.
Guillermo Marrufo
Monterrey, NL, Mexico
---
2004
A. You may get a case hardened layer with a nitriding process but the corrosion resistance of the austenitic grades as 304 will suffer. Maybe you should have to try a martensitic grade such as SAE 431 with lower corrosion resistance but hardenable.
Jose Roa
Heat Treatment - Lima, Perú
----
Ed. note: This thread quickly mushroomed, so:
1). we moved mechanical/work hardening to thread 13127;
2). we moved plating and hard-surface coatings to thread 1576; 3). we moved switching to 4xx stainless or other substrates to thread 48866; and 4). we retained this thread for nitriding & similar processes for case hardening 3xx stainless :-)
---
2004
A. 304 is an austenitic stainless steel. You can't through-harden it. You might be able to nitride it, but this will probably create more problems than it is worth; nitriding would reduce the corrosion resistance.
Steve Bizub
- St Louis, Missouri
---
2004
A. Austenitic stainless steels are capable of some surface hardening, but not through-hardening treatments like quench & temper. [deleted by editor] has a process called [deleted by editor] that diffuses carbon & nitrogen into the surface for increased hardness, wear resistance, etc.
I recommend you contact them for more information.
Toby Padfield
Automotive module supplier - Michigan
----
Ed. note: We always appreciate Toby's helpful and insightful replies! But we've learned over the years that we can't post brand/sourcing recommendations (why?)
A. We offer the so-called [deleted by editor] surface hardening for austenitic stainless steels. Our treatment is unique since, contrary to nitriding, it does not reduce the corrosion resistance of austenitic stainless steel, neither does it change the size, shape, color or surface roughness of a component. No coating is added. The surface is hardened by pure diffusion, resulting in a surface hardness of 1100 to 1200 Vickers (comparable with > 70 Rockwell C) for 316 stainless steel.
Very closely toleranced machined austenitic stainless steel parts can be hardened without any need for re-machining. Recently, the treatment has been adapted in such a way that it is now also applicable to duplex stainless steel.
Robert
[last name deleted for privacy by Editor]
deleted by editor
---
2004
A. If your cutters are thin, nitriding is the best method. We have done this before with successfully getting 65 Rc hardness up to about 0.3 mm depth. It doesn't much corrode also.
Rajesh Chandavale
- Pune, Maharashtra, India
---
---
2004
-- this entry appended to this thread by editor in lieu of spawning a duplicative thread
Q. Can ASTM 304L be heat treated after welding.
Usman Hamid
student - Islamabad, Punjab, Pakistan
---
December 28, 2011
A. Hi, Usman.
We appended your heat-treatment inquiry to a thread which hopefully answers it for you: it can be annealed or it can be surface hardened, but it can't be through-hardened.
Regards,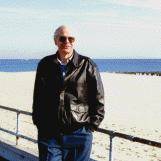 Ted Mooney, P.E.
finishing.com - Pine Beach, New Jersey
Striving to live Aloha
---
---
May 8, 2018
-- this entry appended to this thread by editor in lieu of spawning a duplicative thread
Q. How we can harden SS316 FLAT 50 MM WIDTH X 4 MM THK X 350 MM LONG?
And what will be the hardness?
GURU NIRWANI
SIDDHA ENGINEERING - belgaum, karnataka, india.
---
May 2018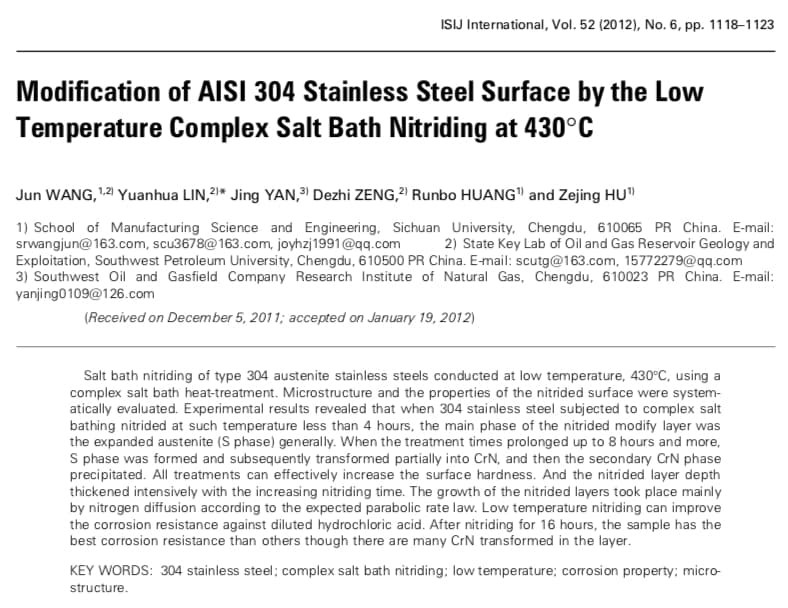 A. Hi Guru. Please say what you're building and what hardness you think you need and why rather than asking "what will be the hardness?".
As you'll read here, it isn't possible to heat treat SS316 to through-harden it; you can only work harden it or surface harden it. Please tell us about your application. Thanks!
Regards,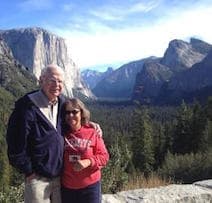 Ted Mooney, P.E. RET
finishing.com - Pine Beach, New Jersey
Aloha -- an idea worth spreading
---
---
December 5, 2018
Q. Hi All,

I found this thread while looking at surface treatments for 304 stainless. And before anyone tells me not to use 304, that is not an option. I've read about diffusing carbon & nitrogen gas into the surface in order to effect a hardening at surface level.

I would like to know more about this technology ...
What temperatures are involved?
What equipment is needed?
Would something like an autoclave work?
What pressure of gas is required?
How long does it take?

Any information as to how these surface treatments are applied would be of great interest.
Phil Wainwright
Home Metalworker - Dewsbury, West Yorkshire, UK
---
December 6, 2018
A. Hi Phil,

Carburising, nitriding and nitro-carburising are all very specialist surface treatments for hardening steels. You'd be better off reaching out to local heat treatment companies that offer this service, rather than trying to set it up from the beginning.

If you are determined to try this yourself, I'd suggest getting a consultant in for a few days to talk to you about what it would involve. Set-up costs are not going to be small.
Brian Terry
Aerospace - Yeovil, Somerset, UK
---
December 6, 2018
A. Hi Phil!

AISI 304 isn't the best option for getting a hardening treatment. Carburizing is NOT an option if you want to maintain its anticorrosive properties. Nitriding, however, can be done (but it's really difficult, as it's used usually on medium and high carbon steels).

Gas nitriding involves around 500 °CC, ammonia injection and many hours in a closed furnace. An autoclave won't work, I think, you need a furnace with some positive pressure but no high pressures are involved in the process. You can consult manuals and Handbooks (ASM or Metal Handbook) on the subject, and I would check articles such as this: br http://www.worldstainless.org/Files/issf/non-image-files/PDF/Euro_Inox/Surface_Hardening_EN.pdf (I don't know if I can link this, Ted; you remove it if I can't)

You could seek other treatments as electroless high phosphorus nickel plating to enhance surface hardness, but if you need the part to not change its size, an additional coating won't work.

So, best of luck in your project :)
Daniel Montanes
TEL - N FERRARIS - Canuelas, Buenos Aires, Argentina
----
Ed. note: Thanks, Daniel! No problem with technical links except that they often break, whereas this is a permanent reference site on the air since 1989. So we like to have the title, etc., so we can keep links updated -- and your link has a clear title built in :-)
---
December 7, 2018
A. Search for [deleted by editor] ... it's a proprietary form of, I believe, ion nitriding. Provides a 33 micron thick case on 304 of @60 hrc.
Robby hewitt
- North Carolina, US
----
Ed. note: Thanks Robby. We've found that we can't post brand/sourcing suggestions (why?), but Phil can search for 'ion nitriding' (although it doesn't sound like something a home metalworker can implement).
---
---
May 14, 2019
-- this entry appended to this thread by editor in lieu of spawning a duplicative thread
Q. Dears,
Most all compressor valve plates are made of heat treated 420SS.
Why don't they use spring SS such as 301?
Babak sarrami
Compressor repairman - Isfahan, Iran
---
May 2020
A. Hi Babak. I'm not skilled in compressor valve plates and their needs, so I don't know if this is an answer or is irrelevant, but 3xx stainless cannot be thru-hardened by heat treatment :-)

Regards,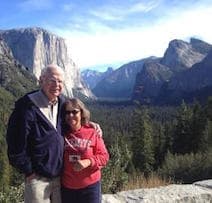 Ted Mooney, P.E. RET
finishing.com - Pine Beach, New Jersey
Aloha -- an idea worth spreading