World's #1 on-line resource since 1989
-----
Silver Flashing vs Tin Plating of Switchgear Bus Bar
Please see also --
• Thread 12258 "Advantages of tin plating vs. bare copper for bus bar?"



Current question and answer:
February 20, 2020
Q. I have a problem with seeing the milky finish on C110 Copper Bus Bar that is silver plated. What causes this milky finish? This milky finish comes off in the tooling when we are punching holes in the bus bar.
Thanks!
John Turley
Three D Metals - Palm Harbor, Florida
---
---
---
Previous closely related Q&A's starting in:
2004
Q. I am the Quality Assurance Manager for a manufacturing company in Southeast Texas. We manufacture switchgear and various other products for marine and industrial use. Our switchgear ranges from 600VAC to 15KVAC, and from 0 to 6000 Amps. At one time we primarily used tin plated copper bus bars; however, with industry changes we have since moved to silver flashed copper bus bars.
Recently we shipped some switchgear from the US to Singapore, and when the customer uncrated the switchgear, s/he found silver flashed copper bus that appears to have begun oxidizing/corroding. We are unsure of the cause at this time; however, we have shipped many products overseas with no reported incidents.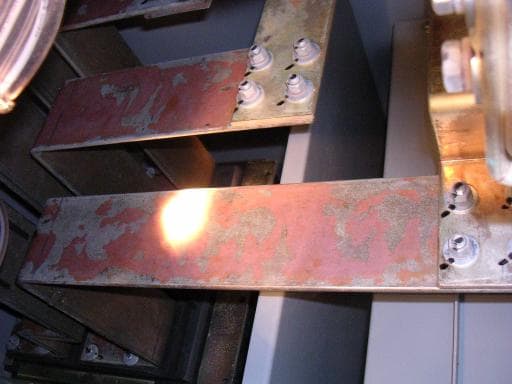 My question(s) are as follows:
1. Is silver flashing better/worse than tin plating? Why?
2. Which one, if either begins to tarnish/oxidize sooner, given the same weather conditions?
3. What is the recommended thickness of both?
I would like the answers to get a better understanding as to why copper bars are plated/flashed, is silver better than tin, why is that, the similarities/differences, and to prevent this situation from repeating.
Steve W
[last name deleted for privacy by Editor]
switchgear - Beaumont, Texas
---
---
2004
Q. We are also tin plating switchgear busbars. We use an 8 micron finish of acid tin, we also send parts to hot climates with no reports of corrosion. One problem we do have is a milky finish on our busbars. analysis shows no faults with the solution. I cannot understand why we get this "milky" result so often, the busbars are typically up to 1800 mm long and 200 mm wide copper busbars, any help would be appreciated
Shaun Moore
- Kent, UK
---
---
2007
-- this entry appended to this thread by editor in lieu of spawning a duplicative thread
Q. Please let me know what shall be the thickness of tin coating used in copper bus?
Sujoy Roy
Electrical Engineer - Philadelphia, Pennsylvania, USA
---
February 17, 2008
-- this entry appended to this thread by editor in lieu of spawning a duplicative thread
Q. We are manufacturing switchgear in Saudi Arabia. Could you please advise us about the minimum thickness of the silver and tin plating of the busbar as per the international standard?
Thanks.
Engr. Hussam Al-Sakka
production mgr., switchgear - Dammam, Saudi Arabia
---
---
October 11, 2010
Q. Which is the best, silver or tin plated?
Jim Raub
Switchgear engineer - Crosby, Texas USA
---
---
December 28, 2012
Q. Dear receiver

We are switch board assembling company and we have a difficulty with bus bar corrosion and discoloration.
We have no idea about the necessary chemicals to avoid above.
With regard to tin plating on bus bars, I want to know the chemical to be applied or any other method to use to do this.
A.Pathmasiri
electromech engineering - Maharagama, Sri Lanka
---
---
Must Aluminum Bus Bar be Copper or Silver Plated?
November 6, 2015
Q. Hi.
I'm connecting Al 1100 bus bar to a MOD by copper/silver plated flexi-link.
The flexi-link is bolted on both ends.
The welders are saying Al cannot be bolted to flexi-link because it is copper and so the Al should be silver plated or we will have corrosion

Could you give me any direction?
Thanks.
Hesam Far
- Grand Rapids, Michigan, USA
---
February 10, 2016
Q. If the silver plated bus bar starts to Tarnish is there any chemical solution to remove the tarnish without removing the bus bar and sending for re-plating?
Ehab Radwan
switchgear - Dammam Saudi Arabia
---
---
September 23, 2016
Q. What if the tarnish is very heavy for the silver flashed busbar? is there any chemical composition that can remove the tarnished layer?
Raveek shan
- Maharashtra mumbai, India
---
October 6, 2016
Q. Dear Sir

I am working in EGYPT at LV SWG Manufacturer co.
We faced some cases at Busbar assembly, that breaker have contacts tin plated and the main busbar silver plated .

If there is technical problem for conductivity to connect silver with tin plate .

Appreciated your kind reply

Thanks and regards
Mohamed Abdelaziz
SWG manufacturer - Cairo , Cairo , Egypt
---
---
Protecting silver plated bus bar from tarnish
January 4, 2018
Q. Hi
I am electroplating engineer in Saudi Arabia I am working in switchgear company we are facing problem in silver plated bus bar color will tarnish within the one or two weeks after production kindly advice how to protect silver tarnish
irshad alam
switchgear company - riyadh, saudi arabia
---
---
May 17, 2018
Q. I am the manager of Shop Operations for a busbar manufacturing facility in the US, we are currently having trouble with blistering or small bubbles on the "tab" of our plug in bars. These tabs attach via stab to stab connection in busplugs. The beds of the bar or contact area plate just fine, but we cannot get the actual tab to Plate. What could be the cause of the tab not plating but the end of the bar plating good?

Silver splash on top of copper plating
Brandon Jackson
- Jackson, Tennessee, United States
---
---
May 2, 2019
Dear all metal finishing engineers, very good morning.
We have a silver process plant in manual and we are doing silver plating 3-5 micron process as below:
soak degreasing
cathodic cleaning
water rinse
pickling with 20% H2SO4
water rinse
activation with potassium cyanide
strike silver
main silver bath
water rinse
anti tarnish deep
drying by air
inspection and packing

But after assembly in switchgear we found within a week color changing black-brown like corrosion. Please advise how to protect at least one month.
Thanks, regards,
Irshad
irshad alam
switch gear - saudi arabia