World's most popular finishing site / Internet's friendliest corner
topic 19866 p.2
My zinc clad table is rusting
A discussion started in 2003 but continuing through 2019
---
< Prev. page (You're on the last page of the thread)
---
May 25, 2017
Q. I have a zinc clad over steel table that I am using on my screened porch. A while back you had answered a question for me about removing the lacquer on top which was peeling. We did that according to your recommendations and it worked well. Now, I am seeing a lot of white on the zinc and recently saw rust. Can I clean all of this and put a coating on top that will keep this from happening?

I paid a lot of money for this table and was never told that it could not be used outside until I contacted the company about my problems. The company will not help at all.
Becky Shelly
[returning]
- Greensboro, Georgia
---
May 2017
Hi again. We don't know what the table is actually made of, or what it looks like; nor do we know your taste --

If you just want a table, you can paint it after applying a rust convertor or Ospho, and if it suits your taste you'll probably be happy with it. If you need a metallic look, you've already seen two unsuccessful attempts (clear coating it, and stripping it bare) ... but you can try brushing all the loose white stuff off with a bristle brush and then applying Krylon or another lacquer. But the manufacturer's lack of success gives you a hint; getting adhesion onto a galvanized (zinc) surface is difficult, especially if the pretreatment/primer needs to be transparent.
Luck and Regards,
Ted Mooney, P.E. RET
finishing.com - Pine Beach, New Jersey
Striving to live Aloha
---
---
June 22, 2017
Q. I have a zinc top table that I purchased from Restoration Hardware. One of my kids got permanent marker on the top. RH is no help with suggestions of how to remove it and the manufacturer is overseas.
Suggestions on how to remove it without destroying the rest of the finish are welcomed!
Jodi Morrison
- Madison, New Jersey, USA
---
June 2017
A. Hi Jodi. I think the permanent markings will be soluble in rubbing alcohol. Try marking up some old scrap piece of metal with it and removing it with the alcohol first. Although rubbing alcohol should not harm metal, the table may have some sort of organic topcoat, so try your best to test it on a non-visible area first.
Regards,
Ted Mooney, P.E. RET
finishing.com - Pine Beach, New Jersey
Striving to live Aloha
---
---
September 24, 2017
Q. Hi. I purchased a zinc table from made.com recently and my daughter just spilt nail varnish remover on it. It turned white and I scraped it with my nail thinking I was getting rid off the nail varnish remover (shows how much I know!) It lifted some kind of coating off and those areas are shiny now. I was googling out of desperation and saw this thread. Anything I can do to fix it please? Thank you very much.
Regards,
Yekbun
Yekbun Beydogan
- Bromley Kent England
---
September 2017
A. Hi Yekbun. If acetone (nail polish remover) removes the coating it is probably lacquer. You can try touching it up by spraying lacquer on the stripped area, but you'll probably end up having to remove all the existing lacquer and re-applying it.
Regards,
Ted Mooney, P.E. RET
finishing.com - Pine Beach, New Jersey
Striving to live Aloha
---
---
September 26, 2017
Q. I have a brand new zinc dining room table from RH that has started to show small squiggly black lines across the top. They are completely smooth to the touch and are scattered throughout the whole table top. What is this, why did it happen, will it continue and can it can be removed? Thanks!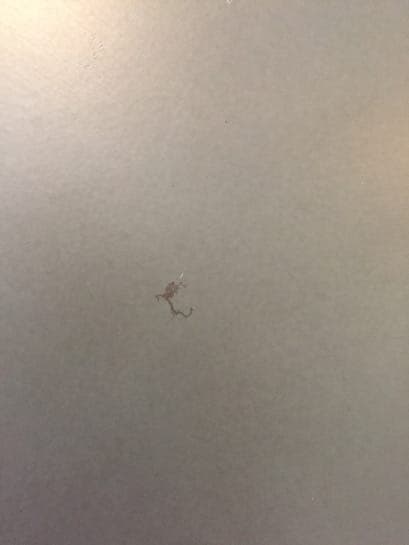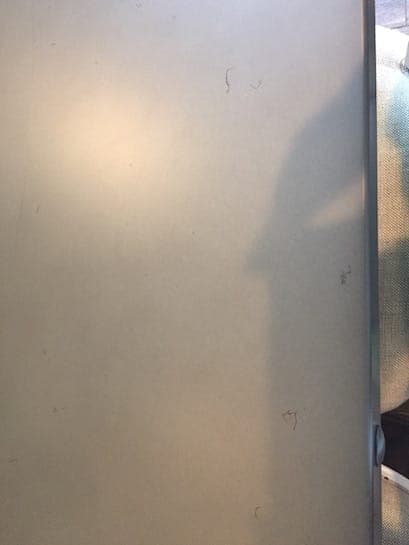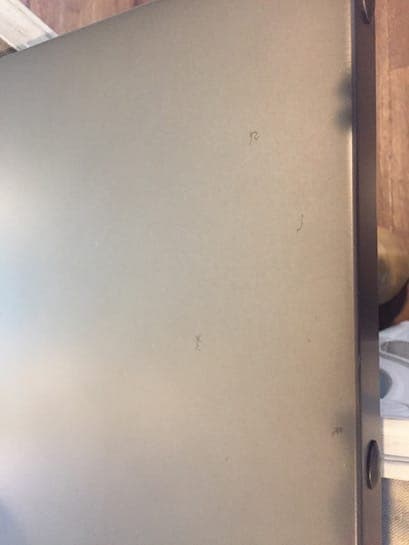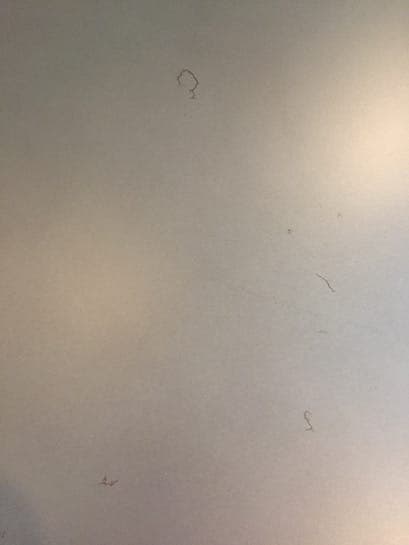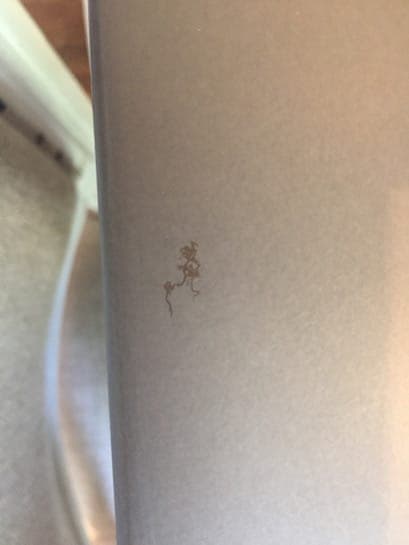 Ankita Patel
- Belle Mead, New Jersey
---
September 2017
A. Hi Ankita. It absolutely looks to be filiform corrosion; it will continue and it can't be removed or even stopped (short of refinishing). Sorry; if it's still brand new, get your money back.
Regards,
Ted Mooney, P.E. RET
finishing.com - Pine Beach, New Jersey
Striving to live Aloha
---
---
January 25, 2018
Q. I just wrapped a table top in zinc and I am finding it is very sensitive in getting marked with almost everything it has made contact with - cardboard, shirt,towels,fingers you name it. Issue now is all of these marks look bad on the surface and I just want to get it back to a uniform finish. I tried vinegar, this only removed finger prints, and lemon juice which just added more cloudiness. First time working with zinc, please advise as this table is for my sister and I can't give it to her as is.
Josh harrell
- Midlothian, Virginia, USA
---
---
May 27, 2018
Q. I bought a zinc/metal coffee table at pottery barn. When you put your feet on it it picks up the oil from my feet and is now shiny and very conspicuous in that area. Is there a way to fix it?
Linda sutherland
- Indio, California, United states
---
July 4, 2018
Q. I bought a zinc topped table for outdoor use. It sits under a fir tree and has gotten a lot of sap on the top. I looked online and saw that rubbing alcohol was recommended to remove sap or pine tar. I used it and some of the spots have come clean, others won't clean up. They turn brown when I apply the alcohol. In addition there are areas with white speckles. I bought zinc because I like the patina, ring marks don't bother me. But these brown smudges and white irregular marks just look dirty. Hate to cover it with a tablecloth as I really wanted zinc. Any ideas or suggestions on how to clean it. Thanks.
Marta Naber
- Calistoga California USA
---
July 2018
A. Hi Marta. Your table probably had a clearcoat finish on top of the zinc, which is now compromised -- as evidenced by the white speckles which are the corrosion products of zinc. Why it became compromised (not UV resistant, too thin for outdoor use, finish rubbed away by cleaning, etc.) may be beside the point.
You can probably remove the sap with a stronger solvent -- anything from WD-40 to nail polish remover to turpentine. These will not hurt zinc, but may hurt whatever is left of the clearcoat. I think the WD-40 is the best solution if it removes the sap because it will deter corrosion. But it's not a permanent solution, it's something you would wipe the table down with every few weeks. Let us know how it goes.
Regards,
Ted Mooney, P.E. RET
finishing.com - Pine Beach, New Jersey
Striving to live Aloha
---
July 4, 2018
Q. Thank you, I will try the WD40 (I did try nail polish remover in addition to the alcohol) and let you know how it works. If it does work should I try to add a coating to the zinc? Or just clean it with WD40 as needed?
Marta Naber
[returning]
- Calistoga, California USA
---
July 2018
Hi again. "WD" stands for 'water displacing compound', and although it is not a long-term finish, it does resist corrosion. It should therefore deter additional white corrosion; with luck, the fact that it stays sort of microscopically 'wet' and 'smoothes' that white pitting may help to disguise it as well.
Regards,
Ted Mooney, P.E. RET
finishing.com - Pine Beach, New Jersey
Striving to live Aloha
---
July 11, 2018
Q. Hi again. I tried the WD40.
Did not work.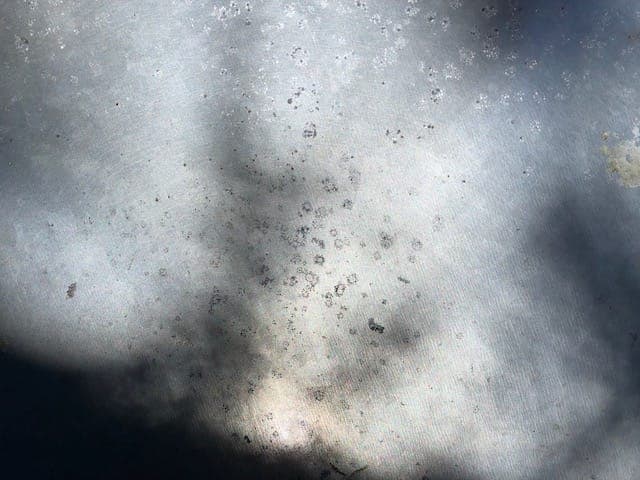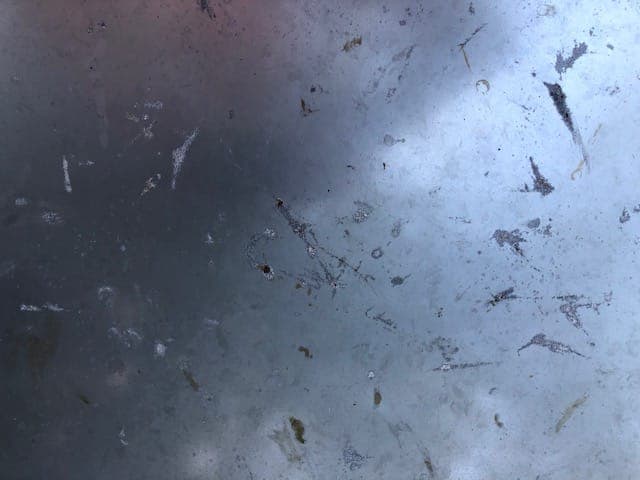 I guess I will have to use a tablecloth. Can't move it as it is the only spot in the yard for a table
Please let me know what you think. Thank you.
Marta
Marta naber
[returning]
- Calistoga California USA
---
July 2018
A. Hi again Marta.
Getting sap off of a porous metal surface is unfortunately going to be a constant battle.
I'm not there, and am only judging from photos which look like before and after. If they are, the WD-40 seems to me to have somewhat improved the look of the white corrosion (although it might be wishful thinking on my part), and it will somewhat inhibit ongoing corrosion. I really didn't hope for much more than that.
Sorry that a zinc topped table used outdoors, and subject to sap dripping as well, is apparently destined to be a headache. Other entries on this thread complain about zinc-topped tables being subject to filiform corrosion even when kept indoors :-(
Regards,
Ted Mooney, P.E. RET
finishing.com - Pine Beach, New Jersey
Striving to live Aloha
---
---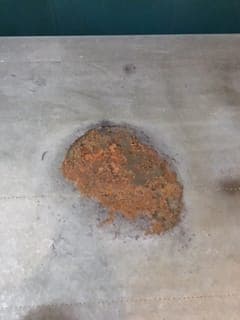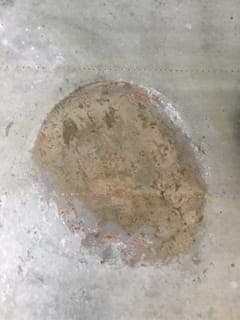 August 20, 2018
Q. I have a zinc top table that I aged with copper sulphate.
We had a water cooler on top, which I placed on a foil wrapped circular cardboard base (from a cake) and I now have a brown stain in this area
I have tried to rub it out with steel wool and re-age it, but I still have some brown reappearing.
Please advise.
Deb bell
- Melbourne, Australia
---
December 19, 2018

A. I have a substantial zinc bench in a large kitchen. I have loved the weathered look of the bench too but when wet stuff is left on it then it can discolor with white marks and look poor.

I have a solution though. It basically is to remove air to the bench to allow the natural patina to come back.
a) the harder way is to just rub Vaseline on the bench and leave it for 24 hours then clean it off. It's only hard because it is difficult to clean off (generally needing cleaning cloths, hot weather and a lot of rubbing -- but then dry thoroughly at the end.
b) the easy way is found at the hardware store -- a lubricating spray composed mainly of lanolin and just keep a spray can handy so that when I am wiping down the bench I can do a small spray on any marks. It's so easy and does a remarkable job.

If you don't know Lanolin, it's oil that comes from wool producing animals (i.e., mainly sheep) and has excellent water repellent properties ... so it's really just keeping a seal on top of that zinc bench.
tomy magnus
- NSW Australia
---
---
July 24, 2019
Q. Hi All,
I've just purchased a vintage zinc top table for our garden and am just smitten with its coloration. There are a few bits of rust poking through which lead me to believe perhaps it is zinc clad vs pure zinc as the antique dealer had noted. In any event, it was purchased to live outdoors and I'd like to protect it from further rust and discoloration.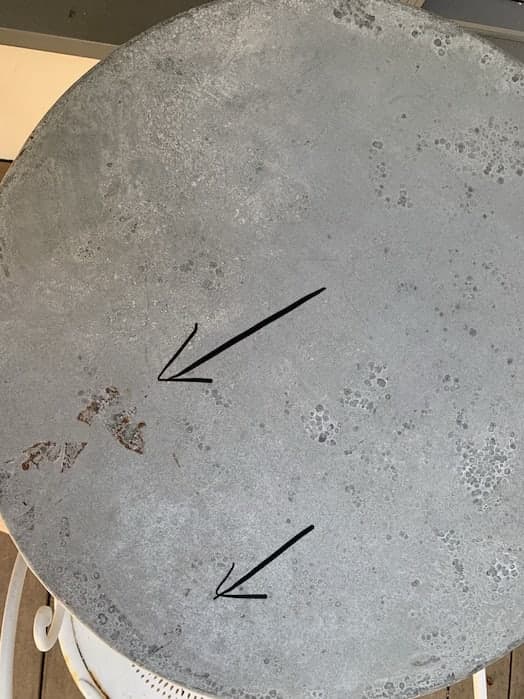 Does anyone have a recommendation for a specific product to use? There are many online from Rust Oleum to more specialty products. We live in a temperate climate in Northern California, about 20 miles from the SF Bay. Any advice would be much appreciated!!
Kelly McHugh
- Piedmont, California
---
August 2019
A. Hi Kelly. People should feel free to suggest types of coatings or ingredients to look for, etc., but we can't suggest specific brands or products except our advertisers like Everbrite [a finishing.com supporting advertiser] (why?)
Regards,
Ted Mooney, P.E. RET
finishing.com - Pine Beach, New Jersey
Striving to live Aloha
---
August 5, 2019
Q. Hi, I have a dining table which is covered in galvanized zinc (with a slightly weathered finish). The zinc has become discolored where my son sits, under his white plastic placemat. Does Zinc become discolored when in prolonged contact with plastic, or is it the lining of the plastic placemat rubbing off onto the zinc? Before applying anything too corrosive I would be very grateful for your advice and thank you very much in advance for your thoughts.
L Drayson
- london, UK
---
August 2019
A. Hi L. Although it's not impossible for plastics to give off volatile compounds which react with the zinc, I doubt that that is the issue. More likely just the additional humidity or the denial of oxygen caused the zinc to slightly corrode in different fashion.
I would think that cleaners like Barkeeper's Friend, which incorporate a mild acid plus mild abrasion, are probably the best route to an even finish. Try cleaning a strip which is half under the mat and half not. If I'm wrong and the repair sticks out like a sore thumb, your son is growing ... so get him a slightly bigger placemat to cover my error :-)
Regards,
Ted Mooney, P.E. RET
finishing.com - Pine Beach, New Jersey
Striving to live Aloha
---
---
September 8, 2019
Q. We have a two month old dark patinated zinc kitchen countertop. We expect and look forward to it changing over time with wear and use. But there have been a few changes that I am not happy with. The first (not pictured) was under our fabric dish drain pads. The zinc has a slightly matte feel to it there. Visually it is fine but when I run my hand over the area it feels like something spilled there. I have tried to clean it with non abrasive means but it's still the same.
There are now 3 other issues. In the corner, where there's no contact with much of anything except a ceramic fruit bowl, a rash of raised white spots have appeared. After not having success with a dish rag, I used a dish scouring pad (the green one). The spots disappeared but returned immediately after it dried. They seem to be impregnated in the zinc: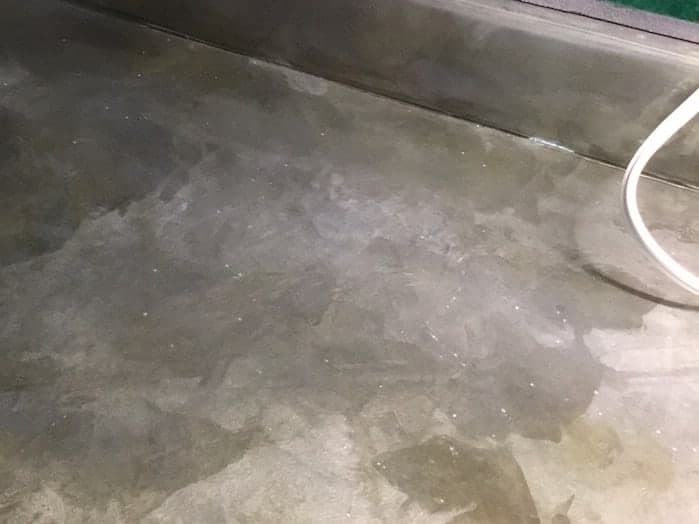 The second is where a fresh pumpkin sat for a few days. There was some moisture seeping from it. The spot is slightly discolored but is now very rough-matte in feel, kind of like the dish drain pad area but worse. I cleaned it with mild soap, scouring pad, 409. Still the same: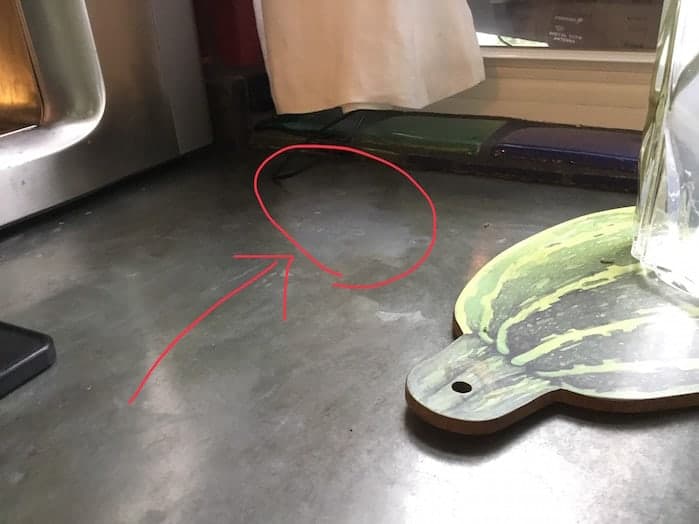 And finally, a rough line in front of the microwave. This is white in color and also won't smooth out. I don't care about color differences as they will all blend in over time. The rough spots make me feel like it is dirty. The spot where the pumpkin sat is also a different color now but the difference in surface texture really makes it noticeable: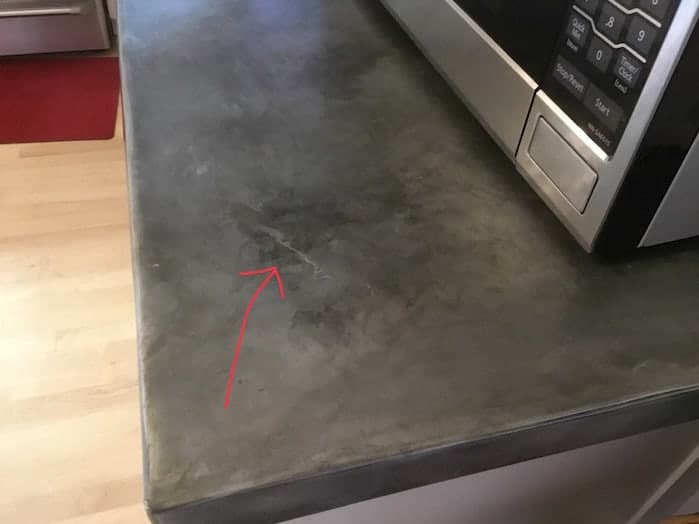 I am hoping someone on the forum can me advise me because I am ready to rip them out. That would be sad because they are quite lovely.
Sue Rosengard
- Chicago Illinois USA
---
September 2019
A. Hi Sue. The little white dots are probably corrosion spots. If you examine them with a magnifying glass or loupe they will probably look like little volcanos.
Unfortunately, although your countertop is beautiful, zinc is not corrosion resistant in the sense that stainless steel, formica, or Corian are. I would suggest regular application of butcher's wax or possibly mineral oil on the whole counter top (after trying it in an inconspicuous spot) to reduce it's sensitivity to moisture.
Regards,
Ted Mooney, P.E. RET
finishing.com - Pine Beach, New Jersey
Striving to live Aloha
---
September 12, 2019
Q. Thank you for the quick reply. We'll give it a try. There are so many rough spots that we considering taking it back to natural zinc and allowing it to patina naturally. What do you suggest using? Occasionally when my husband wipes the counter extra hard, the paper towel or cloth actually removes some of the dark patina. I'm wondering if the fabricator never applied a sealer or coating.
Sue Rosengard
[returning]
- Chicago Illinois USA
---
September 2019
A. Hi again. It's certainly possible that the countertop never had any sealer/clearcoat. Sorry, I don't have any experience with clearcoats for zinc specifically, and we can't post recommendations for specific brands anyway (why?), but I have no reason to think Everbrite [a finishing.com supporting advertiser] or a lacquer from G.J. Nikolas [a finishing.com supporting advertiser] would be inappropriate. But as you see from this and related threads, filiform corrosion under clearcoats is a commonplace.
If it was me, I'd try to remove the white dots and roughness with the green scotchbrite sponge, try to work butcher's wax into that pitted area, avoid leaving the counter top wet, and not leave regularly shaped items like round bowls and rectangular placemats in the same spot too long. And remember that the "scratch" in front of the microwave catches your eye because its the only one; after there are fifty of them at different lengths, depths, and angles, all may be well :-)
Regards,
Ted Mooney, P.E. RET
finishing.com - Pine Beach, New Jersey
Striving to live Aloha
---
September 18, 2019

Thank you. We'll give it a try.
Sue Rosengard
[returning]
- Chicago Illinois USA
---
---
September 24, 2019
Q. I bought the RH Zinc table. My son put hot baby potatoes straight from the microwave on my new table! It left white spots on my table that were exactly were the baby potatoes were on the paper plate. Any suggestions on how to help me? Thank you!!
Craig Workinger
CPA - Encinitas, California USA
---
September 2019
A. Hi Craig. When it comes to wood tables and hot or wet objects, the cause of the white discoloration is usually that the object created an oil-water emulsion with the lacquer or clearcoat; the remarkably effective fix is to iron a white t-shirt or towel over the area, producing dry heat that drives the water out of the emulsion and returns it to pure lacquer. Please see topic 10275, "How to remove white water rings from wood furniture" for rave reviews from a hundred or more readers.
Whether your zinc table has a clearcoat on it, and whether watermarks can be removed the same way, I don't know. Let us know. Good luck.
Regards,
Ted Mooney, P.E. RET
finishing.com - Pine Beach, New Jersey
Striving to live Aloha
---
September 29, 2019
A. I have just submitted a response to thread 40020 and see that my comments apply equally here.
If you make a working surface out of totally unsuitable materials you must be prepared for constant maintainance.
Zinc in particular is a rather reactive metal and does not take kindly to acid substances. It is also quite soft and easily scratched.
It may look pretty when new but as a functional item I would class it with the chocolate tea pot.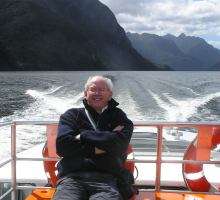 Geoff Smith
Hampshire, England