60,000 Q&A topics -- Education, Aloha, & Fun
topic 16430p2
How to paint brass beds, lamps, and fireplace doors
---
< Prev. page (You're on the last page of the thread)
---
A discussion started in 2002 but continuing through 2019
January 26, 2009
Q. I am trying to paint a fireplace screen made of a polished brass (lookalike) finish. A magnet does stick to the surface. Is there a way to paint the surface with a black matte finish? How do I prep the surface first. I am a total novice at all this...
Thanks in advance for your help!

Donald
Donald Popejoy
- Houston, Texas
---
---
May 19, 2009
Q. I have an old lamp which has part brass pieces and brass plated pieces which I have cleaned with by boiling vinegar and salt then cleaned with steel wool and sandpaper.
What type of paint should I use to refinish (not a brass shine finish but a flat color), and should I use a primer first before final painting ?
Harry Lockwood, PE
- Atlanta, Georgia
---
September 19, 2009
Q. Hi, my ugly brass fireplace doors do not allow magnets to stick. I did sand and paint them with a nice oil-rubbed bronze spray paint. It looks pretty good, but it scratches easily. I want to put a matte clear coat on it but there is some concern since they are fireplace doors. Lady at Lowe's told me that the polyurethane I bought could release toxic fumes if it gets too hot. The doors don't get super hot, I tested it last time we had a fire, but they aren't room temp either. Any suggestions on a good clear coat (really want it to be not-shiny)? Thanks!
Jen Wilton
- St. Louis, Missouri
---
March 8, 2010
Q. I too want to paint my outdated, ugly brass plated fireplace doors. I would like to paint it black to look more like iron. I am wondering about painting the track where the doors slide open and shut. I don't know if the paint would chip off there. Is there any thing that would work in the track like a rubber coating, etc.
Lisa Scott
- Midland Texas
---
May 16, 2010
Q. I have several brass knick knacks, e.g., vases, figurines, etc that I would like to be able to spray paint silver. Will the etching primer and then a silver spray paint do the trick?
Ann Bruns
hobbyist - Leawood, Kansas
---
May 26, 2010
Q. I was curious about spraying an outdoor light fixture. Will etching paint and then spray painting it in an oil rubbed bronze finish work? or will weather, such as rain and snow, quickly wear the spray paint away?
Betty B
[last name deleted for privacy by Editor]
- Arlington, Virginia
---
August 23, 2010
-- this entry appended to this thread by editor in lieu of spawning a duplicative thread
Q. My husband and I recently purchased a home built in the early 60's. I'm sure it was upscale when it was built, but it definitely needs some TLC. We're in the process cleaning it up. I have taken these wonderful interior panel doors down all over the house to strip several coats of paint off the wood. We thought all hardware was brass - a few pieces were, and they look good now that all the paint has been removed, but is there anything I can do with the hinges and pins that are now bare metal? I'm guessing they were only plated...? How can I make them look brass again? We're talking lots of hardware. Thanks!
Bert Bozarth
new home owner - Dillon, South Carolina
---
December 5, 2010
-- this entry appended to this thread by editor in lieu of spawning a duplicative thread
Q. How would you suggest painting/treating a steel fireplace screen to give it a brushed bronze look?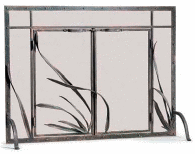 Curt Longacre
Home owner - Concord, California
---
---
March 1, 2012
Q. Hello,

1. I have a brass figurine, which I want to paint or make dark blue or black.
I tried with self etching primer and black car spray paint. But when decorating the figurine, the paint comes off again.
I heard one can blacken the brass directly or even make it bluish. I am totally inexperienced thus any explanation should be really easy to understand and possible to make at home without expensive equipment.

2. As well I have seen a brass figurine painted partially with beautiful red and pink colours, which where more transparent or as well metallic? The look was as if the brass was shining through the colour, this looked really good. How can I achieve this effect?

Thank you very much for any help
Nameda K.
Hobbyist - Munich
---
March 23, 2012
-- this entry appended to this thread by editor in lieu of spawning a duplicative thread
Q. I have two brass (magnet does not stick) and glass display cabinets. The brass strips seem to be attached in some way to the wood and is very secure. The look is very dated but I need the function of storage for my glass collection. I would like to paint these, perhaps white or a color. Please give me the products and techniques, as detailed as possible so I can convince my husband this is an option!
Thank you,Nancy
Nancy Burns
- Naples, Florida
---
March 24, 2012
Q. I want to paint a brass gramophone horn, a magnet doesn't stick to it. Thing is, I would like the possibility to have the horn return in its brass state if I get tired of the color. Is this possible, and if so, how would I go about doing this?
Adrik Sokolov
- Breda Noord-Brabant, Netherlands
---
---
July 10, 2014
-- this entry appended to this thread by editor in lieu of spawning a duplicative thread
Q. My mom has offered to give me the solid brass head and footboard I used as a child. It's the shiny yellow brass finish. I would like to refinish so it goes more in our decor. Not sure if/how this is possible. Can I spray paint it and achieve good results? I did find one company online that is not anywhere near Texas and they wanted nearly $1500 to refinish a head and footboard!
Nicole Souther
Hobbyist - Frisco, Texas
---
---
April 20, 2015
Q. I used a liquid deglosser on my brass fireplace and sanded a little and used steel wool and painted with high heat spray black and dried overnight and it seems to be scratching off. Could I just use the self etching spray now over the high heat and then paint it again with a new coat of high heat or am I up a creek?
Amy Patton
- auburn, Washington, US
---
---
Refinishing outdoor brass coach lights
August 25, 2017
Q. I have 3 brass outdoor coach lights taken from a high in hotel being remodeled. I took them to a silver Smith and had them re done. The finish was awesome,and shined like brand new brass. 10 years later they are dull and black rust is appearing on the frontage and corners. Can they be sprayed gold?
Charlotte Faraji
- Fort Washington
---
---
December 10, 2017
Q. I am from India. I have many brass decorative items and they are old - most of them more than 100 years old. I tried applying brass polish and it is not effective. I read about coating the items with brass metallic paint. Do you think it will work and if so how long the shine will last.

Thanks

Krish
subramania krishnamurthi
- Providence, Rhode Island
---
---
April 21, 2019
Is it safe to spray paint the outside trim of a natural gas fireplace? I would like to paint the brass trim black.
Harri White
- Wilmington, North Carolina USA