Where the world gathers for
plating, anodizing, & finishing Q&As since 1989
-----
Polishing Old Copper Fire Extinguishers
Current postings: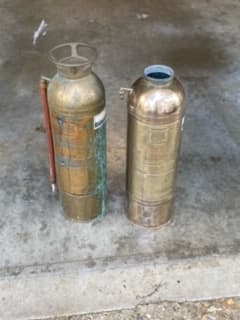 October 23, 2021
Q. I was given three old fire extinguishers I'm working to clean up. They seem to be stained by soda acid or something else. Any recommendations to clean them.
Phillip D.
Hobbyist - North Little Rock, Arkansas
---
October 29, 2021
A. There are plenty of brass polishing in tubes or cans, typically a paste. This can all be done by hand with time and patience.
Hand drill with polishing wheel can also help.
Mark Rekdahl
Metal Refinisher - SAN BERNARDINO, California
---
---
↓ Closely related postings, oldest first ↓
---
---
2003
Q. I found a couple of those old presumably copper water filled fire extinguishers in my grandfather's attic ... can someone tell me how to polish them? I've seen them about and they are quite the eye catcher. I've rubbed endlessly with little results.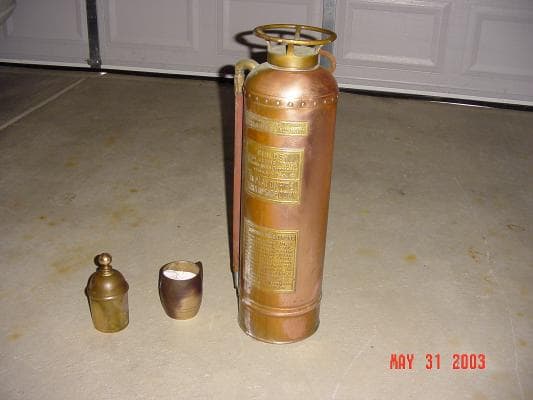 Warmest regards and thank you,
Bene B
[last name deleted for privacy by Editor]
- Orland Park, Illinois
---
2003
A. They are good looking units aren't they. I have one hanging on my living room wall for many years now. These were baking soda, acid fire extinguishers. To activate you turned them upside down, dumping the baking soda into the acid water. You can easily see this effect by putting baking soda into vinegar in your kitchen.

The results of the mixing were the production of Carbon dioxide gas, and pressure to propel the liquid at the fire, and some extinguishing through the production of the carbon dioxide.

Many of these old copper and brass extinguishers were coated with lacquer to retain their brightness as they hung in both the office and shop areas of businesses.

Try first washing the outside with either lacquer thinner [affil link] , Methyl Ethyl Ketone, or acetone Acetone [affil link]. BE EXTREMELY CAREFUL, as all of these are highly flammable solvents. Be sure to remove the hose as these solvents will eat the rubber hose alive. Then after removal of the lacquer coating, polish with a good quality copper and brass cleaner. To keep it looking nice for many years thereafter, re-apply the clear coat Brass Lacquer [affil link].

Hope that helps!
Martin M
[last name deleted for privacy by Editor]
sports mfg. - St. Louis, Missouri
----
Adv: For larger quantities of brass lacquer, please try G.J. Nikolas [a finishing.com supporting advertiser].
---
2007
A. Do not use Methyl Ethyl Ketone (MEK. This solvent though very good is highly hazardous, you need to use a protective mask, gogglesGoggles [affil link] , and rubber glovesProtective Gloves [affil link] . You can use a very mild acid to clean off highly tarnished areas. Again follow directions carefully.
Howard Richards
- Ingleside, Illinois
---
2007
A. Yes, MEK is absorbed through the skin and can cause liver failure... nasty stuff. When I polished mine I used Top Brite; it's non abrasive and works wonders on brass, copper, silver, gold pretty much anything.

Q. Can anyone tell me what kind of acid was used in these extinguishers?
Brian James
- Boston, Massachusetts
---
2007
A. Vinegar is an acid and fairly mild. That is used for acetic mild reactions(about 20%). A stronger acid would produce a larger reaction, causing more pressure.

Two safe ways to clean brass, copper, gold, or most tarnished items, start with pepper sauce. Yes, Tabasco! it cleans it very well (it has vinegar in it) and follow up with mayonnaise, which has vinegar too. The oil in it will leave a gloss. This will protect the finish. it is a regular item, need to polish often, after all, it is copper and/or brass.
Norman Stephan
- Atlanta, Georgia
---
May 21, 2010
A. To help clear up the operation of this type of extinguisher.

The extinguisher holds the soda water and the acid is contained in a bottle that is held in a bracket -when the extinguisher is inverted a weight inside the extinguisher breaks the bottle releasing the acid and activating the extinguisher.They have not been manufactured since early 60's because if the hose is stopped up the pressure will cause the extinguisher to explode. I used a cleaner called Tarn-X [affil link] and it did wonders.
Steve Mixon
- Marlow, Oklahoma
---
2004
A. The best way to get a great shine on those brass or chrome extinguishers is to take them to a metal polishing shop. Just make sure to tell them that the wheel has to turn AWAY from the edges of any of the labels. Then have them dip them in the clear coat that they use. Should cost you about $60.00 tops, but you will have an unbelievable finish that will last for years.
Ronald R
[last name deleted for privacy by Editor]
- Pomona, California
---
"Firefighting Collectibles"
from Abe Books
or

Affil. Link
Your purchases make finishing.com possible
2007
A. Hi Bene,

I'm not sure if you've done anything to that copper extinguisher, but if you're still deciding, I have to agree with Ronald R., from Pomona, Calif. I worked at a metal polishing shop and I restored two very similar old copper "Alert" extinguishers while I worked there. They came out looking fantastic. I converted them into floor lamps and I use them to this day. One sits next to me at my computer! I did them over seven years ago and they still look incredible. So, I'd suggest taking it to a good shop, you'll save yourself a ton of time and it'll come out looking tens times better than if you did it yourself. Be sure to have it spray lacquered (several coats) immediately after it is polished, the shop should be able to do that as well. If you do get this message, you should update us on which decision you made, and send in a photo of how the extinguisher turned out. I'd be interested. Good luck with it.
David De Ridder
- East Quogue, New York
---
2003
Q. I want to shine up four antique brass and copper fire extinguishers. I am strictly a hobbyist. They are now highly tarnished. I am a bit worried about some advice that I just got, and would like to check it out. I was told to evenly wipe a coat of Muriatic Acid [affil link] onto the extinguishers. Then to rinse them with a hose. Then to Use something called Nutra Sol, mixed with water, to neutralize the acid, and rinse it down again. I would obviously do this outside, and wearing rubber glovesProtective Gloves [affil link] and clothing. What is your advice? Will it work, or will I not be able to neutralize all the acid? Is there a better agent to use than muriatic acid? What would you recommend as a base to neutralize the acid. I appreciate your advice and will take it.

Thank you very much.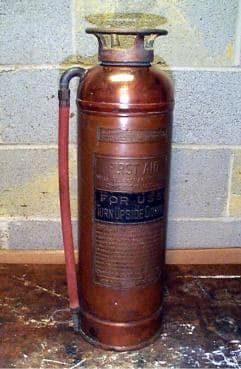 Melvin M
[last name deleted for privacy by Editor]
hobbyist - Burke, Virginia
---
2004
A. I have cleaned up several of them and they were very tarnished I just used a cleanser polish the one I used was called Barkeepers Friend [affil link]. it is specifically for copper brass stainless It is a powder form I used this to take the heavy tarnish off then I followed up with a liquid polish called Brasso [affil link] and yes you will have to rub and rub and rub a lot just takes a little time if you have patience I'm sure you can do it
Chris I
[last name deleted for privacy by Editor]
- Irvine California
---
2005
A. When I was in the Navy we used Nevr-Dull [affil link] and bug juice (kool aid) usually yellow or orange color due to the color. It worked well for navy copper and brass. Never used it on fire extinguishers.

Good luck.
Brian O
[last name deleted for privacy by Editor]
- Highspire, Pennsylvania
---
2007
A. I have the same one almost. It had a green paint on it that I thought was tarnish, so I wheeled it like I would do a truck aluminum fuel tank. I put my 2 vector variable speed angle grinder-polishers in 2 vises. one with a yellow united pacific 8" airway pad the other with a united white pad, I use a 2 lb block of brown tripoli [affil link] rouge with the yellow pad which is course to get the heavy stuff off, then a jackson-lea green 2 lb block to take the swirl marks out, then wipe polish with my Brooklyn Ball Busters [affil link] Best aluminum polish and a terry cloth rag, when it's cool /damp out it take a few minutes to dry, a old timer showed me a shortcut, I get a coffee can and fill it with flour, I dip a dry rag in the flour and wipe it off.
The flour pulls the oxidation out a little better, dries it off faster and keeps your hands cleaner.
DON'T BUFF TOO HARD, I found out that they're not really copper, mine is copper coated.
Happy polishing.
Rick
Richard Masculine
- Middletown, New York
---
January 6, 2008
Q. I have a 2.5 gallon Elkhart Brass extinguisher that has recently developed pin holes and a white powder-like substance on the outside. I assume that the acid water and soda may still be in it. How do I clean this? or to whom do I take it? Thanks for any advice.
Roger Gombert
- Stockton, California
---
April 28, 2008
A. I just picked up 5 of these copper extinguishers to clean up and hang in my Fire Station. I've been using Brasso [affil link], a Dremel [affil link] with polishing pads, and towels for a combo of power and hand polish. Works Great
Tim Jones
- Newington, Connecticut
---
May 6, 2008
A. Hi,
I used a bottle of ketchup on a very tarnished large copper cow weather vane. I wasn't even sure it was copper, it was so tarnished. Brush the ketchup on and let it stand for about 30 mins, rinse, then polish it up! No gloves or goggles necessary.
Connie Cleek
- Louisburg, Kansas
---
August 1, 2008
Q. I recently bought an old extinguisher and I liked the patina or tarnished look on it. My husband cleaned and polished it. I want the patina back on it. How do I do that? And if it was worth anything is it worthless now?
Jacklyn Ewry
- Greenfield, Ohio
---
August 4, 2008
A. Hi, Jacklyn. It will not stay bright if it's not lacquered, so you won't have to wait long for it to lose the luster. You could just leave it be for a few months. But you can accelerate the tarnishing by spritzing with vinegar and salt, or even a very dilute washing with liver of sulphur (this can turn it brown-black very quickly).

If this were a Roman coin or a civil war artifact, removing the tarnish could devalue it. But these fire extinguishers, while cute old collectible items, are far from precious; and I'm sure no one considers the natural tarnish to be of historic value. Maybe in another two hundred years. For now, some people prefer bright and some people prefer tarnished.

Regards,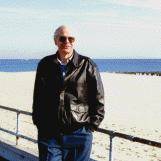 Ted Mooney
, P.E.
Striving to live Aloha
finishing.com - Pine Beach, New Jersey
---
February 3, 2009
A. I've cleaned many of these extinguishers with a mixture that is quite simple. Find a container large enough to submerge the extinguisher. Fill container with equal parts coke and ammonia. Submerge extinguisher and let stand. The longer you let it sit, the better it works. Hope this helps.
Sara Miller
- Forney, Texas
---
April 22, 2009
Q. Many years ago my husband was given a Konus Kemik. I think it is a fire extinguisher but I can't be sure. I would like to know more of its background and how it ended up and if any parts of it are missing.
Jela Stewart
- united kingdom
---
June 15, 2009
A. TO CLEAN YOUR EXTINGUISHERS, USE OLD COTTON SOCKS, LIKE CREW SOCKS, AND Brasso [affil link]. PUT BRASSO ON THE SOCK AND RUB THE EXTINGUISHER. THE SOCK WILL TURN BLACK AND GREENISH.
DO A SECTION AT A TIME. LET THE BRASSO DRY EACH TIME AND RUB THE AREA WITH A CLEAN SOCK, CONTINUE UNTIL YOU GET THE SHINE YOU WANT.
John Todd
- Courtland, Mississippi
---
October 7, 2009
Q. What will remove the heavy green and black tarnish from Copper Fire Extinguishers with Brass Name Plates?
craig teglia
hobby - Las Vegas, Nevada
---
October 19, 2009
A. I have polished a number of these from total junk to a bright shine. I have found you can put every chemical known to man but it just removes the top layer. You have to bite the bullet go out and get a bench grinder or preferably a polisher from Harbor Freight. Get a buffing kit comprising three different buffing wheels. Purchase two grades of polishing compound and start getting filthy. On a piece like yours it will take about eight hours of actual work but when it is done you will be extremely satisfied. To purchase these items is very inexpensive.

I save these pieces up over the summer from estate sales and spend hours upon hours polishing. You will kill an extreme amount of time but the satisfaction factor is well worth it.
David Donaldson
- Brimfield, Illinois
---
February 21, 2010
Q. How do I find out the value of my extinguisher. What is the value of an old Gardnere name copper brass extinguisher.
Tony Richardson
hobbyist - Humansville Missouri
---
February , 2010
A. Hi, Tony. We've linked to a book on Firefighting Collectibles and to listings of such items on Ebay. Valuations are off topic on this metal finishing site, so that's as far as we go; sorry. There are probably pawn shops and antique shops in the nearest large city if not in your town. Good luck.

Regards,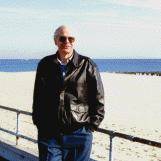 Ted Mooney
, P.E.
Striving to live Aloha
finishing.com - Pine Beach, New Jersey
---
(you are on the 1st page of the thread) Next page >
---