topic 47788
Removing oxides and chemical polishing for preteen brass auto lights
A discussion started in 2008 but continuing through 2017
February 12, 2008
Q. Need REAL information. I am a retired teacher and ex mechanical engineer. I have been restoring early 1900-1916 brass automobiles since 1960. I've taught college and in vocational schools welding, drafting, autobody, restoration classes and metal fabrication courses for 27 years. Many of my cars have won first place trophies and AACA awards...but I was always able to afford polishers to do most of the brass lights and such. I can no longer afford the use of their services.
I would like information please.
I do NOT need comments like use Brasso or Flitz or dip it in phosphoric acid. Been there years and years ago.
I used to have a friend that used a stripper that he mixed up in his lab that would remove the brown oxides from my brass parts. Then, he had a brightener solution. Dried the brass parts with warm powered air. Then buffing only where needed. Cleaning with Acetone [linked by editor to product info at Amazon]. Air blow dry. Then he sprayed on a crystal clear urethane. I've watched as he would work. That was years ago and do not even remember his name. He worked for an electronic mfg co that made brass contacts for the computer industry.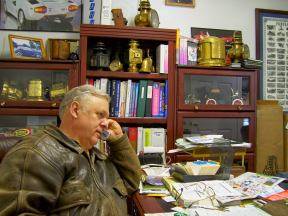 Joseph Geisler
- Branson, Missouri, U.S.A.
---
February 12, 2008
A. Hi Joseph.
Hi Joseph. You're looking for a chemical mixture that will remove brown discoloration from brass without causing discoloration to the surrounding brass, but ask us to dismiss manufacturers who have achieved enough success in formulating brass polishes to be able to market a commercially viable product :-)
From that, my guess (and that's all I can offer!), is that your friend used oxidizing acids in the mix, i.e., chromic acid, nitric acid, or sulphuric acid plus peroxide, which suppliers of commercial polishes cannot include because they are too dangerous for consumers. Whereas it was practical to use chromic acid years ago, it no longer is. Nitric acid is very nasty stuff and I can't make a solid suggestion about the ratios. So I would suggest that (on an old and discardable piece of brass test metal), you try a mix of dilute sulphuric acid and hydrogen peroxide. Remember, this was written for an expert, and other readers should not attempt it without training in the potential dangers! Hydrogen peroxide (as well as chromic or nitric) is a powerful oxidant that can start fires and create explosive mixtures. Good luck!
Ted Mooney, P.E.
finishing.com
Pine Beach, New Jersey
---
February 15, 2008
A. Try next solution: 30 ml sulphuric acid
60-150 ml hydrogen peroxide
800-890 ml water
20 ml ethyl alcohol
Hope it helps and good luck!
Goran Budija
- Zagreb, Croatia
---
February 18, 2008
A. When he gets around to polishing light rings make sure his health insurance is paid and he has a ride to the hospital. And a truly devoted friend as he might also have trouble cleaning his rear end with two broken hands.
Frank DeGuire
- St. Louis, Missouri, USA
---
February 26, 2008
Q. I would appreciate your comments and I try to seek out YOUR information whenever I see you on a blog or answering a thread. I've retired and am trying to get my 6000 sq. ft. shop up and running so that I can do restorations on my cars started and finished. Some of these cars I have owned since 1964. I've been waiting 'til I retired to finish my 23 antique autos. Want to sell them to help with expenses and to pay off my home and shop...when they're finished. I have many professional questions and am desperately needing a chemical engineer friend. I seem to be getting answers from abroad and appreciate anyone's help from anywhere. I have been dipping in large tanks using 80% phos. cut down to around 10% solution since my college chemistry class in engineering school. My college professor showed me how to chemical strip after showing up dirty as I had been home wire brushing and using SLOW Naval Jelly [linked by editor to product info at Amazon] back in 1964. I have in-house buffers of all speeds and types. Am presently restoring 3 MG TD's for others. I totally re-wood all these types of auto bodies from kiln dried straight grained hardwoods. Do some casting; Digital Tig, Several mig, gas welders; hammer weld; have bridgeport 3hp. mill,monarch 14" and 7" screw laths; plasmas (3); plenishing and english wheeling machines;let alone dip tanks; gantries and lifts hyster etc. I am, I hope, a professional such as you all and would like to make friends to help me get on with frustrating problems that have been slowing me down. You have probably seen me on other blogs looking for these answers. In doing research one must test the waters and move on to find answers until they hit on what works. It's our old THINK tanks...remember those?
I desperately need help not criticism. I've buffed, silver soldered, welded using gas w/brass and flux brass headlight rings, radiators, and even spun a few parts when it was absolutely necessary. But that's another process of building a wooden or aluminum buck. Worked on IMCA and SCCA race cars for several years while in Florida for 31 years. Mcphearson College in Kansas wanted me for 3 years. They teach restoration classes and are noted for their expertise. I am not trying to brag here as there are many things I DON'T know and that is why I'm trying to reach out to our WONDERFUL people who are like me. I need friends that can answer my questions.
The computer can help me, I hope, as WE guys are not all located in the same state, country, or home town, unfortunately. Thank you everyone.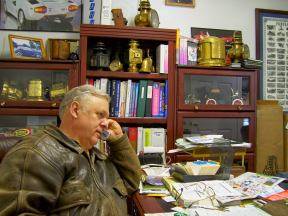 Joseph Geisler
- Branson, Missouri
---
February 26, 2008
Thanks, Joseph. I apologize if any of the responses offended you because I am certain that we all would be very impressed with your facility and the things you've accomplished there. I sincerely believe that with your decades of hands-on experience, you know a hundred times more about the subject than I ever will (or most of our readers).
I'm certainly not claiming that Brasso or Flitz will work when you've found otherwise! But when no commercial brass polish works, although they were specifically developed & marketed for this, and I'm sure the brass polish manufacturers can't all be stupid, my best guess must remain that it requires chemistry unsafe for marketing to consumers. My feeling is that a mix of sulphuric acid and peroxide will come closest to what your friend mixed all those years ago, and Goran (a metals conservator for a museum) concurred and offers a formula for you to try.
This bright dip solution (probably a bit different and with stabilizers incorporated) is commercially available from Electrochemicals in Minnesota or from John Schneider and Associates, and perhaps from other distributors of plating chemicals who may be listed in your yellow pages; it's widely used to brighten copper and brass in the electronics industry which you mentioned. Suppliers are concerned about liability and product stewardship so I don't know whether they will sell to you or if they restrict their sales to commercial metal finishing businesses. If you can't get it there, try googling 'hobby plating' and see if those suppliers have a "sulphuric-peroxide brite dip for copper & brass".
In Ellisville (near St. Louis) you will find The Goad Company, a distributor of metal finishing chemicals & equipment who may be able to provide more personal help with these issues. Please continue to post your questions and people will hopefully continue to try to answer them. Best of luck, and sorry again if it seemed like I talked down to you -- because I realize that I know little about this and you know an awful lot.
Ted Mooney, P.E.
finishing.com
Pine Beach, New Jersey
---
March 15, 2008

Thank you all for the constructive comments and leads for my antique brass lamp collection polishing. I do know that one of the dips that the fellow mixed up for me used citric acid, phosphoric and another acid. Do not know % though. This was used in getting rid of old surface tarnish prior to the brightener dip.
Will I purchase from your suppliers? You bet. But will only be in 5 gallon quantities as these lamps are not very large. I've used many of the brass polish products for sale out there but have not found any of them for professional use and are very labour intensive which I do not have time for. I do use those products effectively when going into a parade or car show to keep the polished bare brass bright. But as far as cleaning old, unpolished for many years, brass auto lamps the chemical solution is the only way to fly.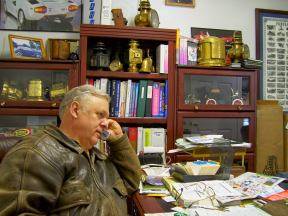 Joseph Geisler
Autoworld restorations and metal fabrication shop - Branson, Missouri, USA
---
---
May 13, 2013

-- this entry appended to this thread by editor in lieu of spawning a duplicative thread
Q. Hi- I have a 1920's brass horn for a model T that needs stripping down to the original brass finish. How to I do that chemically, as hand polishing is difficult with all of the intricate shapes and bends?
Thanks
Ronald Coburn
car restorer - Spofford, New Hampshire, USA
---
March 30, 2015
A. If the fella who needs his horn stripped in order to do work on it is STILL out there ... Sorry I did not respond sooner! I know that is silly to say BUT I failed to get a notice of a response! Sorry. The restoration business goes on and will indefinitely ... I hope.
First thing to do is to remove the finish that covers the horn. Usually it is a clear coat. Urethane, lacquer, or brown tarnish. Unless someone tried to Paint it! Usually black. I have seen corrosion so thick it appeared to be paint. I have used plain Muriatic acid to remove this coating after soaking in a paste paint remover first overnight. Then I use acetone or lacquer thinner to soak off any more top coatings. Pour a little Muriatic acid into a plastic cup or a cut off plastic pop bottle. Using a 1" flat brush I apply it to the base metal. The brown coatings will melt away BUT it also eats away at the zinc in the yellow brass turning it a slight copper color. So do not leave it on too long! This was why I asked for the formulation of a different mix in order to stop this from happening. The people who could probably help on this situation would be people who restore Musical instruments made of brass. I only knew about the BRIGHTENER I was asking about a few years ago on here to Ted as I once worked in a computer leads and plugs manufacturing facility. The chemist there and I were friends (1985) and he made up a mix for me to use on a early (09) car headlight restoration project I had at my home shop. It WORKED!!! I STILL would like to know a simple good formula as I STILL have NOT done the remaining brass restoration I have yet to do. I WILL do them though.
Years ago there was also a product from Amway that polished the brass very well. THEN... Brasso or other products would work to bring out the real shine on those early brass parts I do.
Joe in Branson, Mo. USA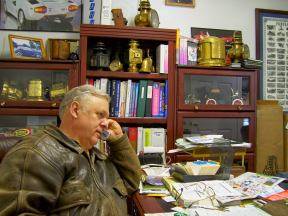 Joseph Geisler
Autoworld Corporation Inc. - Branson, Missouri USA
---
---
September 21, 2015
Q. Still needing information on a professional stripper/cleaner from a few instrument repair/ restoration facilities. Unless you read back into what I started out about 2013? -- anyway when I first started this thread.
Ted if you are still out there.... HELLO! I have not yet started on any of my brass lamps. I am NOT just fooling around but I am still in the process of finishing up my shops. It is hard to do on retirement! It is HARD to find anyone wanting to work seems like. Why is that? I thought I would be able to find people wanting to learn this trade. All I find is IF I can pay the BIG bucks then there is everyone telling me they want the job! RIGHT! NOT!!
They want the $$$ and easy work! Or a JOB! One that does simple stuff. This business has a lot of ways to ruin someone's antiques in a hurry! Telling me oops (sorry) YEAH RIGHT!!
So far, fellas I tried to work have cost me more in lost tools, broken parts, and broken promises. WAS it always like this for you fellas out there?
Joe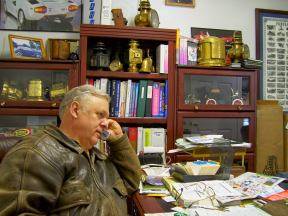 Joseph Geisler
Autoworld Corporation Inc. - Branson, Missouri
---
September 2015

Hi Joseph.
The most powerful stuff for removing organic coatings is probably aircraft stripper (methylene chloride), and it's very toxic, requiring gloves, goggles, and good outdoor ventilation. It does not damage metals.
Removing the brass tarnish probably requires -- I offer my same opinion for the 3rd time -- an oxidizing agent like nitric acid or hydrogen peroxide. Please try Goran's formula if you haven't. Good luck.
opinion! The loss of the work ethic is obviously a very complex issue. But part of the problem is the fact that survival comes first, and people need good paying work, which is impossible to find these days because we've shipped the jobs overseas to $2/hour labor. I overheard some men talking yesterday, with one saying that as a welder with 15 years experience, he simply cannot work for $9.50-$10 an hour and no benefits, but that is all he has been able to find for more than a year now ... he's right. The 0.1% and our politicians whom they've bought have a profoundly broken concept of what free trade means -- they're not talking about trading cotton for silk & spices, but about scouring the world for slave labor.
Regards,
Ted Mooney, P.E. RET
finishing.com
Pine Beach, New Jersey
Striving to live "Aloha"
---
---
Tarnish on copper impervious to everything!
November 1, 2015
Q. Hi there!

I've got an old fire extinguisher that is proving quite impossible to remove the tarnish on! I've tried a buffer with first polishing, then rubbing and finally cutting compound, then thinking it had a clear coat over it, tried paint stripper and lastly, some Tarn-X. The metal looks exactly like it did before I started, save one very small spot, which I'm unable to duplicate elsewhere.

Here's a picture of what I'm dealing with: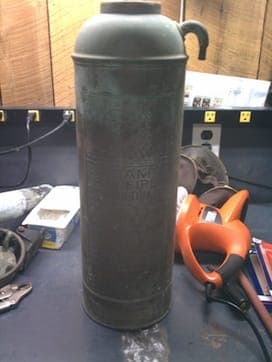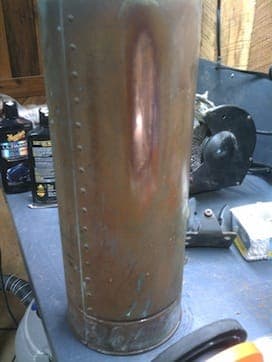 I'm waiting now on some Flitz spray but was wondering what I'm missing. I really thought that an hour of all of those attempts would net some shine.

Thanks for your time!
Jason S.
[last name deleted for privacy by Editor]
Hobbyist - Western North Carolina
---
November 4, 2015
A. You've got an ancient and heavily tarnished fire extinguished there.

Automobile buffing compounds will take a very long time to remove it.

Get a small can of Brasso, and a large supply of elbow grease.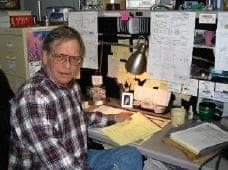 Jeffrey Holmes, CEF
Spartanburg, South Carolina
---
October 22, 2016
A. Your fire Extinguisher is EXACTLY why I asked my first question on this forum to Ted. I believe it HAS been answered above by the fella from Croatia. THANK YOU and NO I haven't tried it yet. I am still working on OTHER projects yet.
Again the first thing I would use is the Muriatic Acid and a 1" brush. See comments above. Do NOT leave it on more than a couple of minutes!! Try using some phosphoric acid with baking soda on a towel to scrub the brass. Dip the towel into the phos and then picking up a little of the baking soda and scrubbing it in small areas. Use ALL recommended safety procedures. Nitryl Gloves, face shield, and outside ventilation with a slow speed fan blowing it away from you.
I sometimes forget even though we are talking TO professionals these forums are accessible to the hobbyists.
Next USE the Brasso, Flitz, and or the other products for sale to the general public.
I am SURE that when you finish your extinguisher can body you'll understand WHY I made this post!! Now multiply your job by 4 and you will have what it takes to do only ONE early brass car!!
Good luck. Sorry if I did not answer you sooner. The forum does not send out a notice to reply.
Joe in Mo.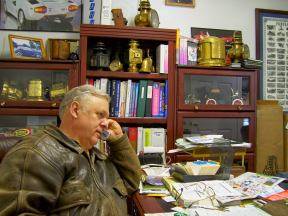 Joseph Geisler
Autoworld Corporation - Branson, Missouri USA
----
Ed. note re. 'notice to reply': If a followup question is asked of a particular person and within a reasonable time lapse, we do try to send a notice to the person who was asked the question. In this case the fire extinguisher question was not directed to Joe, and he opened the thread 8 years earlier, and so we didn't advise him. Sorry! We'll try to remember to advise you of any additions to this thread.
---
December 28, 2017
A. Me again from Autoworld in Branson, Mo.
Concerning the people who have chimed in about buffing or using Flitz or Brasso. WOW you guys have never used that stuff on any corroded brass!! If you did then I pity your arms and fingers afterwards. I have used Phosphoric acid in solutions of approximately 10 -15% with distilled water. You can find it used for bleaching potatoes for the fast food industries. Used only at the source of farm production or in the fruit cleaning... again at the farms. Brushing this onto the tarnished brass removes that brown coating in just a few minutes. Start at the top and continuing downwards rinsing the top finished cleaned brassworks clean of the acid. Any acid left on the surface is not good and turns the brass green. So remove it completely. NOW you guys and your Flitz and or Brasso can go to it with much success in bringing out the shine. This is how I have done my old brass radiators for many years. Other brass autoparts too. But this was not the answer for my original search. I was searching for a dip that would clean the whole lamp. And then a brightener.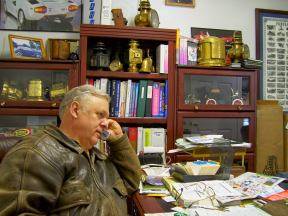 Joseph Geisler
Autoworld Corporation auto restoration - Branson, Missouri


If you have a question in mind which seems off topic, please Search the Site