Live! From beautiful Pine Beach New Jersey: Welcome to the world's most popular metal finishing website
topic 10209
Thermal blemish / discoloration on stainless steel
A discussion started in 2001 but continuing through 2019
2001
Q. I am not sure if my question falls within the scope of this forum, but I am hoping that someone would have experience with this problem.
I have a high grade stainless steel exhaust system on my motorcycle. The tubing is approximately 1mm thick, and runs the entire length from the engine manifold through to the muffler.
The problem which I am experiencing is that the surface becomes black, not reflective and pitted where the temperatures are highest. At present, I sand the tubes with progressively finer Sandpaper [linked by editor to product info at Rockler] about once every 3 months, and then polish them, but this also removes the reflective colored bits (blue and purple near the engine, gold further back), which I like and want.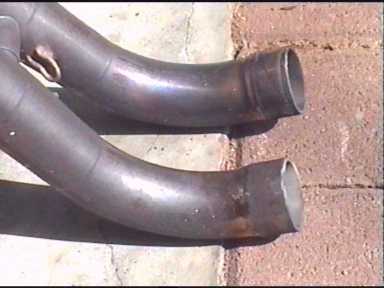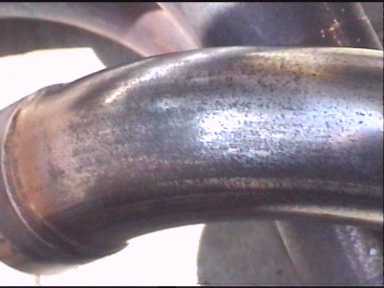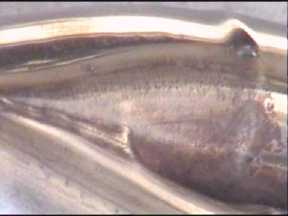 Is there any way I can coat the tubes with something after I have polished them up to prevent the matte black spots from appearing, while still allowing the reflective coloration to show through? Also, is there an easier way to remove the blemishes? I live on the coast, and have rather humid and salty air conditions. I am told that the manifold headers can get anything up to around 400 to 500 °C for however long I ride. Any help would be greatly appreciated.
Philip Kloppers
- Umtentweni, KZN, South Africa
---
---
SS Color Change of Exhaust Headers
2002
Q. I have an entire exhaust system on my car made of stainless steel (type unknown). I have polished it to a chrome finish. After several minutes of run time @ high temps the stainless will turn a gold color and finally blue. I am currently looking for a coating/fix to solve this problem. With an infrared heat gun I have measured the temp to be in excess of 600 °F. I have even seen the steel get hot enough to glow red. I have heard that coating the SS with Nickel will protect the System and that the Nickel will not change color (even at 700-800 °F). Also, what color will Nickel change to & at what temp?
Any Feedback would be appreciated before I ruin a $3000 exhaust system with a coating that doesn't solve my problem.
Thank You,
Robert Knuckey
- Peoria, Arizona, USA
---
---
Polishing Stainless Steel - Buffs and Compounds
2002
Q. Hello there,
I am currently using the following combination to polish steel (some is stainless) on an exhaust manifold.
- Stitched Sisal (very firm thick fibers) with tripoli [link to product info at Amazon by ed.]
- Loose-leaf Calico with 'Josco' SSX Compound (light green bar, contains aluminium oxide according to Josco website).
I'm achieving reasonable good results but still can not obtain a mirror shine.
The above tools/compounds are based on a few hours of internet research and it seems that perhaps I may have purchased the wrong buffs and compounds.
Here is the manifold in question: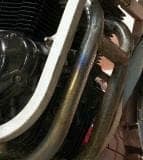 I am also having trouble removing pitting from 12 years of rust and decay.
My question is .. - What would be a better steel polishing combination ? - What method could be used to remove the minor pitting in the steel's surface ? I have tried 80 grit paper and a wire-brush attached to an angle grinder.
Please note that the rear of the exhaust appears to be stainless and has polished up quite well and my greatest concern is with the front of the pipes. Both metals are visible in the following picture: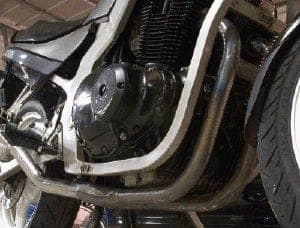 Thanks gang :)
Matt Kay
- Sydney, NSW, Australia
---
2006
Q. I am about to start polishing stainless steel headers & exhausts with no idea of what tools to get and what method to use any advice will be good advice.
Richard Gray
- Busselton, West Australia
---
---
Electropolished stainless, will it stand up to high heat?
2002
Q. My company designs and fabricates twin turbo systems for high performance automotive applications. We are using all stainless headers and exhaust hot parts. When we get these parts, they look like crap.
I'd like some way to make these pieces look much better. I've been reading about electropolishing on here and was wanting to know how it stands up to heat and what the finished product looks like? Our systems are expensive and we want them to look the absolute best they can. Other than these pieces, everything else is polished, anodized or powdercoated, this is the only area that is missing in the eye-candy area.
I'd like to have some type of a nice finish for these parts and trying to find the best method, what do you recommend? It must stand up to heat 1600-2000 degrees. If some type of electroplating won't work, is there any other way I can clean up the surface to look nicer (manual polishing) and if so will it last? Can you anodize stainless? Would it last?
Thanks,
Rad Craig
- Chouteau, Oklahoma
---
---
304 stainless exhaust header pipe turns brown
March 15, 2019
Q. I have a Ducati with a low grade stainless steel header pipe
I think its probably 304 how best to clean this?
I have blasted it clean and polished it in the past but it soon goes brown again.
Any treatment to help with this?
Steve Bailey
- wiltshire united kingdom
---
March 16, 2019

Hello,
thanks for the reply.
I wonder if I contaminated the stainless blasting if in a cabinet used for ferrous material?
will look at cleaning/pasivation.
Thanks again.
Great site can lose hours here.
steve bailey
[returning]
- wiltshire united kingdom


If you have a question in mind which seems off topic, please Search the Site