The whole world gathers in the forum to give you free finishing help!
The Hotline covers every finishing topic. No registration, no passwords.

Research anonymously with no paywalls
Scan 1/4 million anodizing, bluing, galvanizing, painting, plating, powder coating, & PVD answers.

Find a finishing product or service

Review deeper coverage in the online library

Land a good job, they're going begging!
• Junior Sales Representative -- Resintech, Camden New Jersey
• Surface Finishing (Chemical Processing) Auditor -- Traveling, PRI
• Process Engineer / Chemist -- Denver Metal Finishing

Advertise on the world's most popular finishing site
Your customers love it here.

Make a suggestion!
---
What is "Finishing" or "Metal Finishing"?
Finishing is vital to a sustainable future!
Countless billions of $$ of our modern world simply corrodes away each year -- necessitating endless re-mining of ores, smelting processes, rolling/casting, fabrication of replacements, assembly, waste of packaging materials, selling, and ultimately landfilling, with transportation cost & energy between each step. Why? Because things are lasting 2 or 3 years when they can easily last 2 or 3 decades and more!
Corrosion can be controlled by anodizing, electroplating, galvanizing, and powder coating
And it's not just the money: it's the environmental consequences, the loss of functionality, the injuries, the ugliness, the heirlooms lost, the land wasted on landfills, the accidents in transport.
Finishing is about creating a surface/skin with the properties you need
Finishing is not only corrosion protection, it's low friction for energy efficiency; low electrical resistance to enable complex electronics; resistance to microbial contamination which spreads disease; high wear resistance so things last longer and need fewer repairs; cleanable surfaces for hygiene; artful appearance ... and more.
And on a lighter note ... When Chrome Was King:
1958 Buick - The most chrome plating of any car ever :-)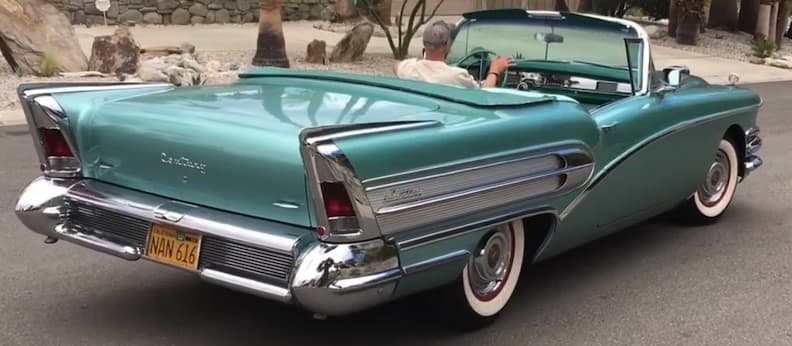 courtesy of CharlesPhoenix.com
Misc. links:
•
60,000 finishing topics.
• Stuff from
pre-internet days
•
Journals
serving the finishing industry.
• World-class Metal Finishing
Libraries
•
Organizations
serving the industry
•
News & Opinion
---