1. Participate in our HOTLINE public forum

Whether painting, plating, powder coating, PVD, anodizing, bluing, galvanizing, or any finish, this forum connects the luminaries of the finishing world for camaraderie, while offering students & hobbyists a chance to get their questions answered and share their tips.

The forum is free of spam, and offers education in an aloha & FUN atmosphere. Jump right in, no registration required.

This site is completely "mobile-friendly", so enjoy! But our forum contains tutorial sidebars plus thousands of photographs of finishes & finishing problems, so the bigger your screen, the better you'll like it :-)

We also have 60,000 older but active topics, and even stuff from our electronic BBS going back to pre-internet days.
---
2. Directories of Products & Services

These advertisers offer the jobshop finishing services that the readers require; and the products and services that finishing shops are looking for.

Jobshops Capital
Equipment Chemicals &
Consumables Consult'g, Train'g
& Software
---
3. Read FAQs about metal finishing
From school science projects to restoring worn silverplate, some questions are perennial . . .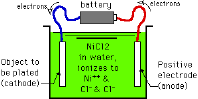 Electroplating: How It Works - Anodizing of Aluminum - Chrome Plating - Rhodium Plating & White Gold Jewelry
Silver Plating at Home - Student Science Project: What Cleans Pennies Best - other FAQs
---
4. What is "Finishing" or "Metal Finishing"?
Finishing is vital to a sustainable future!
Countless billions of $$ of our modern world simply rusts away each year -- necessitating endless re-mining of ores, smelting processes, rolling/casting, fabrication of replacements, assembly, waste of packaging materials, selling, and ultimately landfilling, with transportation cost & energy between each step. Why? Because things are lasting 2 or 3 years when they should last 2 or 3 decades!
Corrosion can be controlled by anodizing, electroplating, galvanizing, and powder coating
And it's not just the money: it's the environmental consequences, the loss of functionality, the injuries, the ugliness, the heirlooms lost, the land wasted on landfills, the accidents in transport.
Finishing is about creating a surface/skin with the properties you need
Finishing is not only corrosion protection, it's low friction for energy efficiency; low electrical resistance to enable complex electronics; resistance to microbial contamination which spreads disease; high wear resistance so things last longer and need fewer repairs; cleanable surfaces for hygiene; artful appearance ... and more.
And on a lighter note ... When Chrome Was King:
1958 Buick - The most chrome plating of any car ever :-)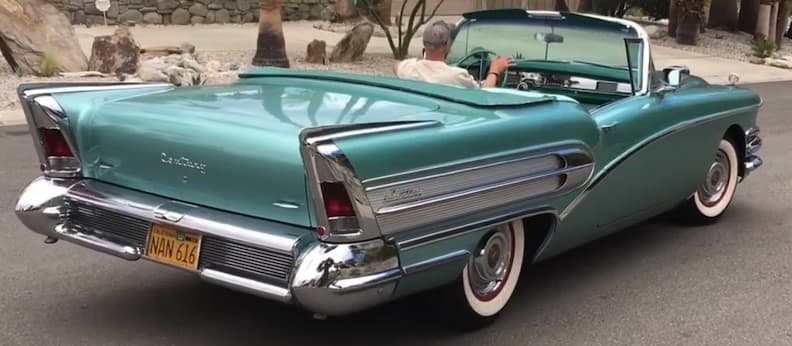 courtesy of CharlesPhoenix.com

---
Also ...
---
6. View the Help Wanteds for the Finishing Industry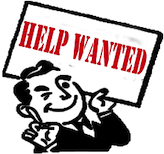 1). Mfg Engineer - Chem Engineer [Santa Rosa CA]
2). Plating Shop Manager [Salisbury, MD]
3). Junior Quality Engineer [Santa Clara, CA]
4). Plating Process Engineer [Wenatchee, WA]

---
Finishing.com is by far the world's most popular metal finishing portal and regarded by many as its most authoritative, as well as being its longest running (on the internet since 1994, and an electronic BBS for 5 years before the internet existed). Your customers like this site and want you to support it too.
All mention of your company and any postings by your people in our 50,000-page forum are hot-linked to your listing here or to your website. Banner ads (including videos if you have any on youtube) on threads related to your products & services are part of our one-price-for-the-package ($540 per year for shops & consultants, $720 per year for suppliers). All clicks are tracked so you learn what is attracting the most interest.

---