Live! From beautiful Pine Beach New Jersey: Welcome to the world's most popular metal finishing website
topic 9833
Sulfur Content in Nickel Plating
2001
Q. Does anybody know an easy way to determine the Sulfur content of semi-bright a SAE-AMS-QQ-N-290 [link by ed. to spec at TechStreet] Nickel deposit after a part has been plated (destructively or otherwise)? I am trying to determine the maximum allowable amount of Sulfur in the plating that can still be laser welded to form a hermetic seal. This would be for several different substrate types including 306L SST, 6061 Al, Kovar, Ti, etc. I know that Sulfur content is important for multilayer nickel plating; can I apply something from multilayer plating methods to my situation?
Alan Davis
- Wenatchee, Washington, USA
---
2001
ACRONYMS:
EPMA = Electron Probe MicroAnalyzer
CHNS = Carbon, Hydrogen, Nitrogen, Sulfur
A. I have analyzed the S contents in electroplated Ni alloy by EPMA and Elemental Analyzer(CHNS). I think it was satisfactory. The S contents was about 0.1 wt%.
Sang Hyun Jeon
- Osan, Korea
---
2001
A. I would think that your best bet is to plate a foil, being careful to maintain the same current density and plating parameters, then get the foil assayed for sulphur. Our lab uses a Leco low sulphur analyser to determine the sulphur level in nickel.
Don Piett
Inco Ltd - Thompson, Manitoba, Canada
---
2001
ACRONYMS:
EDX = Energy-dispersive X-ray
A. Alan,
We have our Sulfamate nickel bath analyzed monthly for "P". The method that works for us is EDX. I'm assuming you could do the same for "S". The report out will have a graph of your deposit.
Good Luck,
Mark Kruzel
MMP - El Cajon, California
---
---
August 3, 2018
ACRONYMS:
ICP = Inductively Coupled Plasma
OES = Optical Emission Spectroscopy
Q. Can we check sulfur in ICP-OES? If so, how do we check sulfur in a nickel foil?
Vignesh Mahalingam
- BENGALURU,India
---
August 3, 2018
A. Hello Mr. Mahalingam,

ACRONYMS:
AGES = A Greatly Extended Stretch :-) silly
I ran an ICP-OES for AGES looking for metals in water and sediment, never Sulfur, but a quick internet search led me to this article where it was successfully quantified in Stainless steel. Perhaps this will be a good place to begin your search:

http://chemetal-journal.org/ejournal5/CMA0105.pdf

Note in particular that there is a section about sample preparation by dissolving in mixed high-purity acids. At our lab, we always purchased our digestion acids in the form of "Trace Metals Analysis Grade", which is cleaner than ACS Reagent Grade.
Don't forget that any time you are setting up quality control for something that has been digested, you must run a digestion blank consisting of the exact digestion solution processed at the same time and under the same conditions as your samples, plus a matrix interference sample which is a duplicate of a sample that has had a known quantity of your element of interest added to it. It is perhaps overcautious, but still wise, to run fortified samples where a standard has been added before, and another one where it has been added after, digestion.
Hope that helps even a little to get you pointed in the right direction!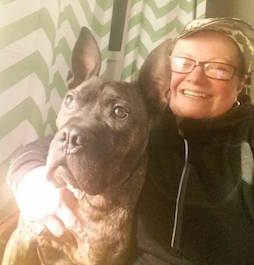 Rachel Mackintosh
Plating Solutions Control Specialist / Industrial Metals Waste Treatment - Brattleboro, Vermont
---
August 6, 2018
Q. Thanks for the reply, the article was very helpful. Just wanted to know whether there is any specific range for sulfur which should be maintained in nickel sulfamate bath.
Vignesh Mahalingam
[returning]
- BENGALURU,India
---
August 2018
A. Hi Vignesh. Are you using sulfurized anodes? Are you adding organic brighteners to the bath? Is zero stress critical, or is stress level not critical? Are you trying to do high speed plating (significantly greater than 40 ASF)? Thanks! I think topic 18596 will be interesting to you, but I don't know, and we have dozens of threads about sulfur and sulphamate nickel plating :-)
Regards,
Ted Mooney, P.E. RET
finishing.com
Pine Beach, New Jersey
Striving to live "Aloha"
---
October 28, 2018
Q. How much Sulfur content in Nickel Plating (Semi bright Nickel, Bright Nickel, High sulfur Nickel, & MPS Nickel)? How to Analyze sulfur content in nickel bath?
Rupali Patil
- Pune Pune City, Indiana
----
Ed. note: Hi Rupali. Please tell us who you are, what you do, and why you want to know. Thanks.
---
December 25, 2018
Hi Rupali,

May I know the reason you want to analyze sulfur content in nickel bath? If you aim to know whether sulfur is co-deposited with nickel then you shall apply instrumental analysis (e.g. XPS) on nickel deposit directly as bath solution contains sulfur element in compound form such as sulfate, sulphamate or sulfur containing additive which unlikely co-deposit with nickel.

Regards,
David

David Shiu
- Singapore


If you have a question in mind which seems off topic, please Search the Site