Live! From beautiful Pine Beach New Jersey: Welcome to the world's most popular metal finishing website
topic 9676
Problems with tin plating over brass
A discussion started in 2001 but continuing through 2018
2001
Q. I've been trying to tin plate some brass pieces in order to reduce soldering times. However, when the part is heated up in order to receive the solder, the tin layer starts "bubbling", leaving a very bad finish. It is necessary for our process that the surface of the part after soldering remain smooth. We've gone to several platers, and all methods utilized have the same result. One of them suggested silver-plating instead of tin-plating.
I would appreciate any advice on the matter.
Arthur F. Allen
- Barcelona, Spain
---
2001
A. You cannot plate tin directly on brass, you need a barrier like a copper deposit or nickel deposit between the brass and the tin.
Sara Michaeli
chemical process supplier
Tel-Aviv, Israel
---
2001
Q. Sara, thanks for your response. We do use a flash of copper over the brass before tin-plating, and the "bubbling" continues. Because of the electrical properties of nickel (since the part is for RF use, this is very sensitive) we have decided not to use nickel before tinning, although I understand the tin adheres better to nickel than it does to copper.
Arthur F. Allen
[returning]
- Barcelona, Spain
---
2001
A. Please can you ask if the suppliers are using acid or alkali tin plating solutions?
Martin Trigg-Hogarth
surface treatment shop - Stroud, Glos, England
---
2001
A. Mr. Allen,
Use Tin/Lead to resolve your soldering and appearance issues.
Regards,
Joel Garcia
- McAllen, Texas
---
2001
A. Try asking your supplier about "Dull Tin". We use it and it passes solderability. You still have to have a copper or nickel barrier but it works very well.
Kevin Gendron
- Trenton, Ontario, Canada
---
2001
A. If you already have a copper underlayer, the recommendation for DULL or Matte tin should solve your problem.
Sara Michaeli
chemical process supplier
Tel-Aviv, Israel
---
2001
A. Everyone is giving good advice. Always remember there is more than one correct answer to a question. The more plating experts you get, the more answers. One reason you may be experiencing problems with your present process cycle is that you say you are applying a copper flash. I assume this is from an alkaline bath. You need to plate sufficient thickness to overcome the amount of the copper plate which will be absorbed (not the technically correct phrase but descriptive). Try doubling or tripling the thickness of the copper flash. Also check your copper plating chemistry to insure that you are not depositing excessive organic compounds.
Good Luck,
Gene Packman
process supplier - Great Neck, New York
---
2001
Q. We are having exactly the same problem that Mr. Allen has - The tin plating 'bubbles' off during soldering. The substrate is MS58 brass and we have an intermediate layer of copper. Could someone explain why the tin 'bubbles' off and why a matte layer of tin should solve this problem? If the copper layer is not thick enough, what would be the right thickness?
Regards,
Mark Asciak
- Zejtun, Malta
---
June 10, 2008
A. The bubbling could be outgassing from organics in the tin OR the copper plate. Check with the supplier that they are using a pure matte copper and a pure matte tin. Also, the copper should be 100 microinches (2.5 microns) thick. If you are using a nickel barrier, the industry standard for the barrier thickness is 50 microinches (1.25 microns).

This is because the CuTin intermetallic grows at a much faster rate than NiTin intermetallic. The CuTin intermetallic is detrimental to reflow and solderability, whereas the NiSn intermetallic is not.

I worked at MacDermid Inc as a research chemist and tech service engineer for 11 years; my area of expertise was tin and tin lead plating over connectors. If you can switch to nickel, it will improve the lifespan of your parts and minimize whisker growth on connectors.

I hope this info is helpful.
Mary Puzemis
- Devens, Massachusetts
---
September 9, 2009
Q. I am having a similar issue.
We have: Zinc with Ni underplating, and SN finish.

The tin has visible "bumps" after reflow (lead-free process, 260 °C max temp). These bumps are solid Sn (cross sections confirmed no air or anything else under them - EDX).
The Sn plating is ~2.3 um, but the thickness at the 'bump' is ~23 µm (EDX)

What would cause this Sn to want to 'gather' together and from a bump?
Bob Bowler
- San Jose, California
---
March 4, 2010
Q. Is it true that Zn in the brass (CuZn) would migrate into Sn layer, when there is no Ni barrier or Ni layer is too thin, say <0.5 micron?
John Li
- Melbourne, Vic, Australia
---
March 16, 2010
Q. I am looking into lead free soldering processes and I have found visible "bumps" on connector pins after reflow (260 °C max temp).
Brass pin with Ni underplating, and Sn finish.

Seems the surface tension is gathering the melted Sn into bumps. How to minimise the amount of "free" Sn to limit this? Or would that directly cause fretting issues?

BR
M. Carlson
Mikael Carlson
- Gothenburg, Sweden
---
October 30, 2010
A. 1. if the etching process is with current, you may try to setting the current to 0.
2. set up acid active process with sulfuric acid after Etching process
Zhou Heng
- Singapore
---
---
Tin electroplating on brass problem: oxidation
September 23, 2014
-- this entry appended to this thread by editor in lieu of spawning a duplicative thread
Q. Dear sir,
We have a problem of tin plating on brass part after few days of electroplating (acid solution).
Can you find a solution for this problem? We put tin directly on brass part.
Please see photos.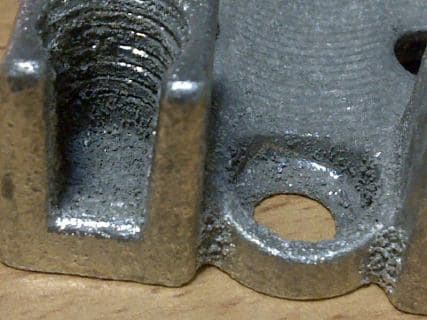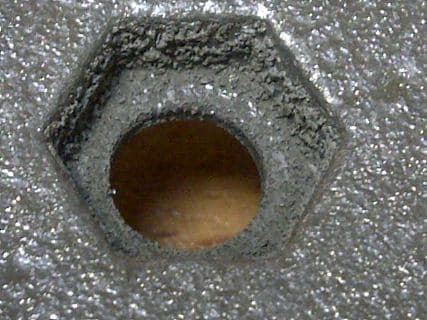 Best regards,
Faouzi Hmaied
- Grombalia, Tunisia
---
September 2014
A. Hi Faouzi. I'm not sure if you're saying that the plating solution goes bad after a few days and starts making bad parts, or whether you are saying that parts which looked okay coming out of the plating tank start turning bad in storage a few days later. It would make a big difference in my answer. I'm also not sure of the scale of these photos; a measuring tape would help. But it looks to me like you have a huge "particulates" problem, with loose fines attaching to the parts and getting occluded into the plating as extreme roughness.
Do you have anode bags on the anodes and continuous filtration in the plating bath?
We appended your inquiry to a previous thread which suggests the need for a barrier layer of copper or nickel before the tin plating, but I don't think that's the main problem here :-)
I, too, would like to hear from tin plating experts though because I find this issue very strange! Although, as I say, it looks like particulates to me, they seem to be exclusively in low current density areas. Why? Maybe I'm wrong and it's a reaction between very thin plating and the brass substrate? Those are mighty rough castings.
Regards,
Ted Mooney, P.E.
finishing.com
Pine Beach, New Jersey
---
October 24, 2014
A. Faouzi,

It's nothing else but you are stripping Zn and Cu from the brass from which impurities increase daily. You move ahead and it's getting plated in low current density areas. Initially few hours or days you must be getting good results.

As suggested by Mr. Ted, you need barrier layer before entering Acid Tin bath.
QUTUB SAIFY
- AJMAN UAE
---
October 24, 2014
A. Hello Faouzi,
The 2 previous responses revealed some good points. In troubleshooting plating problems I have always employed the process of elimination to get to the root of the problem.
1) As Ted mentioned you want to rule out particulate matter. Check the filter tubes to see if they contain insoluble matter. Anode bags must be used, and replaced when they don't drain the solution at at good rate. Pure tin anodes should be used, and they are supplied with a certification of purity.
2) Make sure you have adequate solution agitation to ensure the tin ions are being replenished at the cathode (parts).
3) In addition to a routine bath analysis, have the tin bath checked for metallic impurities such as zinc, copper and lead (if plating leaded brass). If you don't have the means to do this, send a sample out to a lab or supplier of your tin bath.
4) Be sure you are maintaining additions of your bath additives, whatever they may be.
5) Make sure your rinse tanks prior to the tin bath are clean and not loaded with metallics.
This may seem a lot to verify, but if a malfunction in the process is found, you will know how to correct the problem if it re-occurs. Good Luck!
Mark Baker
Process Engineer - Phoenix, Arizona USA
---
August 14, 2017
Hi, Faouzi..! After long years of experience: Never do tin plating directly on brass ... if you do you will meet such problems after a few days.
You should have copper plating first before tin plating.
I hope your problem will soon meet the answer.
Regards.
ASMER SIANTURI
- Bekasi, Indonesia
---
July 19, 2016
Q. I want to set up a small and not very expansive electroplating unit to plate brass strips of 20 to 26 gauge with dimension 10 mm x 50 mm, approximate number 30,000 to 50,000 per month. I want a plating that will use less soldering material and will not tarnish and will keep looking good with time. Right now i am getting it done from out side source, who does copper plating and then tin plating, but results are not very good and quality is not consistent. Can some one suggest me as to what I should do.
AMIT MATHUR
Matman Plastics, Making Junction Boxes for Solar Panel - New Delhi, India
---
September 20, 2016
Q. I'm facing Cu frame exposed on the bending lead after Trim and Form process.
How can I solve this?
Lead frame type: Cu-Ni-Cu
Plate : Sn 100% plate (solder thickness ~11um)
Process : Mold -> Sn plate -> Trim n Form
Sarul Afzan
Semiconductor Industry - Melaka, Malaysia
---
---
June 17, 2017
Q. Tin plating over terminal brass is not being successfully done; some places we find still unplated surface especially inside feed terminal mainly of small terminals like multi lock ones.
SURESH REDDY
- DELHI,INDIA
---
June 2017
A. Hi Suresh. Unfortunately I don't think you've actually provided any info yet from which people can help you try to troubleshoot. You are the plater? Send a picture of the part if you can; tell us what the tin plating process is; barrel plating vs. rack plating, etc. and we can perhaps get started. Good luck.
Regards,
Ted Mooney, P.E. RET
finishing.com
Pine Beach, New Jersey
Striving to live "Aloha"
---
July 5, 2017
Q. We are observing bubbles and surface blackening after soldering for copper, barrier nickel, flash tin plating. Can anyone guide us to resolve the issue?
Narayan Chavan
- Bangalore, karnataka, India
---
July 2017
A. Hi Narayan. Well, you can break some of the blisters and look at the underside of the blister and the surface they detached from, and tell us whether the nickel detached from copper, nickel delaminated from itself, or tin detached from the nickel -- and we can proceed from there. You can also send pictures of the blackening to , because cosmetic/aesthetic issues are difficult to cover with words alone. Good luck.
Regards,
Ted Mooney, P.E. RET
finishing.com
Pine Beach, New Jersey
Striving to live "Aloha"
---
---
July 24, 2017
Q. Hello Everyone,

We are continuously facing an issue of soldering in a terminal. We are having brass terminal & undercoat of copper which have 2 microns thickness is done over brass & after that tin plating of 7 to 9 microns is done over copper. At the time of soldering dry soldering issue is faced by us. We have checked every thing. Cleaning & plating thickness all are as per specification. Can anybody advice me on this issue??
Jaikishan Dayma
- gurgaon, Haryana, India
---
---
May 12, 2018
Q. Hi, we do tin plating on brass components, but in bend test some parts get flaking off, plating gets flaking off. Supplier does flash of copper before tin plating but problems not solved yet.
Sandip Rajput
Service in private sector - Jamnagar, Gujarat, india
---
May 2018
A. Hi Sandip. You can review this page and maybe get some ideas regarding what your supplier might be doing wrong, but the chances of solving your supplier's problem for him this way are very low. Usually your only realistic alternative is to try a different plating shop. But best of luck.
Regards,
Ted Mooney, P.E. RET
finishing.com
Pine Beach, New Jersey
Striving to live "Aloha"
---
May 19, 2018
A. Find out whether the brass is leaded. If so, dip in 30%/vol commercial fluoboric acid, then copper strike in copper fluoborate. This is because lead is insoluble in other mineral acids and cyanide copper will not stick to lead salts. The plumbing industry knows all about this.

Robert H Probert
Robert H Probert Technical Services
Garner, North Carolina
---
Plating solder over brass
August 17, 2018
-- this entry appended to this thread by editor in lieu of spawning a duplicative thread
Q. I would like to know if plating solder on brass is possible?
If yes, I'd like to know how I can do it.
Thank you.
rana fz
- tabriz, Iran
---
August 2018
A. Hi Rana. Yes, you can do tin-lead plating on brass. It's best and may be necessary to copper plate it first, before doing the tin-lead plating.
… but please introduce yourself! We don't know if you are an experienced tin-lead plater who just hasn't happened to have tried plating onto brass yet, or a very young student wanting to do a science project for school. It is very hard to tell someone "how to do it" until you give us the starting point of what you already know :-)
Regards,
Ted Mooney, P.E. RET
finishing.com
Pine Beach, New Jersey
Striving to live "Aloha"


If you have a question in mind which seems off topic, please Search the Site