topic 9341
Iridescent yellow finish for stainless steel
adv.
(2001)
I am trying to find out if there is any passivation method for stainless steel that produces an iridescent yellow finish similar to a zinc yellow dichromate. I've tried looking in all of the specifications I could find but I haven't found anything. Anybody?
Ruth Zelaya
Maintenance Services - LIC, New York
---
(2001)
Hello Ruth!
Well, I've never seen one, and I don't think that standard chromate treatments like Alodine will stick to stainless steels: but I'm not sure that means they can't exist. My cynical nature would be aroused by such an observation, and I'd suspect I might have been given a plated rather than a passivated part, especially if this is on a small, common, commercial item like washers or fasteners. Any way you can do a quick analysis? Even grind off the yellow, and try copper sulfate, or use a magnet if the stainless part was supposed to be non-magnetic, might tell you something.
Write back with more info, and I'll reply more...
Good luck!

Lee Gearhart
metallurgist
---
(2001)
adv.
We decided to spend some time investigating this problem, and after a month of research and testing developed the process of color passivation for stainless steel. We can produce yellow, gray, brown, blue, and other shades.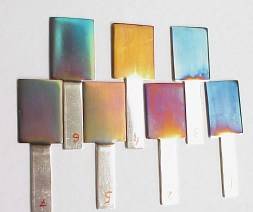 Besides color, this method increases corrosion resistance due to thick passivating film. The process is ecologically clean.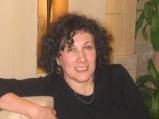 Anna Berkovich
Russamer Labs
Pittsburgh, Pennsylvania


This public forum has 60,000 threads. If you have a question in mind which seems off topic to this thread, you might prefer to Search the Site