Education, Aloha, & Fun
A roundtable with 60,000 topics and a seat for you
topic 7352
Seeking Iridescent Paint or Powder Coating
Current questions:
September 27, 2020
-- this entry appended to this thread by editor in lieu of spawning a duplicative thread
Q. One of my customer wants to setup a plant for Rainbow coating of his Buckles for bags and belts. The raw material is SS 304 and 202 grades and also Brass.

I am not aware of this process but I have seen some pictures in Google.

Am more interested to know and setup plants for that.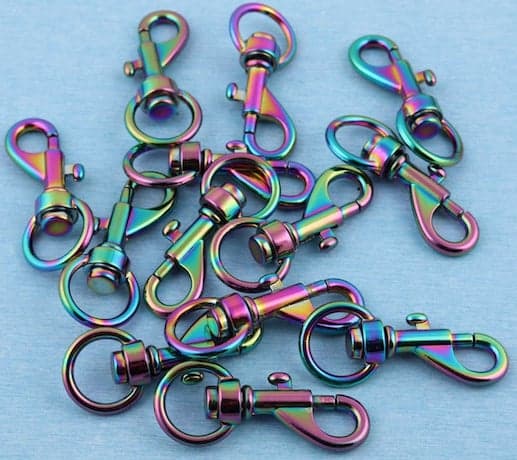 Kindly help.
DHANASEKAR DACKSHINAMOORTHY
- Chennai India
---
---
November 10, 2020
Q. Is it possible to get the rainbow oil slick look on acrylic plastic tumblers ?
Shustine mock
- Portland Oregon
---
---
---
Previous closely related Q&A's starting in:
1998
Q. I am fashioning 1/4 in. steel round stock pieces into the shape of a 20 inch hummingbird. What would you recommend to get an iridescent green or blue finish on the steel? I want the color to look like the actual color(s) of a hummingbird. Thank you.
Jon Cookson
Creative Metalworks - Norfolk, Virginia
---
1998
A. Dear Jon, Without giving you an exact supplier name, I can tell you that if you call a number of powder suppliers you will find that one in particular has a niche for this type of product. Remember that powder suppliers each seem to have their own niche for a property of powder I.E. wrinkle, transluscents, clears, textures, veins, etc.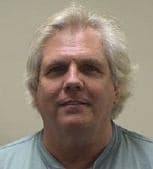 Bob Utech
Benson, Minnesota

A Guide to High Performance Powder Coating
by
Bob Utech
[affil. link to Amazon]
---
---
1999
Q. I am looking to furnish my living with karma light iridescent color. Can you please give me some direction on where to search. Thank you
juana diaz
---
---
2000
Q. I am looking for an iridescent paint called 280 Chromolair. Web searches returned no info. Does anyone know about this Product?
Jeff Waggoner
- Cincinnati, Ohio
---
---
2000
Q. I would like to know where I can find iridescent powder for powder coating. We are wanting to experiment with this for one of our products.
Becky Tharp
- Oak Ridge, Tennessee
---
2000
A. There are several manufacturers of the powder you seek, Valspar, PPG One Source, Tiger Drylac to mention a few. Look under the suppliers section of finishing.com for companies that support this web site and you may find additional companies that also can assist you. Good Luck.
Tyrone l. Caley
- Jefferson City, Missouri
---
---
2001
Q. To whom it may Concern,
I am looking for an iridescent paint to paint on metal. I am not faring too well with a spot to start. I have contacted some of the powder paint suppliers and they don't have what I want. I need to be able to spray this on with an air gun.
Please respond back to me as I would love to try some of this out or find a supplier that would carry this paint.
Thank you
Mert W
[last name deleted for privacy by Editor]
- Praire du Chien Wisconsin
---
2001
A. Dear Mert,
One good way to achieve an iridescent look would be to topcoat with a clear lacquer and put lots of thinner in the mix. This will cause the rainbow effect you are looking.

adv.
If you are looking for a metallic coating to achieve this effect, you can take a look at our website, then contact us via email or call us. Hope this helps,
Sincerely,
Jake Koch
G. J. Nikolas &Co.,Inc.

Bellwood, Illinois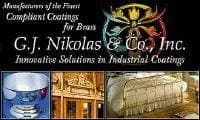 ---
2001
A. There is a type of paint called Chroma-lusion (Dupont), Kameleon and others (PPG, Sherwin Williams). It changes through five different colors and they have about 60 different combinations. cost is about $40/2 oz. Any automotive paint supplier should carry it. Has to be seen in person to get the full effect.
One manufacturer supplies the plates to all the paint makers.
David D
[last name deleted for privacy by Editor]
- Rochester New York USA
---
2002
A. Try House of Kolor =>

I'm not sure what you mean by iridescent but these people will have it. Good Luck, --Tony
tony thomas
- Spring Green, Wisconsin USA
---
April 5, 2008
A. There is a company which specializes in very colorful car paint. It has a line of sprays in all sorts of dichroic colors. A sample kit is around $100. Their name is Alsa Corp.
Anne Y
[last name deleted for privacy by Editor]
- Bellows Falls, Vermont
---
---
To minimize search efforts and to offer multiple viewpoints, we combined previously separate threads onto this page. Please forgive any resultant repetition, failures of chronological order, or what may look like readers disrespecting previous responses -- those other responses may not have been on the page at the time :-)
---
---
2001
Q. I would love to paint the interior walls of my house with an iridescent paint! Not metallic but possibly pastel colors or white with the iridescent look. Can anyone please tell me how to do this? Is it difficult?
Thank you for any help you can offer!
Michelle Martin
- Kettering, Ohio
---
2001
A. By coincidence, I was thumbing through Good Housekeeping today and there was an ad from TruValue Hardware Stores for paint supplies describing how to get some of the weird effects like skyscapes with clouds, flocked finishes, etc.
They showed one that was sort of iridescent, I guess. It involved two layers of paint, close in shade. The slightly paler color was put on first, then the second coat was an enamel in a very slightly darker shade and put on with a rag so that the background color showed through to varying degrees, giving a luminous look. The top coat was actually comprised of one part enamel to two parts of what they called 'glaze' but I don't know exactly what 'glaze' is--perhaps an enamel with no pigment?--but hopefully TruValue will.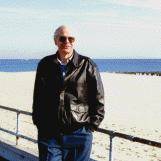 Ted Mooney, P.E.
finishing.com - Pine Beach, New Jersey
Striving to live Aloha
---
2001
A. You have to first paint the wall a flat color of your choice, you can finish over it with a glittering clear acrylic paint, you can find the sample of what you like in a craft store near you (like Michaels) and take it to a hardware store (like Home Depot) to find the match. If you like you can also sponge a darker glaze over it, if you have Home Depot in your area check for accent and texture paints, they have a bunch of brochures and guides for all sorts of beautiful artistic finishes.
Anahita
- San Diego, California
---
March 1, 2011
Q. I want iridescent paint too.
KC Jones
- Bedford, Texas and USA
---
---
2007
Q. I'm working on a project for my chemistry I, and The title for it is "How Does Iridescent Paint Work?" I've looked up on many different websites and was hoping that you would be able to help me out! Thank you so much!
C-C L
[last name deleted for privacy by Editor]
student - Madison, Wisconsin, Dane County
---
2007
A. I can't speak for a given manufacturer about how their paint works, C-C, but Jake has told you how it is generally achieved (very thin layer of clear coat lacquer), and I can point you to info about the general principle of iridescence -- which applies to oil sheen on water, the rainbow colors reflected off a CD or DVD, the funny pink-green-purple colors you see in some new automotive headlights, and the many other cases where you see rainbow like reflections.
Iridescence is also seen in carnival glass. Good luck.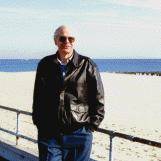 Ted Mooney, P.E.
finishing.com - Pine Beach, New Jersey
Striving to live Aloha
---
July 8, 2008
A. They add pearl dust to paint to get the effect.
Ryan Turcot
- Ashcroft, BC, Canada
---
December 4, 2015
A. Another manufacturer for special effect paints, especially dichroic effect is Stardust Colors SAS, St. Laurent, France, stardustcolors.co.uk
They propose a few dichroic effects:
- prismatic (create a rainbow reflection), available in particles size from 200µ to 12µm (that is the size of a blood cell)
- chameleon paints (creating color changing effects - from 2 to 5 colors) depending on the angle of view
PEREZ GUILLAUME
ARCO IRIS - ST LAURENT, FRANCE
---
---
January 4, 2019
Q. Hi,

I know this thread is very old, but I'm desperately searching for a truly clear iridescent coating to restore glass antiques. I'm not looking for the color-changing metallic look like on auto paint that most people today consider iridescent.

Your comment about thinning lacquer caught my attention as most likely to be what I'm after. But could you be so kind as to be more specific? Such as, is it nitrocellulose lacquer? Or acrylic / water based? Some other type?

And is it actually lacquer thinner I should use, or some other solvent like acetone? And what target ratio of lacquer to thinner are we aiming for? 1:3 or 1:5 or 1:10 or what?

Your kind advice will be very much appreciated, thanks!
Jerry McDonald
Brazos Valley Antiques - Waco, Texas USA
---
---
Rainbow "oil slick" coating on pottery and plaster items
April 14, 2019
Q. Hi everyone. I've been reading this thread with much interest. I thought it might hold the answer to a question I've been searching for but alas not.
I have this lovely ornament (I'm thinking it's made from pottery or plaster) of a sardine that I bought in Croatia (I think). The paint effect on it is simply lovely and I would love to try and recreate it on some concrete or plaster surfaces of small items that I make.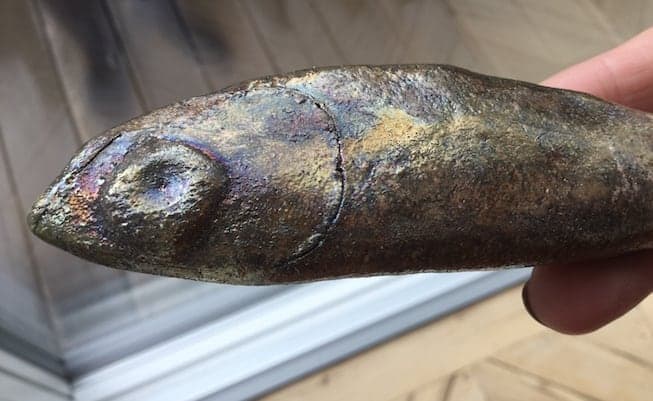 I've no idea how to do it though. Is it heat generated perhaps (painting a metallic finish then heating it?) or is it dipped in a petrol on water kind of coating maybe? I simply don't know?!
Does anyone have any thoughts or suggestions for me to try? I would be soooo happy if you could help! X
Wendy Robson
- Newcastle upon Tyne, UK
---
April 2019
A. Hi Wendy. The general "oil slick" look is the result, as we have mentioned, of a very thin translucent coating such that some of the incident light reflects from the outside of the coating and some of it passes through the coating and reflects from the base, and the two portions of the reflected light interfere, canceling out some wavelengths. Where the coating is thicker it's one color, and where it's thinner it's another.

Carnival Glass
But trying to determine exactly how it was done is not always easy. In the case of titanium it's done by electrically building an anodized layer of varying thickness; in the case of pretty copper items it's done by applying oil and torch drying it to different thicknesses, in the case of carnival glass it's done with a thin metallic salt bath before final firing.
Although I have no actual knowledge of the method used for your piece, if it's pottery/plaster I doubt that either anodizing or torching would be employed. That leaves me thinking it was probably made the way "carnival glass" is made. You can probably google quite a bit about that. Good luck.
Regards,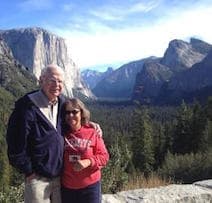 Ted Mooney, P.E. RET
finishing.com - Pine Beach, New Jersey
Aloha -- an idea worth spreading
---
---
To minimize search efforts and to offer multiple viewpoints, we combined previously separate threads onto this page. Please forgive any resultant repetition, failures of chronological order, or what may look like readers disrespecting previous responses -- those other responses may not have been on the page at the time :-)
---
---
November 11, 2019
Q. I know many people have been asking questions to learn process, techniques and find coatings for creating iridescence on this forum.
I have also seen some experts have suggested lacquer with a lot of thinner creates iridescent coating... I would like put forward results of my experiments.
Lacquer: Lacquer thinner
1:1 does not cause iridescence
1:2 does not cause iridescence
1:3 does not cause iridescence
1:4 does not cause iridescence
1:6 does not cause iridescence
1:6 does not cause iridescence
Lacquer: Paint Thinner
1:1 causes lacquer to lump up, and is not even soluble...
If anyone has any better suggestions please post them here.

I have pictures of my experiments that I would like to post but don't know how.
Harry Udhwani
- St Thomas, US Virgin Islands
----
Ed. note: Email photos to mooney@finishing.com for posting here.
---
January 23, 2020
A. Hello Jerry McDonald!

I don't know whether you ever found an answer for your question about iridizing glass.

Firstly, just in case:
-- Iridescence is caused by the refraction of light through "micro-prisms" (my word) formed by structural unevenness of the surface of a material that cause the light to bounce around in a way that breaks white light into its visible constituent wavelengths.
-- Attempts to reproduce that effect seek to duplicate those "micro-prisms".
-- TRUE iridized glass is made by coating the still-hot glass with metal salts, and then giving the glass a final firing to create the refraction, i.e. the iridizing effect, by disturbing the surface enough for "micro-prisms" to form. The crystalline nature of the micro-structures is critical to the extent and quality of the refraction.
-- To be honest, as a glass artist, it seems to me that "painting" the glass parts of antiques would be analogous to dipping a coin from Ancient Greece in chemical tarnish-remover bought at the local "mega-mart".

If your item uses flat pieces of glass, it'd be best to have them replaced, by an artisan, using actual iridized glass, which comes in 2mm-thick and 3mm-thick sheets; there might be 1-mm sheets?, but I'd have to check on that to be sure. If the objects to be restored have rounded glass parts, look into the possibility of having the glass parts made to order by a Glass Artist who can use Fuming to achieve a true iridized finish.

But, if this is for your own decor, and you'd be satisfied with a painted-on coating:

Look for iridescent medium/paints in good Artist's Supply shops and in Stained-Glass Supply shops, either in your area or on-line, as you prefer. The latter would probably be a better resource.

There are some articles online that describe using a applying "glaze" (thinned clearcoat), letting it become semi-dry, and then using a trowel/large palette knife to apply additional thinned topcoat in a "hatchmark" type of pattern, so that the resulting surface-structure bounces light around is a way similar to those "micro-prisms". I'm highly skeptical and would have to see it to believe it - I think the effect would be more silk-like, rather than "iridescent".

I also did see something about using lacquer. I assume that the "highly thinned lacquer" is supposed to dry with enough surface unevenness to create the iridescent effect, but *IF* it works at all, I think it'd be more by accident than by design. This *might* work with optical acrylic, but actual *natural* lacquer (i.e., the stuff made by the Laq beetle, harvested, and re-suspended in ethanol), well, I've worked with that, and I don't really believe it has much potential for iridescence, even though it *can* be smoothed to give wood a nearly-glass-like finish.

I think it would refer specifically to Nitrocellulose Lacquer, which is the glass-like finish seen on some musical instruments and antique furniture. You could try a very light "sputtering" spray of clear coating to only add a small number of tiny droplets at a time in layer after layer after layer, allowing each layer to dry in between. Note that word "nitrocellulose" - yes, it's flammable and requires care, AND a still and *very clean* environment. And that many layers takes a loooooong time. Agaiin, I remain skeptical and would have to see it to believe it.

I also saw some things on-line called "iridescent topcoat", "iridescent clear-coat", and "iridescent medium". If you're not going to have the glass parts replaced, look up those and similar terms.
Kris Krieger
- Houston, Texas, USA
---
September 2020
A. Thanks Kris. Lots of good info in your posting. However, I don't think 'micro prisms' is quite the clearest explanation. Rather when you have a transparent/ clear coating on a reflective object, whether it's an organic coating or a transparent oxide like titanium metal can acquire, a portion of the light landing on it reflects off the outside of the clear coating, and a portion of it travels a bit further and reflects off the surface of the object under the clearcoat. If the coating is very thin (partial wavelength thickness), the two reflected streams of light are out of phase with each other because one traveled further -- and the two halves of the light "interfere" strengthening the greens and cancelling the reds, or strengthening the red and cancelling the greens, etc.
In the case of titanium, many different very consistent colors are obtainable by varying the anodizing voltage, which builds this transparent oxide film to different thicknesses.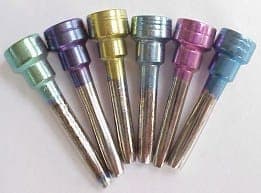 (Courtesy of Russamer Lab [a finishing.com supporting advertiser])
But if you do something that results in a randomly varying film thickness (but still partial wavelength) you get rainbows like an oil slick on a mud puddle.
Luck & Regards,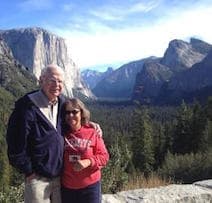 Ted Mooney, P.E. RET
finishing.com - Pine Beach, New Jersey
Aloha -- an idea worth spreading
---
---
Neo-Chrome Plating
February 4, 2020
Q. Hello,

I would like to get advice from the finishing experts about the neo-chrome plating / rainbow plating processes which was easy to find it from automotive parts like wheels, exzos, covers, etc.

We could see the references from youtube as below link.

It seems to be done by dipping on chrome plated surface.
Can any expert provide some details on this plating processes either the chemical that can be used in plastic and metals.
Aside, where could I get this type of chemical.
Thank you and hope the experts could share some information.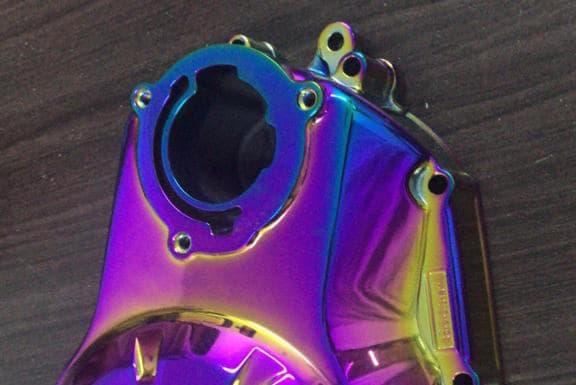 Warmest Regards,
Jay Chuah
Hobbyist - Malaysia
---
February 2020
A. Hi Jay. I can't speak for the manufacturer, but I think that "Neo-chrome" is their trade name for their chrome-look paint, rather than their iridescent process. Chrome look paint is available from a half dozen different suppliers, and involves a base coat of paint, followed by the reflective layer which may be either two-component silvering (silver nitrate plus an oxidizing agent) as is used in making mirrors, or tiny aluminum flakes, followed by a final clear coat. But optimizing the formulations of these three layers is the result of a lot of research & development.
The iridescent coating is some sort of clear coat, but rainbow coatings are also available from many vendors offering different technologies. I don't know whether this clearcoat is organic, or silicate, or zirconium or what. But the principal is that very thin clear coatings of varying thickness will cause a rainbow effect as light bouncing off the top of the clear coating interferes with the light reflected off the substrate. We cannot post actual formulations of this clearcoat anyway as we can't know he legitimacy of a poster's knowledge, and must be careful to avoid crowdsourcing industrial espionage.
Regards,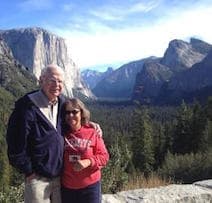 Ted Mooney, P.E. RET
finishing.com - Pine Beach, New Jersey
Aloha -- an idea worth spreading
---
February 15, 2020
A. Hello Jay Chuah!

I did some rummaging around on the 'net. For automotive applications, I did find "car wrap" called "iridescent chrome film" that comes in several colors - $400 USD for a 5' x 60' roll. It looks like the laser-etched wrapping paper and similar refractive items, so I assume it's a laser-etched plastic film.

Otherwise, I'm commenting from an "artsy" person's perspective, not a technical one, so I don't know whether the following will help; but at the very least, there might be some ideas for searches, so here goes:

The three methods I know of for creating iridescence are [1] vacuum vapor deposition of a very thin layer of heated metal, [2] use of some form of interference pigment, and [3] finely-etching a material's surface.

None is a plating technique, as I understand the term.

(At the very end, I add a fourth method, because I just found out about it a little while ago!)

The proverbial rub with interference pigment is that it usually only involves two, or at most three, color-shifts. For example, green to violet, or blue to red. Not the full 'rainbow'. But its advantages are that it's available, it's fairly cheap, and especially, it's easy to use since it only needs to be mixed into a clear medium - it's even used in nail polish! You can buy interference pigments online.

Some potentially-useful information links for vapor deposition:
https://www.youtube.com/watch?v=-59VAnvAGLI (a 'video', more like animated flashcards, showing the basics of the vapor deposition process)
https://www.cloudynights.com/topic/615319-vapor-deposition-chamber-anyone-want-to-try-doing-a-diy-on-one/

Re: etching, you might enjoy some of these:
https://gizmodo.com/scientists-create-beautiful-iridescent-material-that-co-1825115747
From what I could find, the iridescence of truly-antique glass is due to physical etching by fine particles. I looked around for info on how to do this on purpose, but had no success - at least, not yet. I did see one example of acid-etching ceramic glaze to get a somewhat-iridescent effect. And, of course, laser-etching was mentioned at the beginning.

[4] controlled chemical oxidation to create an iridescent patina on metal - this appears to be via oxidation, rather than via chemical etching:
https://www.ganoksin.com/article/iridescent-patina-recipe/
I have no idea whether this would work on chrome, though.

Best of luck with finding what you need :)
Kris Krieger
- Houston, Texas USA
---
March 2020

Nice exposition, Kris!
Here I thought it was always a clear coating (whether organic or a transparent metal oxide), but that's actually only one of several ways iridescence can be achieved. Thanks!

Regards,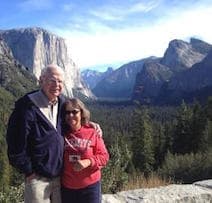 Ted Mooney, P.E. RET
finishing.com - Pine Beach, New Jersey
Aloha -- an idea worth spreading
----
Ed. note: This thread focuses mainly on using lacquers, paints, powder coatings, dips in metallic salts, etc. to create iridescent/rainbow/"oil slick" coatings.
It is also possible to anodize titanium or titanium coatings to build such coatings from titanium oxide; thread 33644 focuses on that.