60,000 Q&A topics -- Education, Aloha, & Fun
topic 7352
Seeking Sprayable Iridescent Paint
A discussion started in 2001 but continuing through 2020
2001
Q. To whom it may Concern,
I am looking for an iridescent paint to paint on metal. I am not faring too well with a spot to start. I have contacted some of the powder paint suppliers and they don't have what I want. I need to be able to spray this on with an air gun.
Please respond back to me as I would love to try some of this out or find a supplier that would carry this paint.
Thank you
Mert W
[last name deleted for privacy by Editor]
- Praire du Chien Wisconsin
---
2001
A. Dear Mert,
One good way to achieve an iridescent look would be to topcoat with a clear lacquer and put lots of thinner in the mix. This will cause the rainbow effect you are looking. If you are looking for a metallic coating to achieve this effect, you can take a look at our website, then contact us via email or call us. Hope this helps,
Sincerely,
Jake Koch
G. J. Nikolas &Co.,Inc.

Bellwood, Illinois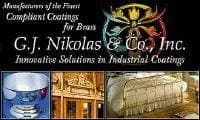 ---
2001
A. There is a type of paint called Chroma-lusion (Dupont), Kameleon [linked by editor to product info on Amazon] and others (PPG, Sherwin Williams). It changes through five different colors and they have about 60 different combinations. cost is about $40/2 oz. Any automotive paint supplier should carry it. Has to be seen in person to get the full effect.
One manufacture supplies the plates to all the paint makers.
David D
[last name deleted for privacy by Editor]
- Rochester New York USA
---
2002
A. Try House of Kolor =>

I'm not sure what you mean by iridescent but these people will have it. Good Luck, --Tony
tony thomas
- Spring Green, Wisconsin USA
---
April 5, 2008
A. There is a company which specializes in very colorful car paint. It has a line of sprays in all sorts of dichroic colors. A sample kit is around $100. Their name is Alsa Corp.
Anne Y
[last name deleted for privacy by Editor]
- Bellows Falls, Vermont
---
2007
Q. I'm working on a project for my chemistry I, and The title for it is "How Does Iridescent Paint Work?" I've looked up on many different websites and was hoping that you would be able to help me out! Thank you so much!
C-C L
[last name deleted for privacy by Editor]
student - Madison, Wisconsin, Dane County
---
2007
A. I can't speak for a given manufacturer about how their paint works, C-C, but Jake has told you how it is generally achieved (very thin layer of clear coat lacquer), and I can point you to info about the general principle of iridescence -- which applies to oil sheen on water, the rainbow colors reflected off a CD or DVD, the funny pink-green-purple colors you see in some new automotive headlights, and the many other cases where you see rainbow like reflections.
Iridescence is also seen in carnival glass. Good luck.
Ted Mooney, P.E.
finishing.com - Pine Beach, New Jersey
Striving to live Aloha
---
July 8, 2008
A. They add pearl dust to paint to get the effect.
Ryan Turcot
- Ashcroft, BC, Canada
---
December 4, 2015
A. Another manufacturer for special effect paints, especially dichroic effect is Stardust Colors SAS, St. Laurent, France, stardustcolors.co.uk
They propose a few dichroic effects:
- prismatic (create a rainbow reflection), available in particles size from 200µ to 12µm (that is the size of a blood cell)
- chameleon paints (creating color changing effects - from 2 to 5 colors) depending on the angle of view
PEREZ GUILLAUME
ARCO IRIS - ST LAURENT, FRANCE
---
---
January 4, 2019
Q. Hi,

I know this thread is very old, but I'm desperately searching for a truly clear iridescent coating to restore glass antiques. I'm not looking for the color-changing metallic look like on auto paint that most people today consider iridescent.

Your comment about thinning lacquer caught my attention as most likely to be what I'm after. But could you be so kind as to be more specific? Such as, is it nitrocellulose lacquer? Or acrylic / water based? Some other type?

And is it actually lacquer thinner I should use, or some other solvent like acetone? And what target ratio of lacquer to thinner are we aiming for? 1:3 or 1:5 or 1:10 or what?

Your kind advice will be very much appreciated, thanks!
Jerry McDonald
Brazos Valley Antiques - Waco, Texas USA
---
---
November 11, 2019
Q. I know many people have been asking questions to learn process, techniques and find coatings for creating iridescence on this forum.
I have also seen some experts have suggested lacquer with a lot of thinner creates iridescent coating... I would like put forward results of my experiments.
Lacquer: Lacquer thinner
1:1 does not cause iridescence
1:2 does not cause iridescence
1:3 does not cause iridescence
1:4 does not cause iridescence
1:6 does not cause iridescence
1:6 does not cause iridescence
Lacquer: Paint Thinner
1:1 causes lacquer to lump up, and is not even soluble...
If anyone has any better suggestions please post them here.

I have pictures of my experiments that I would like to post but don't know how.
Harry Udhwani
- St Thomas, US Virgin Islands
----
Ed. note: Email photos to mooney@finishing.com for posting here.
---
January 23, 2020
A. Hello Jerry McDonald!

I don't know whether you ever found an answer for your question about iridizing glass.

Firstly, just in case:
-- Iridescence is caused by the refraction of light through "micro-prisms" (my word) formed by structural unevenness of the surface of a material that cause the light to bounce around in a way that breaks white light into its visible constituent wavelengths.
-- Attempts to reproduce that effect seek to duplicate those "micro-prisms".
-- TRUE iridized glass is made by coating the still-hot glass with metal salts, and then giving the glass a final firing to create the refraction, i.e. the iridizing effect, by disturbing the surface enough for "micro-prisms" to form. The crystalline nature of the micro-structures is critical to the extent and quality of the refraction.
-- To be honest, as a glass artist, it seems to me that "painting" the glass parts of antiques would be analogous to dipping a coin from Ancient Greece in chemical tarnish-remover bought at the local "mega-mart".

If your item uses flat pieces of glass, it'd be best to have them replaced, by an artisan, using actual iridized glass, which comes in 2mm-thick and 3mm-thick sheets; there might be 1-mm sheets?, but I'd have to check on that to be sure. If the objects to be restored have rounded glass parts, look into the possibility of having the glass parts made to order by a Glass Artist who can use Fuming to achieve a true iridized finish.

But, if this is for your own decor, and you'd be satisfied with a painted-on coating:

Look for iridescent medium/paints in good Artist's Supply shops and in Stained-Glass Supply shops, either in your area or on-line, as you prefer. The latter would probably be a better resource.

There are some articles online that describe using a applying "glaze" (thinned clearcoat), letting it become semi-dry, and then using a trowel/large palette knife to apply additional thinned topcoat in a "hatchmark" type of pattern, so that the resulting surface-structure bounces light around is a way similar to those "micro-prisms". I'm highly skeptical and would have to see it to believe it - I think the effect would be more silk-like, rather than "iridescent".

I also did see something about using lacquer. I assume that the "highly thinned lacquer" is supposed to dry with enough surface unevenness to create the iridescent effect, but *IF* it works at all, I think it'd be more by accident than by design. This *might* work with optical acrylic, but actual *natural* lacquer (i.e., the stuff made by the Laq beetle, harvested, and re-suspended in ethanol), well, I've worked with that, and I don't really believe it has much potential for iridescence, even though it *can* be smoothed to give wood a nearly-glass-like finish.

I think it would refer specifically to Nitrocellulose Lacquer, which is the glass-like finish seen on some musical instruments and antique furniture. You could try a very light "sputtering" spray of clear coating to only add a small number of tiny droplets at a time in layer after layer after layer, allowing each layer to dry in between. Note that word "nitrocellulose" - yes, it's flammable and requires care, AND a still and *very clean* environment. And that many layers takes a loooooong time. Agaiin, I remain skeptical and would have to see it to believe it.

I also saw some things on-line called "iridescent topcoat", "iridescent clear-coat", and "iridescent medium". If you're not going to have the glass parts replaced, look up those and similar terms.
Kris Krieger
- Houston, Texas, USA
---
Neo-Chrome Plating
February 4, 2020
Q. Hello,

I would like to get advice from the finishing experts about the neo-chrome plating / rainbow plating processes which was easy to find it from automotive parts like wheels, exzos, covers, etc.

We could see the references from youtube as below link.

It seems to be done by dipping on chrome plated surface.
Can any expert provide some details on this plating processes either the chemical that can be used in plastic and metals.
Aside, where could I get this type of chemical.
Thank you and hope the experts could share some information.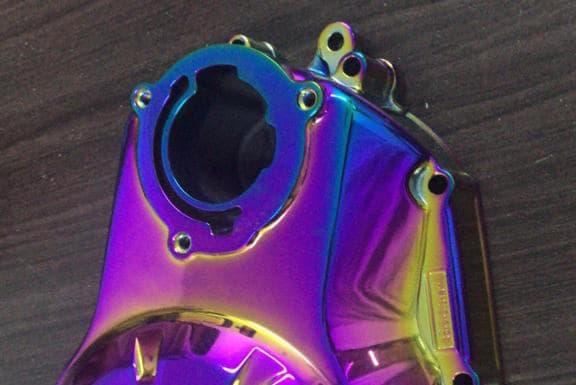 Warmest Regards,
Jay Chuah
Hobbyist - Malaysia
---
February 2020
A. Hi Jay. I can't speak for the manufacturer, but I think that "Neo-chrome" is their trade name for their chrome-look paint, rather than their iridescent process. Chrome look paint is available from a half dozen different suppliers, and involves a base coat of paint, followed by the reflective layer which may be either two-component silvering (silver nitrate plus an oxidizing agent) as is used in making mirrors, or tiny aluminum flakes, followed by a final clear coat. But optimizing the formulations of these three layers is the result of a lot of research & development.
The iridescent coating is some sort of clear coat, but rainbow coatings are also available from many vendors offering different technologies. I don't know whether this clearcoat is organic, or silicate, or zirconium or what. But the principal is that very thin clear coatings of varying thickness will cause a rainbow effect as light bouncing off the top of the clear coating interferes with the light reflected off the substrate. We cannot post actual formulations of this clearcoat anyway as we can't know he legitimacy of a poster's knowledge, and must be careful to avoid crowdsourcing industrial espionage.
Regards,
Ted Mooney, P.E. RET
finishing.com - Pine Beach, New Jersey
Aloha -- an idea worth spreading
---
February 15, 2020
A. Hello Jay Chuah!

I did some rummaging around on the 'net. For automotive applications, I did find "car wrap" called "iridescent chrome film" that comes in several colors - $400 USD for a 5' x 60' roll. It looks like the laser-etched wrapping paper and similar refractive items, so I assume it's a laser-etched plastic film.

Otherwise, I'm commenting from an "artsy" person's perspective, not a technical one, so I don't know whether the following will help; but at the very least, there might be some ideas for searches, so here goes:

The three methods I know of for creating iridescence are [1] vacuum vapor deposition of a very thin layer of heated metal, [2] use of some form of interference pigment, and [3] finely-etching a material's surface.

None is a plating technique, as I understand the term.

(At the very end, I add a fourth method, because I just found out about it a little while ago!)

The proverbial rub with interference pigment is that it usually only involves two, or at most three, color-shifts. For example, green to violet, or blue to red. Not the full 'rainbow'. But its advantages are that it's available, it's fairly cheap, and especially, it's easy to use since it only needs to be mixed into a clear medium - it's even used in nail polish! You can buy interference pigments online.

Some potentially-useful information links for vapor deposition:
https://www.youtube.com/watch?v=-59VAnvAGLI (a 'video', more like animated flashcards, showing the basics of the vapor deposition process)
https://www.cloudynights.com/topic/615319-vapor-deposition-chamber-anyone-want-to-try-doing-a-diy-on-one/

Re: etching, you might enjoy some of these:
https://gizmodo.com/scientists-create-beautiful-iridescent-material-that-co-1825115747
From what I could find, the iridescence of truly-antique glass is due to physical etching by fine particles. I looked around for info on how to do this on purpose, but had no success - at least, not yet. I did see one example of acid-etching ceramic glaze to get a somewhat-iridescent effect. And, of course, laser-etching was mentioned at the beginning.

[4] controlled chemical oxidation to create an iridescent patina on metal - this appears to be via oxidation, rather than via chemical etching:
https://www.ganoksin.com/article/iridescent-patina-recipe/
I have no idea whether this would work on chrome, though.

Best of luck with finding what you need :)
Kris Krieger
- Houston, Texas USA
---
March 2020

Nice exposition, Kris!
Here I thought it was always a clear coating (whether organic or a transparent metal oxide), but that's actually only one of several ways iridescence can be achieved. Thanks!

Regards,
Ted Mooney, P.E. RET
finishing.com - Pine Beach, New Jersey
Aloha -- an idea worth spreading