60,000 Q&A topics -- Education, Aloha, & Fun
topic 8172
Anodize Pitting?
2001
I am seeing a blackening on some of our anodized (sulfuric anodize per BAC 5022, dichromate seal) aluminum parts that at first glance looks like pitting. However, it has no depth. I might be a burning of some sort (perhaps aluminum dust that detaches itself and creates an arc as it floats away from the substrate), but it cannot be scraped away. It goes through the anodic coating but not into the substrate, so cannot be a scratch. It doesn't happen in a uniform pattern of any sort that I can tell. This has been a problem as long as we've anodized. Quantity depends; sometimes all the parts in a job will have it, some worse than others; sometimes we'll go days without seeing it; as I said before, I cannot see any common patterns or causes as of yet. Any idea what this is or what causes it?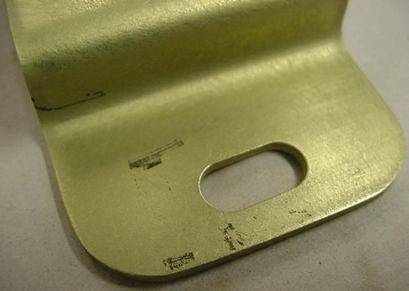 All of our rinses and processes are run at the proper times and kept at the proper concentrations. Our process line for Sulfuric Anodize consists of the following:
emulsion clean, dragout
alkaline clean, dragout, rinse
deox, dragout, rinse
sulfuric anodize, dragout, rinse
dichromate seal, dragout, rinse
dry
Thanks for any help!
Benjamin Curto
- Ponderay, Idaho, USA
---
2001
My first question would be: At what process does this happen? Do these "marks" happen after the Sulfuric Anodize?
I have had a problem similar to this where I was getting black spots on my Sulfuric Anodized parts, it turned out that my Deoxidizer rinses were contaminated with little black "floaties," which were very hard to remove after the Chrome Seal. Now I keep the final Deox rinse at a TDS of 60 constantly. The problem has gone away.....for now.
It really looks like scratches of some sort though. Do you have an Etch process?
Randy Mattson
- Seattle, Washington, U.S.A.
---
2001
It appears after the Dichromate seal. Our Deox final rinse is kept around <300 TDS (well bellow the 750 ppm allowed per spec), do you think it is necessary to keep it as low as 60? Our operators check after the rinse for particulates clinging to the part and a water break free surface, would they be able to see these black "floaties" with their naked eye? We also have particulate filters in all of our rinses, which should catch any particulates of that size. Yes we have an etch process, both an alkaline and an acid etch. Both of these processes are only used as needed though, so most jobs do not get processed through them. Normally I would just write these off as scratches, however they do not delve into the part...
Benjamin Curto
Cygnus Inc. - Ponderay, Idaho, USA
---
2004
The phenomenon is corrosion on the part before anodizing. Remove the defect mechanically, strip the anodize film and anodize again.
Moshe Jakob
- Lod, Israel