topic 7369
Sulfuric Anodizing Cathodes (lead vs. aluminum)
adv.
(2001)
Q. Hello, I'm setting up a sulfuric anodizing shop and I want to know how aluminum cathodes differ from lead. I would rather use aluminum, but I am accustomed to using lead.
Thank you,
Chris Kosub
Anodizing - Adkins, Texas U.S.
---
(2001)
A. The shop I work in has used both lead and aluminum cathodes for sulfuric anodize. We began using the lead and then switched to the aluminum and have had great success for a period of time now. Keeping the cathodes as clean as possible is very important in achieving a consistent anodic coating.
Derek Skaro
- Blaine, Minnesota, United States
---
(2005)
A. For many years anodizers used almost any convenient cathode material, from the actual tank wall (stainless) to the lead coils used for cooling in sulfuric acid anodizing baths. Little attention was paid to the type of material or the anode to cathode ratio. As operations became more sophisticated and research on this subject was accomplished, specific recommendations on the ratio and material became available.The consensus opinion was the best material for the cathodes was aluminum and specifically 6063 T6 alloy. In addition the ratio of 3 sq feet of anode to 1 sq foot of cathode gave the most consistent anodizing. Attempting to accomplish this ration in a job shop environment is difficult but the closer you are to this ratio the better your overall anodizing performance will be.Here are some of the advantages of using this aluminum alloy

1 Lower voltage required to do the same work.
2 Long life (some cathodes in service over 3 years)
3 No undesirable metals to contaminate the anodizing bath
4 Less heat build up
5 Overall lower operating cost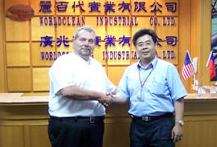 Drew Nosti, CEF
Ladson, South Carolina
---
(2007)
-- this entry appended to this thread by editor in lieu of spawning a duplicative thread
Q. What is the most appropriate material to use for the cathode in anodizing? In the reading I have done, both aluminium and lead have been used. Are there advantages/disadvantages to either material?
Cheers
John
John Niemeyer
educator - Geraldton, Western Australia


This public forum has 60,000 threads. If you have a question in mind which seems off topic to this thread, you might prefer to Search the Site