60,000 Q&A topics -- Education, Aloha, & Fun
topic 6876
Black oxidized steel for kitchen countertop?
2000
Q. I am interested in finishing techniques that would make steel amenable to use as kitchen countertop surfacing. Of course, stainless is in wide use but relatively expensive. Also, not every homeowner wants the "sterile" appearance of stainless. Specifically, would black oxidized steel serve well as a countertop? I do not have any experience with this finish nor knowledge of it's wear or corrosion resistance. Thank you in advance for any help you can offer.
Dale King
- Corvallis, Oregon
---
2001
A. There are no inexpensive finishes available for hot rolled or cold rolled steel that will hold up to the kind of use a kitchen typically requires. However, a hot rolled sheet, which is the most common, already has a layer of carbonized protection, sometimes called scale, which if regularly waxed (every week) will withstand the average wear and tear. But if you leave that frosty cup on it you will get a ring in a matter of hours. Further blackening the surface with Black Oxide does not protect it much from corrosion.
There are a variety of ways of making stainless darker, although it won't save you any money.
Finally, if you plan to eat out most of the time, you can lacquer steels or plate them.
Kurt L
- Brooklyn New York
---
February 25, 2009
A. Actually this is going to come as a real dumb arse reply.

I use LOTS of steel to make furniture etc., and I am sick of paints that scratch and all the usual.

I live in a dry climate and far away from the ocean.

So while there is all this hoo-haa and hysteria about "protective finishes" - which is fair IF the application actually requires it, there is an awful lot that does not need a "fancy" finish (e.g., electroplated, spray painted or baked).

I quite like the natural texture and color of steel, the wire brushed welds, and the polished off sharp bits, etc. so I just paint all my interior iron work - and my exterior work areas with plain old shellac.

I have been informed that it is the WAX in the shellac that makes it "mark" from water.

So as to how brilliant this finish actually is on a steel kitchen counter top ... well ...
I'd use dewaxed shellac - which is easy to do, just make a batch and let the wax settle to the bottom of the jar - pour the rest off.

Shellac is FAST drying, easy to renovate (dissolves in it's fresh application, and can be painted over with a urethane, if it doesn't work out, or it can be completely removed with paper towel soaked in metho [methylated spirits] -- and kept under a sheet of aluminium foil.
Rastus Watermelon
- Melben Victoreea Straya
---
---
Black oxided vs. black oxidized
February 11, 2008
Q. Is black oxided same as black oxidized?
Cindy Chow
buyer - New York, New York
---
February 11, 2008
A. Hi Cindy. I'd personally say yes, but there is no "official" answer because these words are slang rather than specifications. You can add "blackodized" (a term widely used in India) as a 3rd way to say it.
Ted Mooney, P.E.
finishing.com - Pine Beach, New Jersey
Striving to live Aloha
---
---
How to clean hot rolled steel kitchen backsplash
March 8, 2014
Q. We installed a hot rolled steel back splash behind out cooktop in our kitchen. We would like to know what we should clean it with? WD-40? Vegetable oil?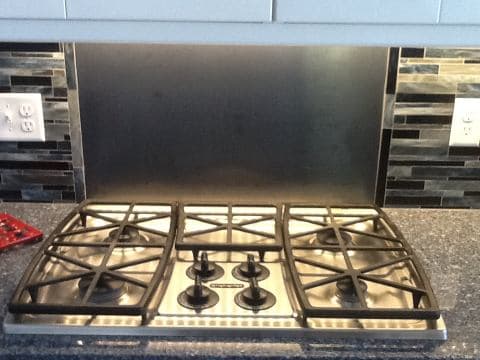 Ron Pierzina
- Bozeman, Montana
---
March 2014
A. Hi Ron. If you're doing it with an oil, I'd suggest mineral oil since it's non-toxic and won't go rancid. You've got a nice look there.
Regards,
Ted Mooney, P.E.
finishing.com - Pine Beach, New Jersey
Striving to live Aloha
---
March 16, 2014
A. Ron,
I'd suggest mild soap and water, towel dry, and then apply mineral, or some other edible oil or grease.
Marc Banks
Blacksmith - Lenoir, North Carolina USA
---
---
June 10, 2015
Q. I am looking to cover the top of a dresser with hot rolled steel. I do want an oxidized look. Is there a product or process to easily age steel?
Amy Ouellette
design - CUMMING, Georgia, USA
---
June 2015
A. Hi Amy. There are lots of potential looks I think. But it's not clear what you are going for. When you say "oxidized", the natural oxidized look of steel is powdery loose rust, but I'm sure that's not what you'd want. Do you want a metallic look like the backsplash above, or the coarse orange look of John Dupree's table shown in letter 17478, or a rough rusty patchwork like Olivier de Géa's art shown in the same letter, or the Cor-ten look of John Atkin's sculptures in letter 44801, or the smooth blue-black of a rifle barrel, or what? Finally, you will start with hot rolled steel (with mill scale on it), not cold finished steel, or galvanized steel, right? Thanks!
Regards,
Ted Mooney, P.E. RET
finishing.com - Pine Beach, New Jersey
Aloha -- an idea worth spreading
---
---
March 17, 2019
Q. We have a hot rolled steel bar top that has only been lacquered so it doesn't rust. However just pushing a bottle across it has caused a big scratch across the surface, leaving a whitish scratch mark.
My partner thinks it's a scratch into the lacquer however I'm wondering if it isn't just scratching the steel and if there is anything we can do to fix and eliminate future scratching? Or is this the nature of a black hot rolled steel top? Thanks!
Suzanne Walker
- Sisters, Oregon USA
---
March 2019
A. Hi Suzanne, different clear coats have different hardnesses and propensities to scratch. Air-dry lacquer will not be nearly as hard as some of the others like 2-component automotive coatings, baked finishes, and UV hardened coatings. The most practical to apply now is probably the two-component automotive clearcoat. You should probably remove the lacquer with lacquer thinner first. If it's not practical to get a painter in with a two-head spray gun, you still have two choices...
You can try a two-component mix is a spray can; apparently it mixes the hardener with the base at the time of spraying. How well it works I can't personally say but you can read reviews on Amazon =>

The other alternative is to buy the two parts at an automotive store and mix them, then brush it on. Use cheap brushes and mix in disposable cups, and only a little at a time because you can't stop it from hardening once it mixes.
Regards,
Ted Mooney, P.E. RET
finishing.com - Pine Beach, New Jersey
Aloha -- an idea worth spreading