60,000 Q&A topics -- Education, Aloha, & Fun
topic 44801
Marine Environment Effects on Corten Steel in Relation to Public Art
2007
I am considering using Corten steel within the fabrication process of a sculpture to be located within a harbor environment. I have heard that the use of Corten is not recommended within a salt laden environment because it accelerates the weathering process of the material. I generally use 3mm gauge metal on any of the public sculptures I make and feel that this ought to be sufficient for at least a hundred year life-span within a harbor location. The sculpture will not come into contact with the sea as it will be approximately 60 meters from the sea. I want to retain the patina of the metal surface as it weathers and do not wish to paint the metal, as I will use alongside stainless steel and granite. This combination of metals fits well with the proposed site and comments on the historical dynamics of the place.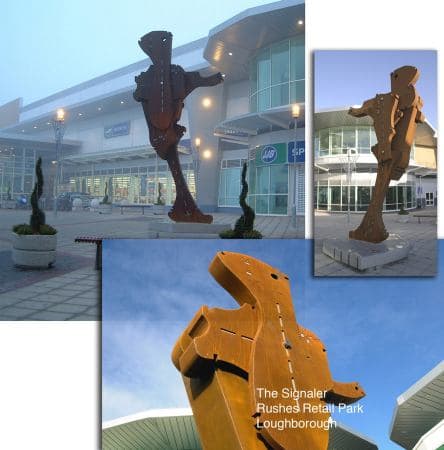 John Atkin
Sculptor - London, UK
---
2007
The 3 mm thickness is extremely risky, as the 100-year corrosion may be 1-1.5 mm/surface; see below.

Corus Group, the largest(?) UK steel producer, has 'Weathering steel' & 'Weathering steel bridges' publications. Some excerpts:
"The hygroscopic nature of salt adversely affects the 'patina' as it maintains a continuously damp environment on the metal surface. Therefore, as a general rule, weathering steel should not be used within 2km of the coast line.

The texture of weathering steel is influenced by the orientation of the structure and the degree of shelter it provides. Surfaces facing south and west, and those subject to frequent wet and dry cycles, develop a smoother fine-grained texture. Sheltered structures, and surfaces facing north and east [slower drying], tend to develop a coarse granular texture.

Concrete, stone and unglazed brick may suffer from oxide staining when in contact with weathering steel. We recommend that such substructures are sealed with washable organic coatings to facilitate cleaning.

Connections to galvanically dissimilar materials, such as zinc or cadmium plated bolts, should be avoided. Weathering steel nuts, bolts and flat washer are stocked in the UK by Cooper and Turner."

Plate (thicknesses 6 mm or greater) steel of Grade S355J2G2W WR50C per BS EN 10155 is commonly used for bridgeworks. This grade is similar to the US COR-TEN B.

Highways Agency standard BD7/01 provides guidance on suitable environments and corrosion allowances for weathering steels. It references ISO 9223 procedures for classification of wetness and salinity in estimating corrosion rates. For 'mild' environments, the corrosion allowance shall be 1 mm per surface. For 'severe' environments, the corrosion allowance shall be 1.5 mm per surface [possibly, for a 120 year design life.]
http://www.standardsforhighways.co.uk/dmrb/vol2/section3/bd701.pdf

ASTM G101, 'Standard Guide for Estimating the Atmospheric Corrosion Resistance of Low-Alloy Steels' has both formulas to estimate corrosion resistance from alloying composition and graphs of corrosion rates for weathering steels, using worldwide data. For marine atmospheric corrosion at Rye, UK [SE coast of England], the 100-year loss of metal is expected to be about 1 mm/surface.

US grades of High-Strength, Low-Alloy (HSLA) steel with atmospheric corrosion resistance at least 6 times that of plain structural steel are ASTM A242 [affil. link to spec at Techstreet] & A588 structural steels and A606, Type 4 sheet steel.
Ken Vlach
- Goleta, California
Finishing.com honored Ken for his countless carefully
researched responses. He passed away May 14, 2015.
Rest in peace, Ken. Thank you for your hard work
which the finishing world continues to benefit from.
---
2007
The 'Angel of the North' in Gateshead is made of Cor-Ten steel and is made of considerably thicker steel than you're proposing. Admittedly at 65 feet high and weighing around 200 tonnes, it's also rather larger than your proposed sculpture. However, as has been mentioned, I think that to expect it to last over 100 years you'll need to think about using thicker material than 3 mm.
John Martin
- Wales
---
2007
I have been researching WS performance in Cl environments for 15 years at ODU and can inform you with the following. WS will tolerate small amounts (<0.05 mg/d/day). That is tough for you to measure, but any rust formed on any steel in that region will tell you how much Cl is in the air (or water spray). At 60 m from the water it is difficult to predict the outcome. US test data (Kure Beach) shows WS forms the protective patina at 250 m but not at 25 m. Chlorides prevent the goethite from forming and instead akaganeite forms which exfoliates. Yet I work with WS bridges in very high chloride locations where corrosion rates are X10 (50 microns/year/surface) underneath where salt accumulates. But the facia girders are perfect (<10um/y/surface) due to rain washing the salt off and sun to dry. I agree with the earlier figure of about 1 mm/100 years for your location. Protection from chlorides (windbreak, trees ...) is important but there is some tolerance to low chlorides. Need good wet dry cycling to get the protective patina to form. Choose a higher nickel WS (it looks pretty as well). Maybe the local gardeners can wash down the sculpture every year until the protective patina forms. We are testing different protective mechanisms now. This includes an accelerated PatinaForma which appears to work well.
Desmond Cook, PhD
Old Dominion University - Norfolk, Virginia, USA