topic 60863
Anodizing or Alodine or painting or some combination
September 30, 2018
Q. I have 3 aluminum beams in a catamaran. They are a sailboat mast converted for use as beams.

They are big cylinders. About 10"x6" and 3/16" thick. 16' long

If we anodize, it will not get to the middle per the local vendor.

Alodine is needed in the inside.

But is painting or anodizing a better idea?

Thanks!
Dan Fall
Builder - Inver Grove Heights, Minnesota, USA
---
September 2018
A. Hi Dan. Although it's possible to partially anodize and partially chromate conversion coat (Alodine), it's a bit complicated and reserved for applications where it's really needed. And anodizing the inside of a tube is hard (and difficult to prove). I think your best answer is to Alodine it both inside & out, and then paint everything you can reach.
You probably know this, but you never apply bottom paint (ablative copper) to aluminum.
Regards,
Ted Mooney, P.E. RET
finishing.com
Pine Beach, New Jersey
Striving to live "Aloha"
---
October 1, 2018
Q. Thanks Ted! The Alodine would be getting brushed on the inside with a sock on an 8.5 foot stick.

Will the Alodine apply evenly enough with a brush on the outside for a suitable paint finish?

And does the Alodine replace the etch step so I would go right to primer?

These same beams need fastenings. Bolts and rivets. The bolts and rivets could be a variety of items, but I am leaning towards anodized aluminum to reduce the galvanic corrosion in seawater. Most of the hardware in the boat is 316SS, but I am concerned the bolts might eat the beam. Can you advise or recommend fastenings? The exposure to saltwater is not high, but possible via the ends of the beam which are open to marine environment and breaking waves. The beam fastenings are mostly for locating and do not need the strength of 316. The rivets are also fine in aluminum, but they would not be anodized and people told me monel would be preferred. Thanks!

I am really grateful for the response Ted.
Dan Fall
[returning]
- Inver Grove Heights, Minnesota, USA
---
October 2018
A. Hi Dan. Since you were considering anodizing as an alternative, and you were talking about a local vendor doing it, I thought you were planning on immersing these tubes -- which is really the right way to do it. And I thought your vendor would take the tubes through the proper sequence which includes non-etch alkaline cleaning, de-smutting appropriate to the alloy, and Alodine (with rinsing between each stage).
I imagine manual cleaning, followed by manual brushing of Alumiprep and Alodine can be done, but you should probably check with Henkel.
Yes, if strength is not needed, anodized aluminum fasteners could be used if you can find them. Aircraft specialty suppliers would have high strength aluminum coated steel fasteners, but I'm not aware of aluminum coated stainless or monel fasteners. Boats have their unique dangers, so having a marine surveyor review your plan might catch a weak area.
Regards,
Ted Mooney, P.E. RET
finishing.com
Pine Beach, New Jersey
Striving to live "Aloha"
---
October 3, 2018
Hi Dan! I'm a catamaran sailor myself and can give you a couple observations about the construction of the classic Hobie Cats. The rails are anodized Al and the fittings and fasteners are a combination of Al and stainless (I'll go home and check to see what is used where). My boats are 1971 and 1984 models, and regularly see salt water. I sail with a club out of Naragansett Bay RI and a couple of us have pretty old and busted boats! Save for some discoloration on the stainless components, there has not been an issue with corrosion enough to cause strength concerns or binding of the travellers as they slide along the rails. If you can find high strength Al rivets as Ted suggested, that is great. But you should not have to worry much about things like padeyes and rails that are in direct contact with the anodized surface, if you choose to go that route.
Also as Ted said, Alodine only works when the surface is correctly prepped- Squeaky clean and devoid of any existing oxidation.
An Alodine-paint combination, or, even better, a 2-stage epoxy meant for use in UV exposed applications, would provide very good protection, and this is commonly done on components meant to be used in challenging environments.
I'd personally Alodine the inside of the tubes and then seal them off watertight for flotation reasons.
One thing I'll add here is that if you haven't thought about your rudder pins and brackets yet, my strong suggestion is to have them hardcoat anodized, because of the constant abrasion metal-on-metal and metal-on-sand. And have a couple extra sets made for spares ... Inspect and clean regularly and swap out as soon as you notice grooves forming. We had a guy get blown out on his H16 to Falmouth (lowest tip of Cape Cod) a couple years ago after snapping a pin and not being able to tack! He was lucky, because the next point of land is Cape Verde or the Canaries :)

Here's a link to a tech sheet for the brush-on version of the chromate coating we use at work, that should give you some idea of what to expect: http://www.galladechem.com/specs/macdermid/78660.pdf Iridite (Macdermid-Enthone) and Alodine (Henkel) are simply different proprietary product lines formulated to meet the same specs. Be aware that a product designed for immersion application may not work correctly as a brush-on, and vicw versa, so make sure to get the brush-on version of whichever one you go with. And I can't stress enough that the deoxidizer (in this case, Isoprep) is crucial to the chromate reaction occurring correctly.
Happy sailing!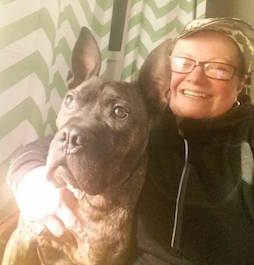 Rachel Mackintosh
Plating Solutions Control Specialist / Industrial Metals Waste Treatment - Brattleboro, Vermont
---
October 4, 2018

Thank you Ted and Rachel, I spoke with a pro today and he suggested Alodine and powdercoating within 72 hours and would not guarantee the inside.

The parts will have penetrations, so capping the ends might result in trapped saltwater or environments trying to exit some threaded area. Not good, so we will leave open.

This is a powercat and these are removable beams. No sail rigs.

The insides do not need to be pretty, so perhaps the powdercoating people could paint the insides for me after chromate conversion.

Thanks to all. I really like this forum. It is a bit hard to use, but worked!
Dan Fall
- Inver Grove Heights, Minnesota, USA
---
October 2018

Hi Dan. The interface can perhaps be improved if you explain what you feel makes it hard to use. Thanks.

Regards,

Ted Mooney, P.E. RET




finishing.com




Pine Beach, New Jersey




Striving to live "Aloha"






If you have a question in mind which seems off topic, please Search the Site