Live! From beautiful Pine Beach New Jersey: Welcome to the world's most popular metal finishing website
topic 27167, p2
Galvanic corrosion issues: aluminum and stainless steel
---
1 2
---
A discussion started in 2004 but continuing through 2018
July 30, 2013
Q. I am working on a project for an oil company offshore. Needs to be all aluminum construction; the only other material I can use is stainless 316. I have s.s. wheels, pulleys, wire rope, aluminum structure, s.s. fasteners.
I am purchasing all fasteners as 316 s.s. and the vendor is having them sent out and Teflon coated. All surfaces in contact alum/ss I am using a gasket. Maybe a neoprene as recommended above, I am still looking for a better gasket with high compressive stress, and non-absorbent.
Randy Davis
Design Drafting - Self employed - Broken Arrow, Oklahoma
---
August 2, 2013
A. UHMWPE or Polyurethane or teflon should work better. Will cost a bit more.
James Watts
- Navarre, Florida
---
August 7, 2013

Thanks very much James for your comments. It looks like I will be using G10 high pressure laminate. It has very high commpressive allowable and is fairly non-absorbant. I have used it on radio frequency shielded enclosures (anechoic chambers) at the base plates for isolation from ground (10000 olms to ground) from the slightly absorbant concrete. It may be an overkill but this is a bolted connection.
Randy Davis
design drafter self-employed - Tulsa, Oklahoma
---
---
August 26, 2013
Q. Hi everybody, I am currently turning an old Airstream travel trailer/caravan into a food trailer/concession trailer/catering van. These old Airstreams have aluminium frames and aluminium outer skins.
I am wanting to fix a very shiny diamond shaped, quilted stainless steel sheet as the entire internal wall skin to the aluminium frame, which will give a fantastic reflective and shiny retro-diner look. However, I am worried about Galvanic corrosion.
Do I have anything to be worried about? What could happen?
Best regards -

Pete Vanda
Small business owner - Melbourne, Victoria, Australia
---
October 3, 2013
Q. I didn't read a response to Mike Miller's question...

I'm very curious because we use stainless helicals in aluminum parts in just about everything we build. Also, a passivated SS part touching a Alodine aluminum part is not uncommon either. All of our units have to survive a salt spray test.
B. Barbour
- Maryland, USA
---
---
Are stainless cables causing aluminum support posts to corrode?
July 24, 2014
Q. We are running into issues with stainless steel cable railing systems in close proximity to salt water environments. We use 1/8" stainless steel cables. The support posts are aluminum. We have the support post drilled out and then powder coated. Each hole has a plastic grommet to prevent the stainless steel cable from touching the aluminum posts.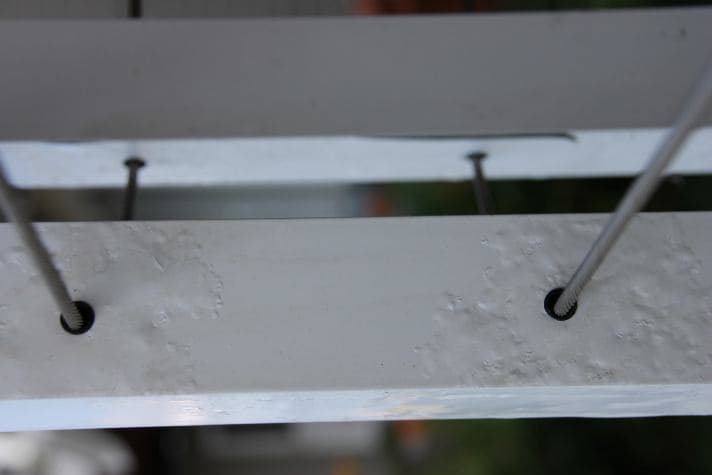 Would using a Zinc Oxide primer help? How else can we prevent this from happening? Or should we not sell these types of systems and direct clients towards a glass system?

Thanks,
Hugh Hammond
- Bothell, Washington USA
---
July 2014
A. Hi Hugh. If there is no electrically-conductive metal-to-metal connection from the stainless cables to the support posts, it can't be galvanic corrosion; a saltwater connection doesn't count, as you need both the metallic path and the ionic path. And although I am not a corrosion expert, it doesn't look like galvanic corrosion to me either.
I think the aluminum is not properly treated. Try a sample with chromate conversion coating, followed by an e-coat primer, followed by the powder coating and I think you'll quickly prove it via no corrosion for a very long time.
Regards,
Ted Mooney, P.E.
finishing.com
Pine Beach, New Jersey
---
January 16, 2015
A. Hugh,

Perhaps check on a dry day for any conductivity between the aluminum and cables with an ohm-meter? To see if there really is no connection.

The corrosion does seem to be near the holes. If not galvanic (i wouldn't know), makes me wonder if (1) the aluminum was treated before the hole was drilled, and thus corrosion radiates out from there or (2) cables moving (wind) are abrading coating over time the at the drill holes (remove a grommet and inspect?) or (3) is the aluminum hollow and if so what's the interior protection? Cut a piece in half and see if the interior is extremely corroded and then it migrates from inside to out near drill hole?

Also what Ted says sounds right.

Dwayne Smith
- New York, New York USA
---
---
March 21, 2015
Q. My question is slightly different. I have 304 stainless 1/2" tension cable with 316 stainless fittings on wooden posts about 100 feet from the ocean. I noticed brown staining on the cable. Should I attach a piece of zinc or aluminium or steel to the assembly to prevent this?
Thank you
Tom Kornylak
- fort pierce, florida, usa
---
A. Hi Tom. A sacrificial anode is unlikely to do any good. But search this site for "passivation of stainless steel with citric acid". That should do it at least temporarily, but 304 may not be good enough to remain free of staining. Personally, I'd try the citric acid, then leave it. Good luck.
Regards,
Ted Mooney, P.E. RET
finishing.com
Pine Beach, New Jersey
Striving to live "Aloha"
---
---
April 21, 2015
Q. When a steel alloy bonds with an aluminium alloy through a galvanic reaction, what is the material bonding the surfaces?
I have seen the aluminium seat posts bond into the steel seat tube of bicycles in northern climates where salt is used to melt road ice/snow.
Can low voltage currents reverse the effect? I have also considered the use of aqueous sodium hydroxide (lye), your thoughts on this problem.
Sean Elwood
- Toronto, Ontario, Canada
---
May 2015
A. Hi Sean. I think the problem is simply that aluminum has voluminous corrosion products which swell the dimensions; this same freezing together happens on aluminum to aluminum joints, brass to aluminum joints, copper plating to aluminum joints, etc. Aluminum just isn't a great material for that kind of joint. Paint, joint compounds, WD40 or almost anything will somewhat improve the situation by lessening the corrosion. Chromate conversion coating of the aluminum should help.
Once they're locked together, I doubt that electrolytic action or lye can help much.
Regards,
Ted Mooney, P.E. RET
finishing.com
Pine Beach, New Jersey
Striving to live "Aloha"
---
May 12, 2015
A. I have been in the aluminum civil and marine industry for over 25 years.
Per codes always isolate aluminum from other metals or porous material (for example concrete, wood). UHMW was found the best and cheapest way.

Never use 6000 series under water.

You can use SST 304, 316 or HDG bolts for bolted joints. As mentioned above, there is a direct relation between volumes of dissimilar metals. I used HDG and SST bolts for over 100 pedestrian bridges and its working quite well.

Alway isolate SST fasteners under water or in splash zones.

More recently I am using Xylan 1424 coating (Teflon) on SST fasteners when required.
Alex de la Chevrotiere, IWE, P.E.
- Montreal, Quebec CANADA
---
July 28, 2015
Q. Could anyone please tell me what would be better for holding a PVC yard sign to an aluminum U channel stake, aluminum or stainless steel pop rivets, near the ocean?
David Graham
- Florence, Oregon, USA
---
A. Hi David. I'd bet on the stainless rivets.
Regards,
Ted Mooney, P.E. RET
finishing.com
Pine Beach, New Jersey
Striving to live "Aloha"
---
---
October 27, 2016
Q. Would a chrome steel ball bearing press-fit onto an aluminum rod present a galvanic problem? Neither material would be exposed to lubricants, and both would be in a "clean room."
N Kope
- Newark, Delaware, USA
---
November 4, 2016
Q. What will be problems occur when stainless steel is coated with inorganic zinc silicate primer?
eydin mohammed
Aramco - Saudi arabia
---
November 2016
A. Hi Eydin. I haven't heard of it, but I don't think it would cause any problems.
Regards,
Ted Mooney, P.E. RET
finishing.com
Pine Beach, New Jersey
Striving to live "Aloha"
---
November 16, 2016
A. If you can get adequate adhesion inorganic zinc coatings will give excellent performance.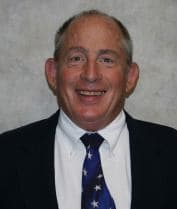 Tom Rochester
Plating Systems & Technologies, Inc.
Jackson, Michigan, USA
---
November 14, 2017
Q. My company is working on an outdoor application to be installed in a rural environment (faraway form the seaside). It consists of a large stainless steel (AISI 304) trapezoidal screw that goes inserted in a diecast aluminium (A380) fixture. One part is threaded to the other (and remains fixed thru the life of the application).

We are concerned about the effects of galvanic corrosion on this to parts, specially because the aluminium part is relatively smaller than the stainless screw.
Aesthetics is not an issue, but cost and ensuring structural resistance of the parts are.

As said, the part application will be installed outdoors, unprotected from rain. The desired life is 25 years.

We do not have a lot of experience with aluminium finishes, but making some online research we have found that anodizing could help reduce/avoid the galvanic problem. But have also read that anodizing is not easy with die cast aluminum.

The finishing we are thinking to use is: Mil-A-8625, Type II, (0.8 mil min), Class I. Sealed.

Do you think this finish will work? Do you know any better approach to solve this problem?

Thanks

Raul Obis
product designer - Reus, Tarragona, Spain
---
November 2017
A. Hi Raul. I think this is a poor idea for a few reasons. Not only can it be difficult to anodize aluminum die castings, but it can be very hard to anodize threads -- some people feel it should not even be attempted. But if the thread area is well sealed with some kind of thread sealant, so there is no non-anodized aluminum exposed to moisture or the atmosphere, it might be okay.
A photo of the part might be helpful because it's difficult to suggest what should be done instead when we don't understand the implications of any such suggestions. And if the owner removes the screw and reinserts it without careful resealing, or the sealant deteriorates from the sun over the years, it sounds like you would get severe galvanic corrosion in the thread area.
Regards,
Ted Mooney, P.E. RET
finishing.com
Pine Beach, New Jersey
Striving to live "Aloha"
---
November 15, 2017
Q. Thank you for your answer Ted.
As I understand, you are suggesting to anodize the full part (without paying special attention to thread anodizing) and protect isolate the thread with thread sealant.
I include some pictures of our 3D model and of some prototypes we manufactured, so readers can get a better understanding of our application.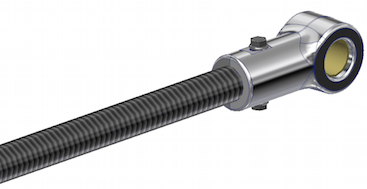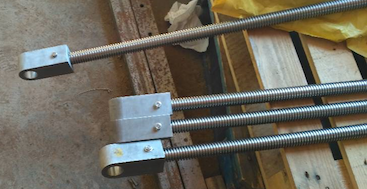 Our manufacturer suggest to use a Chromate passivation Cr3 (Clear) as a finish. Do you think that may work properly if combined with the thread sealant?

Raul Obis
- Reus, Tarragona, Spain


---
November 2017
A. Hi again Raul. Thanks for the pictures.
If you are still talking about anodizing the outside of the aluminum item, but also adding chromating of the thread area, I imagine that chromates could be of at least some small value. But if you are now talking about chromating the exterior in place of anodizing it, I personally do not think that will be a satisfactory answer.
Regards,
Ted Mooney, P.E. RET
finishing.com
Pine Beach, New Jersey
Striving to live "Aloha"
---
---
Galvanic corrosion potential with aluminum tank, stainless nipple and brass fill assembly
January 2, 2018
December 19, 2017
Q. I had a custom fiberglass boat built with an aluminum gas tank. The builder installed a 6" stainless steel nipple into the aluminum tank and a brass filler cap assembly atop the stainless nipple. The boat is used primarily in a salt water environment. After reading your forum, I am concerned! Your thoughts?
Mike Wilson
New boat owner/Inshore fishing guide - Silverhill, Alabama USA
---
January 2018
A. Hi Mike. I don't know exactly what "installed" means in terms of direct metal to metal connections. I've seen numerous anodized aluminum railings installed on hotel and condominium balconies with stainless steel screws, and a lot of aluminum fins directly on copper heating coils without memorable issues, but there's also a lot of difference between the conductivity of rainwater and saltwater. A direct metal to metal contact in a saltwater environment does sound to me like it could lead to pitting and corrosion issues. But again, if the metals aren't actually contacting each other, you cannot have galvanic corrosion.
Regards,
Ted Mooney, P.E. RET
finishing.com
Pine Beach, New Jersey
Striving to live "Aloha"
---
January 3, 2018

Thank you for your response. The "installed" gas tank assembly is direct metal to metal connections. The brass fill cap and flange is threaded to a 6" long x 2" diameter male stainless steel nipple which is threaded into the aluminum gas tank. Although somewhat protected in a fiberglass enclosure, with only the brass fill cap and flange directly exposed to the elements, it is used exclusively in a saltwater marine environment and the enclosure is vented. Thank you again.
Mike Wilson
[returning]
- Silverhill, Alabama USA
---
---
February 14, 2018
Q. I have a "salt water" pool (1/12th ocean salinity).

My second ($1000) pump is about to fail due to what I think is galvanic corrosion.
I'm wondering if there is any type of "sacrificial anode" I can attach that would prevent the issue?

The pump unit is fiber reinforced plastic.
The electric motor has a bell shaped aluminum casting that is bolted to the plastic pump with stainless steel (through) bolts and nuts. I don't think the bolts directly touch the pool water, but undoubtedly get some stray water on them.

The corrosion is such that the aluminum flange the bolt goes through entirely gets eaten away. It starts under the paint (no apparent primer or anodizing under paint). The paint flakes off and reveals just white dust left behind where the aluminum used to be...

Is there a sacrificial anode I could use?

Are there "sleeved washers" I could get to put under the bolt heads?
Rick Thorne
- San Diego, California, USA
---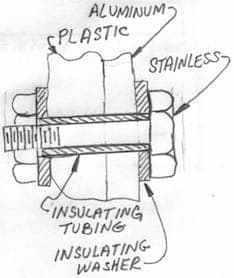 February 2018
Hi Rick. Due to the low salt content, zinc sacrificial anodes might not work, but magnesium ones ought to. I think they're available from boat stores, or you could get one from a water heater. But, unless tightly connected to the aluminum, and wet, it won't work.
Yes, you can insulate thru-bolts. It requires a micarta or fiberglass washer under the bolt head or nut, between the stainless and aluminum, and a micarta or fiberglass tube which just fits inside the washers and is just a hair shorter than the tightened joint. It's a pretty common arrangement. Aluminum hardware, if you can find it, or nylon hardware if it's strong enough is another solution. Good luck.
Regards,
Ted Mooney, P.E. RET
finishing.com
Pine Beach, New Jersey
Striving to live "Aloha"
---
---
Fasteners to repair aluminum boat
May 27, 2018
Q. I have an old 1962 18' riveted aluminium boat that I am rebuilding. The bottom inside of the boat has a lot of galvanic corrosion. I believe it is built with 1/8" 5056 aluminium. I am planning on cutting 3" strips of 5056 1/8" aluminium and attaching them to the outer skin of the whole bottom of the boat. I would coat the inside of the strip with 3M 5200 adhesive sealant, then fasten to the boat....I need to find very strong shear and tensile fasteners so I can pull the strips of aluminum to the curves of the boat tightly. I am looking for a fastener that will not cause galvanic corrosion with the 5056 aluminium boat, and that one person can install. The best I could come up with is 3/16" closed blind rivets made with 1100 aluminium, they would work but have a very low tensile and shear strength. The same thing made of 5056 or 6061 with an aluminium mandrel would be much stronger but I can only find those with a steel or stainless mandrel. ( I am not sure how concerned I should be about the galvanic corrosion, as they will be exposed to mainly fresh water but at times salt). Maybe the alum/ stainless or steel mandrel rivets would work if filled with the 3m 5200 or a marine epoxy putty like JB weld Marine?

Maybe I should be looking at something other than a closed rivet? Or maybe there is another type of rivet or fastener that you can suggest that one man can install, is sealed, strong, and won't corrode?

I am looking for about 2000 fasteners for this project, the way I have it thought out now. Any ideas about a better way to do the repair and/ or the best fastener you can come up with would be very much appreciated.
Larry Gilroy
- Whitehorse Yukon Canada
---
August 9, 2018
A. Outboard motor castings with numerous stainless screws corrode very badly, of course. Generally disassembly includes small fasteners snapping or breaking off, probably due to stress corrosion together with galvanic phenomena - then a wirefeed and an old nut come into play to get the remaining threaded part out of the aluminum casting.

But to the prevention of trouble so that next time there will be a nondestructive disassembly:

Clean hole. Coat screw with nickel or zinc anti-seize and fit it several times into hole, blow residue but do not wash out the hole. Reapply the anti-seize and add a small amount of Loctite … red is fine. Works well. Similarly works fine on motorcycles.

I sometimes use RTV or a heavy coating of aluminum spray paint on threads, sometimes with Loctite … it depends.

Me? Retired millwright. The paint trick, with blue or red LT helps on rebellious gaskets and mating surfaces too.
Alex Heath
- red bluff California usa
---
---
Minimizing galvanic corrosion between 6061 and 316
December 25, 2018
Q. The application is marine.

We are using an aluminum sailboat mast section as a catamaran beam.

The beam supports a deck by connecting a 316ss angle via stainless strapping to the beam with rivets.

The concern is if we use 316 strapping and 316 angle and say a 316 rivet that the corrosion will land in the beam.

We intend to chromate convert and paint the beam. The inside of the beam may also get periodic Alodine treatments.

The same beam also has some other connections planned with some thru bolts of 316 to support a box or locker. The bolts can be nutted with 316 epoxied to the inside of the beam.

I would like to hire a consultant on this project for advising the metal connections.

The issue is further complicated because I need to setup the system and tear it down for finishing.

So, while the designer suggested rivets, they are a bit too permanent.

Without advice, I would probably use some smaller aluminum rivets and drill them out.

If anyone is interested in consulting, please provide a contact number. Thanks.
Dan Fall
Owner - Inver Grove Heights, Minnesota, USA
^- Privately contact this inquirer -^
----
Ed. note: please see also Dan's earlier question 60863


If you have a question in mind which seems off topic, please Search the Site