60,000 Q&A topics -- Education, Aloha, & Fun
topic 27167 p2
Galvanic corrosion issues: aluminum and stainless steel
---
---
A discussion started in 2004 but continuing through 2020
July 12, 2012
Q. I have read through this entire thread and I'm pretty sure this hasn't been brought up yet, but what if the aluminum that is in contact with the stainless steel happens to be conversion coated?
I am designing a manifold that is ~1/4" thick and is going to be made out of 6061-T6 Aluminum that will be conversion coated per MIL-DTL-5541, Type II, Class 1A. This manifold will have 6 nozzles mounted to it using stainless steel machine screws. The nozzles are ~1" in diameter and will be made out of 304 Stainless Steel and will be Passivated per AMS2700.
Questions:
1) Will the conversion coating on the aluminum manifold provide a sufficient amount of insulation to prevent galvanic corrosion of the parts?
2) Why is galvanic corrosion not an issue when installing stainless steel helical thread inserts into aluminum plates? Is it due to the stainless steel part being much smaller than the aluminum part as mentioned above with stainless steel rivets in an aluminum plate vs. aluminum rivets in a stainless steel plate?
Mike Miller
- Columbus, Ohio, USA
---
---
August 9, 2012
Q. I currently have this issue of the cast aluminum house corroding or oxidizing real bad. Could this be caused by the cast aluminum being in contact with the stainless steel mounting brackets? This car is also near the seashore and also has 12v being used for the light.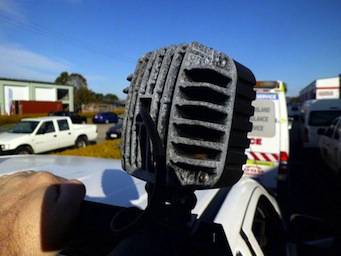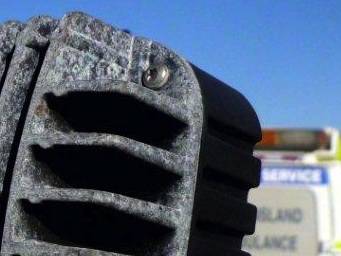 thoughts?

Scott
Scott Doenges
- Michigan, USA
---
August 13, 2012
A. Hi, Scott.
That looks like exceptional corrosion, which usually has an exceptional cause, rather than simply mounting on stainless brackets. I can't tell from the pic whether this is inside or outside of the car. How old is it? What was the original finish -- anodized, raw, painted? I would suspect something to do with that 12 volt source rather than a mounting bracket.
Regards,
Ted Mooney, P.E.
finishing.com - Pine Beach, New Jersey
Striving to live Aloha
---
August 14, 2012
Q. These lights are mounted outside the vehicle. The finish is a black powder coating after being cleaned, which I'm still trying to figure out what that actually entails.
Scott Doenges
- Hidsonville, Michigan, USA
---
August 17, 2012
A. I think the components should be chromate conversion coated and electrocoat primed before the powder coating. Complete coverage with powder coating looks unlikely to me considering the shape of the component.
Ted Mooney, P.E.
finishing.com - Pine Beach, New Jersey
Striving to live Aloha
---
November 3, 2012
Impressive problem solving!
Q. I have an outdoor public art commission in Colorado where I am going to use 3/16" 5051 aluminum sheet up high on a wall for a ceramic mural backing (I am adhering tile to masonry and metal with polyurethane adhesive). I welded mild steel support brackets to hang the aluminum from. I then coated them with acid etch primer and automotive enamel. Is that enough to prevent corrosion between the aluminum and steel? Should aluminum also be coated?

Also, according to this thread, it looks like stainless steel or galvanized bolts to attach the aluminum sheet to the steel brackets is a no-no, unless they are isolated from the aluminum, correct? I really appreciate any wisdom/insights you could offer an artist!
Mario Echevarria
Public Artist - Longmont, Colorado, USA
---
March 29, 2013
Q. OK for those that aren't an engineer, I want to build a boat lift from 6061 Alum, what is the best type of fasteners to use? just give me a simple answer.
Terry White
- Phx, Arizona, USA
---
April 1, 2013
A. 316SS. Best, but not very good, because the fasteners won't corrode but the aluminum may.
Regards,
Ted Mooney, P.E.
finishing.com - Pine Beach, New Jersey
Striving to live Aloha
---
---
July 30, 2013
Q. I am working on a project for an oil company offshore. Needs to be all aluminum construction; the only other material I can use is stainless 316. I have s.s. wheels, pulleys, wire rope, aluminum structure, s.s. fasteners.
I am purchasing all fasteners as 316 s.s. and the vendor is having them sent out and Teflon coated. All surfaces in contact alum/ss I am using a gasket. Maybe a neoprene as recommended above, I am still looking for a better gasket with high compressive stress, and non-absorbent.
Randy Davis
Design Drafting - Self employed - Broken Arrow, Oklahoma
---
August 2, 2013
A. UHMWPE or Polyurethane or teflon should work better. Will cost a bit more.
James Watts
- Navarre, Florida
---
August 7, 2013

Thanks very much James for your comments. It looks like I will be using G10 high pressure laminate. It has very high commpressive allowable and is fairly non-absorbant. I have used it on radio frequency shielded enclosures (anechoic chambers) at the base plates for isolation from ground (10000 olms to ground) from the slightly absorbant concrete. It may be an overkill but this is a bolted connection.
Randy Davis
design drafter self-employed - Tulsa, Oklahoma
---
---
August 26, 2013
Q. Hi everybody, I am currently turning an old Airstream travel trailer/caravan into a food trailer/concession trailer/catering van. These old Airstreams have aluminium frames and aluminium outer skins.
I am wanting to fix a very shiny diamond shaped, quilted stainless steel sheet as the entire internal wall skin to the aluminium frame, which will give a fantastic reflective and shiny retro-diner look. However, I am worried about Galvanic corrosion.
Do I have anything to be worried about? What could happen?
Best regards -
Pete Vanda
Small business owner - Melbourne, Victoria, Australia
---
October 3, 2013
Q. I didn't read a response to Mike Miller's question...

I'm very curious because we use stainless helicals in aluminum parts in just about everything we build. Also, a passivated SS part touching a Alodine aluminum part is not uncommon either. All of our units have to survive a salt spray test.
B. Barbour
- Maryland, USA
---
---
Are stainless cables causing aluminum support posts to corrode?
July 24, 2014
Q. We are running into issues with stainless steel cable railing systems in close proximity to salt water environments. We use 1/8" stainless steel cables. The support posts are aluminum. We have the support post drilled out and then powder coated. Each hole has a plastic grommet to prevent the stainless steel cable from touching the aluminum posts.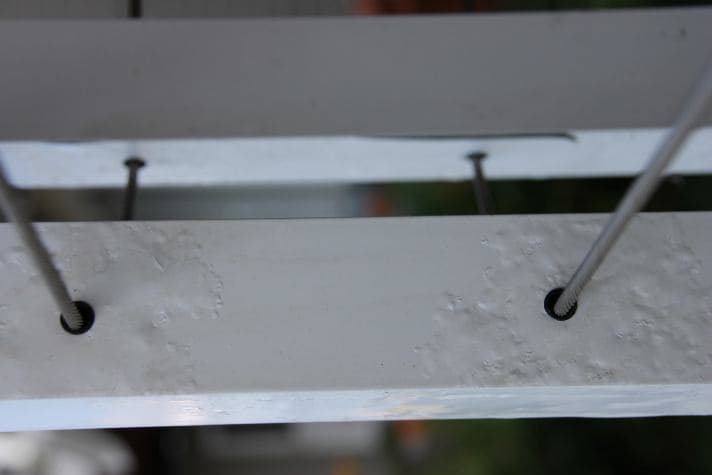 Would using a Zinc Oxide primer help? How else can we prevent this from happening? Or should we not sell these types of systems and direct clients towards a glass system?

Thanks,
Hugh Hammond
- Bothell, Washington USA
---
July 2014
A. Hi Hugh. If there is no electrically-conductive metal-to-metal connection from the stainless cables to the support posts, it can't be galvanic corrosion; a saltwater connection doesn't count, as you need both the metallic path and the ionic path. And although I am not a corrosion expert, it doesn't look like galvanic corrosion to me either.
I think the aluminum is not properly treated. Try a sample with chromate conversion coating, followed by an e-coat primer, followed by the powder coating and I think you'll quickly prove it via no corrosion for a very long time.
Regards,
Ted Mooney, P.E.
finishing.com - Pine Beach, New Jersey
Striving to live Aloha
---
January 16, 2015
A. Hugh,

Perhaps check on a dry day for any conductivity between the aluminum and cables with an ohm-meter? To see if there really is no connection.

The corrosion does seem to be near the holes. If not galvanic (i wouldn't know), makes me wonder if (1) the aluminum was treated before the hole was drilled, and thus corrosion radiates out from there or (2) cables moving (wind) are abrading coating over time the at the drill holes (remove a grommet and inspect?) or (3) is the aluminum hollow and if so what's the interior protection? Cut a piece in half and see if the interior is extremely corroded and then it migrates from inside to out near drill hole?

Also what Ted says sounds right.
Dwayne Smith
- New York, New York USA
---
---
March 21, 2015
Q. My question is slightly different. I have 304 stainless 1/2" tension cable with 316 stainless fittings on wooden posts about 100 feet from the ocean. I noticed brown staining on the cable. Should I attach a piece of zinc or aluminium or steel to the assembly to prevent this?
Thank you
Tom Kornylak
- fort pierce, florida, usa
---
A. Hi Tom. A sacrificial anode is unlikely to do any good. But search this site for "passivation of stainless steel with citric acid". That should do it at least temporarily, but 304 may not be good enough to remain free of staining. Personally, I'd try the citric acid, then leave it. Good luck.
Regards,
Ted Mooney, P.E. RET
finishing.com - Pine Beach, New Jersey
Aloha -- an idea worth spreading
---
---
April 21, 2015
Q. When a steel alloy bonds with an aluminium alloy through a galvanic reaction, what is the material bonding the surfaces?
I have seen the aluminium seat posts bond into the steel seat tube of bicycles in northern climates where salt is used to melt road ice/snow.
Can low voltage currents reverse the effect? I have also considered the use of aqueous sodium hydroxide (lye), your thoughts on this problem.
Sean Elwood
- Toronto, Ontario, Canada
---
May 2015
A. Hi Sean. I think the problem is simply that aluminum has voluminous corrosion products which swell the dimensions; this same freezing together happens on aluminum to aluminum joints, brass to aluminum joints, copper plating to aluminum joints, etc. Aluminum just isn't a great material for that kind of joint. Paint, joint compounds, WD-40 or almost anything will somewhat improve the situation by lessening the corrosion. Chromate conversion coating of the aluminum should help.
Once they're locked together, I doubt that electrolytic action or lye can help much.
Regards,
Ted Mooney, P.E. RET
finishing.com - Pine Beach, New Jersey
Aloha -- an idea worth spreading
---
May 12, 2015
A. I have been in the aluminum civil and marine industry for over 25 years.
Per codes always isolate aluminum from other metals or porous material (for example concrete, wood). UHMW was found the best and cheapest way.

Never use 6000 series under water.

You can use SST 304, 316 or HDG bolts for bolted joints. As mentioned above, there is a direct relation between volumes of dissimilar metals. I used HDG and SST bolts for over 100 pedestrian bridges and its working quite well.

Alway isolate SST fasteners under water or in splash zones.

More recently I am using Xylan 1424 coating (Teflon) on SST fasteners when required.
Alex de la Chevrotiere, IWE, P.E.
- Montreal, Quebec CANADA
---
---