60,000 Q&A topics -- Education, Aloha, & Fun
topic 58983
Patina solution sprayed on my copper gutters doesn't look good
A discussion started in 2012 but continuing through 2019
October 17, 2012
Q. Hello All,
My name is Rob and I am attaching pictures of my copper gutters and leaders that were sprayed with a "patina solution" 4 months ago, that I bought from California. The gutters were hanged 1 year ago, taken down and cleaned with steel wool to regain the shine. My question is multi-faceted.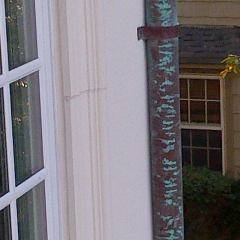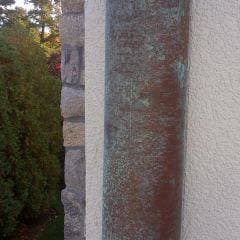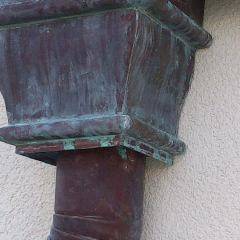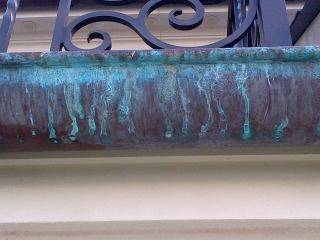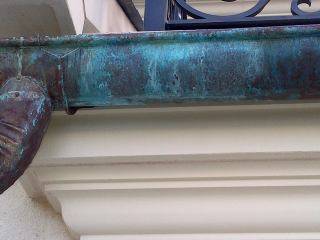 1. Will the copper continue to patina past what is seen in the pictures, or is this the end product?
2. Why does the copper turn brown when it gets wet and stays blue-green while dry?
3. Will the striped/zebra look go away?
4. Are my gutters ruined?...the gentlemen that did the work told me that this "starts the process" and will take time to completely turn patina green but I need real solid advice. Thanks for your time folks.

Rob
R. Lambros Lambrou
homeowner - Jackson, New Jersey
---
affil. link
"Copper Flashings & Weatherings - a Practical Handbook"
from Abe Books
or

October 17, 2012
A. Hi Rob.
I'll give my opinion and hope that others will offer you theirs so there is a good balance. Let me apologize for the fact that, although this is a very serious matter to you, to me it is just an interesting technical issue to bloviate about, nor do I know that much about it.
Before addressing your specific questions, I'll tell you what I believe the overall problem to be: Beautiful patina work is the product of fastidious custom work by artists; contractors aren't artists and we can't expect their washing-down of gutters with patina solution to equate to what a bronze sculptor would do for his proudest public displays. That said, this does look bad and if I were the contractor, I think I'd give it a second try, lightly spritzing all the surfaces to minimize running.
1. The patina process will continue, but over a time scale of years and decades, not of weeks.
2. I can't exactly answer, but on a recent visit to Cape May, I was struck by the fact that the brown vs. green areas of copper canopies seemed to reflect how much water hit them. The brown color is more stable and the green more prone to rubbing/washing away -- which corresponds with pennies in circulation staying brown, while pennies found in the cracks of a boardwalk are green.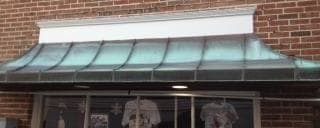 3. Over the years the patina will even out but I doubt that it will happen any time soon.
4. I don't think the gutters are damaged at all.
Additional discussions and pictures of copper patinas are on topic 5720 and 17, and searching the site for 'copper patina' yields dozens of threads. Good luck.
Regards,
Ted Mooney, P.E.
finishing.com - Pine Beach, New Jersey
Striving to live Aloha
---
October 18, 2012
Q. Dear Mr. Mooney,
Your response is very very much appreciated. So, if I wanted to start over, how do I remove the existing patina chemical if it is at all removable? Thanks again.
ROB LAMBROU
- Jackson, New Jersey
---
November 13, 2012

-- this entry appended to this thread by editor in lieu of spawning a duplicative thread
Q. I have bright new copper gutters and roofs. What can I spray to turn it to dark bronze but not black. I tried that Liver of Sulphur(?) but it turned it black and also it needed to be wiped on instead of spraying it. Any ideas?
Noel Sugue
- Knoxville, TN
---
November 13, 2012
A. Hi Noel.
I must make the same comment about brown gutters as about green ones: while a skilled artist may be able to produce an artificial patina that is beautiful and natural looking, I don't think a contractor will achieve it with a quick spray of anything. But I think a purchased brown patina (that is, where the copper salt is already dissolved in the purchased solution) offers better prospects than trying to find an acid/chemical that will react consistently with the copper in your gutters. Best of luck.
Regards,
Ted Mooney, P.E.
finishing.com - Pine Beach, New Jersey
Striving to live Aloha
---
---
August 8, 2019
Q. I sprayed my leaders and gutters with a patina solution and even though I used a fine mist it it would run and leave Drip marks. How do you prevent that from happening? I tried a sponge, a paintbrush, a rag -- they all leave drip marks and it looks terrible. Thank you.
Valarie Kennedy
- Shirley New York USA
---
August 2019
A. Hello cousin . I can offer you three answers but you're not gonna like any of them :-(
The first is that the way the manufacturers of premium brass chandeliers get a perfectly even drip-free lacquer finish is by applying six or seven very thin coats. And if that weren't bad enough, brass lacquer has solvents which evaporate faster than the water in patina solutions, so their approach of multiple dilute coats would be very time consuming for you.
The second way, which is way beyond my level, is to have artistic talent specifically at this. If you patiently search the site for "copper patina", you'll find examples showing that such runs are not necessarily bad if you have a real feel for them, and can see the forest for the trees and the trees for the forest, as you're doing it.
The third, and even more impractical way is to wait many decades. Asbury Park's fabulous "Carousel Building", Hoboken's gorgeous "Lackawanna Railroad station", and the renowned roofs of Bancroft Hall at The Naval Academy are examples of this third approach.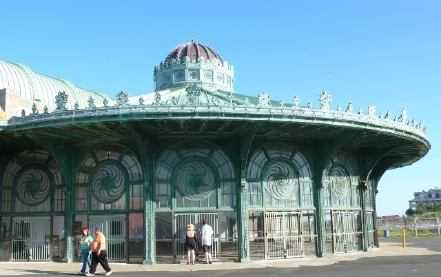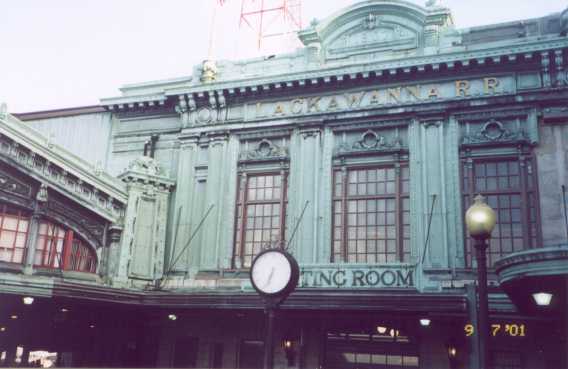 Hopefully a reader will give us a fourth approach which offers a degree of practicality :-)
Regards,
Ted Mooney, P.E. RET
finishing.com - Pine Beach, New Jersey
Aloha -- an idea worth spreading
---
August 9, 2019
Q. I tried many light coats of misting, still sometime drips and I wipe it off with a scrubby and try again. The downspouts are the biggest problem. I can get the gutters to look pretty good without drips BUT the leaders are impossible. I wanted to do my entire house but not getting too far. I have sprayed many items with no drips and it looks great but I'm stumped on these downspouts. I'm going to try one more time by wetting a rag and dabbing it on. Oh well I'll let you know, thanks for trying to help me, Valarie
Valarie Kennedy
[returning]
- Shirley New York USA