Where the world gathers for
plating, anodizing, & finishing Q&As since 1989
-----
Trying to electroform, but getting only black fur
June 15, 2012
Q. I have been using a commercial electroforming kit and it was working well; however the 1-liter container is really not enough to handle a larger item I am hoping to plate. Ideally I will end up with about 10 liters or so.

I tried to make my own solution by using Sulfuric Acid (approx. 10% in) a small amount of Hydrochloric, and added a large electrode to the bottom of the container. This test was about 3 liters in total with the remainder demineralised water.

The electrodes were placed + at the bottom and - at the top, I ran a current into the solution for about 2 days and occasionally scraped off the deposits on the top electrode.

I then filtered the mix and replaced the + electrode, and suspended the item to be plated in the solution -- but it's just building up a coating of what appears to be black fur. Is this due to having the solution too strong or weak? Or have I not got enough hydrochloric in the solution?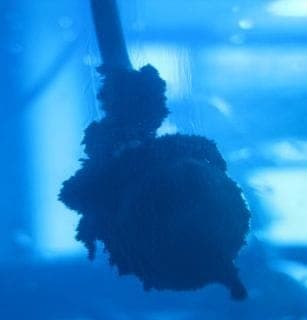 Acorn coated with graphite paint, drawing about 0.7 A at 0.5 V
Any suggestions would be appreciated.

Regards,
Andrew Hooper
Hobbyist - Botany, Australia
---
June 18, 2012
A. Hi Andrew.
You haven't mentioned what metal you are attempting to plate onto your acorn, or what metal these "electrodes" are made from; may we assume from the blue color of the solution that it is copper?
Please take a look at letters 56266 and 45620 for starters, where trained professionals using carefully formulated, carefully controlled, plating baths with proper ancillary equipment like filters, agitators, and temperature controllers are still having difficulties. You aren't going to like this comment, but the assumption that you can just mix some sulphuric acid with some hydrochloric acid, and dilute it with sufficient D.I. water to fill your tank, and then do electroforming is what's wrong. Yes, you can get a bit of copper coloration for the purpose of a school science demonstration that way, but are worlds away from successful electroforming with that solution.
I'm pretty sure that the copper concentration of your plating bath is only a small fraction of what it needs to be. How saturated is the color compared to the color of the commercial bath that was working well? This is only the first of many issues, but you can't electroform out of dishwater, you need a full strength formulation before you can even examine what the other issues may be. I think you should buy a commercial bright acid copper plating bath, but either way, best of luck!
Regards,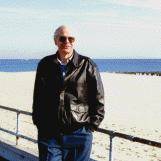 Ted Mooney
, P.E.
Striving to live Aloha
finishing.com - Pine Beach, New Jersey