topic 5844
Response to White Gold Issue
Ed. note; This is an interesting but long thread, and only one of many. Before you get too confused, you might want to start with our FAQ on Rhodium Plating and White Gold to get an overall understanding so you can follow along easily :-)
(2000)
I am responding to the white gold letter published in August issue of Metal Finishing [ed. note: the column was largely based on letter 1237 here]. Customers are sometimes confused about what we do in the finishing industry. The same is true in the jewelry industry.
This explanation may clear up some concerns about white gold jewelry, platinum jewelry and rhodium plated jewelry.
Platinum started a return in popularity about 10 years ago but was also quite popular around 1900 until the 1920's when supply restrictions were imposed because the catalytic properties of platinum made it a strategic metal. Jewelers, because of these restrictions, created a gold alloy containing nickel to meet the demand for a "white" precious metal. Gold is also alloyed to create other colors such as rose, green and various shades of yellow. Platinum is not sold as "white gold" because it is not gold and a 14K white gold ring has the same intrinsic value as a 14K yellow gold ring. It is important to note that jewelry stamped 18K contains 75% pure gold regardless of color and 14K contains 58.5%, etc.
The karat mark is based on 24K equal to pure gold and the Federal Trade Commission has strict perimeters regarding the marking of jewelry. Rhodium is also a precious metal, part of the platinum group and also has catalytic properties. The automobile industry uses rhodium in catalytic converters but rhodium has other desirable properties that make it attractive to jewelers. Most manufacturers of white gold jewelry plate their products with rhodium for the same reason any manufacture plates anything; to enhance the surface. It provides a bright, white, tarnish resistant coating which is very hard and greatly increases the life of the high polish on the gold.
A jeweler might suggest your white gold ring will need maintenance after a few years, just as a car dealer might suggest you new Lexus will need maintenance. He is not saying to throw it away but they both are subject to wear and tear. Ted, just as your mother has had 60 years of trouble-free wear on her platinum rings my own mother has some heirloom quality 14K white gold jewelry which my father gave to her over 60 years ago. It all still looks beautiful and she wears it all the time. Unfortunately there are a few incompetent jewelers out there and likewise there are a few incompetent platers out there and both discredit the industries in which they work.
Neil Bell
Red Sky Plating
Albuquerque, New Mexico
---
(2000)
Thanks, Neil.
I had a discussion with Joseph Mazia about the origins of white gold after publication of the column. Joe, back when he was working for his father as a precious metal refiner, cast white gold. He concurs with the history and definitions you are using.
So I will refine my question to: What "strict parameters" does the Federal Trade Commission enforce regarding the rhodium plating of jewelry and the marking thereof? If the answer is 'none', then it is obviously long past time. The public expects, and I think they have a right to expect, that an engagement ring or wedding band will be of heirloom quality.
I don't feel your comparison of a ring to a luxury automobile is quite apt because an automobile inherently requires tens of thousands of moving parts, whereas a ring is one piece that just 'sits there'. But just as is the case with a luxury automobile, all required 'maintenance' should be prepaid and the repairs should be 'portable', i.e., wherever the owner lives, s/he should be able to take the ring to a local facility for replating when necessary, with all repair charges charged back to the jeweler who sold it.
It is outrageous that a complex machine like an automobile can be warranted for 7 years, and the finish on a cheap doorknob can be warranted for life -- but something as precious as an engagement ring or wedding band can come with plating that need not meet any specs at all and may wear to ugliness in a few months or even a few weeks.
And if the jewelry industry would just use the right color white gold under the rhodium, 90 percent or the heartache they are causing would go away.
Ted Mooney, P.E.
finishing.com
Pine Beach, New Jersey
---
(2000)
I have a white gold engagement ring that was purchased in August of 2000, and it started out quite yellow.
At first in the store I thought it was yellow gold, but it is whiter than their yellow gold. It is 14 kt. We bought the ring anyway because the diamond was so good for the price.
After shopping around for wedding bands, I felt a little bad about my ring being so yellowish, so I thought I would get it Rhodium plated (I had been told by another jeweler about the plating). When I talked to the jeweler who we got the ring from they said they do not plate their white gold rings, which would explain why they are yellower than other stores, so we went to another jeweler and they said they could do it for $40 and it would take 7 days.
Then today at another store, same chain as the one who said they would do it for $40, the women told me that real white gold is really really white, and that the white gold at her store is just rhodium plated yellow gold...then she said where my ring was from must do a bad job, and said it was plated, but badly, and wore off already, even though I told her it hadn't changed colour at all since I got it. I told her it was always yellowish, but I wanted it plated so it would match other stores wedding bands, and she said that even if it was plated it would always be yellower and wear off faster than my wedding band if I purchased it else where. I think she was just talking bad about my ring because it was a competitor's, and she seemed to have no idea about what she was talking about, and contradicted herself.
Gold is gold, right? -- and if I get mine plated, why would it wear off any sooner than another ring I wear? And with all of these horror stories about bad plating jobs, how do I know where to go to get it done? And Also the thing about jewelers taking the good diamonds out of rings and replacing them with fakes, is there a way to guard against this. I would be worried if I took it in to get it plated this could happen, so how do I find a reputable jeweler to do this, is is best to go through a big national chain store. I am very appreciative of any help you can give me. After talking to the sales women today, I felt vary sad and confused. I LOVE my ring, it is so special to me, and she made me feel like there could be something wrong, and not fixable, so I am very happy to have found this site, and learned more about white gold, perhaps I will have to teach her now! Thank You
Marcie P.
[last name deleted for privacy by Editor]
- Calgary, Alberta, Canada
---
(2000)
Yes, Marcie, pure gold is an immutable element. And it is yellow; there are no white gold isotopes.
As Mr. Bell explains, all 14 kt gold rings are composed of 58.5 percent gold. The remaining 41.5 percent is other metals. And, depending on what those other metals are, the ring will be yellow or whitish (or pinkish, greenish, etc., etc.)
But "white gold" is not 'really really white'; white gold is the color of ... your ring, of course.
If you want your ring to be 'really really white' you need to have it rhodium plated because rhodium is really really white. Sorry, I have no knowledge of whether some jewelers would swap stones and how you could best avoid that except by dealing with trusted people.
And I am still searching, myself, for any thickness/wear standards that jewelers apply to their rhodium plating. Rhodium is so expensive (much more expensive than gold) that I'm sure there is some pressure to apply no more rhodium plating than necessary.
Ted Mooney, P.E.
finishing.com
Pine Beach, New Jersey
---
(2001)
Hello,
Apart from nickel and platinum could you please tell me what other metals can be alloyed with 22k to make white gold ?
Many thanks,
Kojo Bonsu
Ideas Jewelry - Accra, Ghana
---
(2002)
Thanks so much for making this information available on line - it's nice to know I'm not alone.
I've had the most awful experience with my ring. Now that I read these articles I remember why my white gold band was yellow-spotted after I had it sized. It took me 45 minutes with the jeweler (mall chain that I had THOUGHT was reputable...) to get them to see the yellow spots. I brought it in to have it re-buffed and to have a prong fixed and it came back the same way - and the diamond was chipped. My diamond was laser engraved, so after I learned how to use a loop I knew they didn't switch it. 3 months later, after lots of tears and lots of trips to see poor quality replacements, I finally got a ring that was comparable to the value of my initial ring. When I had the new ring sized it again came back spotted. I was frustrated and did not mention it right away. It started to turn yellow within the week, and now - one month later - it is completely yellow. I've been back and they told me "that's just the way white gold is."
I went to a different chain (who happened to own the other chain I had been to), and they told me about the rhodium plating. I was shocked - like the other writers - that they can market something that is not what it seems. After all, my grandmother's and mother's settings stayed steel-colored, certainly not yellow!
The jeweler has agreed to have my ring replated a week before my wedding. They said it would normally cost $800 to have this done. Would you please verify if this is indeed a true cost? If it is, I would suggest getting a platinum band to anyone thinking about white gold. It may be a little darker, but the maintenance on replating my white-gold ban is going to be much more expensive in the long run.
Jennifer A
[last name deleted for privacy by Editor]
- Duluth, Minnesota, USA
---
(2002)
$800 sounds outrageous to me! It is impossible to fully understand what is going on because there are so many jewelers, so many plating shops, several whiteness ranges of white gold, some yellow gold that apparently is rhodium plated and then sold as white gold, etc. etc.
But my wife's white gold engagement ring is 33 years old and still looks fine. It is not brilliantly shiny like rhodium, but it's not yellow. My suspicion is that some "white gold" rings, perhaps including yours, are yellow gold or "yellowish" gold with a thin rhodium plating that wears off.
If the ring were truly a white gold, the discoloration as the plating wears should not be obvious; and if the plating were heavy enough, it would be many years before the problem surfaced. From this distance it sounds like your ring is actually yellowish gold and the plating was thin.
Ted Mooney, P.E.
finishing.com
Pine Beach, New Jersey
---
(2002)
Thank you so much for addressing this issue. My daughter, married this year, has returned her wedding ring set 4 times ! for replating. I am very upset that this could happen with something as precious as wedding rings. I have a BS in Chemistry and own an electroplating company. I am VERY interested in helping to resolve this most disappointing problem, where might I begin?
Sam S
[last name deleted for privacy by Editor]
- Provo, Utah, USA
---
(2003)
I am also having problems with my white gold ring. Surprise, surprise! I was very happy with the colour when I purchased the ring. A month later I took it back to be sized. When I got the ring back it looked great. Less than two weeks later it was turning yellow. They assured us that it was NOT a yellow gold ring that had been plated before we purchased the ring. I returned it yesterday and asked that they send it to the manufacturer to be replated as I did not trust the quality of the place they normally use.
Regarding the question of how to make sure that they don't replace your diamond: Most jewelers have a diamond tester that sends a laser light thru the diamond and it beeps if they are real. Have them test it before they take it from you and after you get it back.
Krissy W
[last name deleted for privacy by Editor]
- Waterloo, Ontario, Canada
---
(2003)
Hallo everybody,
I would like to know that why other goldsmith's are not plating platinum on yellow gold and white gold items instead of rhodium?
Is rhodium plating is lasting then platinum plating?
In ready made rhodium solution there is 2 grams of rhodium in 1 liter and it'll plate 60 to 100 seconds only that means it is flash plating.
Advise how to plate more thicker of rhodium and platinum plating.
Thanks,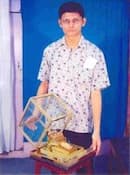 Dipen Pattni
jeweler/goldsmith - Dar-Es-Salaam, Tanzania
---
(2003)
$800 for Rhodium plating is a rip off. Yes some rings are made from yellow gold and has been rhodium plated. White gold rings are a mixture of metals. Some with nickel and some with palladium. Even if a right white gold product is made with rhodium plated, it will not turn yellow, because the white alloys in that metal bleaches out the yellow colour of gold. And if any jewelers says that its normal for a white gold ring to turn yellow, don't ever go there again. And $800 for plating ? that guy is worse than a robber.
Kenneth T
[last name deleted for privacy by Editor]
- Australia
---
(2005)
A year ago me and my now husband took in some antique yellow gold rings to get rhodium plated. It only took 3 days and the rhodium wore off. We scratched that idea and moved on. I bought a white gold wedding ring in May and by the summer it was turning yellow. When I took it back to the store I got it from they returned it to the manufacturer. I got a new ring for free. Never in this time did anyone tell me that white gold was rhodium plated, I wouldn't have touched it. Then in November I got a new engagement ring once we paid the wedding off, white gold, now it's turning yellow. My rings don't match and I am very upset. What can I do? I now own 2 engagement rings and 3 wedding bands that have not stayed white gold. Help! I live in British Columbia and I need to know what I can do and where.
Thanks for your help.
Lisa M
[last name deleted for privacy by Editor]
Photographer - Langley, British Columbia, Canada
---
(2005)
I have a jewelry problem that I think I understand now. I am an electronics engineer and my experience with the metallurgy of plating is limited to finishing processes for printed circuit boards.

When our first child was born I bought my wife a yellow gold pendant that had a "white gold" highlight on one area. The jeweler who sold us the piece added a setting for the baby's birthstone with no problems. After a few months my wife had to stop wearing it because the baby kept grabbing it and had messed up the chain. :)

After our second child was born we took the pendant to a reputable jeweler and had them add a second birthstone and mount the pendant on a white-gold bracelet.

When my wife picked it up yesterday the "white gold" highlight was gone- that part of the piece was the same yellow gold color as the rest. We thought we were nuts so we dug through old photos to prove to ourselves that it had really been two-tone to begin with.

My initial thought had been that with the heating to attach the pendant to the bracelet, copper from the yellow gold had migrated into the white gold.

After reading the info on this site, my theory is that the "white gold" highlight was really a selective rhodium electroplating and it cooked off when the goldsmith welded on the bracelet.

My question then is this: How difficult is this to restore? Can rhodium be brush-electroplated or does it require applying a selective resist and then immersing the piece?

On a more academic note, did the rhodium migrate into the gold or did it somehow come off? If it migrated, does this have any effect on the gold?

Also, is there anything that the jeweler should have done to prevent this, or is it just something that was bound to happen?

Thanks,
Mike Antoniak
- Severna Park, Maryland, USA
---
(2007)
Hello Everyone.

I am a jeweler myself. and have been using the rhodium plating since 1996.

I size at least 20 to 30 white gold ring a week, and with every single I perform the sizing the ring will turn yellowish, not yellow.
Unless some jeweler just took a yellow gold ring out of his case and electroplated it with rhodium. I have seen that many time usually from a larger jewelry chain, they just want to make the sale and get the commission.

Anyway, It's not required by law to tell the customer that it is rhodium plated.

rhodium plating will never last forever, expect it to wear off.

Why it turns yellowish quick.
Reason # 1 VERY THIN LAYER OF RHODIUM WAS DEPOSITED ON THE ITEM(RING, BRACELET/ ETC...)
WHY IS THAT? BECAUSE THE JEWELER DID NOT KEEP IT LONG ENOUGH IN THE BATHING SOLUTION. WHY IS THAT? TO SAVE MONEY, RHODIUM IS A VERY COSTLY METAL, AS OF 7-20-07 ONE GRAM OF RHODIUM SOLUTION COST 315.00

REASON # 2 EXCESSIVE WEAR ON THE RING, REMEMBER THE RHODIUM THAT IS ON TOP OF THE WHITE GOLD ITEM IS VERY VERY THIN.

If you don't want to have all the headache of white gold you can do the following:

** buy platinum ring
The good: very durable, very precious metal, safer for stone, hypoallergenic, better resale value than gold.
The bad: will scratch very easy, and $$$$$

** Buy Palladium ring
The good: very strong metal, never change color
The bad: not every jeweler can work on palladium.

-------------THERE IS ALWAYS A GOOD NEWS-----------------
If you still want to buy a white gold ring. Ask your jeweler to get you a white gold ring from STULLER "X1 white gold" forever white . They have white gold jewelry alloyed with certain metal that will keep your ring looking white forever, and that without any rhodium plating.
If you need more info about that let me know.

You should never pay more than 60.00 to rhodium plate you ring, that include polishing and plating.
although I have seen some jewelers charging like 120 , that is a highway robbery.

To conclude, buy platinum,buy palladium, buy X1 white gold from Stuller. do not always blame your jeweler :-) it's not his fault the white gold is rhodium plated. white gold is rhodium plated all over the world, so it's him who chose to rhodium plate white gold.
Charles Rahal
- Southern, Massachusetts
---
(2007)
Thanks for the response, Charles. Every good response begets additional comments though!
While it might be highway robbery for a jeweler to charge more than $60 to rhodium plate a ring in a teacup in the store's back room, $60 is not a lot, and perhaps not even enough, to send that ring out to a specialty industrial electroplating facility.
Such electroplating facilities apply rhodium for life-critical applications in electronics and and aerospace and may be worth investigating. To those who say that this is overkill, I simply cite the hundreds upon hundreds of complaints from customers dissatisfied with jewelry store plating on this one website alone.
If rhodium replating is indeed a simple and cheap affair, jewelry should come with a lifetime replating guarantee. Only that way can we count on the jeweler to rhodium plate the ring correctly the first time and each subsequent time. Even things as complicated as luxury autos come with prepaid maintenance these days; certainly heirloom jewelry should.
Ted Mooney, P.E.
finishing.com
Pine Beach, New Jersey
---
(2007)
After reading the postings, many questions have been answered for me. Thanks to all. But I do have a couple other questions. I too have had big problems with my engagement ring, from after "re-rhodiuming" the ring it coming back very dark, with a yellow gold hue, to actually tarnish on the ring.
Question 1: What test can be done to determine what metals actually make up the ring? (I've heard of a scratch test), and
Question 2: Is it a federal trade commission rule for jewelers to stamp the ring with what metal it is? (i.e., 14k gold, 18k gold etc).
Question 3: Do any of the metals that should make up a 14 k white gold ring tarnish? (It looks like the tarnish you would find on silver)
After changing my engage. band three times, they finally had to just make it "in house" because we could not find the right width and mounting style from their suppliers.
Any thoughts?
Julie Repka
buyer - Houston, Texas
---
September 30, 2010
Dear Kojo Bonsu,

In response to your question about making 22k white gold, the answer is that it cannot be done, according to a research study published in Gold Bulletin 2005, by Henderson and Manchanda, entitled "White Gold Alloys: Colour Measurement and Grading." This finishing website led me to the article.
Pat OReilly
Receptionist/Data Entry - Yardley, Pennsylvania, USA


This public forum has 60,000 threads. If you have a question in mind which seems off topic to this thread, you might prefer to Search the Site