60,000 Q&A topics -- Education, Aloha, & Fun
topic 57025
How can electroplating cathode current have efficiency less than or more than 100%?
A discussion started in 2011 but continuing through 2019
April 12, 2011
Q. Hello,

I am a materials engineer student and part of my degree entails the basics of electroplating, or electrochemical technology.

I wondered whether you were able to answer my question, as well as give some further, more in depth reasoning behind it as to further help understanding of the subject for my summer exams:

"In electroplating, how can a cathode current mechanistically have a current efficiency less then 100% and in some cases more than 100%?"

Thanks so much for your help.
Alastair Baldry
Materials Student - Crowborough England
---
---
April 20, 2011
Q. hello,

Where you state "There is a relationship here between the amount of current flowing and the amount of metal moved. For each two electrons you move, one atom moves. That's what we mean by 100% efficiency"

Is this true all the time, 2 electrons for one atom, or just this example?

Sorry if this is stupid - just trying to get my head around the basics at the moment.

kind regards

Tom
Tom Casselden
- Brighton
---
---
February 14, 2013
Q. I want more answer.
Abhi Nimbalkar
- India
---
---
November 16, 2015
Q. What is the formula for calculating current efficiency for electroplating?
riyad siddique
- motihar. rajshahi.bangladesh
---
---
March 26, 2016
Q. 1.CAN YOU PLEASE BRIEF EXACTLY AND TO THE POINT ABOUT THE CATHODE CURRENT EFFICIENCY BEING MORE THAN 100%.

2.AFTER HOW MUCH TIME OF OPERATION WE NEED TO CHANGE THE ELECTROLYTE SOLUTION?

3.WHAT ARE THE OPERATING VOLTAGE IN CASE OF
>COPPER PLATING
>NICKEL PLATING
>CHROMIUM PLATING
FOR BETTER CATHODE CURRENT EFFICIENCY. WHAT I MEANT IS, IS THERE ANY EFFECT OF VOLTAGE ON CATHODE CURRENT EFFICIENCY. SECONDLY DO WE NEED A MAINTAIN A MINIMUM OR MAXIMUM DIFFERENCE BETWEEN THE CURRENT AND VOLTAGE?
HAREESH PAKALA
- HYDERABAD,TELANGANA,INDIA
---
---
March 27, 2016
Q. Hi, I was just wondering, does cathodic efficiency decrease at higher temperatures? I was reading somewhere that this is true, and that at higher temperatures, the speed of formation of H2 increases more rapidly than the electrodeposition of metal. If this is/isn't true, can you please explain why?
Ashley Sanders
- New York City, New York, United States
---
March 27, 2016
Q. HELLO SIR,
FIRST OF ALL I WOULD LIKE TO THANK YOU FOR YOUR RESPONSE TO MY QUESTION.

ACTUALLY WE HAVE SOME ELECTROPLATING EQUIPMENT IN OUR LABORATORY IN WHICH WE NEED TO SET THE VOLTAGE AND CURRENT AND THEN START THE EXPERIMENT.

THE MAJOR PROBLEMS MANY OF US ARE FACING IS THAT THE CATHODE CURRENT EFFICIENCY IS VARYING WITH VOLTAGE, BUT ACCORDING TO THE FORMULA OF CATHODE CURRENT EFFICIENCY, THE WEIGHT OF METAL DEPOSITED DOES NOT DEPEND ON THE VOLTAGE BUT DEPENDS ONLY ON THE CURRENT. BESIDES, IN SOME CASES OUR CATHODE CURRENT EFFICIENCY IS DECREASING W.R.T TIME (here we are using the same solution for all time periods).

I AM NOT ABLE TO FIGURE OUT THE EXACT REASON BEHIND THESE TYPE OF TREND.(here we use the plates of dimensions 2X1 inch with thickness of about 2mm.)
HAREESH PAKALA
[returning]
- HYDERABAD,TELANGANA,INDIA
---
---
May 9, 2017
Q. Hi all,

I am writing to you in concern of hydrogen build-up and ignition over our alkaline zinc plating baths. I understand hydrogen can build up from the hydrolysis of water, but I am starting to question the electrolysis of caustic soda as well.

We run 3 plating lines. 4,500 gal tanks and only 2 of the tanks have this hydrogen build up. These two tanks also take 3x the amount of caustic soda.

All three plating baths plate at two different cathode positions with an anode on both sides. A-C-A A-C-A The only (Or highest) electric potential difference between the 2 hydrogen building plating baths and the plating bath is how they are bussed. None of the cathodes are bussed on both sides. On the two hydrogen build-up baths have both cathodes bussed on one side of the tank while the bath that does not build up hydrogen have one Cathode-Anode pair bussed on one side of the tank and the other pair bussed on the other.

Any suggestions/information on how to reduce or stop the occurrence and where the hydrogen is coming from? This will also greatly reduce my caustic soda consumption.
As for the electrolysis of water from poor efficiency, wouldn't this cause the solution to become more caustic and need less sodium hydroxide metering into the plating tank?

It is hard to determine the weight plated on a hull cell. You need to strip the hull cell, dry it, re-pretreat and than plate and weigh. This seems like an inefficient method already.
Steve Hubbard
- Indianapolis, Indiana, United State
---
---
November 18, 2017
Q. I am doing a lab experiment and it's about the efficiency of copper electroplating, and I chose to look at how voltage impacts the efficiency of the electroplating.
1. Firstly I want to know how voltage impacts the efficiency of the experiment. I am using voltages from 3 to 10 because apparently when you go above 10 volts the experiment won't work but I don't know why, and apparently, when the volts are at 3-6 it is the most efficient but I don't know why.

2. Another thing is that I want to calculate the percentage yield but I forgot to measure the current, but I measured the distance between the electrodes which was 6 cm and I know what the voltage was, how do I get the theoretical yield without the current?
Omar Shokr
- vienna, austria
---
November 22, 2017
Hi Omar
Ted is correct but as a general comment, it is quite common to find that there is other chemistry going on in addition to the process you are studying. Faraday's laws are always obeyed but for example current used the release of hydrogen could lead to low cathode efficiency and occasionally autocatalytic reactions may look like efficiency over 100%. Even organic chemicals are subject to electrochemical reactions; typically oxidation.
You do not say what copper solution you are using but acid copper sulphate should obey Faraday's laws with no side reactions and can be assumed to be 100%. So much so that it has been used to calibrate ammeters.
With other copper processes and in the presence of other chemicals (eg brighteners) the above comments apply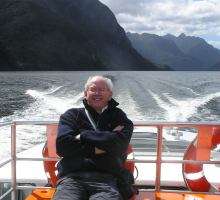 Geoff Smith
Hampshire, England
---
---
Why chromium plating generates so much fumes
February 20, 2019
Hi Ted,
Engineer Intern here looking for an better answer as to why chrome is emitted from some of these electroplating processes. I have a very basic understanding of the electroplating processes, so some of this might be ignorant.

Earlier in the forum, you wrote about how if no metallic ions are near the cathode, the electrons will pull hydrogen ions out the water molecule (where hydrogen at the cathode and oxygen at the anode gas are generated). I understand that some of the chromium (for example) will be entrained in the mists as the bubbles rise to the surface. To me, this means that there are plenty of metallic ions in the solution but just hadn't made the distance to the cathode before the gas evolves? Would this mean that the emissions would result (in part) by the distance between the cathode and anode?

Just looking for your thoughts on this. Thanks for your time.
Morgan McGrath
- Tulsa, Oklahoma, USA
finishing.com is possible thanks to our supporting advertisers, including this one: