Serious Education ... plus the most fun you can have in metal finishing.
Rainbow effect / defect on anodized aluminum?
A discussion started in 2004 and continuing through 2017 . . .
(2000)
Q. I'm getting rainbows on my 2024 bare T-3 sheets. Some get it some don't. I cannot figure out how to control the process where I don't get rainbow effect. Also, is the rainbow effect detrimental to prime adhesion? If you have any experience with this please let me know.
Bryan M
[last name deleted for privacy by Editor]
- san diego, California
---
(2000)
A. Rainbows sometimes appears if you have a high pH in your sealing tank. But only (as I know of)when sealing dark colors. I have had this problem when sealing deep black MLW (10 g/l), bronze 2LW (3 g/l) the alloy was 6063-T6.
Martin Dehlin
- Sweden
---
(2000)
A. Rainbow (or iridescence) on clear anodize is sometimes due to thin coating thickness. A coating thickness check on rainbow vs.non-rainbow should tell you if you're heading in the right direction.If it is coating thickness differences, there are many possible causes. Verify first, then we'll discuss further later.
Victor Waldman
- Naugatuck, Connecticut
---
---
To minimize searching and offer multiple viewpoints, we combined multiple threads into the dialog you're viewing. Please forgive any resultant repetition.
---
---
Rainbow Defect in Bright Anodized Aluminum
(2005)
Q. We are facing problem of double refraction leading to rainbow defect after bright anodizing reflector grade Aluminum Alloys. Request help in knowing the reasons for such a defect & how to avoid such defects.
Shankar Nayak K. M.
Hindalco Industries Limited, Taloja - Navi Mumbai, Maharashtra, India
---
(2005)
A. Shankar

Check your coating thickness. My guess is that you do not want a very thick coating, but by going to the other extreme, you could be getting the rainbow.

The only time I have seen rainbow on parts is when they lost contact early in the anodize process, and had almost no coating.
Willie Alexander
- Colorado Springs, Colorado
---
---
January 21, 2011
Q. We do the anodizing process for cosmetic industry and our Chinese factories are having problems; producing pieces with a rainbow effect in the color anodizing and often in plain silver color anodizing. We are looking for help to resolve.
Sandrine Desiderato
---
January 24, 2011
A. Hi, Sandrine.

Although it is difficult to troubleshoot from many miles away, rainbow 'iridescence' is a phenomenon that is sought in such fields as carnival glass and the anodizing of titanium jewelry, and it is achieved by applying a transparent/translucent coating of partial wavelength thickness. In such cases, part of the light bounces off the outer surface of the coating, and part bounces off the inner surface, and it interferes, canceling out some wavelengths. So two possible explanations include: 1). The anodizing is very thin, only partial wavelength thickness. 2). Somewhere in the post-anodizing steps, an oily film has been deposited.
If you can attach some photos someone may recognize the situation. Good luck.
Regards,
Ted Mooney, P.E. RET
finishing.com
Pine Beach, New Jersey
---
January 26, 2011
A. Current/voltage and anodizing solutions being proper, there could be two possible reasons.
The jigging of the parts is probably causing them to loosen during the process and hence get improper electrical contact resulting in poor anodizing.

The time for anodizing is insufficient. Increasing the time could give better results.

Hope this helps.
Winston D'Souza
-
Bombay, India
---
January 29, 2011
A. Make sure the temperature of your tank is within the range.
Muhammad Umair Khan
-
Lahore, Pakistan
---
January 31, 2011
A. I think that the original post wanted to have a rainbow effect. That is normally a result of a very thin anodize which will not take color very well For dye and probably the same for two step.
James Watts
- Navarre, Florida
---
January 31, 2011

Here is what I learned on anodizing.org:

Why do aluminum parts I send to be black anodized sometimes come back with a purple hue, and how can this be avoided?

The purple hue is an iridescent color--the result of a very thin film on the surface of the black anodized part. Other iridescent colors can be produced, and can appear even on clear anodized parts, but are most evident on black anodizing. An analogy is a black asphalt road after rain. A droplet of oil causes iridescent rings that are quite apparent on black asphalt but can hardly be seen on a light-colored concrete road.

There are a number of possible causes of the film. One is sealing smut. Hot water sealing blocks the pores of the anodic coating, thus improving its weathering resistance, reducing its adsorptive properties, and sealing in any pigment. However, some sealing product forms on the outer surface of the anodic coating. This is sealing smut. It consists of very small, needle-like crystals of aluminum hydroxide. They act as a thin film that can generate iridescent colors. Anti-smut additives for sealing baths are available, which minimize the problem. The formation of smut can be favored by high pH. The bath chemistry should be controlled as recommended by the supplier of the sealing additive. Alternatively, the smut can be wiped off. Before the invention of anti-smut additives, people used to wipe down parts with lanolin in white spirit. This temporarily masks the smut as much as it removes it. Manual removal is time-consuming and can be hard work.

Anodizing under conditions that are too aggressive can lead to iridescent effects. In particular, if the bath temperature is too high, the surface region of the porous anodic coating (the part of the coating that was first formed during anodizing) can be dissolved in the acid solution to the extent that it is very much more porous. This is called a "soft" coating. In general, anodizing at over 75 °F for more than 45 minutes can produce a soft coating. A simple abrasion test to detect a soft coating is described in British Standard

BS 6161-18:1991

[link by ed. to spec at TechStreet]

.
Sandrine Desiderato
[returning]
-
Woodland Park, New Jersey, USA
---
---
To minimize searching and offer multiple viewpoints, we combined multiple threads into the dialog you're viewing. Please forgive any resultant repetition.
---
---
October 25, 2012
-- this entry appended to this thread by editor in lieu of spawning a duplicative thread
Q. We are experiencing a rainbow sheen on 6061 alloy parts that we are anodizing. The parts receive 1 mil of anodize in a ambient temperature anodize tank. They then receive 5 minutes in the black dye, which upon pulling out of the dye look extremely black. However, when we seal them in DI hot water they come out still black but with a purplish, rainbow sheen on them.

We have tried sealing at 190 °F and 200 °F, both created the same effect. We have tried sealing for 30 and 45 minutes, both had the same effect. The pH was measured to be 7.8 but I'm afraid to adulterate the DI water with acid.

Any ideas on how to get rid of the rainbow effect?
Justin Brooks
- Davenport, Iowa, USA
---
October 26, 2012

A. For a dyed anodize, you'll want to use a nickel acetate type seal. I would not use a DI seal, as eventually you'll be leaching your dyestuff into the seal. If you insist on using a DI seal, you'll want to lower the ph to around 5.5-6.0 using acetic acid. Even at that pH range, you'll still have a seal smut problem (which is what I think you are seeing now with the "rainbow"), which would be eliminated if you used a nickel acetate bath.

Marc Green




anodizer - Boise, Idaho





---

October 26, 2012

A. Did you MEASURE "1 MIL" thick or did you merely specify 1 mil. Low thickness with most black dyes comes out with a blue-purple shade. You did not say what the seal was so: (1) if mere hot water -you cannot seal colors with only water - the dye will bleed, and (2) pH 7.8 is too high for either hot water sealing or nickel acetate sealing - the oxide is partially stripped at that pH and temperature. Go back and drop the pH of the seal to 6.0 and see if the purple goes away, then switch to a nickel acetate seal to prevent any dye from bleeding.

Robert H Probert




Robert H Probert Technical Services





Garner, North Carolina






---
October 29, 2012

Thank you for your responses.

The plan is to switch to a nickel acetate sealer, it is just slow going getting there. As far as the 1 mil, it was a measured 1 mil. We will lower the pH of the DI water with acetic and see what we come up with.

Upon further investigation, when we run 6061 vs 7075 same procedure and same thickness, we only get the sheen on the 6061 parts.

Thanks!
Justin Brooks
[returning]
- Davenport, Iowa USA
---
---
August 20, 2015
Q. I have some parts that were anodized by a supplier. The appearance in one area has a "rainbow" appearance on the surface.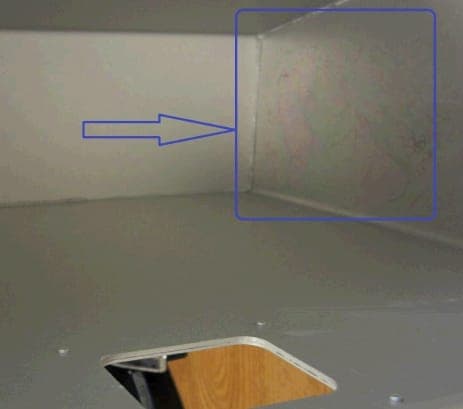 This part and the area will be primered and painted. Will this possible issue affect the integrity of the anodize?
David Torres
quality inspection aerospace - Huntington Beach California
---
August 2015
A. Hi David. Rainbow coloration -- whether it be on a puddle of water, or in carnival glass, or on anodized aluminum -- is almost always actually due to a transparent or translucent film which is so thin and variable in thickness that light bouncing off the top of the film and the bottom of the film "interferes", causing the various colors. It is possible that the film is a dye-smut "oil" on top of the anodizing, or that the film is the anodizing itself being too thin in that area. I think it's easily checked with an eddy current thickness tester. Good luck.
Regards,
Ted Mooney, P.E. RET
finishing.com
Pine Beach, New Jersey
Striving to live "Aloha"
---
---
November 20, 2015
-- this entry appended to this thread by editor in lieu of spawning a duplicative thread
Q. Sir, I am facing problem on alloy 6063 having rainbow shades on it. What are the reasons for rainbow shades and what are the ways to control it?
nawaz sharif
- lahore punjab pakistan
---
November 2015
A. Hi cousin Nawaz. We appended your inquiry to a thread which discusses the possibilities in good detail. Most likely, either the anodizing is extremely thin due to a bad connection or other issue, or an "oil film" from a dye smut or other post-anodizing tank has been deposited onto the parts. Good luck, and forward a photo of the problem to if you can.
Regards,
Ted Mooney, P.E. RET
finishing.com
Pine Beach, New Jersey
Striving to live "Aloha"
---
February 11, 2016
Q. We have this 6061-t651 part for Hard clear Anodizing with Hot DI Water Seal for 160 mins.
But we are getting rainbow surface and white patches after the treatment.
Any suggestion how to prevent this? We appreciate your feedbacks. Thank you.
Yma Bonao
- Jurong, Singapore
---
---
August 10, 2016
Q. Hi - I do want the rainbow effect to stay!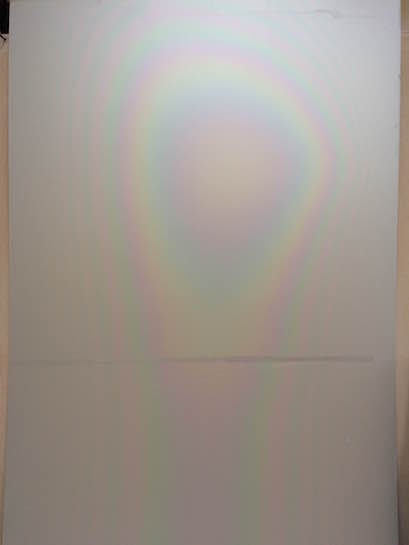 I am an artist. Do any of you have experience? Will it stay for years to come ?
excited artist in Norway anne katrine
Anne Katrine Dolven
artist dolven - Bostad, Norway
---
---
February 24, 2017
Q. Why rainbow color is observed on Aluminium anodized profile with colonel 3175 as coating, after it is exposed to heavy rain?
Asif Sange
- India
---
---
Purple film during anodizing process
March 19, 2017
-- this entry appended to this thread by editor in lieu of spawning a duplicative thread
Q. Hello, I am new to the anodizing process. The trouble I keep having is a purple film on both the cathode and part being anodized. I am using aluminum sheets for the cathode. Amps are low, around 1 amp. Your help or ideas would be greatly appreciated.

Thank you
Karima Taylor
Hobbyist - Los Angeles, California
---
March 2017
A. Hi Karima,
My first guess is that it's just a partial-wavelength interference film as discussed on this thread. But the same film on anode and cathode sounds a bit strange. Are you sure your power supply is okay? BTW, giving the amperage without the area of the part doesn't help much, since we can't determine the current density without the area :-)
Luck and Regards,
Ted Mooney, P.E. RET
finishing.com
Pine Beach, New Jersey
Striving to live "Aloha"