60,000 Q&A topics -- Education, Aloha, & Fun
topic 56121
Our nickel plating is white and milky
A discussion started in 2010 but continuing through 2019
November 11, 2010
Q. Hi, I am a materials technician and I am trying to get our automatic plating line working properly. Currently it is outputting parts which are quite significantly covered in a white, milky deposit. It does not come off if you scrub it and very wide spread. Our chemical bath analysis has come back as fine with the exception of high levels of brightener. Any ideas how I could fix this?
Mark McKinnon
Technician - Rugby, Warwickshire, United Kingdom
---
November 13, 2010
A. Mark,
Assuming your bath is Watt's bright Nickel, white/milky deposits are due to :
1. Too low temperature during plating.
2. Too low current during plating.
SK Cheah
- Penang, Malaysia
---
November 19, 2010
A. High brightener in Nickel baths may cause white patches at part surface after chrome plating.
The rinsing process can't remove the excessive brightener retain on part surface.
These organic matters were seen as white patches after chrome plated.
EC Lim
- Johor, Malaysia
---
November 19, 2010

? Hi Mark, Just a few questions.

i) Is the milky appearance in the form of a uniform film over the entire substrate or in the form of patches ?
ii) What is the exact composition of your Nickel bath, i.e., specifications and actual analysis ?
iii) What are your plating conditions e.g., current density, plating time, temperature, etc.
iv) Is your process galvanostatic (constant current) or potentiostatic (constant voltage)?
v) What is your substrate material
vi) Do you have a wetting agent in the bath ?
vii) Is the bath agitated and how is this done ?

If you can answer these questions, I might be able to help you.
Thanks,
Maurice.

Maurice Mason




consulting - Danbury, Connecticut





---

November 21, 2010

A. You mentioned that you have too much brightener, but there are two types of nickel brightener in the solution:
primary and secondary. Usually too much brightener refers to secondary. In this case, primary brightener should be added for balance. Too little primary brightener causes white patches.

Do you see the problem on the hull cell panel? Ask your supplier to perform a hull cell test.

Perform dummy plating on your solution. If it does not solve the problem, perform carbon treatment. I hope that you have a continuous carbon filtration on the solution.

Before you perform any treatment, make sure that you see the improvement on the hull cell.

Sara





Sara Michaeli


chemical process supplier
Tel-Aviv, Israel


---
December 2, 2010
A. White spots have different sources.

Brightener breakdown produces organic contamination there are many sources that could lead to this type of white spots, what Mrs Sara said is interesting and she always give the right answer besides teaching new aspects about plating.

but if you want to solve the problem attack the two types of sources.

Carbon treatment for organics

High pH treatment for contamination of metals (i don't think its the cause but just to be sure)

correct pH

Dummy plating for copper and clean the bath

and if that does not work and the lab test are showing good numbers the reason is not on the bath

Daniel Hernandez
- Bucaramanga Santander Colombia
---
December 7, 2010

Thank you to everyone for your help with this.

The milky coating is not uniform over the entire part, however it is widely prevalent. The part itself is a thick boss circular boss in the middle surrounded by a much thinner flange. The boss' tend to be fine, while the flange is in a much poorer state. Their also appears to be cleaner spots toward the bottom where the liquid temporarily pools when the flight bars are lifted.

The bath composition is Nickel Chloride, Nickel Sulphate, Boric Acid and a HS-Nickel Sulphamate additive. The brightener levels have since been reduced back into its specified level, but with no improvement in coating. Plating time is 7 minutes, at 60°c and with air agitation. The components themselves are copper, with a copper/silver braze used to join the boss to the flange.

The filtration we have is a Siebec MC-10 filter, and in order to be thorough we have recently changed the filter, in addition to changing the anodes and anode bags.

I do not know if this is important but in order to rule out some things I have attempted some strenuous hand cleaning with no effect. However it has been found that cleaning the copper with wither copper-bright or brasso SIGNIFICANTLY improved the coating we could put down.
Further to the above information, we are currently looking at whether our electrolytic cleaning is not working properly. The chemistry has come back alright, but we're not convinced it is working effectively. What is a foolproof way to check? How much effervescence should be given off? It doesn't appear to be very vigorous currently.

I sincerely appreciate all the time everyone has contributed to this. Mark
Mark McKinnon
[returning]
- Rugby, United Kingdom
---
December 8, 2010
? Hi Mark,
Thanks for getting back to us. Can you send us photos to show what the problem and parts look like.
Also, are you using a wetting agent in the bath? If you are, is this wetting agent recommended for air agitation
Did you contact the vendor who supplied the bath chemistry?
Maurice.
Maurice Mason
- Danbury, Connecticut, USA
---
December 9, 2010

I have submitted some photos to be attached to show you some examples of the finish we are getting. I'm not sure if it's helpful or not but the finish in the top right of the image (the portion that is different to the rest)is at the bottom of the component as it is jigged up, and as such is where the liquids pool. To reiterate, our bath is made up of Nickel Sulphate, Nickel Chloride, Boric Acid, and this HS-Nickel Sulphamate additive.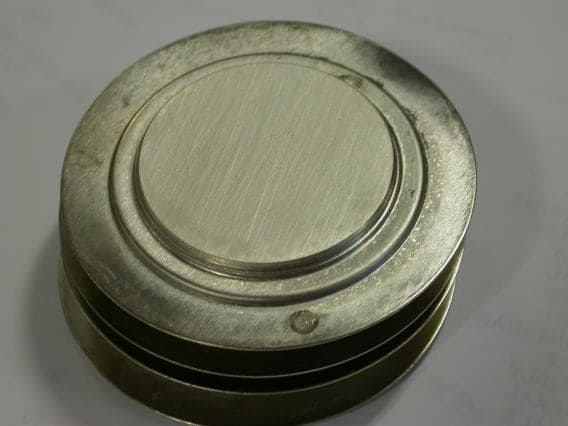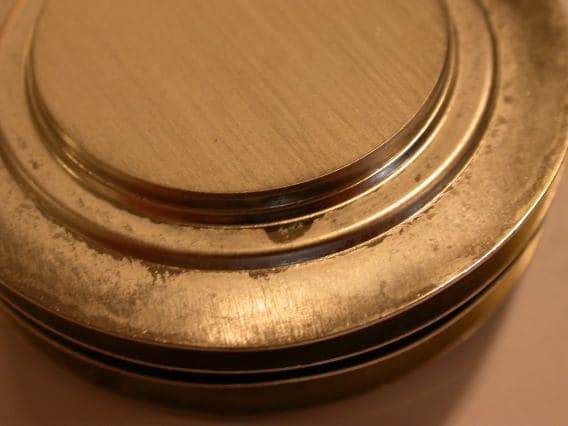 Mark McKinnon
[returning]
- Rugby, United Kingdom
---
December 10, 2010

A. From the pictures, the first thing that I would do is to increase the agitation in the plating tanks. That is a quick and relatively cheap check.

James Watts




- Navarre, Florida





---

December 10, 2010

A. Hi.
1. Those tarnish marks on the raw copper part , if not removed, will show up as white patches or spots after nickel plating. That explains why, after you brasso them, you get much better results.
2. Those blackish patches in the after nickel plated part, looks to me like metallic contamination. Sara Michaeli has shown you the direction to take.

SK Cheah




- Penang/Malaysia





---

December 12, 2010

A. Hi Mark,
Thanks for the photos. Based on these photos, the problem seems to be happening mainly on one side of the part. Now, some more questions.
i) Is the problem occurring on the same side of the part relative to the bath. If this is so there could be a problem with bath agitation or current distribution in the bath. Try rotating the parts in a plane parallel with the Anode.
ii) How many parts are you plating at a time? If you are plating more than one part do they all look the same way with the spots all on the same side or the position of the spots is random. This could also be due to agitation or current distribution. If you are plating more than on part at a time, try plating fewer parts or just one part.
iii) Are the parts parallel with the Anode. Sections of the parts nearer to the Anode could experience a higher current density and show these spots(burning) iv) What is your Anode to Cathode ratio, and is the Anode perfect aligned with your parts (Cathode)? These could also affect the current distribution in your bath.
v) Why are you using a Nickel Sulfate/Nickel Chloride bath? If your problem is one of Throwing Power, Using a Nickel Sulfamate/Nickel Bromide Bath with soluble depolarized Nickel/Sulphur Anode might help.

Hope I was able to help.
Maurice.

Maurice Mason




- Danbury, Connecticut





---

December 11, 2010

A. Mark,

I looked the picture of your part for white spot on it. First thing you have to do , take the part out before chrome plate , if you see white spot that means there is no problem in chrome.check detail analysis of your nickel tank solution.
Check your cleaner tank temp.,concentration.
If you do not have stain after nickel plate then you have problem in chrome or chrome activator.




Popat Patel




Beacon Park Finishing LLC - Roseville, Michigan




---
December 21, 2010

Thank you to everyone for all of your help. As it turns out it appears our copper supplier is at fault. We have run samples of copper down as we receive it which came out contaminated. We then asked for a sample of copper as our supplier receives it from THEIR supplier. When we subsequently attempted to plate this it came out perfect. It would seem therefore that something in their process is causing our issues.
Mark McKinnon
[returning]
- Rugby, United Kingdom
---
---
July 21, 2019
Q. I'm suffering from the white spots during nickel plating.
What to do to solve this problem?
Pradeep singh raghav
Jaydeep Industries - Vadodara, gujarat, india
---
July 2019
? Hi Pradeep. Such problems have multiple possible causes as you can see on this page or by searching the site. Please start by answering the questions that were posed to Mark, or comment on the possible solutions that were offered to him, and tell us how your problem differs. The readers are usually helpful, but don't want to pull teeth; they expect you to tee up the problem :-) Thanks!
Pics to for posting here please.
Regards,
Ted Mooney, P.E. RET
finishing.com - Pine Beach, New Jersey
Aloha -- an idea worth spreading