60,000 Q&A topics -- Education, Aloha, & Fun
topic 41922
Nickel Plating defect: white patches
A discussion started in 2006 but continuing through 2020
2006
Q. Dear sir,

currently my company is running the nickel plating 1700. I would like to know what is the root causes of the visible white patches occurrance during the plating process.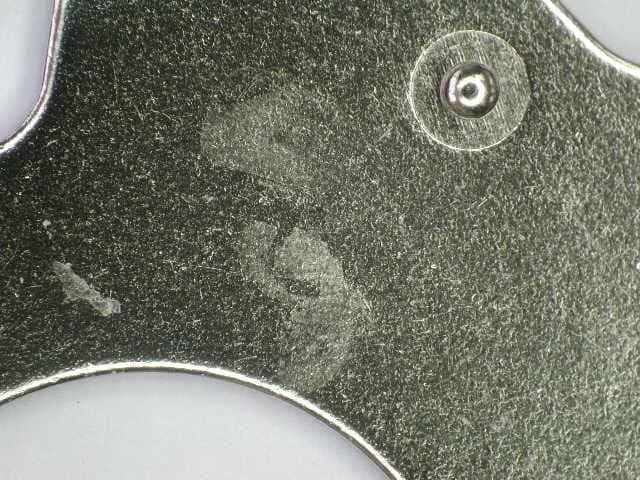 Thanks and have a nice day .
Charlene Tan
metal stamping - Malaysia
---
2006
A. Hi Charlene,
There are a few things that could be causing this type of stain. Make sure the chloride level in the bath is within range. The stain could also stem from organic contamination. Try a few carbon packs - 2 hrs per carbon filter with the bath at operating temp. Add back any organic additives per the tech data sheet for the bath. Make sure rinsing is adequate. Good Luck!
Mark Baker
Process Engineer - Syracuse, New York
---
2006
A. Like Mark's saying, very high chance it's due to organic contamination in nickel bath. You can run a Hull Cell test to see if similar white patches appear on hull cell panel after plating. If so, do a carbon treatment (add in 2 g/l activated carbon powder and maintain at ~50 °C with circulation for 1 hour) of same sample and re-run hull cell again and if such white patches disappear then confirm the problem is due to organic contamination and you can make a decision to do carbon treatment online.

David Shiu
- Singapore
----
Ed. note: This is one of dozens of threads about defects in nickel plating. For additional insights, Please 'search the site' with as exact description of the defects as possible.
---
---
August 7, 2018
Q. Hi sir, I'm in chrome plating company. I'm facing white patches after bright nickel plating. As per observation I observed that there is poor plating in back side of all parts. Completely black after semibright.
What can be done for this? Please seniors assist me.
CHANDRASHEKHAR NAVILE
- BANGALORE, INDIA
---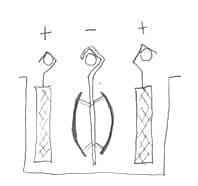 August 2018
A. Hi Chandrashekhar. You posted a similar problem back in 2014. Does that thread help at all? Again, if you forward some pics we will have a better understanding what you are talking about. I'm not certain what you mean by "poor plating in back side" but if the 'back side' is shaded you shouldn't expect good plating there. Truck bumpers have been racked back to back with resultant poor, non-decorative, plating on the 'back' or 'inside' for decades.
Can you do a Hull Cell test and show us the result?
Regards,
Ted Mooney, P.E. RET
finishing.com - Pine Beach, New Jersey
Aloha -- an idea worth spreading
---
August 7, 2018
Q. Dear seniors,

We do plating on plastics --
Copper, semi bright, bright, mPS and decorative chrome.

Here I raised my request a few month back regarding white patches.

I still couldn't identify an exact relationship of this white patches but as per my observations I found that parts after semi bright back side of parts are completely dark. It's more in complex shapes.

Can anybody please help me to resolve this?

1. Why blackish may arise behind parts?
2. Is that any organic contamination?
3. Is this happening because of low concentration?
4. Is this happening because of current density?
5. Any relationship with pH?

I'm in immense pressure due to this rejection.
Please help me.
CHANDRASHEKHAR NAVILE
[returning]
- Bengaluru, india
---
August 2018
A. Hi Chandrashekhar. You posted this under a different thread, while I was answering your other question here. Sorry, for the crossover.
But we have asked you for photos of the parts twice now; without them it is very difficult to even understand what defects you are describing. And even if we clearly understood what defects you are seeing, trying to guess whether you should change your level of organics, or your concentration, or your current density, or your pH without knowing any of them is nearly hopeless. And you are only now telling us on your third posting that you are plating on plastic :-(
- Do you not have a relationship with a process vendor who can assist you on-site? They are the experts on their processes and the starting point when you have troubles.
- Have you run any Hull Cell panels? Can you tell us what if anything they seemed to reveal about the condition of the semi-bright nickel bath?
- Can you get access to "The Canning Handbook" [affil. link to book info on Amazon] which has some charts of typical issues vs. typical causes?
People would surely like to help you but it's very hard to analyze the data when we have virtually none.
Regards,
Ted Mooney, P.E. RET
finishing.com - Pine Beach, New Jersey
Aloha -- an idea worth spreading
---
---
May 23, 2019
Q. We are facing some white patches after nickel electroplating
Not in all pcs but find 4-5 percent; also cloudiness in all pcs. So please suggest remedies.
Sukhjinder singh
Tools company - Punjab INDIA
---
May 2019
A. Hi Sukhjinder. You're very welcome here -- I'm certainly not trying to discourage you ... but Mark, David, and I have already suggested those remedies. And with no photos or data from you, and no response from you to the suggestions already offered, it's hard to know what to add :-)
Please send pics to , try to supply the data requested, and comment on the suggestions that were offered. Thanks!
Regards,
Ted Mooney, P.E. RET
finishing.com - Pine Beach, New Jersey
Aloha -- an idea worth spreading
---
---
January 17, 2020
Q. Hello I have problem with nickel chrome plating it has stains and when I use micro to look closely on the stain, it is like holes I don't understand where this came from; is it from the material or due to the process?
Jake Cabreros
- Cebu city, Philippines
---
January 20, 2020
A. Hi Jake,

We need a lot more details, and possibly some photos of the defect.

What is your pre-treatment? What is your plating chemistry? What finishing processes (if any)? What work have you done to try and solve the problem? Have you walked the process yet, to see if there are any obvious errors or if the process has changed from the norm? Have you checked all of your process tanks are within specification or manufacturers recommended limits?

If you can give us more information, you are more likely to get a response.
Brian Terry
Aerospace - Yeovil, Somerset, UK