topic 55350
Blue or yellow passivation better after Zinc plating?
A discussion started in 2010 but continuing through 2018
July 13, 2010
Q. Dear Sir,

I want to know the comparison between blue and yellow passivation in Zn plating and which is the best one to follow. Explain me with some justification. Do the needful in this regard.

Regards,
Hari Haran
QA/QC Engineer - Riyadh. Kingdom of Saudi Arabia
---
July 13, 2010
A. Hi, Hari. A few years ago the answer would have been that yellow chromate is heavier and contains more hexavalent chromium, and offers about 2-1/2x the corrosion resistance.
But today, what with RoHS standards, most "chromates" are trivalent and basically colorless, and most of the color you see is just dye. Further, the chromates are virtually all proprietary and based on several different technologies: thin film vs. thick film, sealer vs. no sealer, etc. One of the minor pieces of fallout from this generally beneficial change is that the color gives you no indication at all of the corrosion resistance.
Regards,
Ted Mooney, P.E.
finishing.com
Pine Beach, New Jersey
---
September 19, 2010
A. Welcome all

You can use yellow but if green available you can use it also.

Regards,
Yasser Alshafee
, Senior Chemist
steel factory - Cairo, Egypt
---
Zinc Plating: clear, blue, yellow, green passivation differences (trivalent or hexavalent)
September 9, 2018
Q. I want to know about the processing of zinc plating, different types of passivations (clear, blue, yellow, green), (trivalent or hexavalent), how this is being processed also their advantages and disadvantages.
Himanshu Vashishtha
- Gurgoan, Haryana & India
---
September 2018
Digital version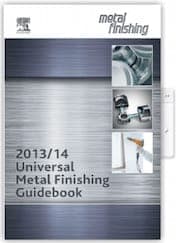 (No longer published, but Elsevier hasn't yet de-commissioned the online version of the Guidebook)
Download it before it disappears.
A. Hi Himanshu. These days you usually must use trivalent chromates because hexavalent chromates are not RoHS compatible. There is usually very little difference in the chromates except for their color, as it is usually just dye, although there are exceptions like proprietary thick-film trivalent chromates.
If you tell us who you are, what you do, why you want to know, and what kind of parts you have in mind we can probably help you arrive at some decisions. But without that it's hard to get started ... books about zinc plating are hundreds of pages long and we have a hard time knowing whether to start with a discussion about rack vs. barrel plating, cyanide vs. acid vs. alkaline zinc plating, pretreatment for plating, chromates & sealers, or what. Thanks.
Regards,
Ted Mooney, P.E. RET
finishing.com
Pine Beach, New Jersey
Striving to live "Aloha"


If you have a question in mind which seems off topic, please Search the Site