topic 47757
Alkaline Zinc Plating: haze after yellow passivation
February 4, 2008
Q. We have started a new Alkaline Zinc Plating in our shop. We are facing cloudy appearance after hexavalent yellow passivation. After so many trial and error methods we could not solve the problem. The bath composition is 125 g/L of NaOH and zinc metal is 8 g/l. Please suggest.
Siddalinga Shetty
Chemist QA - Bangalore, Karnataka, INDIA
---
February 5, 2008
A. Hello Siddalinga. Your question is probably clear to you, but isn't clear to me. Did you formerly do acid zinc plating, or were you formerly doing cyanide zinc plating? Different chromates are required for alkaline zinc. Is the zinc bath home-brew or a commercial product? Are the chromates home-brew or commercial products? Is this rack plating or barrel plating? Thanks.
Cloudiness is sometimes caused by excessive addition agents. But do the parts look cloud-free before chromating?
Ted Mooney, P.E. RET
finishing.com
Pine Beach, New Jersey
---
February 9, 2008
Q. Thanks Mr.Ted Mooney, the parts after plating are clear without any cloudy appearance. After bright dip also it is clear. After hexavalent yellow passivation and drying it looks cloudy. We have cyanide and acid zinc plating also where we are not facing any problem. We use conventional chemistry for alkaline zinc plating & Passivation. Please suggest.
Siddalinga Shetty
- Bangalore, India
---
February 10, 2008
A. You observe cloudy appearance after passivation but it doesn't mean it appears during passivation process. You observe a common result of treatment only. The problem can be related to each process: zinc plating, post dipping (activation in HNO3), passivation, or even rinsing. To learn the reason of the fault you must have recognised the moment of fault appearance.
Janusz LABEDZ
- Warsaw, Poland
---
February 13, 2008
A. Hi there,

if you are confident about the plating process and don't find any haze after Nitric dip, then the haziness may appear from Trivalent yellow, please try to adjust the pH and check with room temperature of the passivation with lower time. If it works then ask supplier to change the passivation; sometimes some of the trivalent passivations at temperatures and at more thickness give hazy appearance.

Also check with the blue trivalent passivation, if it's okay, that means the problem is with the trivalent yellow and not the zinc plating.

Hope this is clear and may help you.

Regards,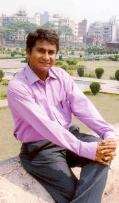 Praveen Kumar
plating process supplier
Mumbai, India
---
March 15, 2008
A. Hi!

The concentration of a nitric acid (the "brightening") before chromating should be from 0,5 to 1% and it should be regularly changed, since alkaline residues are dragged in.
Also reduce the time that is needed to bring the pieces from "brightening" to the chromating bath: the Zn on the pieces can slightly oxidize if the pieces are exposed to the air too long time after the dipping into the brightening.

Regards!
Dimitrij Us
- Kranj, Slovenija, EU
---
May 2, 2008
A. Hi Siddalinga. Haziness problem in alkaline zinc bath is mainly because the level of the additive versus zinc metal is disturbed and the pH of nitric dip is not maintained so you keep the pH 0.8-1.0 and dip time is 10-15 sec.
Devendra Kumar Sharma
- Noida, India
---
---
April 30, 2008
Q. Sir,
I need an alkaline zinc plating process and proven method and bath maintenance in operation because I work in a new alkaline zinc plating line; we need some details sir.

Thanking you,
Jaffar Khan
automotive - Chennai, Tamil Nadu, India
---
April 30, 2008
A. Hi, Jaffar. It is primarily the responsibility of the chemical process supplier to advise you of troubleshooting and bath maintenance. Do you have technical data sheets for the process? Has the supplier's technical service representative visited your plant and seen the situation?
Regards,
Ted Mooney, P.E. RET
finishing.com
Pine Beach, New Jersey
---
July 31, 2010
A. Operating temperature has big role in non cyanide alkaline zinc, maintain it below 25 °C, adjust the additive concentration, check the pre and post cleaning process. Problem should be solved. We had also faced this problem earlier, but now it is okay.
R K Dubey
- Mumbai, India
---
---
February 5, 2013

-- this entry appended to this thread by editor in lieu of spawning a duplicative thread
Q. We are coating window frame parts. Our bath is rack alkaline zinc bath. Over the zinc plating, we use thick film passivation which is Cr 3+ yellow.
We make up yellow passivation after two weeks. We observed hazy appearance on the parts. We face that problem continuously. Firstly we suspected about pH, temperature and air on passivation. We adjusted all parameters according to data sheet: ph 1.8- 2.2, temperature is 30 °C and air agitation isn't strong; also chrome content is enough.

When we adjust pH at 1.3 problem was solved. But the customer doesn't want to work that pH because of reduced thickness.

We check nitric acid (brightener) pH which is 1.2
Is the problem coming from low pH nitric acid?
What else?
Orkun AK
- Istanbul, Turkey
---
February 19, 2013
A. Orkun,

I have had experience with the same problem on a chloride zinc plating line with a thick film yellow trivalent chromate. Turns out the problem was in my pH probe. It is difficult to get accurate readings at low pH unless you have state of the art equipment. (No plating shop I ever worked in did!) When you lower your pH to 1.3 to get acceptable chromating, you may actually be in the 1.8 pH range as specified by the chromate supplier. I would take work processed this way and try salt spray to prove to the end user that you have acceptable chromate film thickness. And make sure your nitric acid is changed on a regular basis. Hope this helps and good luck!

Regards,
Kris DeBisschop, CEF
- Stratford, Connecticut, USA
---
April 18, 2013
A. Dear Orkun,

Please check the Zinc content on the Thick Trivalent Yellow Passivation.

The limit of Zinc content is vary from 6 g/l up to 15 g/l, but some brands only can stand up to 9 g/l of Zinc content.

So, please check with your supplier how high the zinc content can be handled in their product.
To overcome either you make a new make up or make dilution and adjust again to optimum level of concentration.

Please try, and good luck.

Best regards,
Tony Chandra
- Jakarta, Indonesia


This public forum has 60,000 threads. If you have a question in mind which seems off topic to this thread, you might prefer to Search the Site